The recently-completed Air France Lounge in Terminal 2F at Paris Charles de Gaulle Airport (CDG) is truly a delight to visit.
Air France Lounge 2F Paris (CDG) Review
I paid for business class on my trip to Tunis more so to access this lounge than to actually fly business class. After greatly enjoying the Air France Lounge in terminal 2E Hall L (which even has a sauna), I had high expectations for this lounge…and I was not disappointed.
Let me underscore, as the pictures below will demonstrate, that this is a HUGE lounge. At 32,000 square feet (3,000 square meters) comfortably spread out over two levels, there is seating for nearly 600 passengers.
But the beauty of this lounge is not in its size or number of seats, but its architectural details. The space was designed by the Jouin Manku agency, composed of Canadian architect Sanjit Manku and French designer Patrick Jouin. They also selected and customized the furniture.
Let's take a look.
Hours + Location + Access Requirements
The lounge is open daily from 5:30AM to 10:00PM just past security in Terminal 2F, near the Lacoste shop.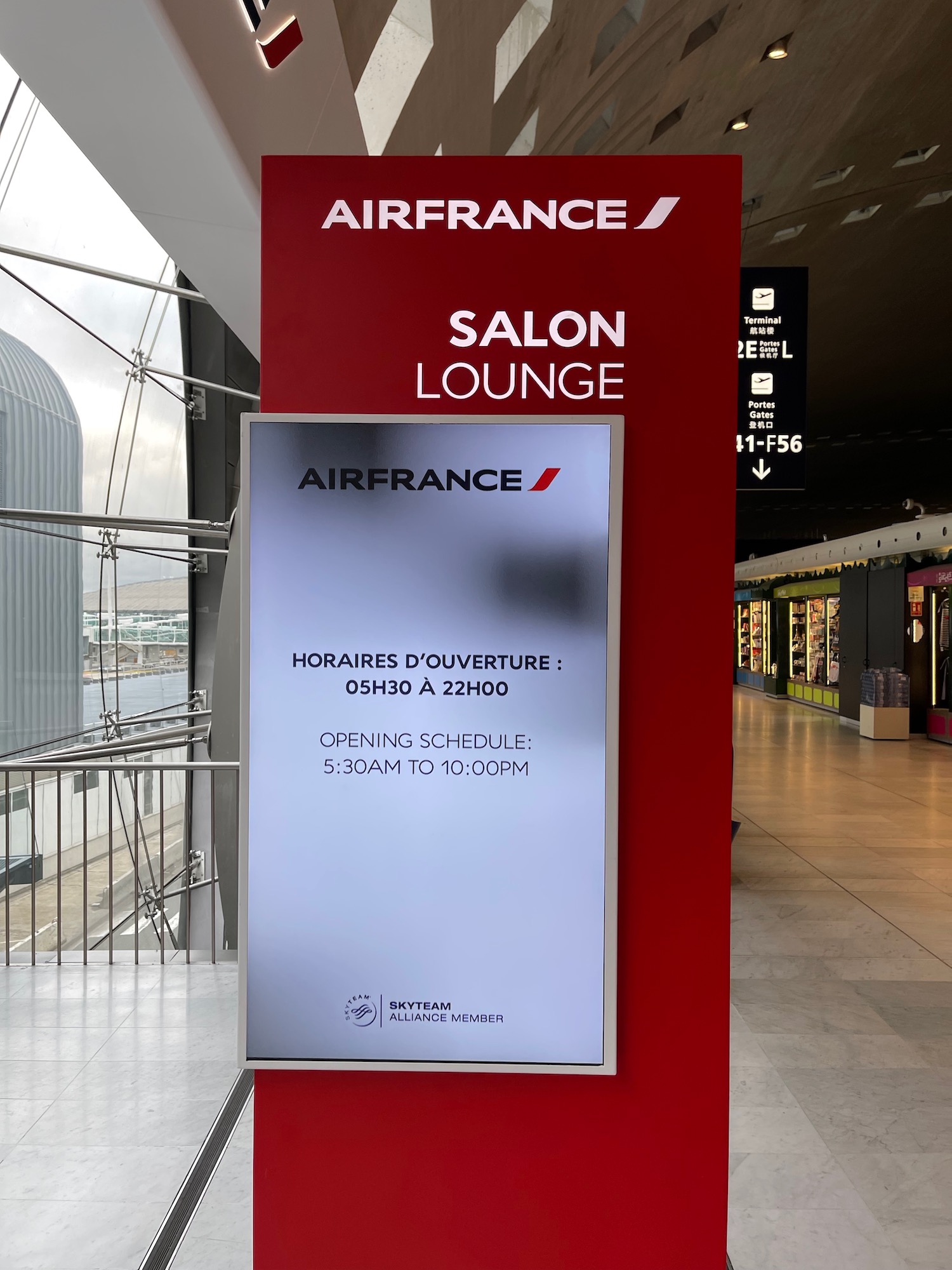 You can use this lounge under if traveling in a premium cabin or holding SkyTeam elite status:
La Première (but do visit the La Premiere Lounge instead)
Business Class
Flying Blue Gold status
Flying Blue Platinum status
SkyTeam Elite Plus status
A guest is permitted unless you are traveling in business class without SkyTeam Elite Plus status.
Automated gates are used to gain access to the lounge – simply scan your boarding pass and if you are eligible for access, the gate will open. You can also register your guests so that they can use the automated machine.
Seating
The lounge is divided over two levels with ample seating on both floors.
When you look at the rounded designs and convex windows, you cannot help but be reminded of the TWA Terminal (now hotel) at New York JFK, designed by Eero Saarinen. The curves are beautiful and though reminiscent of the 1960's, timeless.
As you enter, you can turn left into a dining area with tables and chairs or turn right into a general seating area.
That seating area stretches around the corner to detox area, followed by a quiet area. Throughout the lounge, you will notice Air France's iconic hippocampe ailé (winged seahorse).
Upstairs is a lot more seating, including a combination of couches, chairs, and tables. The style and color scheme really blends well and it was immediately apparent that the furniture and finishes were built to last.
Food + Drink
You won't go hungry in this lounge – croissants, yogurt, fruit, and other baked goods were available when the lounge opened, with hot food added by 6:00AM, including scrambled eggs, bacon, baked beans, and mushrooms.
Crepes made-to-order are available in the afternoon and a daily special in the Le Comptoir bar area is available.
Champagne service starts at 11:00AM, though I heart that once the daily supply is exhausted (often before evening), it is not replenished.
A "detox" area on the ground floor offers herbal tea and other soft drinks.
Beverage stations are positioned around the lounge on both floors.
There's even a candy area near the front entrance.
Restrooms + Showers
Restrooms are located on both floors with shower suites available on the upper level. These self-serve suites require you to simply scan your boarding pass to gain access (a green light indicates the shower is available while a red light indicates the shower is in use or must be cleaned). If all showers are occupied, you can join a waiting list near the shower entrance.
Clarins Spa
I arrived in the lounge at opening time, 5:30AM, and unfortunately had to leave before the spa opened. Bookings open same-day at 7:20AM, with advance reservations not available. Passengers can book a complimentary 20-minute treatment (facial or massage) using a tablet at the spa. The spa is closed on Wednesdays.
Relaxation Area
Also on the upper floor, a relaxation area offers a quiet, semi-private place to rest (curtains can be drawn). The lounge does not have any formal sleeping rooms. There is a diaper changing area near the relaxation zone.
Luggage Stowage
As you enter the lounge, make a hard left if you wish to store your baggage; lockers are available.
CONCLUSION
While I love the 2E Hall L lounge, this one is even more beautiful (I still prefer 2E, Hall L because it has a sauna). Well done Air France for designing a lounge that is beautiful and functional.