While I would avoid the Air France A330-200 in business class if traveling on a longhaul flight if you have a choice, it was perfect for my short flight to Tunis and even on a longer flight represents a substantial improvement over the previous-generation A330 business class seat.
Air France A330-200 Business Class Review
I booked a Flying Blue award ticket from Amsterdam to Paris for 38,500 miles and $91 in taxes. A one-way paid ticket was $443 for economy class and $1,153 for business class.
I left the Hyatt Place CDG before 5:00AM so that I could have a bit of time in the beautiful Air France Lounge 2F prior to my flight. That lounge opens at 5:30am, but was in a different terminal than 2E Hall L, where my flight to Tunis was departing from.
There is a walkway connecting the two terminals, but a word of warning: immigration does not open until 7:00AM if you are entering 2E Hall L via 2F. That's at least what I was told by an agent, who took pity on me and stamped me through at 6:20AM.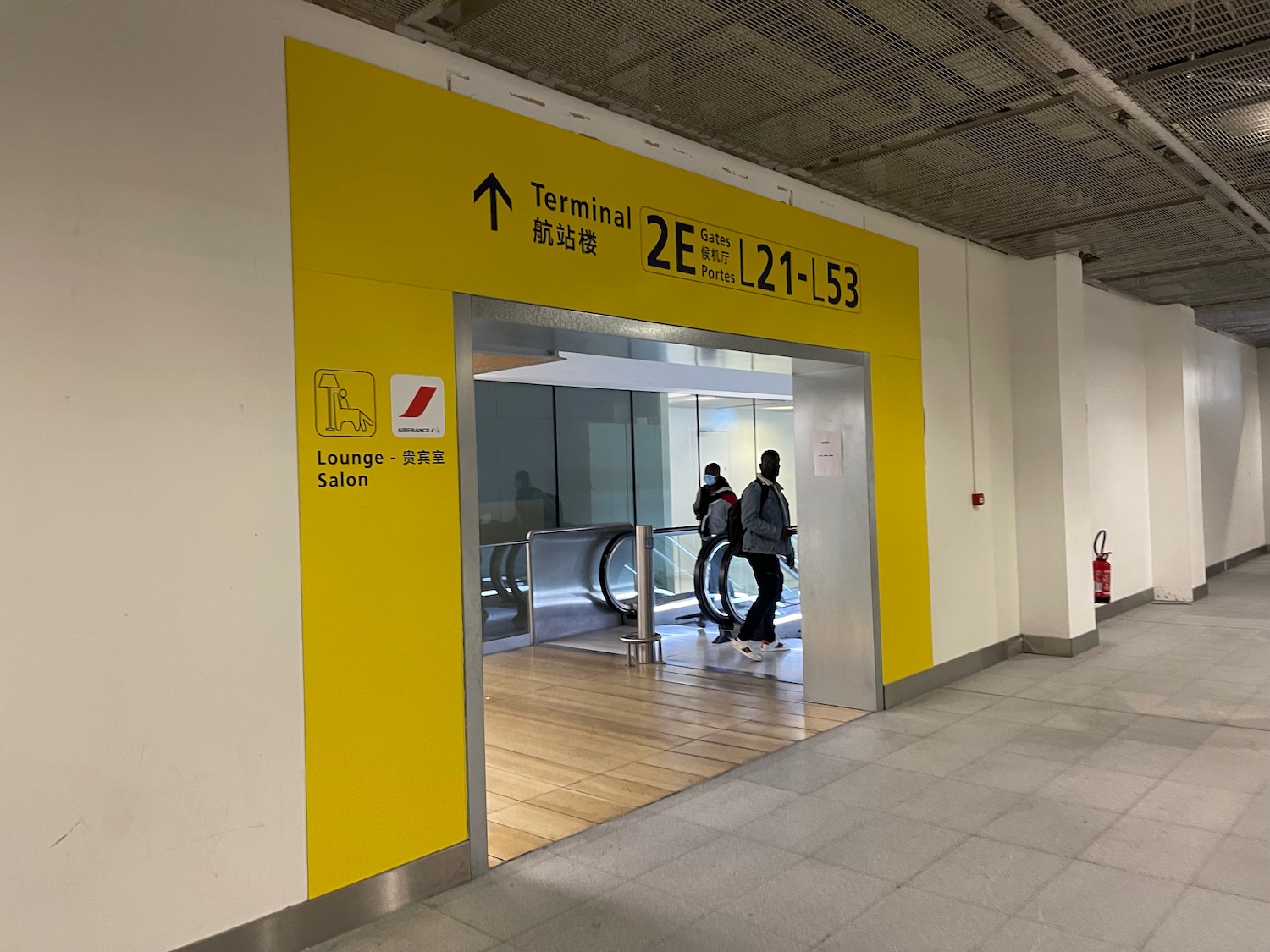 Had that not been an option, I would have had to exit 2F, walk outside to 2E Hall L, then re-clear security and passport control from the other side.
By the time I reached my gate at 6:30AM, boarding was well underway (even though the boarding pass indicated a boarding time of 6:40AM).
Air France 1084
Paris (CDG) – Tunis (TUN)
Thursday, February 3
Depart: 7:10AM
Arrive: 9:40AM
Duration: 02hr, 30min
Distance: 924 miles
Aircraft: Airbus A330-200
Seat: 4A (Business Class)
Onboard, a flight attendant verified I was wearing a surgical mask and welcomed me onboard in French.
Seat
Here, Air France suffers not from a bad seat, but having a better seat on other aircraft.
Air France recently finished retrofitting its A330 fleet, with each aircraft now featuring a total of 36 business class seats, spread over six rows in 2-2-2 configuration. These seats are made by Stelia Aerospace and feature fully lie-flat beds, though lack the privacy (even with a sliding partition between seats) of Air France's Cirrus reverse herringbone 1-2-1 configuration on its Boeing 777 and 787 jets (or even its Zodiac Optima seats on its Airbus A350 fleet).
But the logic for the less-private seat made sense. First, this allowed Air France to preserve premium cabin density (the old configuration had 40 seats in a 2-2-2 configuration and were not true lie-flat beds). Second, this aircraft is more often deployed to leisure destinations in which couples traveling together generally prefer to sit next to one another.
I was traveling alone, but thankfully the seat next to me remained open. The cabin went about about half full. The cabin looks so fresh and with mood lighting and natural lights, is very sleek.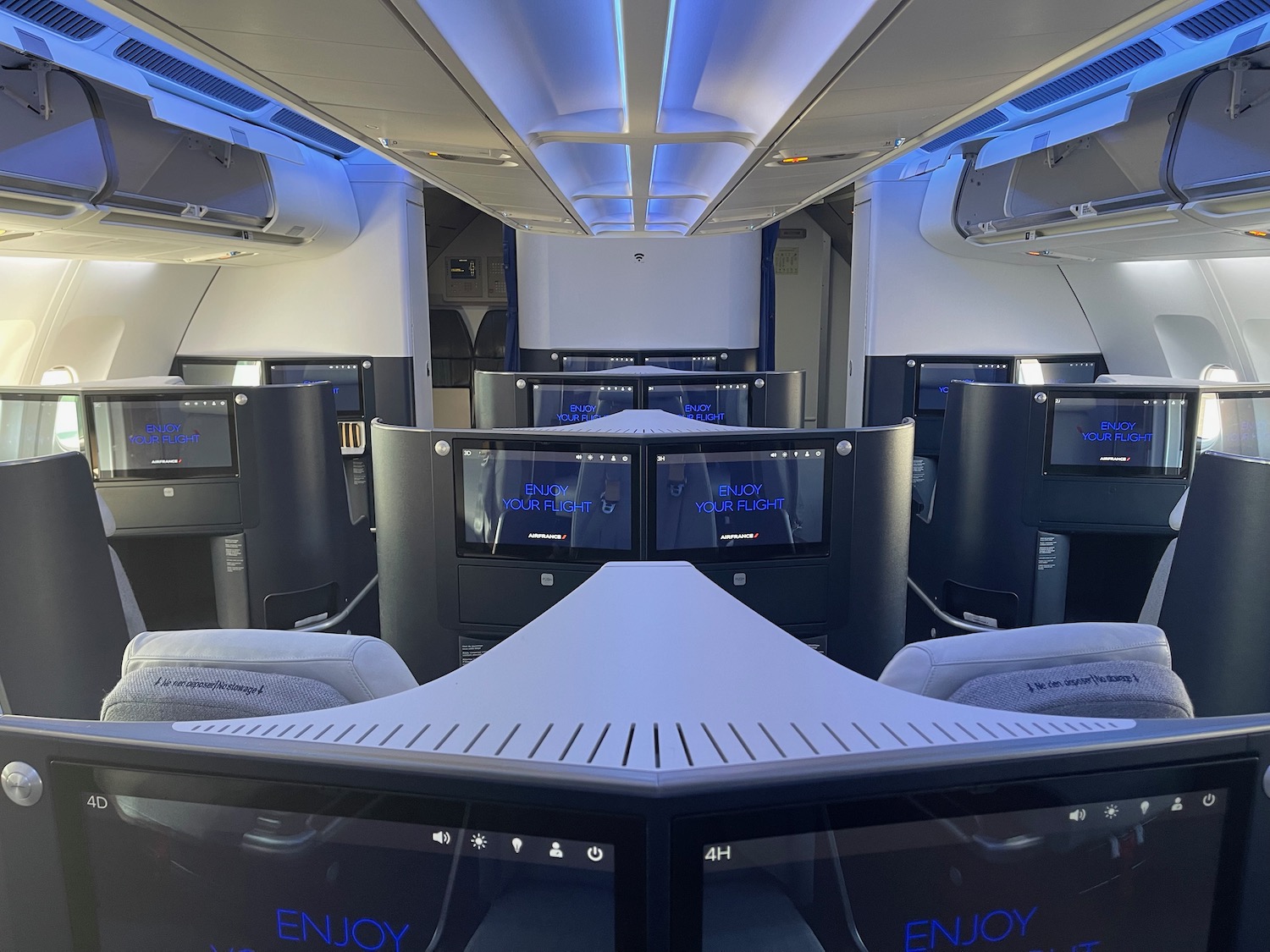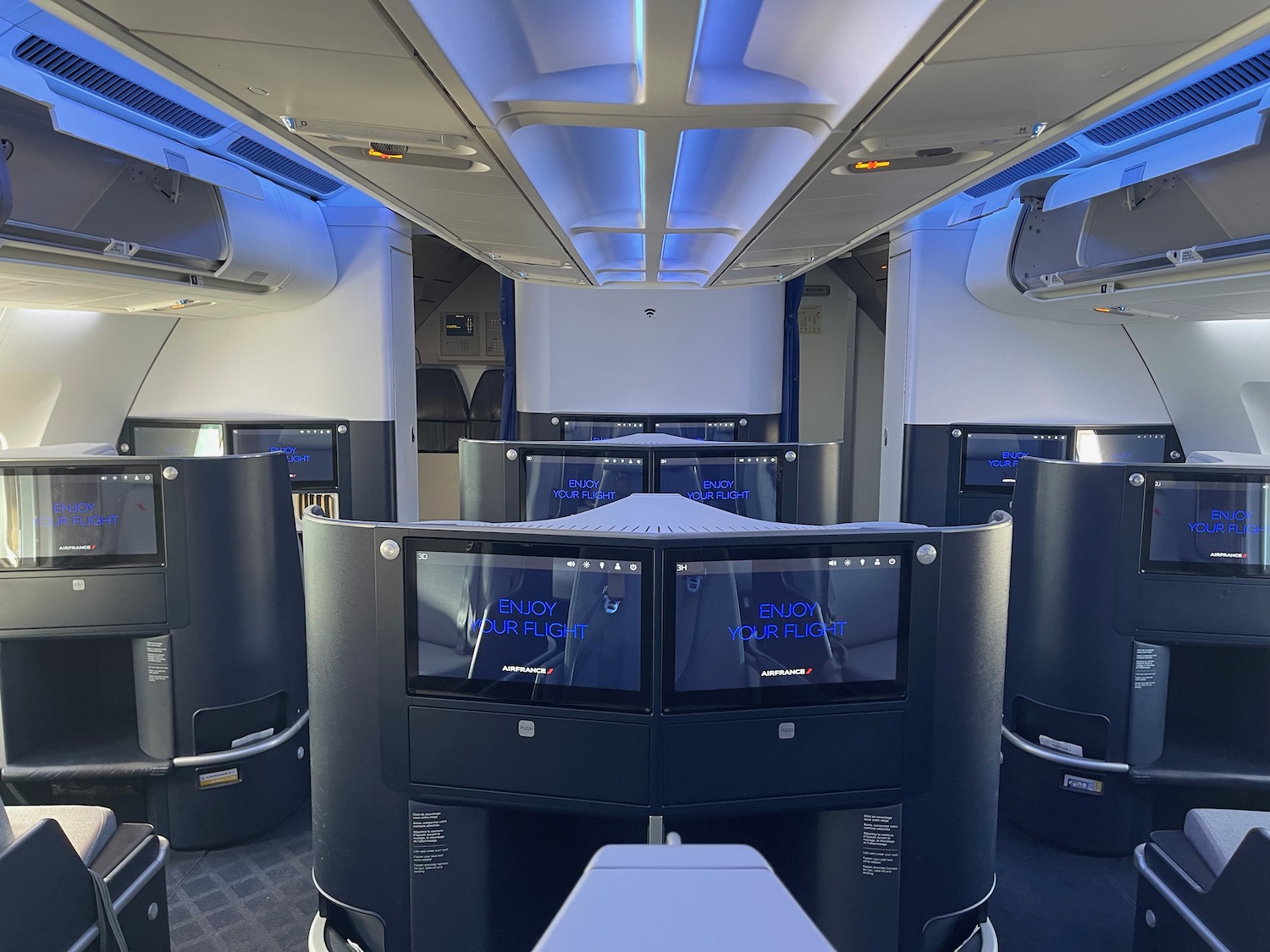 The pictures above were actually taken after landing…due to the passport control snafu, I only was able to snap a few pictures prior to departure:
The seat itself is well-padded and very comfortable in an upright, partially-reclined, and in a lie-flat position. That said, it is very close company, particularly in the footwell, if you have a neighbor.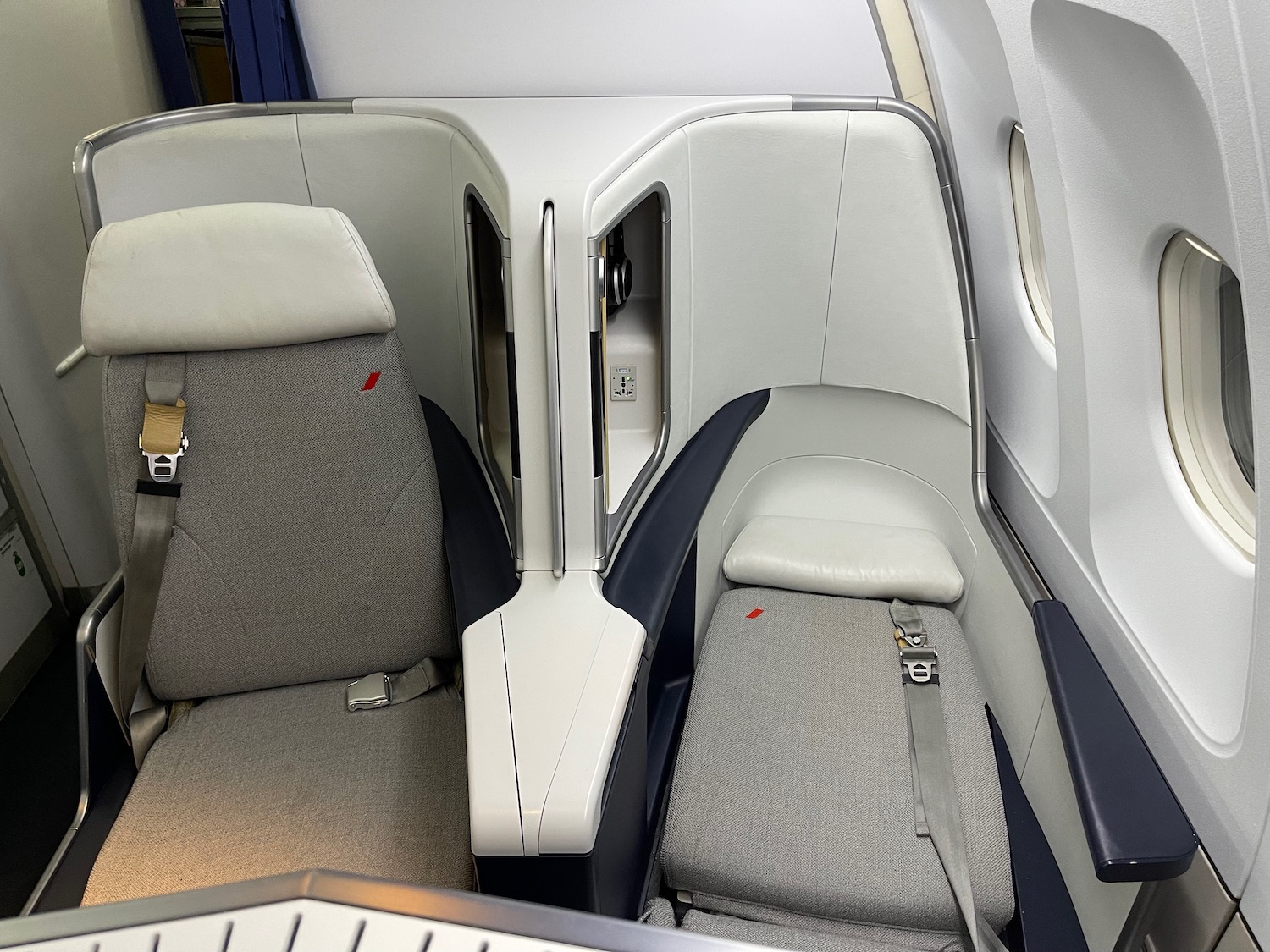 No pillows were available on this short service and small, intra-Europe blankets were available upon request.
The storage cabinet below the monitor is helpful and the power plug and passenger service unit (remote control for IFE) were easily within reach.
The privacy divider actually provided very little privacy between seats.
Each seat had a coat hook.
Inflight Entertainment + Wi-Fi
Air France's full library of films, TV shows, games, and music was available on this short flight, with gate-to-gate IFE available.
Headphones were noise-cancelling, though of a lower quality than the Bose headphones you receive in Lufthansa Business Class.
IFE could be controlled via touchscreen or a remote control in the center console.
The screen was highly-reflective, making it difficult to watch anything without the cabin dark.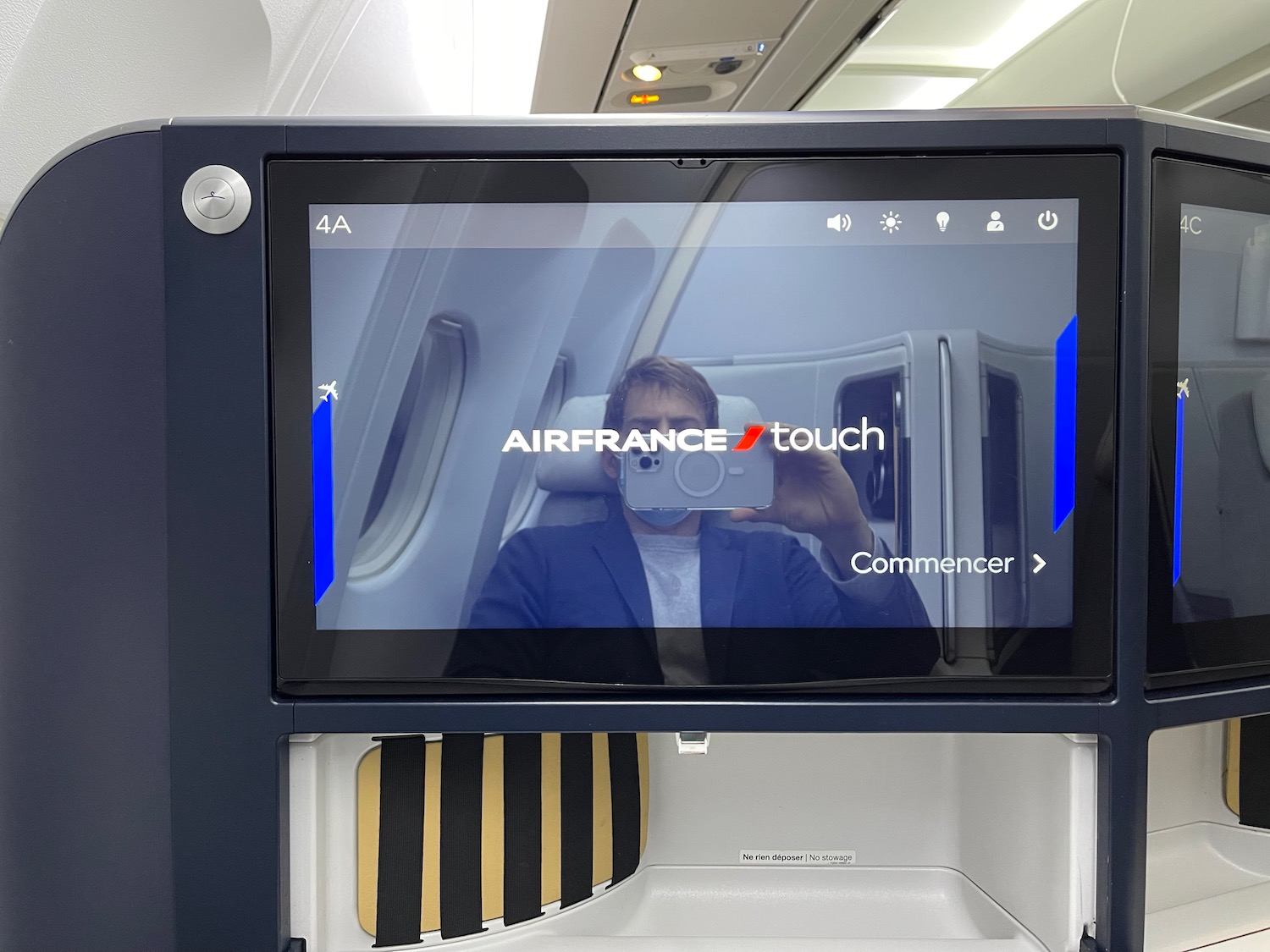 Internet was also available for purchase, with free messaging and a "surf" or "stream" option for purchased wi-fi.
However (perhaps due to the crossing of the Mediterranean Sea?) internet did not work for much of the flight:
The far-superior in-flight entertainment was the beautiful views outside, including a stunning sunrise and sunny day as our flight path crossed over Corsica and Sardinia.
Food + Drink
Breakfast was served after takeoff and I must admit I was let down once again, just like on my flight from Amsterdam to Paris. At least a meal was offered, but there was no choice: just salmon on a spiral croissant-style roll with a creamy chive spread and a side of plain yogurt.
The salmon was delicious – but the roll was hard and cold. Furthermore, the orange juice was nasty (I was not expecting fresh-squeezed juice, but at least 100% juice…not sugar water) and the coffee weak and served only in a paper cup. These aircraft have espresso machines, but no pods were provisioned.
Some fruit would have been nice. What saved the meal was a delicious hot croissant.
That said, I was hungry and ate what was put before me, except for the cold top of the roll.
Air France was always the best when it came to in-flight catering in business class. It is a shame the carrier seems to still be operating under the COVID-19 cost-cutting mindset.
Service
I think the flight crew was a bit suspicious at all the pictures I was taking, but warmed up to me when I said how excited I was to fly the Air France A330 for the first time. Frequent refills were offered on coffee and orange juice during the meal service, but flight attendants disappeared after. Before landing, I used my call button to summon a flight attendant and request a bottle of water, which was cheerfully delivered.
Lavatory
The lavatory, located near door 2L (as the front lavatory was reserved for the crew), was clean.
CONCLUSION
Pulling into Tunis, it was cool to see exotic aircraft like a Libyan Airlines A320 and the Tunisair A330 which would take me to Montreal the following day.
I don't dislike the Air France A330, though the business class seats on the 787, A350, and 777 are much better. The Paris – Tunis flight is often operated by an A319 or A320, so I was happy to have a widebody jet with a real business class seat for my trip to TUN.