Maybe it was beginner's luck, but I had a wonderful flight on American Airlines from London to New York on the 777-300ER in business class. I hear so many complaints about service on American Airlines, but that was absolutely the best part of my flight.
Great Flight On American Airlines 777-300ER Business Class
Rather than fly nonstop home on British Airways from London earlier this month, we connected via New York on American Airlines. An extra stop with two kids? A bit annoying, but breaking up the trip proved to be a good thing and more importantly, it allowed us to upgrade both segments from basic economy to business class. That was particularly helpful since we were checking bags.
Besides us, business class had only two other passengers. Yes, a 777-300ER with only four out of 52 flat bed seats taken.
That meant very personalized service, but personalized service itself is only part of the equation. The true star of the flight was Julie, one of the kindest, warmest, friendliest flight attendants I have ever encountered. She took such good care of us and just made the flight pleasant. Thank you Julie (and Lorraine and the whole crew) for such an outstanding flight.
AA still offers menus in business class and has not cut back as much as Delta and United. We pre-ordered our meals online and I found the sea bass to be very tasty. Everything was served covered and on one tray.
Augustine enjoyed his chicken, but enjoyed the IFE selection even more.
Oh, and the seat. Of course I'm used to flying United Airlines most of the time and found the reverse herringbone seats on the 777-300ER to be quite spacious and comfortable. We had the mini-cabin to ourselves. The short LHR-JFK flight was not long enough for a nap, but I comfortably enjoyed a movie and worked. I loved the Bang & Olufsen headphones.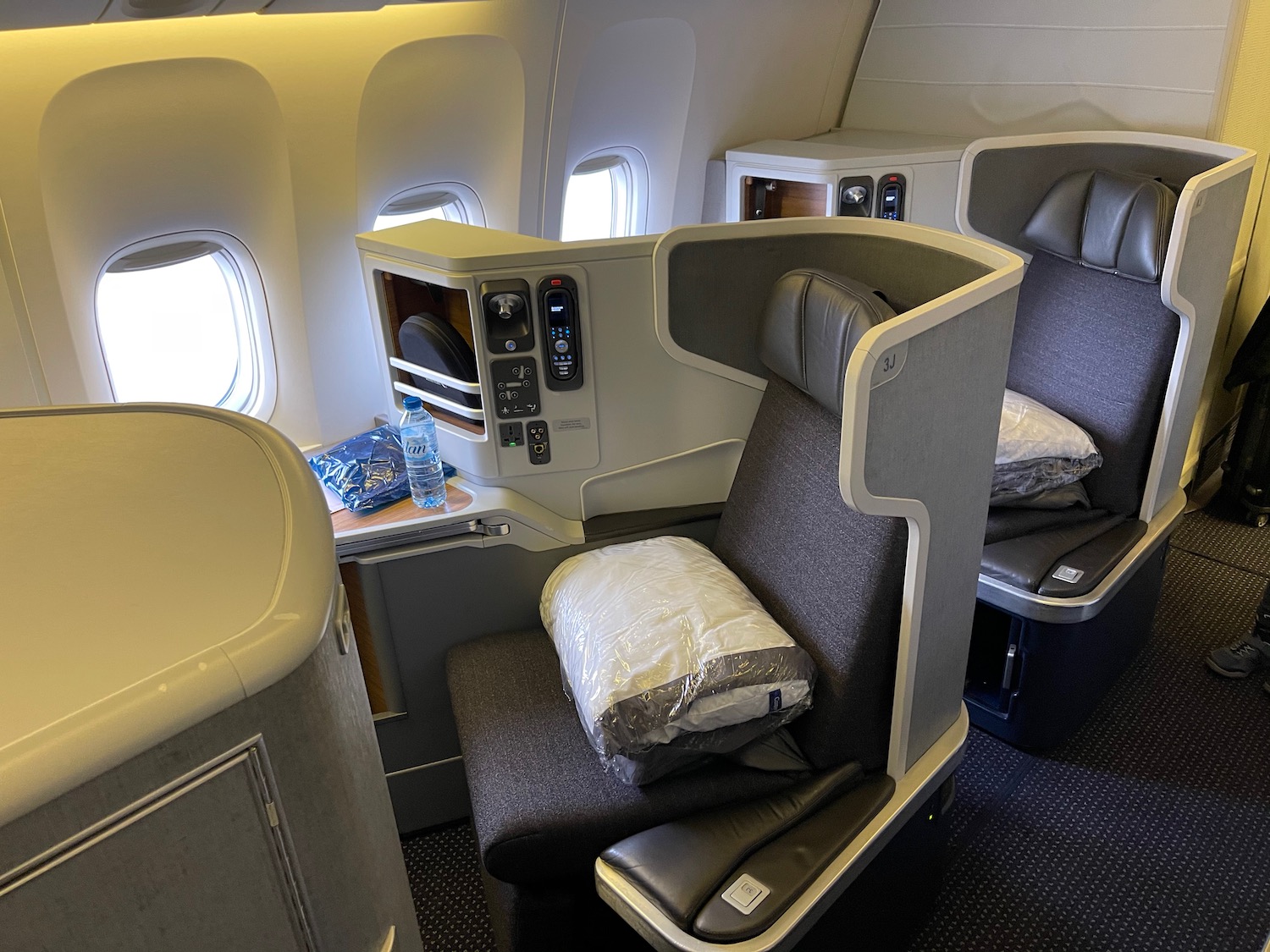 Oh, and I spent 1/3 of the flight in economy class. But you'll have to read the full report in order to understand why…
CONCLUSION
I'll be publishing a trip report from my brief trip to Germany soon, which will include a full review of this flight.
Overall, AA greatly exceeded my expectations and I really look forward to flying AA more this year.