From Tokyo to Bangkok I flew an ANA 787-9 in business class operated by Air Japan. For this flight, I elected to embrace the Japanese menu in full and once again enjoyed a delightful ANA flight with superb service onboard.
ANA 787-9 Business Class Review
This trip was booked as part of my epic journey from Los Angeles to Bangkok using Aeroplan miles. Air Japan was once ANA's charter division, but now operates a number of scheduled flights for ANA with a fleet of 80 Boeing jets. Onboard, I noticed no difference between Air Japan and "regular" ANA.
After a night in the terminal and several hours in the ANA lounge, I was happy to board my flight to Bangkok.
ANA 847
Tokyo (HND) – Bangkok (BKK)
Friday, November 5
Depart: 11:00AM
Arrive: 04:15PM
Duration: 7hr, 15min
Distance: 2,852 miles
Aircraft: Boeing 787-9
Seat: 3A (Business Class)
Onboard, I was greeted and directed to my seat. Loads were very low…there were 35 people traveling to Bangkok, including only five in business class. Everyone could have been upgraded to business class and there still would have been open seats…
Seat
ANA utilizes a staggered business class product for its Boeing 787-9, featuring 40 seats spread over a main cabin (rows 1-8) and mini-cabin (rows 9-11). I chose seat 4A in the larger cabin. Seat pitch is 62 inches and seats are 21 inches wide. In lie-flat mode, the beds are six feet long (72 inches).
Lumbar support and recline can be adjusted by push-button on the side console and a "do not disturb" sign can be illuminated as well. Next to the passenger service unit (IFE remote) is USB-A port, universal power port, and a jack for the headphones.
A pillow, duvet, and mattress cover were provided. I tried to take a nap, but could not sleep (I apparently slept far too well on the airport bench…).
The rear business class cabin remained empty:
Food + Drink
Over the years, I've been told I am greatly missing out by only ordering off the western menus when I fly on East Asian airlines. So for this trip on ANA, I resolved to try the Japanese menu, particularly on a flight departing from Tokyo.
Pre-departure beverages included a choice of orange juice or sparkling wine. A moist towel (packaged) was also offered.
This was the menu for my flight:
I pre-reserved a Japanese meal.
Japanese Cuisine 〜Washoku〜

Zensai (A selection of morsels)

Kelp with herring roe, simmered red konjac in soy-based sauce, cucumber
Simmered roasted chestnut in syrup
Simmered prawn in soy-based sauce
Roasted duck with salt
Deep-fried ginkgo nuts Carrot
Deep-fried sweet potato Bulbil and vegetables tofu

Reisai (A selection of chilled morsels)

Seared sea bream with sesame soy sauce

Kobachi (Tasty tidbits)

Marinated crab meat and chrysanthemum in sesame sauce

Shusai (Main course)

Braised beef sukiyaki and grilled tilefish with salted rice malt [293 kcal]

Steamed Rice

Steamed rice, miso soup and Japanese pickles
Served with Sainokizuna (KINMEMAI rice) produced in Saitama
The flight attendant seemed surprised, but in a very good way, that I had pre-ordered the Japanese meal. I realize ANA has a western meal on most flights, even within Asia, for a reason, but assumed most travelers would prefer a Japanese meal. But the two Americans seated around me ordered off the western menu so I certainly wasn't alone in my prior practice.
Every passenger received the same amuse bouche, a sesame and walnut breadstick as well as a pastrami turkey ham and sweet chili potato. All food was delivered covered in plastic or foil.
The appetizers arrived and I had to marvel at how beautiful the presentation was. Everything was carefully arranged with attention to the smallest of details, like eating at a fancy restaurant.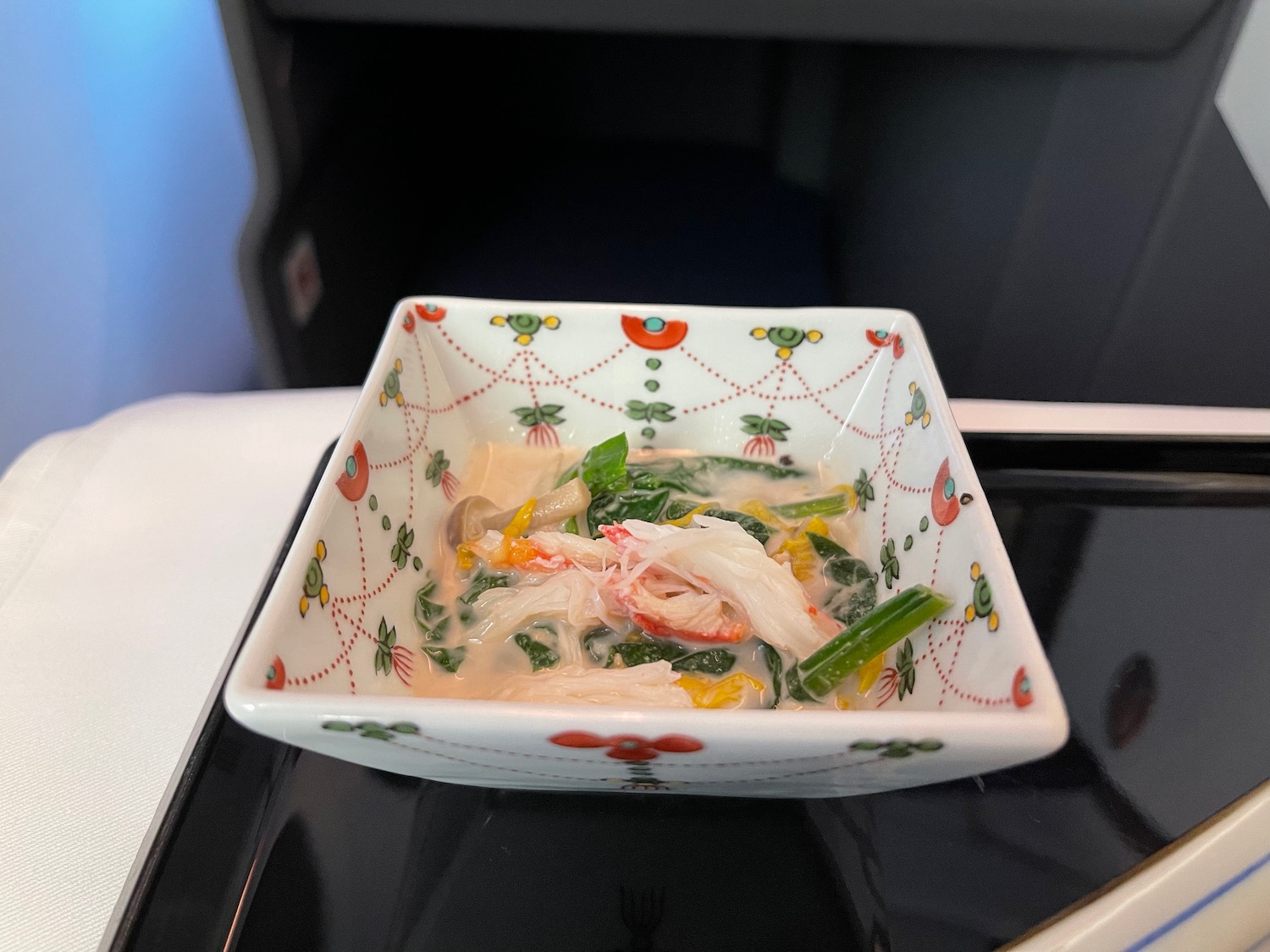 The roasted chestnut was tasty, but the highlight of the first course was the seared sea bream, which was so fresh and delicious.
Before the meal I resolved to eat everything placed before me, and I did.
With lunch I enjoyed Japanese sake, my first time trying it.
The main course included both braised beef sukiyaki and grilled tilefish. Both were tasty. I was too full to finish the miso soup.
Dessert included cheese, fruit, and a lovely "Emotion Mont-Blanc Ispahan" from Pierre Hermé (raspberry and litchi jelly, meringue, rose flavored mascarpone cream, rose flavored chestnut vermicelli, and sprinkled with crisped raspberries)…I paired it with a glass of Japanese malt whiskey.
Flight attendants distributed water bottles after the meal service.
Prior to landing, a snack was offered from an a la carte menu. Sticking to the Japanese theme, I ordered "ANA original curry and steamed rice." The portion was huge! I ate half of it…and I understand why many consider this Japanese comfort food. It was very tasty.
FAs also offered some snacks like mixed nuts and fried pasta.
I concluded the meal with Häagen-Dazs ice cream for dessert.
Service
The flight attendants onboard were lovely, though very much by-the-books. For the pre-arrival meal I did ask if the Greenland herb-encrusted halibut was available. I was met with a totally blank stare and told I could only order off the snack side of the menu. I clarified, asking if there happened to be any leftovers that would be thrown away and was again told I could only order off the right side of the menu (my question was never answered).
I do wonder if there was any left and if so, were they just thrown away. Not a big deal, because it allowed me to try the curry, but my double meal game doesn't work on ANA!
Attentive throughout the flights, the flight attendants offered each passenger a bag of candy and handwritten note just before landing:
Wi-Fi + IFE
The system on this 787-9 appeared a bit older and slower than on my 777-300ER flight from London to Tokyo, but included the same content of:
Movies – about 50 choices, so not as much as on other leading carriers
TV shows – also a more limited library
Live TV
News – recent Japanese as well as BBC news broadcasts
Games
E-books
Duty free
Moving flight map
Noise-cancelling headphones from Panasonic were waiting at each seat.
Wireless internet was available for purchase, at three pricing tiers:
30 minutes – 6.95USD
3 hours – 16.95USD
full flight – 21.95USD
Perhaps the greatest IFE was the views out the window. It was a beautiful day for flying. Take a look at the army of parked Thai aircraft on the ground at Bangkok Suvarnabhumi Airport.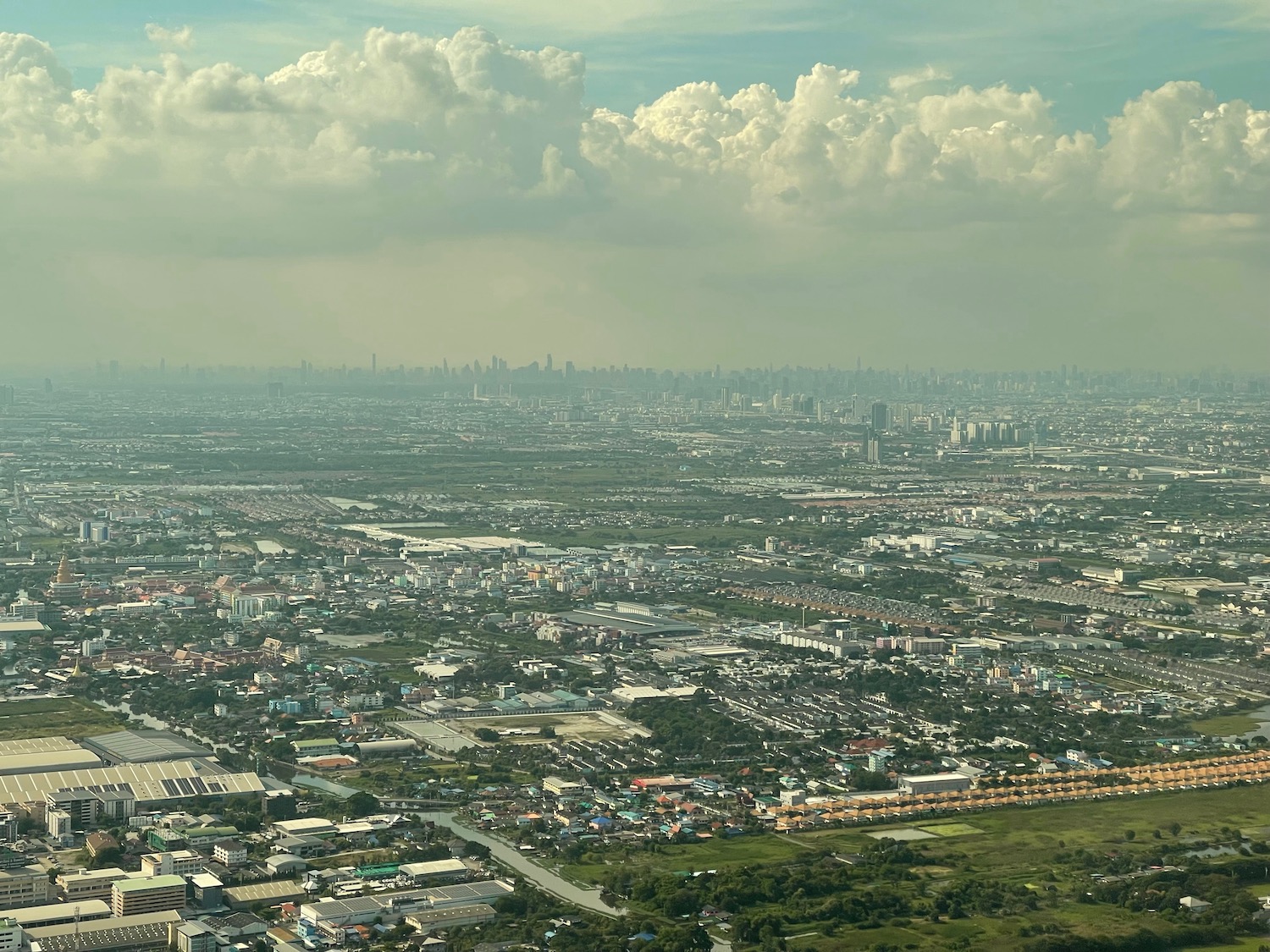 Amenties
No amenity kit was offered, although a flight attendant did come around the cabin with a basket, offering amenities including:
eye mask
ear plugs
toothbrush + toothpaste
Slippers and a shoe horn were also provided.
Lavatory
The lavatory was spotless prior to departure and spotless prior to landing, the two times I used it. I would expect nothing less on ANA. The toilet had a bidet.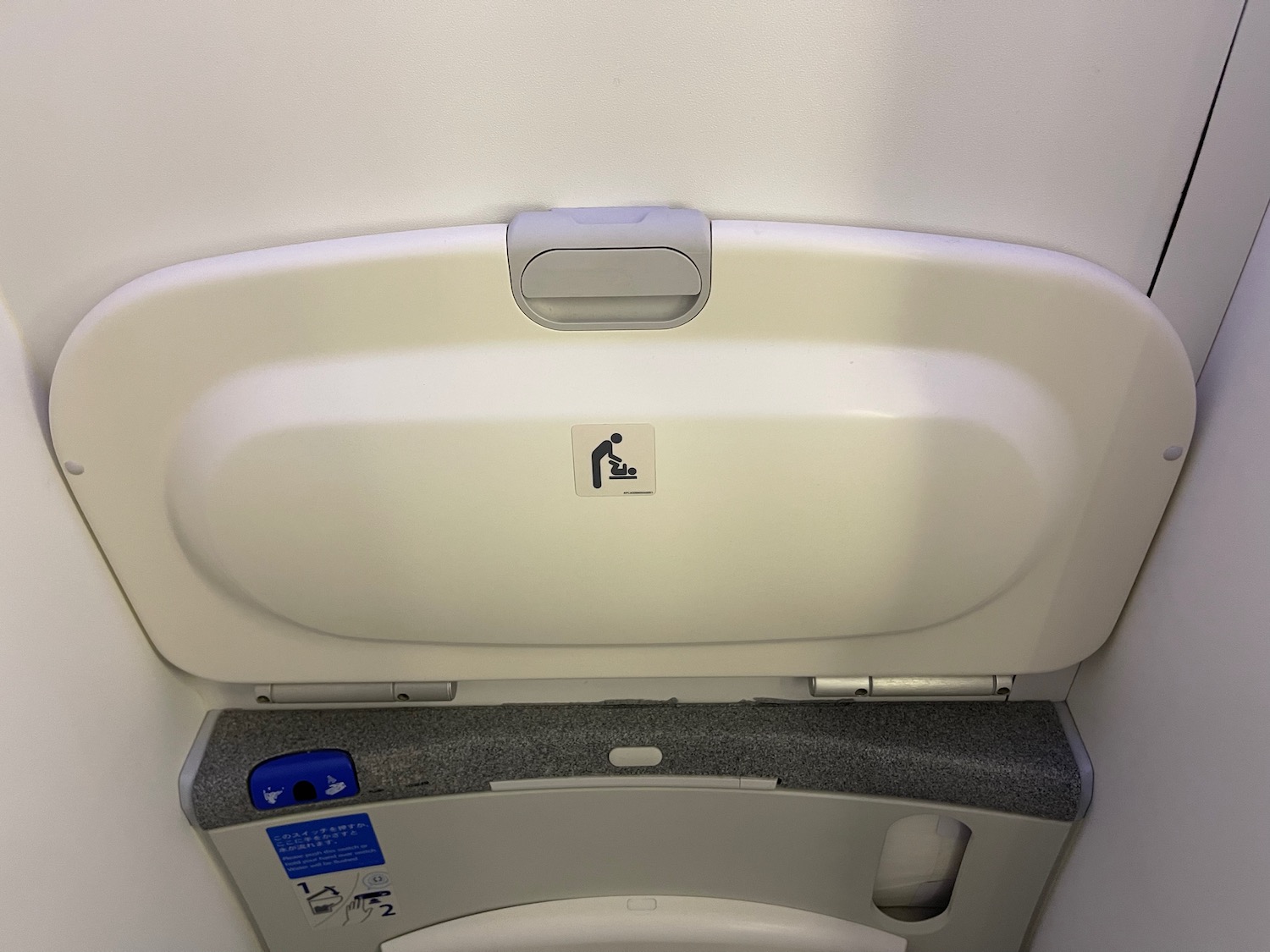 CONCLUSION
This was a great flight on one of my favorite carriers. The service and food onboard was top-notch and the journey from Tokyo to Bangkok flew by. While I greatly prefer the 777-300ER over the 787-9, for a "regional" flight, the lie-flat seats in business class were comfortable and I look forward to flying ANA again soon.