All Nippon Airways always impresses, but I walked off my flight from London to Tokyo with a huge smile on my face. Business class on the ANA 777-300ER, called "The Room," is among the best premium cabin products in the world.
ANA 777-300ER "The Room" Business Class Review
My whole trip centered around this flight. Sure, I was looking forward to reviewing EgyptAir and even the ANA 787-9 in business class, but the pinnacle of this trip was this flight. I booked using miles: more details here.
Great service started in the Singapore Airlines Silver Kris Lounge, where a pair of ANA agents sought me out to verify my travel documents (I had checked in for the flight in the USA without having to provide health details). They were professional not just in being kind and courteous, but they knew exactly what I needed (and thankfully, I had it ready to go and the process went quickly…I will detail all of this in a future post).
Boarding began only 30 minutes prior to departure (the flight was lightly filled) and I was amongst the first onboard.
ANA 212
London (LHR) – Tokyo (HND)
Wednesday, November 3
Depart: 07:00PM
Arrive: 03:50PM+1
Duration: 11hr, 50min
Distance: 5,974 miles
Aircraft: Boeing 777-300ER
Seat: 11A (Business Class "The Room")
As I stepped onto the aircraft, three flight attendants at Door 2 Left greeted me with a bow. My excitement over being on this new aircraft was very visible and I feel more comfortable taking pictures on a Japanese carrier than any other. Instead of looking at me with bewilderment, flight attendants encouraged it and were happy to be in the pictures.
Seat
The business class cabin is large, with 64 suites in a 1-2-1 configuration. But these are not your typical reverse herringbone seats. Instead, the suites are a whopping 35 inches wide with 53 inches of legroom and a bed 72 inches long (which is actually smaller than many modern business class products, but did not bother me because I sleep in the fetal position on my side).
Odd numbered seats are rear-facing, but true business class seats with the chair right at the window. Even numbered seats face forward, but have a small console separating the seat from the window, making it more difficult to look out (though not too difficult).
If you are a traveling with a companion (and want to talk to them), your best bet are E and F seats, located in odd rows only. These "honeymoon" seats are rear facing, but a retractable privacy divider can be lowered to create a nifty mini cabin within the cabin.
D and G seats are forward facing and have consoles separating the two seats. I would not choose one of these seats unless all of the A, C, H, and K seats were taken.
Foot room was constrained, but not uncomfortably so.
Shoe storage underneath:
but not here:
The cabin itself and the suites are also beautiful. The seats are a mix of leather and cloth, gray in color .
Woodgrain paneling does not have the cheap, gaudy (and now dated) look of the woodgrain on Emirates, but appears fresh and understated.
Seats and lighting are controlled by a panel on the console.
The tray table folds out from underneath the monitor.
Adjacent to the monitor is a storage compartment with a mirror that is ideal for holding travel documents, wallets, and mobile phones.
Below the cabinet is a universal power port with rapid USB-A charger as well as an inoperable HDMI port. If the cabinet is closed, you can flip up a portion of it to access the plugs.
Windows are controlled by push-button and feature both blackout blinds and a thinner blind that keeps the glare out but still lets natural light in.
Reading lights are available on the right side, left side, and overhead.
Good news for those who fear a warm cabin: there are individual air nozzles above each seat in business class. The cabin did warm up, but the air vents helped cool it down.
Finally, there are doors that close, in two sections. Each is released by a separate button and slide together. Although there is a slight gap between doors and a 12-inch gap between the floor and the bottom of the door, I felt private in these seats (very similar, in fact, to Qatar Airways Qsuites).
Bedding includes a soft white mattress pad, blue duvet, and a blue and white pillow. After dinner, a flight attendant proactively volunteered to make my bed when I got up to change into my pajamas.
I slept very well..for almost eight hours, in fact. Some many find the foot cutout bit small, defeating the purpose of the wide bed, but by angling my knees toward the console, I had plenty of room to sleep comfortably.
The following morning I took a walk through business class. A galley divides the two business class cabins with a set-up for a self-service buffet. I do not belive it was used during this flight, but I could have slept through it.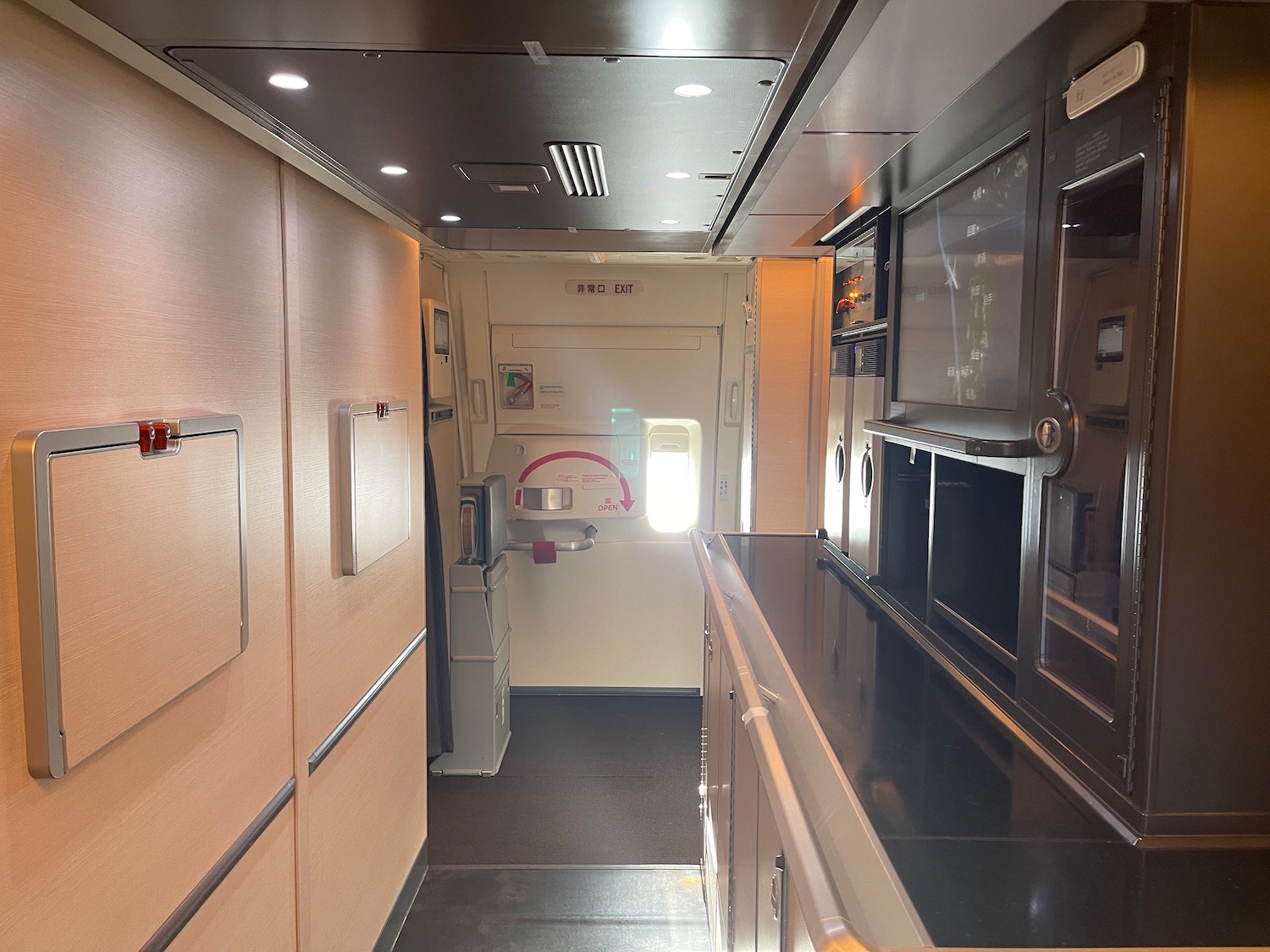 The rear business class, rows 17-20, was about 1/2 full, the same as the forward cabin.
Here is my suite in daylight hours:
Amenties
Speaking of pajamas, business class do not receive any, but are offered a sweater. Despite getting the largest size available (large), the sweater was far too small on me, going up past my wrists and halfway up to my elbow.
Slippers and a shoe horn were provided:
A Globe-Trotter amenity kit was also provided; a pink leather bag with contents including:
eye mask
earplugs
toothbrush + toothpaste
Sekkisei Myv beauty products

concentration lotion
concentrate cream
treatment wash
Additional toiletries were available inside the lavatory.
Lavatory
Ah, an ANA lavatory. Always spotless and smelling fresh. Toilets in business class feature bidets (though no heat warming seats) and flight attendants clean it often. Fly on the competition, which shall remain nameless, and lavatory will likely look like a war zone by the time the flight is over. But on ANA, you can count on a clean bathroom.
Dental kits, mouthwash, and face wipes were available.
Food + Drink
ANA has not used the pandemic as an excuse to cut back on catering. Physical menus were distributed and included a detailed wine list, a multi-course dinner, snacks in between, and breakfast prior to arrival in Tokyo.
Pre-departure beverages were offered, with a choice between sparkling wine or orange juice:
Pre-Ordering
Business class passengers can pre-order their meals and I had ordered the western menu for this flight (and the Japanese menu for my connecting flight from Tokyo). ANA's website is a bit clunky, but I was able to pull up the reservation using my PNR and last name, assign seats, and then pre-order meals. Full .pdf menus can be pulled up as well, which is a great way to learn exactly what will be offered on your flight.
I've had good luck with filet mignon in the past on ANA and chose that option for my main course. Whilst distributing the menus, a flight attendant confirmed that my pre-order had been boarded.
This is not a "Book The Cook" type option taht gives you access to additional menu choices. Rather, you can prebook either the Japanese meal or the western meal (seafood or meat).
Dinner
The feast began with a choice of beverage followed by canapés, including:
mixed nuts
artichoke mini pie
uncured pork ham, melon, and petit onion brouchette
The canapés were served covered in plastic, which seems ridiculously wasteful but a way in which ANA claims it is protecting our health.
Next came the appetizer, which included marinated prawn and quinoa salad with roasted duck. It was served with hot bread, with a choice of a sourdough and oatmeal roll (no garlic bread). Olive oil and butter were offered and the olive oil, from L'Olivier, was very tasty dipped in bread.
The appetizer was also served covered in plastic, but perhaps this helped to protect the intricate garnishes of chard and dill.
The main course arrived, covered in foil. Underneath, I found a beef filet steak and mushroom duxelles. While the many called for red wine sauce, I asked that it be served on the side. Tender filet should require no sauce, just a pinch of salt and pepper. The filet was cooked too much for my liking, but a good cut of meat and a satisfying main course.
Speaking of red wine, I was not in the mood for any alcohol and did not drink on the flight. Looking back, I probably should have tasted a sip of Suntory World Whiskey, but I stuck to Perrie sparkling water with dinner.
How was everything? This empty tray is a good indictor:
I concluded the meal with a cheese board (Hereford Hop, Blacksticks Blue, Kidderton Ash) as well as some Häagen-Dazs strawberry ice cream.
In case you were wondering, the Champagne on offer was Duval-Leroy Brut Réserve.
Breakfast
I had not slept the previous two nights and I slept so well, awakening to the sun streaming through my window…and a growing stomach.
Actually, had I ignored it I probably would have gone into ketosis and been just fine, but how can a travel blogger ignore an airline meal?
I began with a cup of coffee (according to the menu, it was from illy) that was fine, but could have been stronger. I innocently asked for an espresso, knowing that it was not on the business class menu but available in first class, and was politely told it was not available (I probably should have known better than to even ask).
Breakfast included a plain omelet covered in a mushroom cream sauce with pork ham, potatoes, cooked tomatoes, and broccolini on the side as well as a yogurt covered in berry compote, a bread roll, and a croissant.
I've really developed a dangerous fondness for croissants and loved how warm and buttery this one was. In fact, I requested a second and was obliged.
I rounded out the meal with another cup of coffee and some water.
Besides the plastic coverings, you would never know we were in the midst of a global pandemic. There is no "hygiene theatre" (cost cutting masquerading as concern for health) on this airline unless you count the exchange of hot towels for packaged toilettes.
IFE
Each suite features a large HD 4K screen and a selection of:
Movies – about 50 choices, so not as much as on other leading carriers
TV shows – also a more limited library
Live TV
News – recent Japanese as well as BBC news broadcasts
Games
E-books
And our friend Sam Chui as well:
(his video on the first ANA Airbus A380 flight was included in the IFE library)
Duty free shopping is also available on your screen as well as a moving flight map with a forward-facing and downward-facing camera.
Noice cancelling headphones were provisioned in each seat and worked well. I appreciated that there was a headphone jack on each side of the suite.
The greatest IFE, however, was seeing the Northern Lights outside my window during dinner. It was the first time in my life I had actually seen them. What a stunning sight!
Service
Service shined on this flight, with a team of lovely flight attendants who were attentive, kind, and friendly. I was addressed as "Mr. Klint" and had my drink refilled several times during the two meals services. Dinner was served at the perfect pace and a flight attendant appeared moments after I woke up to wish me a good morning and offer me a drink.
The crew saw how many pictures I was taking and presenting me with a deck of playing cards and an inflatable airplane prior to landing. What a nice touch!
When it come to U.S. or even European carriers, more often than not you wind up with good flight attendants and sometimes they are superb. But on ANA, you really don't have to worry: the flight attendants are all great. Their job security depends upon being kind, courteous, and attentive.
CONCLUSION
It was a beautiful autumn day as we glided gently into Tokyo International Airport (Haneda). As we landed, this video played, which really merits a couple minutes of your time:
That truly sums up the experience.
As I walked off the aircraft (I had to wait until all the arriving passengers got off), I was warmly thanked for flying ANA and several flight attendants bowed to me as I stepped off the aircraft.
What a beautiful gesture. What a beautiful airline. This flight was one of my best ever. I cannot recommend "The Room" highly enough. ANA takes business class to whole higher level on its 777-300ERs and I greatly look forward to flying ANA once again.