As long as Avianca is engaging in hygiene theatre, it is best to avoid this carrier, particular in business class. Beyond that, the deplorable hard product does not inspire confidence in the airline itself. This review covers my A320 business class journey on Avianca from San Salvador to Los Angeles.
Avianca A320 Business Class Review
After a long layover in San Salvador (SAL), I was ready to get on my plane to Los Angeles. Boarding was scheduled to commence one hour prior to departure and I headed down to the gate about that time. At El Salvador International Airport, you clear security at the gate and the lines were long and moving very slowly.
The security check, however, was not all that close. I left a water bottle in my bag and it was not caught. My laptop stayed in the bag and my shoes stayed on. However, my belt and watch did set off the machine and I was scolded for leaving my belt on in the first place.
I noticed an army of wheelchairs lined up to pre-board (far more than in the picture below). There must have been 40…and for a brief moment I thought I was flying to India.
Boarding finally commenced around 30 minutes prior to scheduled departure. I was not first onboard, but did manage to join the wheelchair queue so I could take a few pictures of the business class cabin before it filled up. I already previewed this flight in the context of onboard service, but this is a fresh review.
Avianca Airlines 520
San Salvador (SAL) – Los Angeles (LAX)
Wednesday, September 15
Depart: 07:10PM
Arrive: 11:40PM
Duration: 05hr, 30min
Distance: 2,319miles
Aircraft: Airbus A320
Seat: 3K (Business Class)
Stepping onboard, it was not immediately clear how bad this flight would be. The flight attendant greeted me and the seats looked comfortable enough for the 5.5 hour journey.
Seats
Avianca has more than one A320 configurations. Some have seat-back screens. Mine did not. My aircraft had three rows in a 2-2 configuration, for a total of 12 seats. Seat pitch is 40 inches, which is more generous than what U.S. carriers offer in their "domestic first" product. Row three also seemed to have full recline and the seats were 21 inches wide.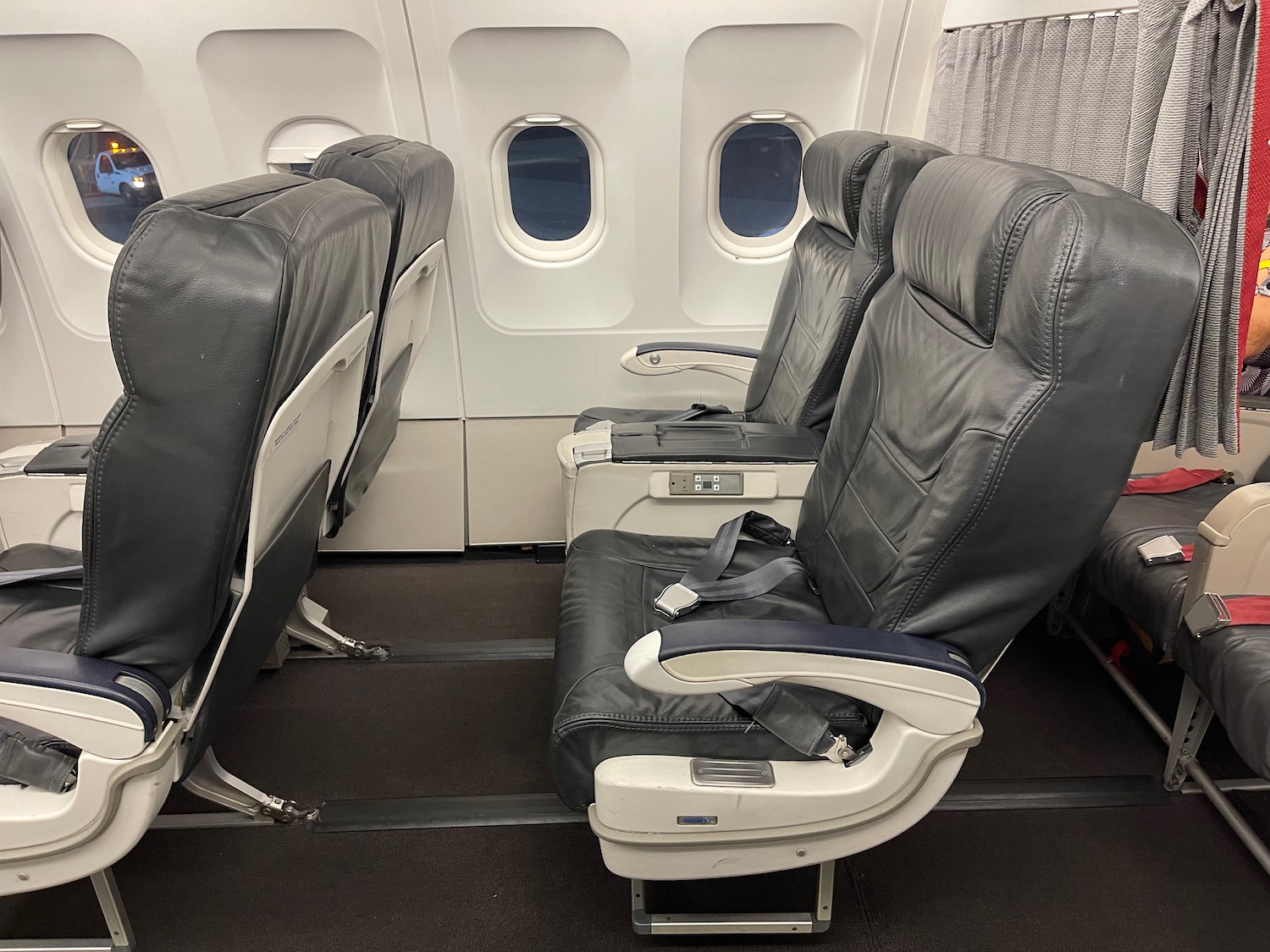 If you only care about the seats, Avianca is not a horrible option. But also note the carrier has a whole different type of business class seat on other A320s that are in a hard shell and do not look as comfortable.
While plugs were located in the center console, no power was available: they were either turned off or broken. There was a headphone jack, channel adjustor, and volume control on the armrest and it was even turned on, but there was no in-flight entertainment offered on the flight.
No safety card was in the seatback pocket either…and look at the condition of the cabin:
No blankets or pillows, either. I still managed to spend most of the flight sleeping. What else was I going to do?
Food + Drink
Wow, this was bad.
After takeoff, the flight attendant appeared with a beverage cart and I noticed just about everyone was ordering Baileys Irish Cream. That's odd, I thought. Is this a favorite drink in El Salvador?
Finally she reached me in the last row and offered me a choice of still water, Coca-Cola, or Baileys. Yes, three drink choices in business class, including Baileys.
I had water.
I was also offered a box containing a chicken pita sandwich and plantain chips. This would be dinner on the 5+ hour international flight.
Well, better than nothing I suppose. But as I tried to open the sandwich, I found the bread had stuck to the wrapper and pulled apart as I tried to pull it out, emptying the lukewarm chicken all over the cardboard box it was served in.
What a sad meal.
IFE
None.
There was no wi-fi, no streaming video, and no overhead video except for the pre-flight safety briefing. Again, power ports were broken or turned off so it's not like I could even pass the time watching movies (yes, those new MacBook Pros with incredible battery life are calling my name…)
Service
While the flight attendant was nice, she was given very little to work with. After the "snack" service she disappeared and I did not see here again till we began our descent to Los Angeles. I got up to use the lavatory and asked her for a glass of water. This should have been proactive, but beyond the first beverage service no additional drinks were offered.
Amenity Kits
None
Lavatory
The lavatory and was looked clean…at least there were not puddles on the floor.
CONCLUSION
I acknowledge Avianca is a financially-troubled airline. It is currently operating in bankruptcy protection (with plans to emerge soon) and there is genuine concern whether the carrier can survive.
Even so, I was expecting a little something more on a 5.5-hour flight departing at dinner time in business class. The entire product, not just the meal, is deplorable and there is no way I would waste my miles or money for business class on this carrier…becuase soft product matters to me.
I do intend to return to El Salvador (and actually enter). There's a Hyatt Centric I want to review and I want to stock up on coffee. But, it will be on United, not on Avianca…that's for sure.
As we approached Los Angeles, fog drifted in. It was a beautiful night…
…a beautiful night to walk straight to In-N-Out Burger on Sepulveda for some real dinner.