My dear readers, some links on this site pay us referral fees for sending business and sales. We value your time and money and will not waste it. For our complete advertising policy, click
here
. The content on this page is not provided by any companies mentioned, and has not been reviewed, approved or otherwise endorsed by these entities. Opinions expressed here are the author's alone.
Following its closure during the COVID-19 pandemic, Terminal 1 at Paris Charles De Gaulle (CDG) re-opened on December 1st, and we were there to fly home the following day. Here's a first look at the updated terminal. 
---
If you are considering booking travel or signing up for a new credit card please click here. Both support LiveAndLetsFly.com.
---
If you haven't followed us on Facebook or Instagram, add us today.
Terminal 1 at Paris CDG Re-Opens
Closed during the pandemic for two years of renovations, the original Paris Charles De Gaulle (CDG) Terminal 1 re-opened on December 1st, 2022. My family switched to a flight departing early the morning of December 2nd giving me an early look at the newly updated terminal.
Oringally designed by Paul Andreu, the circular terminal design was to be one of several satellites with boarding gates. Check-in counters are on the ground floor with arrivals and departures operating at elevated levels from the same central building.
Over the next few weeks a number of carriers (many of them Star Alliance) are set to return to the original CDG airport terminal, phasing back in from gates elsewhere in the much larger terminal 2.
Here is a list of the airlines returning and their respective dates of return according to Aviation24:
December 1: Austrian Airlines, Brussels Airlines, Eurowings, Lufthansa, SWISS
December 2: Aegean Airlines, Icelandair, LOT, Norwegian, SAS
December 5: Air Algérie, Bulgaria Air, Egyptair, Srilankan Airlines
December 6: Air India, Fly One, Oman Air, SATA Açores, Sky Express, Ukraine Intl. Airlines
December 7: Singapore Airlines, Turkish Airlines
December 8: Cathay Pacific, Etihad Airways, Kuwait Airways
December 9: Qatar Airways, Saudia
January 9: United Airlines, Aer Lingus
January 10: Emirates, Iran Air
January 11: Air Canada, Air Madagascar
January 12: Air Senegal
January 13: All Nippon Airways, Asiana Airlines
Classic Style, Modern Updates
Terminal 1 held onto its classic style but with added modern updates. It encapsulates a time when flying was romantic, novel, and something special. Adding modern updates to this classic look and feel makes it functional in the modern era without abandoning the nostalgia.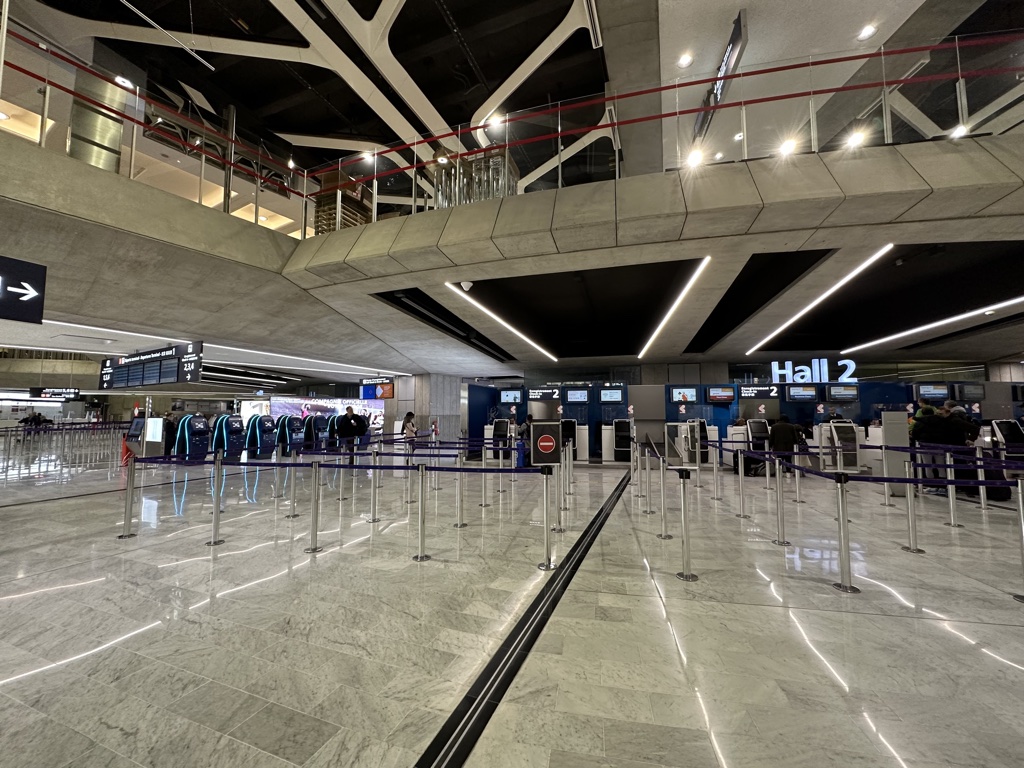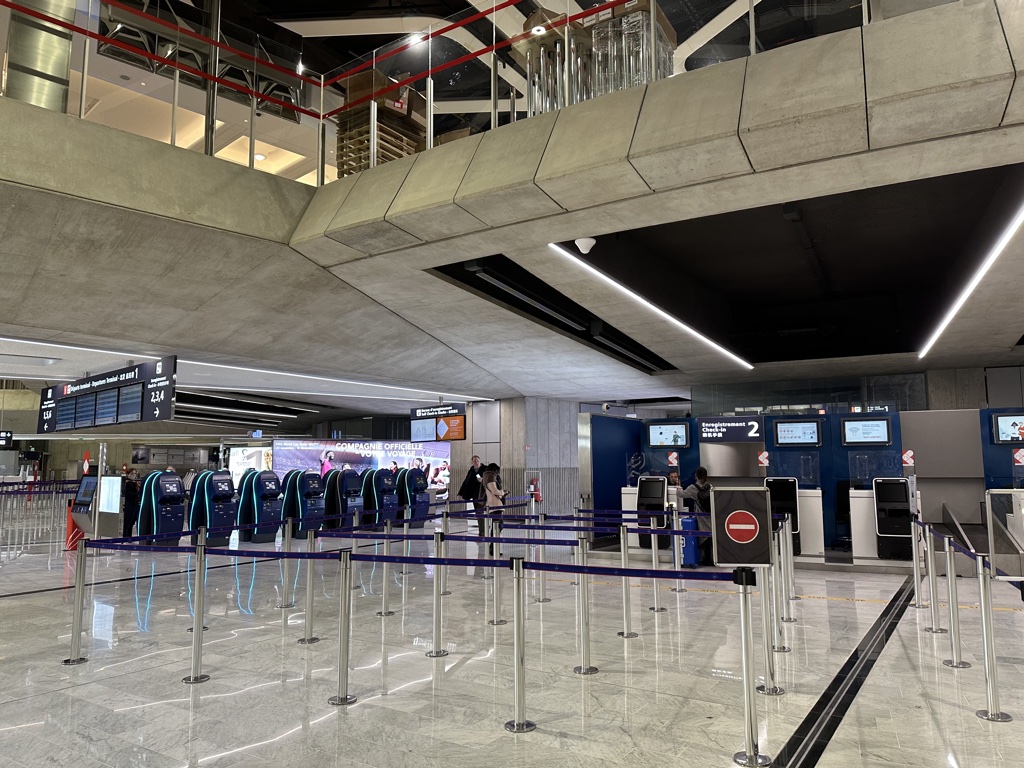 Self check-in kiosks and manned counters wrap the building for a smooth and easy experience for passengers.
A hallway leading to the gates has a quick boarding pass scanner prior to entering glass-encased escalator tubes taking travelers to the appropriate level for their departure gates.
We departed from gate 67 for our flight which allowed us to transport through a tiled passageway reminiscent of New York JFK's TWA terminal.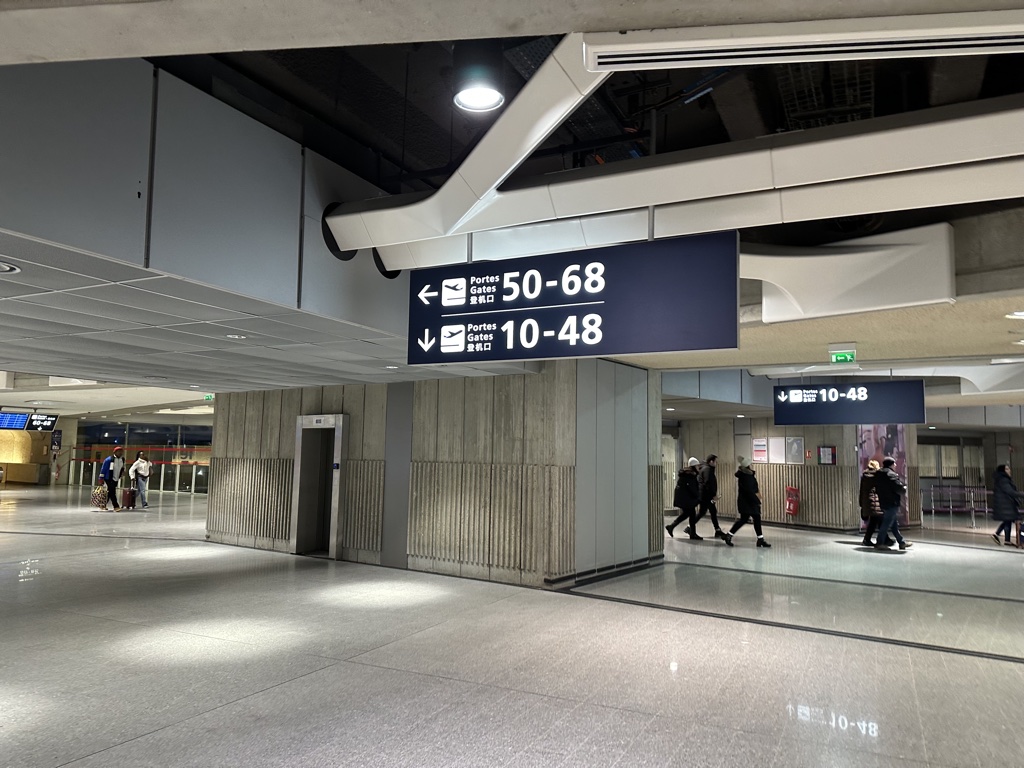 It was great to see this terminal revived. I'll include a quick look at the Lufthansa Senator lounge in a review of my Lufthansa flight in an upcoming post.
Same Old Security
Despite an opportunity over the last few years with reduced passenger load (or in this case, complete terminal closure) the airport's famed security process is the same, I am sad to report. Despite relatively few gates, passengers were bursting at the seams on both sides of the security line because of its placement and the aged original design of the circular terminal building. It simply was not made for the passenger loads nor security protocols that the accompany Paris Charles de Gaulle airport in 2022.
Conclusion
The Terminal 1 renovation accomplished an implementation of new technology without losing the style elements that make the terminal great. Some areas are still problematic due to the design and traffic flow, including a congested gate area, security checkpoint, and limited duty free. Flyers should check with their airline prior to departure to ensure they are flying out of the correct terminal as rollout continues over the next few weeks.
What do you think? Do you like the changes? Would you prefer a new-build terminal instead?