Before my Delta Air Lines flight to Amsterdam, I had time to visit all five Sky Club locations in Detroit's beautiful McNamara Terminal. This review highlights the latest addition, Delta's A43 club, which turned out to be my favorite of the five Delta lounges.
Delta Sky Club Detroit (DTW) A43 Review
This was a very crowded lounge and I only stayed for a few minutes. Part of it was timing (ahead of the evening bank of departures across the USA and to Europe) and part of it was the fact that the A Concourse has four clubs and the C Concourse, which is fairly large, only has one.
Location + Access + Hours
This Sky Club is located in Concourse A past security, to the right (directly across from the larger A38 lounge). It is open daily from 6:00AM to 10:00PM.
After entering on the ground level, you'll take an elevator upstairs to the lounge.
This lounge is available to:
Delta Sky Club members (along with same-day boarding pass for Delta or a partner)

Lifetime members can access the club regardless of the airline they are traveling on
Two guests or immediate family (including all children under age 21) are permitted

Delta One or SkyTeam premium cabin passengers

Access only when traveling on a branded "Delta One' (versus first class) domestically
Access when connecting to/from a same day international Delta One flight
No guests permitted

SkyTeam Elite Plus members traveling on an international ticket in any cabin of service

Includes Canada, Mexico
Excludes Caribbean, Guam, Palau, Saipan
One guest permitted

Select credit card holders

Delta SkyMiles Reserve from American Express
American Express Platinum / Centurion
Delta SkyMiles Diners Club card
Delta SkyMiles TRUST CLUB Platinum/Gold Visa card

Virgin Australia Club or Velocity Gold members (through June 12, 2022)
WestJet Business Class passengers
WestJet Rewards Gold and Platinum members

Access only when traveling on a transborder flight
One guest permitted
Seating
This is a small lounge and it was crowded (though it emptied out a bit by the time I left). There's pop culture artwork on the wall (some with neon effects), a small lounge area, and a dining area.
Food + Drink
Beverage stations with coffee and water are located around the lounge, but the main eating area was located on the in the center lounge, with a number of hot and cold items.
The afternoon selection included:
salads

Waldorf chicken
apple, cranberry, walnut, kale
potato
buffalo bleu cheese pasta

sandwiches

turkey swiss
ham and pepper jack

hummus with veggies
charcuterie board
cheese tortellini
chicken parmesan
green beans
soup
Miss Vickies potato chips
Rice Krispie Treats
apple cobbler
brownies
cookies
bannans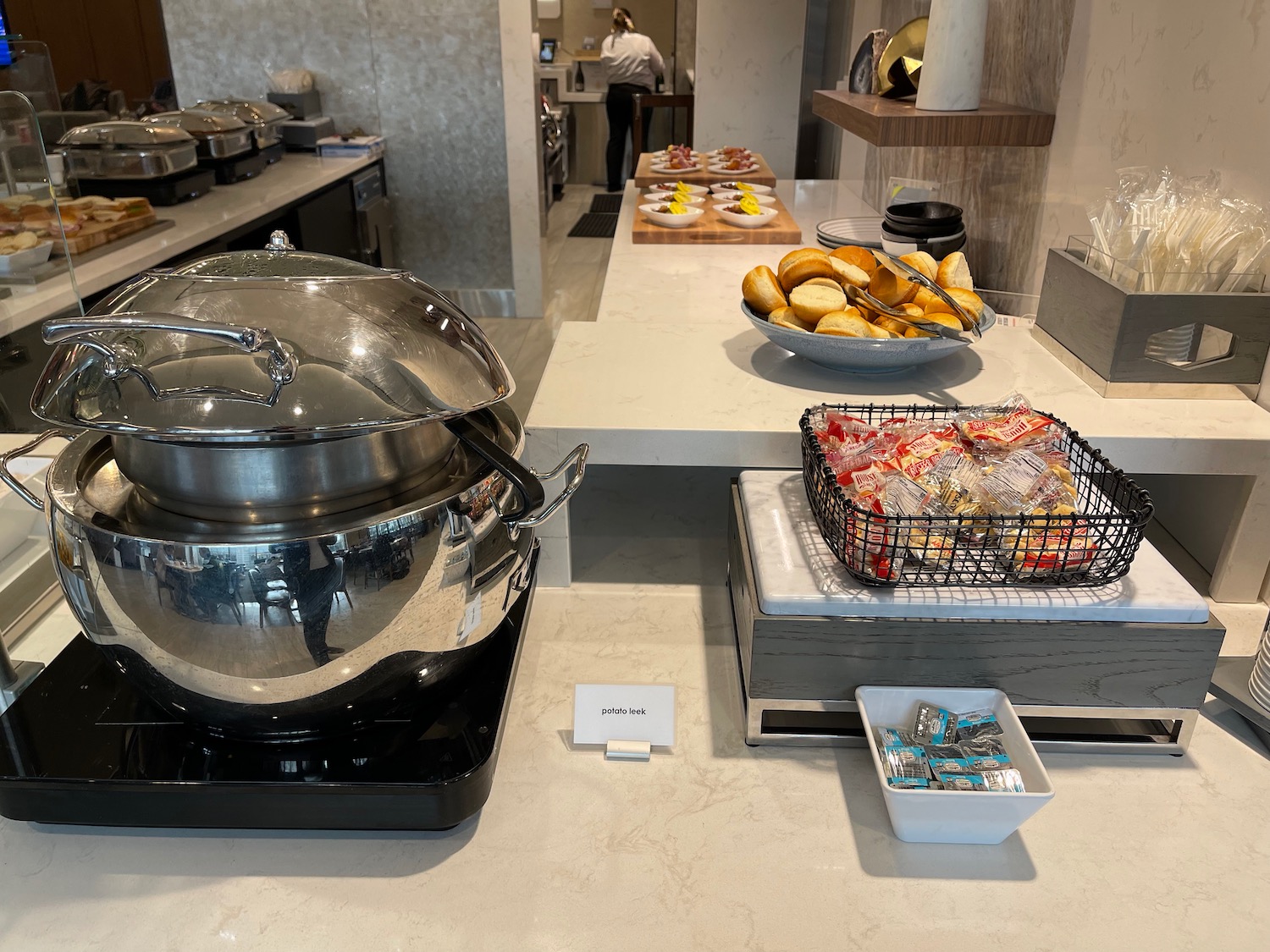 What made this Sky Club unique were two pre-plated meals available, a charcuterie plate or a cheese omelet with potatoes, bacon, sausage, and cooked tomatoes.
I had visited the previous four Sky Clubs without eating anything beyond a bag of chips, so this served as a fitting brunch (I had a bowl of potato leak soup as well).
It wasn't clear to me why this lounge had these extra a la carte treats, but the new A38 lounge was unique in this respect. That lounge is the only non-legacy Northwest Airlines lounge at DTW and is also rumored to be a future Delta One Lounge (similar to a American Airlines Flagship or United Airlines Polaris Lounge).
Small problem: the omelet had literally been setting out for hours and was cold (why order it then? – I figured it was powered anyway…). But I like even powdered eggs and I asked one of the gracious staff members to warm it up, which they were happy to do. I really enjoyed it. 
Beverages were available too – soft drinks, tea, coffee, water, and juice were self-serve.
Meanwhile, the bar had complimentary drinks as well as a menu of cocktails and top-shelf liquor for purchase.
You can even use your SkyMiles to buy a bottle of Dom Perignon.
Restrooms + Showers
Restrooms are located inside the lounge and showers available upon request.
CONCLUSION
While this was a small lounge with less seats than the other lounges (and I'm not sure it will age well either), I did appreciate the late breakfast…it really hit the spot. Rumors abound this might be a future Delta One Lounge…but for now it is just one of five Sky Clubs at DTW.