As the father of two, I have a great deal of experience with markers on walls, floors, clothes, and just about everything else. Even in an act of desperation on a longhaul flight, it is not okay to let a restless (and bratty) kid draw all over an airplane seat, window, wall, and tray table. There is no justification, even if the marker theoretically wipes off.
Bad Parenting 101: Letting A Kid Draw All Over An Airplane To Keep Her Quiet
A mother posts "real life advice" on Instagram, explaining that letting toddlers use markers freely to mark over anything and everything is a great way to calm down a child on a longhaul flights.
"These are a great tool to pull out when the iPad has run its course. I prefer to let my toddler use these when I want him to go to sleep, because the iPad stimulates him and I find it's harder to get him to sleep. And we all know a sleeping toddler on a long flight is a MAJOR WIN."
She includes video footage of her daughter marking all over the wall, tray table, and seat of both a Qatar Airways and Delta Air Lines flights, explaining:
This footage is on our Delta domestic leg. I was proactive to tell the flight attendant they wipe off. She gave me a sigh of relief 😂. However, Qatar Airways didn't even bat an eye when I used these! I do find that international flights are much more kid friendly and tolerant.
Maybe the Qatar crew did not say anything to you because they were simply shocked?
View this post on Instagram
Sometimes I take positions on Live And Let's Fly simply to promote discussion, but that is not my intention here. To the mother: shame on you and your horrible parenting. You are creating a monster that is unfit for society.
If the tradeoff is a screaming child versus respecting the property of others, perhaps many would rather the child scribble away and stay silent. But that's selfish. It's not okay. Imagine if she scribbled on your computer or your bag or your shirt to stay quiet.
I know this is a tough issue because if you walked into my daughter's room just a few months ago you would have seen scribbling all over the floors, desk, chair, dresser, wall, window, bed, books, and toys. She even managed to tag the ceiling (don't ask me how…).
Rather than affirm her artistic creation, we disciplined her. And made her, even at the age of two years old, scrub it up.
Now she's three and guess what? She doesn't do it any longer. She knows that markers and crayons and colored pencils are only for paper.
And as I've been showing you in my current trip report, she also stays busy and calm during flights…without having to resort to drawing all over the aircraft walls and seats.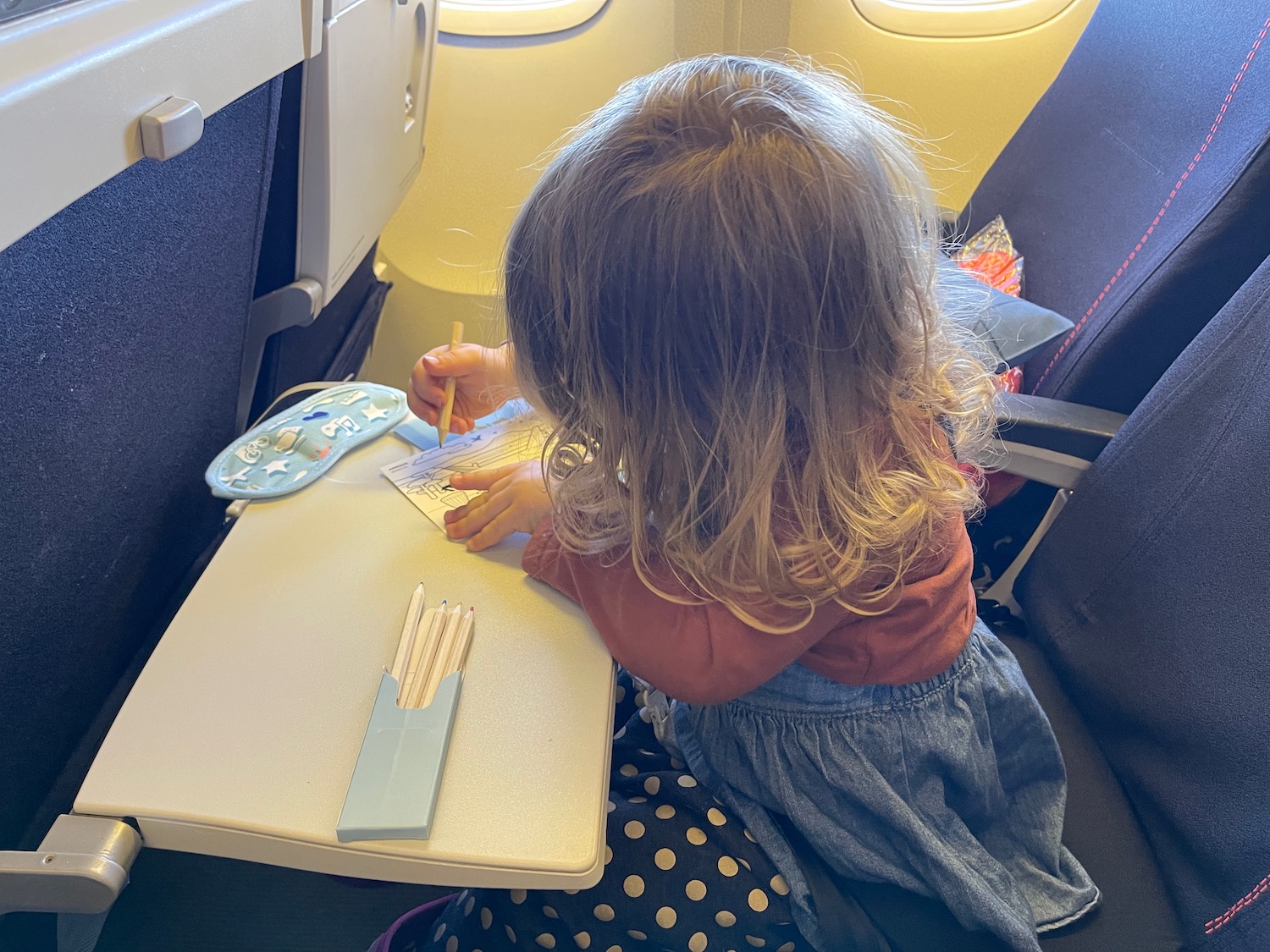 The challenge with parenting is the careful balance required in utilizing consistent discipline while not breaking the spirit of the child. Both are manifestations of love and both work with each other to create a person that respects authority and recognizes the world does not revolve around them. This is true even at an early age.
Notice that when she wipes off the marker from the tray table, there is still green residue on it? Certainly that would come off with some bleach, but it creates a headache for the ground cleaning staff. Also notice that she has written on the tray table as well (look at the well-developed letter sand numbers). She is modeling for her child how to misbehave!
And notice on the Qatar Airways flight (red seat) there is scribbling on the leather armrest and cloth seat itself? Same is true on the Delta flight on the blue leather seats. Those "washable" markers are not coming off easily.
CONCLUSION
Letting your kids draw freely on an airplane is a poor form of parenting and does not teach respect for the property of others. I'm disgusting by this mother (my wife is too, for what it's worth), and find no justification for this behavior.
Yes, drawing is a great alternative to screen time. But the solution is simple: you draw on paper.
(image: @momhighclub / Instagram // H/T: View From The Wing)