I greatly enjoyed a short but relaxing stay at the Grand Hyatt São Paulo. Not only was I upgraded to a large suite, but I found the staff exceedingly kind and the amenities quite generous, particularly considering we were in the midst of a global pandemic.
Grand Hyatt São Paulo Review
Booking + Upgrade
I booked a paid rate of about $100/night after taxes. I could have used 12,000 points (the hotel is a Category 3 property) but since I value Hyatt points at two cents each, it made sense to hold onto them.
After a 9:30am landing at Guarulhos International Airport, the ride to the hotel took about 90 minutes in typical morning rush hour traffic. I saw on the World of Hyatt app that I had been upgraded to a suite due to my Globalist status and wondered if I would be able to check in early.
Although it was only 11:00am, four hours before official check-in time, I was told my room was ready and provided a key immediately. A check-in clerk warmly welcomed me to São Paulo and explained Grand Club hours and breakfast in C Restaurant.
I was also presented with a paper detailing hotel amenities:
Grand Suite
My eighth floor suite, room 802, featured a large living room, bedroom, and bathroom. At 731 square feet (68 square meters) it was very spacious and also quite inviting with natural light streaming through the suite's many windows.
The living room featured a couch and two wing chairs and the bedroom also featured two easy chairs with ottomans.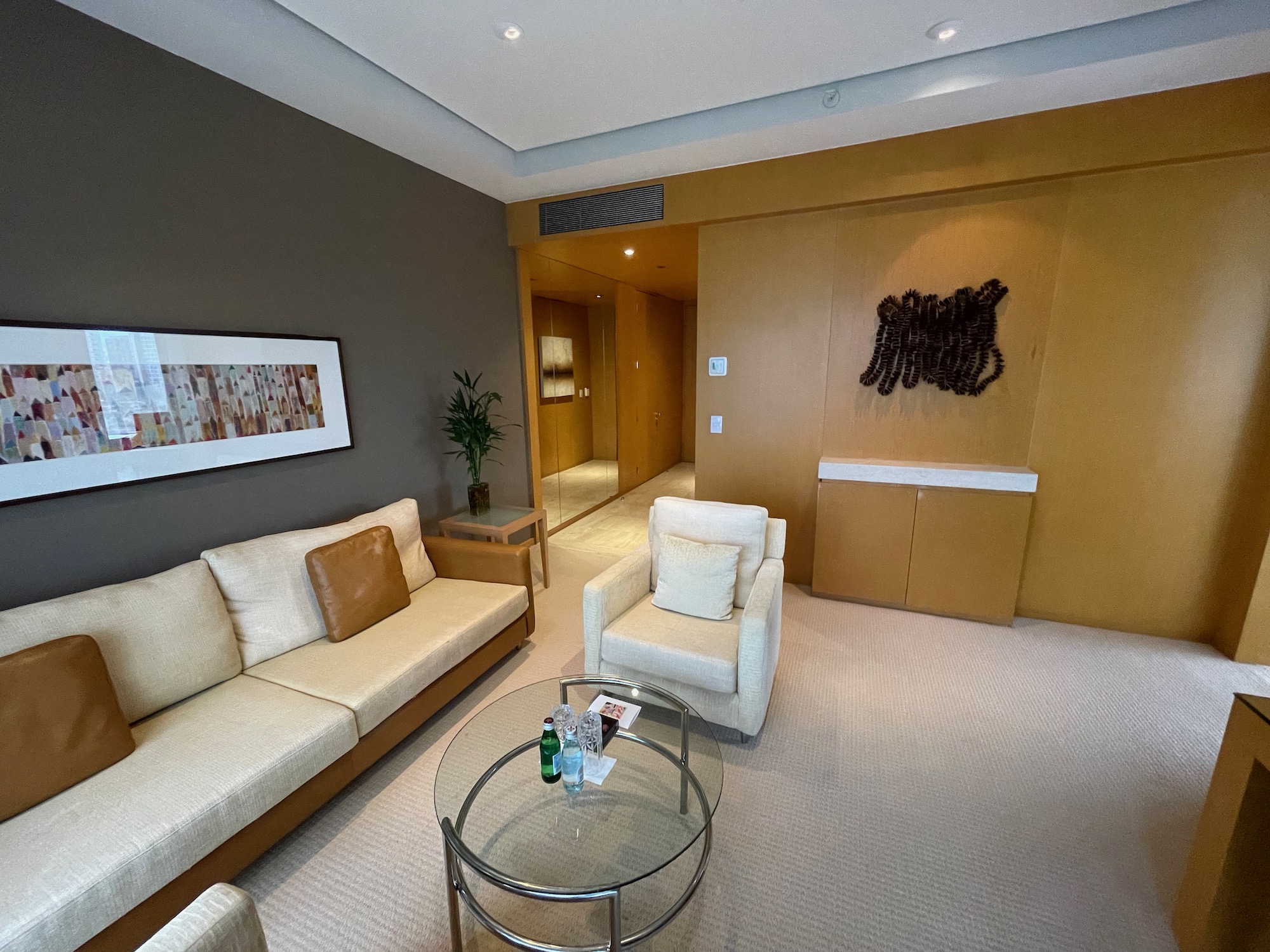 The bathroom included a bathtub, separate shower, and toilet with the vanity in between closets in a separate room. Shower products were from Granado and had a great lavender scent.
Other than a splotch of white paint on the armoire in the bedroom, the suite was very clean.
My World of Hyatt profile must note how much I like berries, because shortly after arrival a bowl of berries (and grapes) plus chocolate was delivered to my room, a very nice touch (along with sparkling and still water).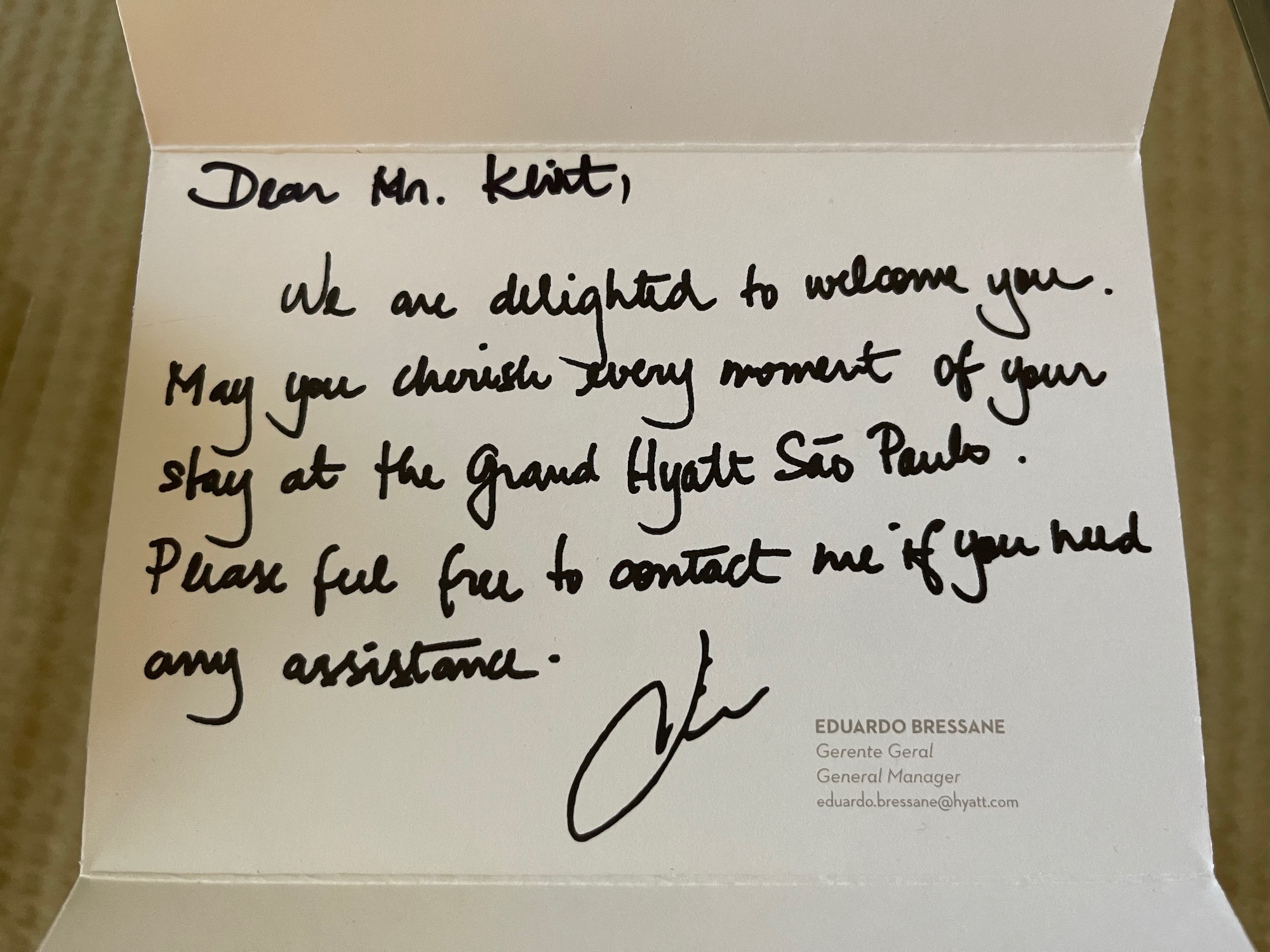 The room also included a mini-bar with snacks and drinks for purchase and a Nesepresso coffee machine.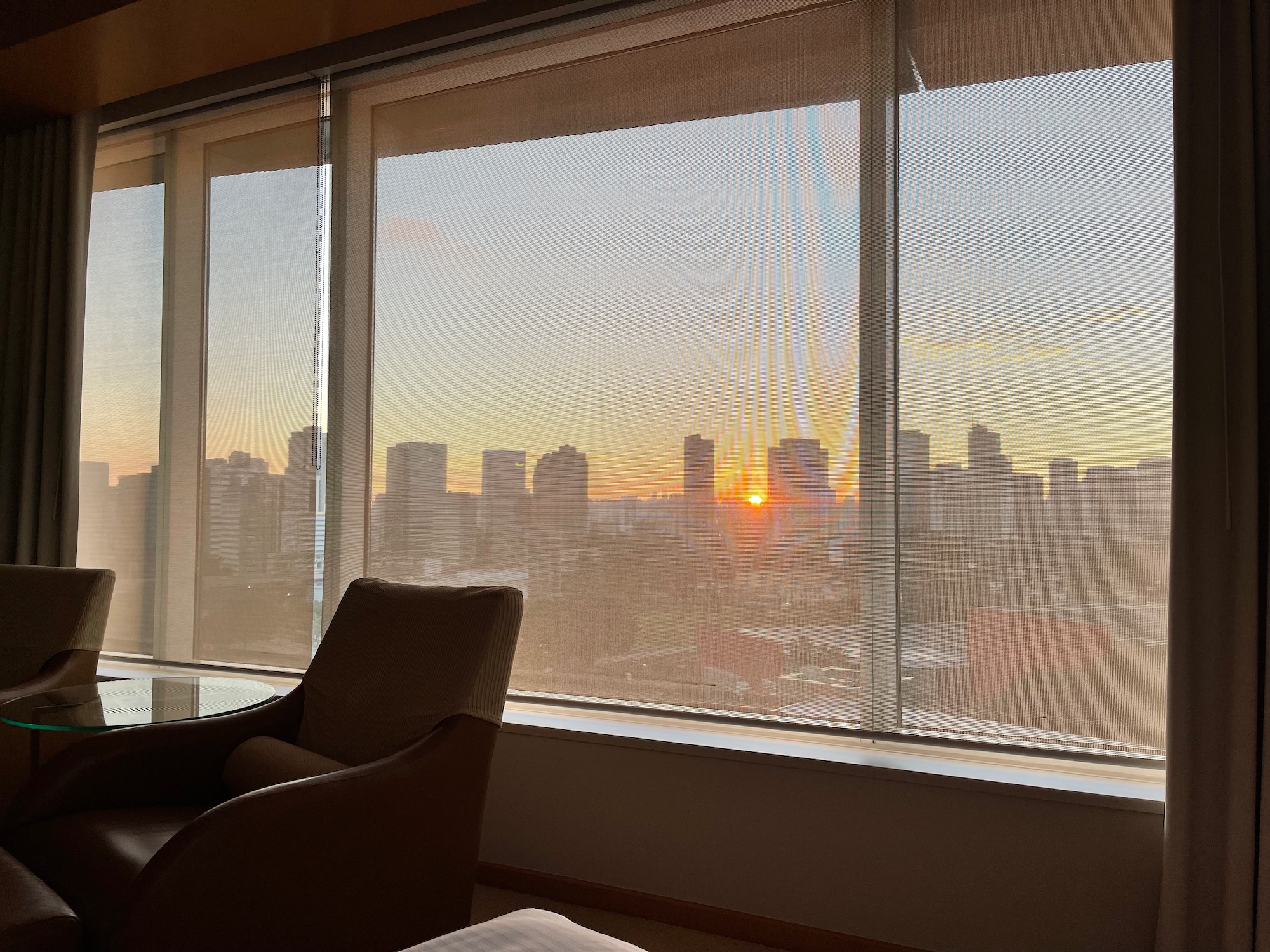 Twin Room
My flight to Houston was not leaving until 11:00pm so I gingerly asked the next morning if I could have a late checkout. The front desk clerk immediately offered me an 8:00pm checkout on the condition that I vacate my suite by 4:00pm. (It helped that the hotel was mostly empty)
That was a great tradeoff, as I was out all day any way but still able to workout and then shower prior to my flight.
The twin room was 441 square feet (41 square meters) and also included a large bathroom (and a long hallway to get there).
Fitness Center + Spa
To try to beat jetlag (that urge to nap), the first thing I did was head to the gym and sauna.
The gym at this hotel is very impressive, with two large rooms filled with modern cardiovascular and strength training machines (mostly TechnoGym) along with pilates equipment, medicine balls, free weights, and other a room for stretching.
After my workout, I retreated to the sauna, which was lovely (summer in North America is winter in Brazil and it was cold outside).
The locker room is also modern and includes individual lockers you can lock via a numeric key code.
Massages are available for purchase, though treatment prices run closer to American prices than what you would expect to pay in Brazil.
Pools
Both an indoor and outdoor pool are available, though the outdoor pool was closed due to the pandemic (despite what the flyer above noted).
The indoor pool, however, was quite tranquil and I enjoyed a brief swim after my workout.
Grand Club
Staff in the Grand Club, located on the 20th floor, are just lovely. I arrived after my workout for a cup of coffee, figuring I would have to make it myself. Nope: a staff member greeted me, asked me how I liked my coffee, then made me a very nice cappuccino.
Great views from the Grand Club as well:
An evening happy hour is available from 5:00pm – 8:00pm (drinks are still available after until 10:00pm) and there was a wide selection of food available, easily enough for dinner if you were so inclined (in most places I am, but not in Brazil, where restaurants are amazingly deliciously and reasonable). My dinner plans, however, did not stop me from enjoying a glass of red wine and a nice round of appetizers including:
pasta with arrabiata sauce
caprese tomatoes
green salad with sun-dried tomatoes
Bolinhos de batata (potato balls)
cold cuts
hummus
cheese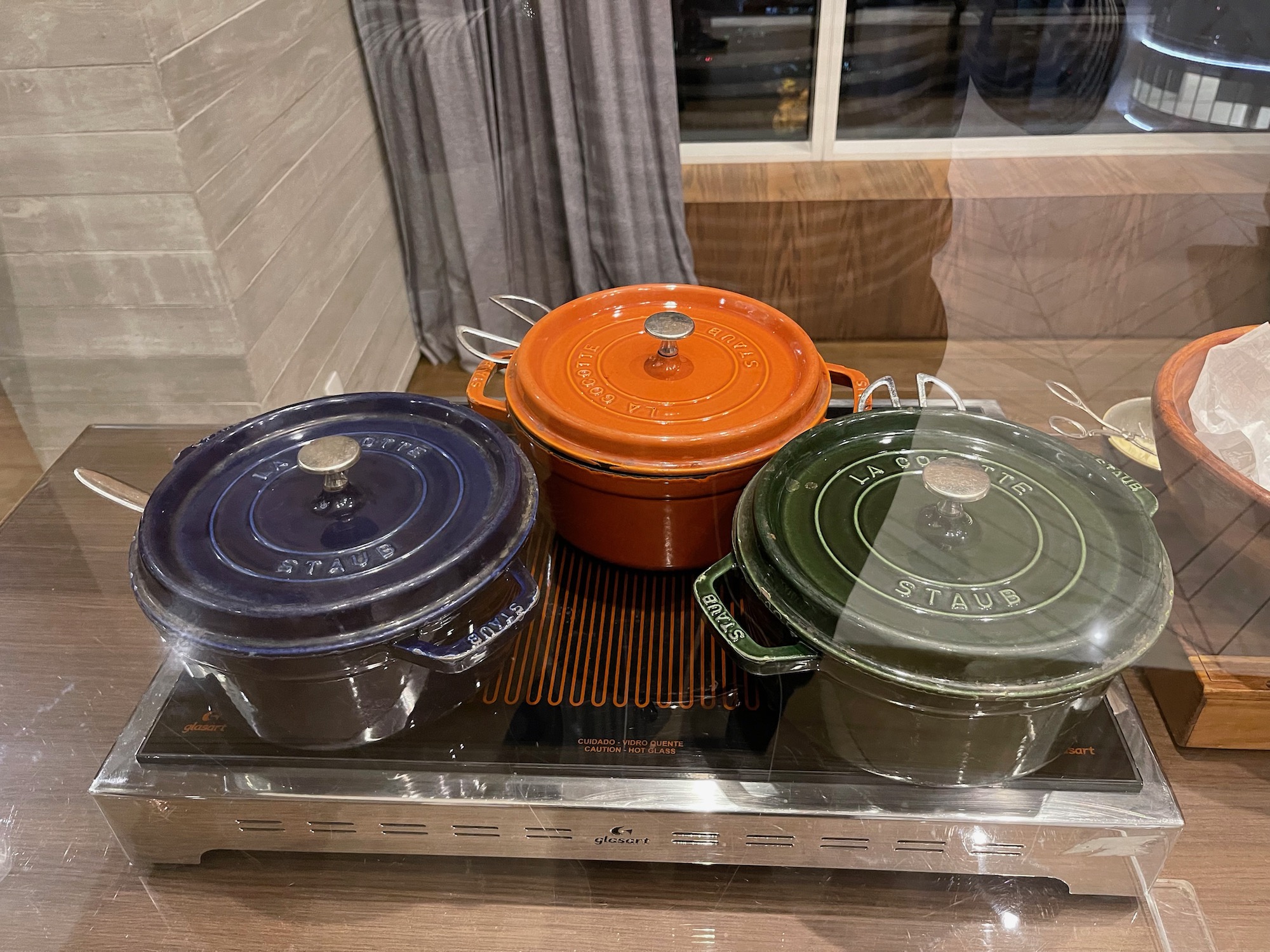 My understanding is that the evening hors d'oeuvres are back to self-serve (versus pointing to what you wanted behind a barrier).
Later in the evening just before closing time my friend and I returned to the lounge. I had a decaf cappuccino while he had a glass of Guarana (which I tried and found rather unappealing).
The Grand Club lounge is a huge plus at this hotel and a nice benefit for Globalist members.
C Restaurant
Breakfast and dinner are offered at C Restaurant on the lobby level. The Grand Club was not open for breakfast, so I enjoyed breakfast and coffee here. A cold buffet (again behind partitions) included pastry items, fresh fruit and juice, yogurts, and cereal while a hot a la carte menu offered egg dishes.
The eggs benedict with salmon and fresh-squeezed juices were particularly good.
If you do not have Grand Club access, coffee is available here throughout the day. Like everything else in the hotel, all coffee machines are Nespresso.
My friend also had dinner here after I left and reported the salmon was very tasty.
COVID-19 Precautions
Every time I entered the property, my temperature was taken (on my hand) and I was directed to use hand sanitizer. Masks were required indoors.
The House Cat + Dog
This hotel has its own cat and dog, which I thought was a cute concept. While I never saw Mocotó, the dog, I did run into Jessica, the cat, several times. She was beautiful, but not all that friendly (she retreated when I tried to pet her).
My friend who visits often has gotten to know the cat and snapped this picture of Jessica sitting at the check-in desk on another visit:
Location
The hotel is located in São Paulo's business district. I would not necessarily call it a strike because it all depends upon where you are going in Brazil's largest and most sprawling city, but to get to the coffee shops, restaurants, and bars where I spent time (in the Consolação district), it was a 30-minute Uber ride (just a few bucks though – I love the cheap transportation in Brazil).
CONCLUSION
Grand Hyatt Sao Paulo is a superb hotel in Sao Paulo. As an added plus, rates are also very reasonable during the pandemic. I look forward to returning.