From Bahrain to London I flew Gulf Air onboard a 787-9 in "Falcon Gold" business class. Overall, my experience was mixed, with some elements I loved and others that made me scratch my head.
Gulf Air 787-9 Business Class Review (BAH-LHR)
I booked my ticket using Aeroplan miles. In Abu Dhabi, I received my boarding only for Abu Dhabi to Bahrain but was able to collect my onward boarding pass in the Gulf Air Falcon Gold Lounge.
After a (very long) layover, I proceeded downstairs to board my flight to London.
Boarding began 55 minutes prior to takeoff.

Gulf Air 003
Bahrain (BAH) – London (LHR)
Friday, April 8
Depart: 10:25 AM
Arrive: 03:20 PM
Duration: 06hr, 55min
Distance: 3,169 miles
Aircraft: Boeing 787-9
Seat: 2H (Business Class)
I was greeted by a crowd of flight attendants as I boarded, who proceeded to their stations when they saw that passengers were coming.
Seat
In all my years of flying, this was the first time flying on a B/E Apex suite and I thought the seat was excellent, with great privacy and comfort. The big downside is the lack of any sort of storage space. Even so, I loved this seat.
The seat is 22 inches wide and is even wider when in lie-flat mode (25.5 inches). The seat converts into a bed that is 78 inches long. The seats are arranged in a staggered 2-2-2 configuration. Every seat has direct aisle access.
While I had attempted to secure a window seat, I booked last-minute and there were no window seats left. If you can secure a window seat, you really have a private experience that feels almost like a first class seat with three windows of your own.
I noticed on the seat map (via ExpertFlyer) that seat 1K was available, but was told it was broken in the lounge. Onboard, I asked about it and it was confirmed that the motorized feature did not work so the seat was stuck in the upright position. I asked if it would be okay to move to that seat for the lunch service ("so I could look out the window") and my request was obliged.
The seat can be adjusted on both the armrest and on a side console panel. There is a massage function as well.
Coat hook:
Limited storage space for shoes only:
Note how filthy the area around my universal power port (and USB port) were:
After lunch, I took a nap and appreciated the bedding, which included a seat liner, duvet, and pillow. The duvet was very lightweight, but cozy.
There are no individual air vents, though I loved the mood lighting and the lack of center bins, which provided a spacious feel.
IFE
Each business class suite includes a huge 22-inch entertainment screen with a touchscreen controller.
Similar to JAL, you scroll through choices (moves, games, music, TV shows) on your handheld device, not on the main screen itself. It is only when you make a selection that it shows up on your main screen. I do not particularly care for this style of making a selection, but you get used to it.
I'm not sure whether there was a problem with my headphone jack or with multiple sets of bad headphones, but the sound only came in faintly and only on the left side of the headphones (and I did replace the headphones).
IFE advertisements were also quite annoying: there was no way to fast-forward through them.
Wi-Fi was available for purchase onboard, with two packages available, a "chat" pass for $10 or a "smart" pass for $15. The smart pass did not have data caps and worked quite well.
I liked that you could see how many other passengers were online:
Speeds were respectable:
Service
There was something off with the soft product, particularly the service, on this flight.
The purser onboard was friendly enough–I don't think he meant any harm–but first he was curious why I was taking pictures, scolding me not to take any. I explained the it was my first time on the Gulf Dreamliner and he then encouraged me to take more…
That was innocuous enough, but it got stranger. Lunch was served after takeoff and instead of politely addressing each passenger by name or doing it himself, he marched through the cabin yelling (literally shouting) at people to pull their tray tables up…it felt like I was dealing with a surly flight attendant on American or United.
The cabin was immediately darkened after takeoff even though it was morning. I opened my window during the meal service and he came over and said, "This is going to be a problem." I explained that I like natural light but he admonished me (again, not so much in a cruel way but he was serious) for disturbing others.
Why is it that flight attendants think we like dark cabins on daytime flights?
As odd as it sounds, the service was well-intentioned, just not very well executed. It was far more casual than I would ever have expected on a Gulf carrier. There is great room for improvement.
Food + Drink
Service began with a pre-departure beverage, a choice between orange juice, water, mint lemon juice, or sparkling wine.
The mint lemon juice was excellent and always makes me feel like I'm on a Gulf carrier.
That was followed by cold towels.
Next, came Arabic coffee and dates. Keep in mind this is all pre-departure!
Finally, menus were distributed before takeoff, which included a bar list and wine menu.
Lunch was delicious…soup, salad, chicken, and dessert..but little touches were missing. Like the casserole dish wasn't wiped. And I was not asked if I wanted anything else to drink besides water. I really hope that service on my flight does not characterize the style of service on Gulf Air, which simply was miles behind my preceding Etihad flight.
First, I had mixed nuts and some sparkling water.
Then a bowl of creamy tomato soup with garlic bread.
That was followed by a green salad with herbs inside and a vinaigrette dressing; a very satisfying salad.
The main course was best of all, a spicy chicken tagine with saffron rice.
Next, a dessert cart was rolled down the aisle and included a selection of fruit, cheese, and cakes.
My chocolate cake with fruit was excellent. I ordered a cappuccino with it. It took 15 minutes to deliver the cappuccino…
Before landing, afternoon tea service was offered with sandwiches, cakes, and scones. Service was via cart.
The sandwiches were horrible – stale and tasteless. A huge disappointment for a carrier from a country with a lovely cuisine. Even the scones were not very good.
Lavatory
The lavatory included a toilet with a bidet.
Amenity Kit + Pajamas
Impressively, pajamas were offered during this short service. Having slept the previous night and because it was morning, I did not change.
The amenity kit was in a large bag with a white horse on it and included:
lip blam
face moisturizer
ear plugs
mouthwash
dental kit
comb
socks
eau de toilette (perfume water)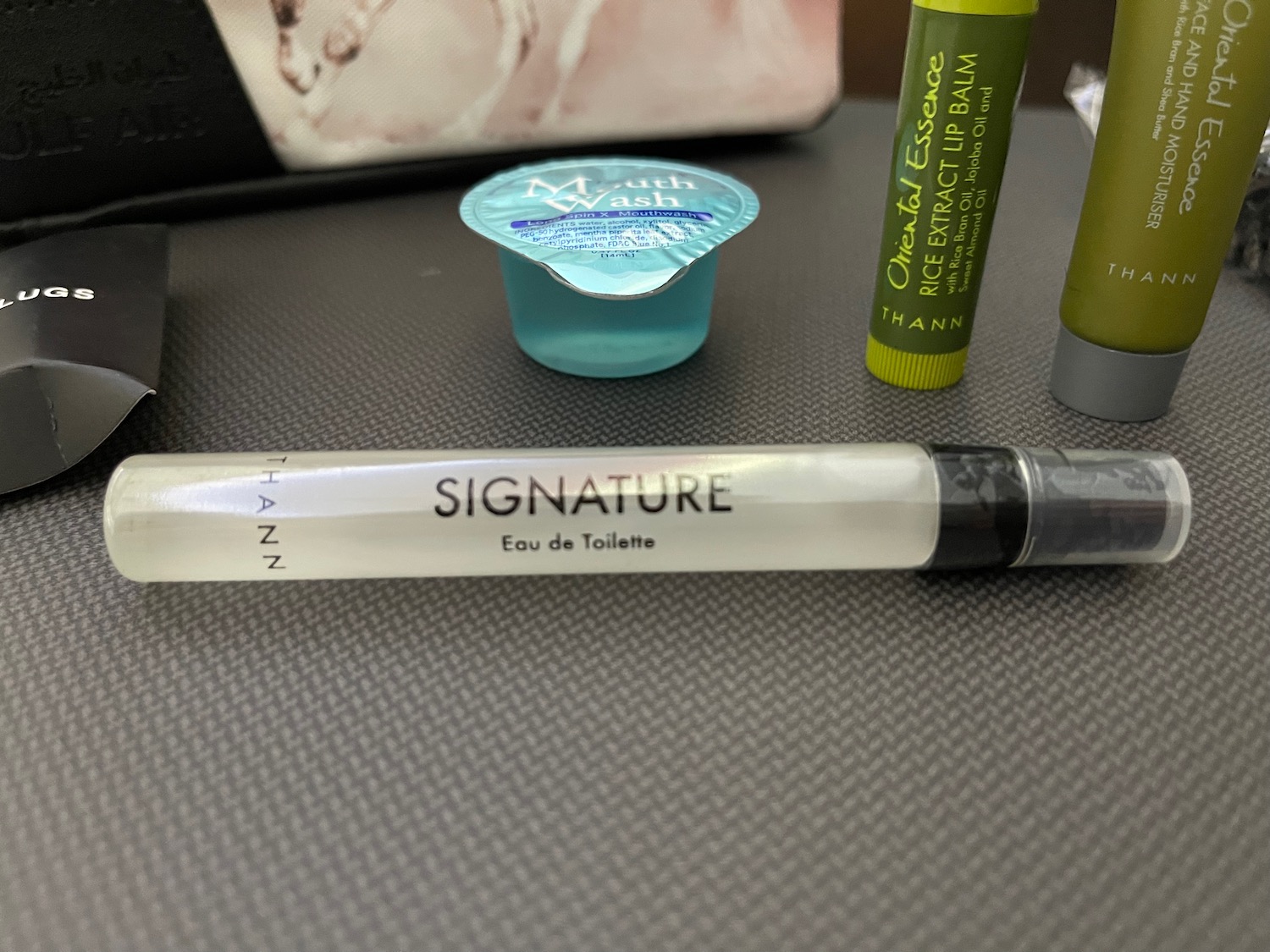 CONCLUSION
We landed about 20 minutes ahead of schedule in London. I think (quite reasonably) I give this flight a mixed review. The main meal service was delicious, the seat comfortable, and the amenities like a large amenity kit and pajamas impressive, but the service was… strange…and the pre-arrival meal was horrible.
While I would not hesitate to fly Gulf Air again, the carrier must do a better job of training its flight attendants to provide service more on par with its Gulf peers.