Few Hyatt properties are more divisive than the Hyatt Carmel Highlands, also known as the Highlands Inn. Nestled in California's Carmel Highlands, this hotel offers one of the most majestic ocean views in the world. Beyond that, the style, comfort, and amenities of this hotel are routinely criticized, and rightfully so. Nevertheless, my family just wrapped up a wonderful stay here and this property remains very dear to our hearts.
Hyatt Carmel Highlands Review
At long last, after three years of being away due to the pandemic, I took my family back to the Hyatt Carmel Highlands over the Thanksgiving weekend. We had a great stay overall, though we did not find a couple changes to be frustrating.
It's All About The View
After reading this review you might ask how this is possibly a Category 7 property in the World of Hyatt program (up to 35,000 points per night). Pay attention when booking, as nightly rates can vary wildly.
We booked several months in advance, where nightly rates began at $348. At this property, I will not book unless I can secure a base rate and then use one of my Globalist Suite Upgrades to confirm a suite. I'll say more on that below.
If I can summarize the review here, this hotel commands a premium because it is located in one of the most beautiful places in the world (and having been to 141 countries and many of the world's most majestic places, I stand by that assessment). There is no denying the beauty of this historic property, which has been nestled into the cliff for over 100 years.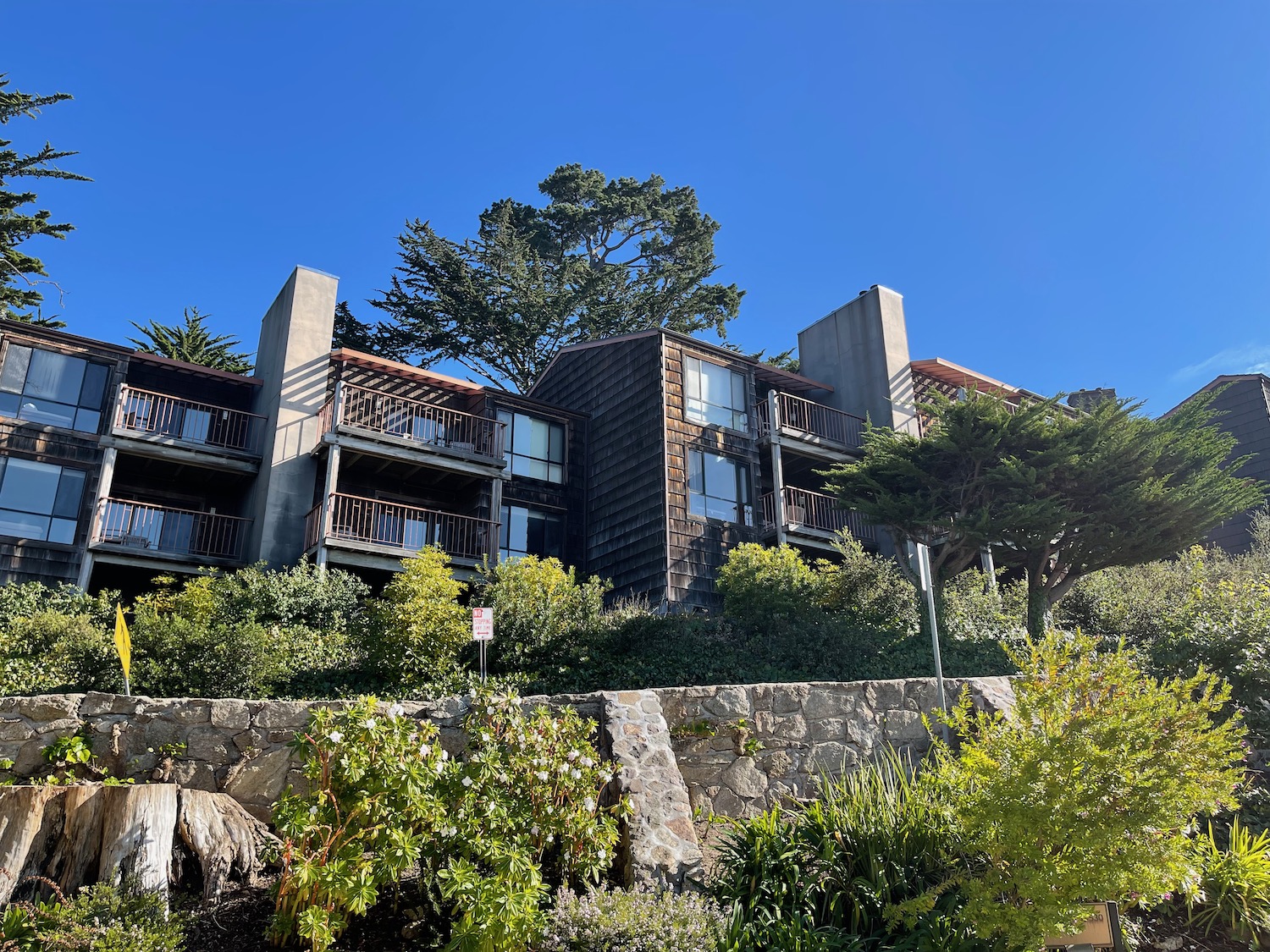 The rooms are tried, though – ugly if you want to be blunt. The rooms feel like a timeshare because half of this hotel is a part of the Hyatt Residence Club (timeshare) portfolio. But while dated and drab, the view really does make up for so much.
Pre-Payment
One annoying warning: this hotel requires pre-payment for the first two nights. This is not a post-pandemic change, but something the hotel has required for years. I find it annoying that hundreds of dollars are tied up for months, but on the other hand it was nice to walk out with a very low bill at check-out since the first two nights had already been paid for.
Check-In
We drove up from Los Angeles and arrived at twilight. These days, I prefer to simply check-in on the Hyatt mobile app and receive an electronic key, but this hotel does not offer that.
I was welcomed at check-in and offered a bottle of water. Since this hotel is spread over several buildings, the front desk associate took out a map and showed me what building my room was in.
The lobby has not changed, with two giant fireplaces and a sitting area with superb views of the coastline below.
Ocean View Townhouse Spa Suite
We were assigned room 505, a room I have stayed in before and is in the front of the hotel, offering the best view of the ocean below.
The bi-level townhouse spa suite includes a bathroom, closet, kitchen, and living room with a fireplace on the top floor and a bedroom and master bathroom on the lower level.
The kitchen is not simply a kitchenette with a refrigerator and microwave, but a full kitchen with an oven, stove, and dishwasher. Pans and cups and plates and cutlery are stocked, making it very easy to prepare meals.
Beyond the view, the kitchen is the reason we love this hotel. My son Augustine is six, my daughter Claire Marie is two, and although they do all right in restaurants, I much prefer to cook and eat at home. Being that it was a day after Thanksgiving, we enjoyed a feast of Thanksgiving leftovers the first night.
The living room features a fold-out couch bed, where the kids slept, and features what used to be my favorite feature of the room: a fireplace.
The fireplace is still there, but tragically the real wood-burning fireplace was replaced during the pandemic with a faux fireplace. I realize that fireplaces pollute and many trees had to be cut to supply the wood for the fireplaces in each room, but this seemed like a brazen cost-cutting measure.
Nothing says quality like a neon blue flame:
I noticed that some rooms still appear to have fireplaces (some firewood stations were still open and I could smell them burning) and I will request one of those rooms next time (though perhaps it is only the timeshare portion of the hotel that was left untouched).
There's also a balcony on the top floor with breathtaking views of the coast below no matter the time of day.
Finally, the top floor also has a full bathroom with shower, not just a "powder room" with toilet.
Downstairs, the bedroom included a king bed and the bathroom included a whirlpool tub, shower, single sink, toilet, and walk-in closet.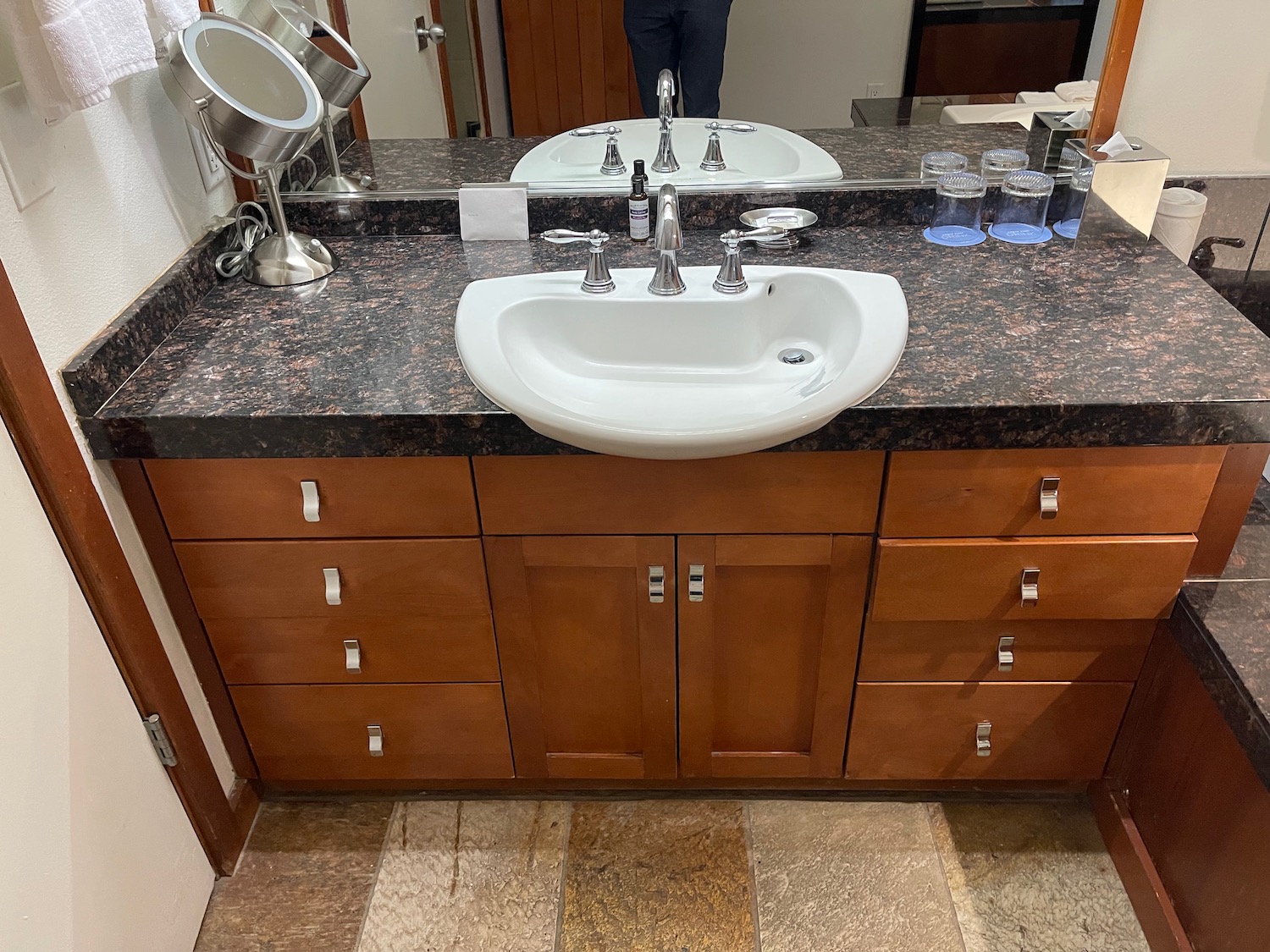 Pacific's Edge Restaurant
One reason we love this hotel so much is because of the lovely breakfast and beautiful views at Pacific's Edge Restaurant.
There's also a beautiful terrace if you prefer to sit outdoors.
Prior to the pandemic, World of Hyatt Globalist members could order whatever they wanted and it would be removed from the bill. We ran up quite a breakfast bill each morning and it really was a highlight of the day.
Now, Globalists are presented with a breakfast voucher the size of a business card when checking in. It now explicitly says that Globalists are limited to one entree, one glass of juice, and one coffee or tea per registered guest, with tax and tip included.
That was disappointing, but we actually did not change all that much in how we ordered breakfast. My wife loves the cioppino here and ordered it each morning from the lunch menu during breakfast. It's $48…quite a lot of money I think…but is delicious.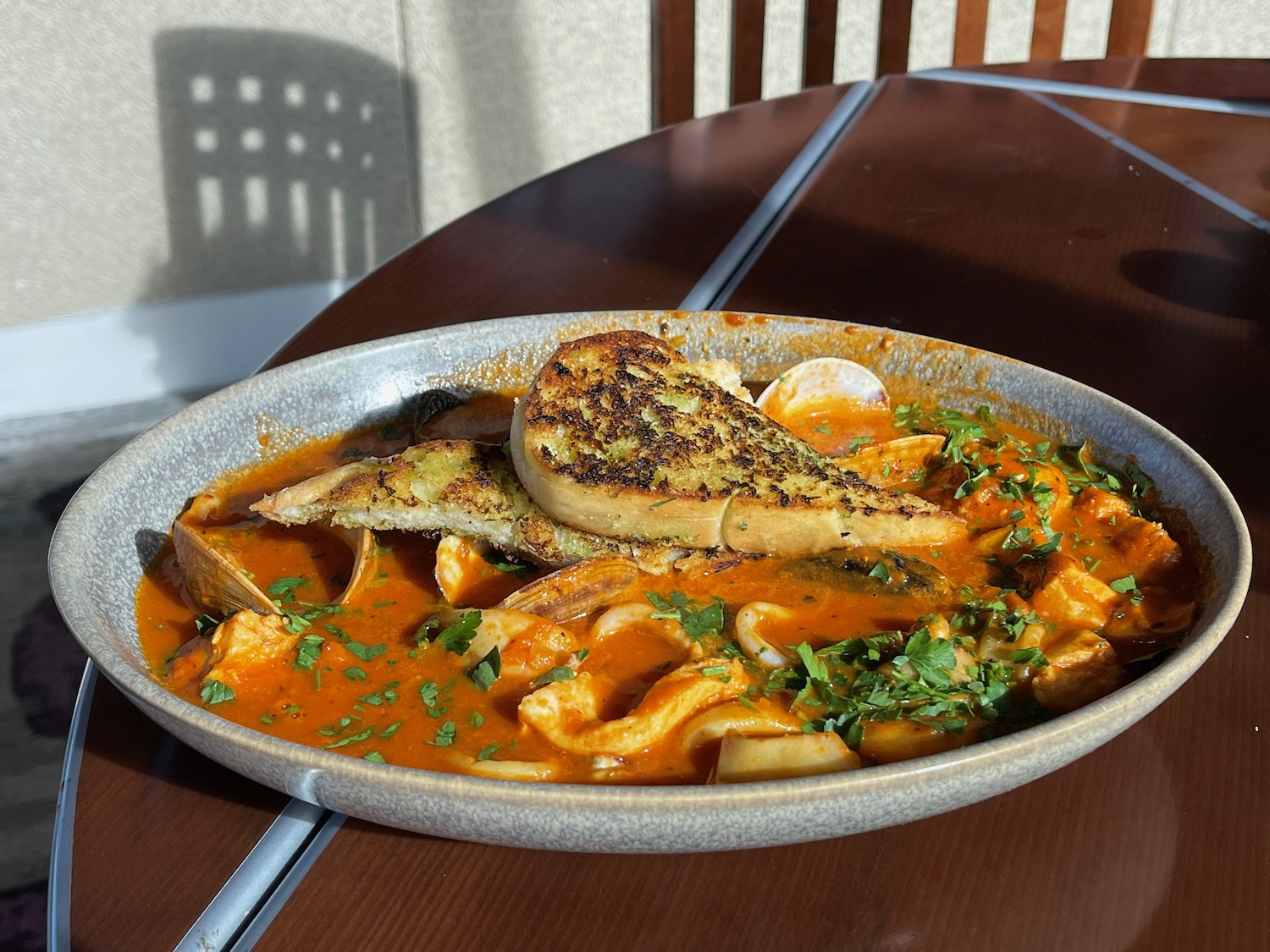 My kids and I tried various egg dishes, included omelets and the "Point Lobos" dish, which was poached eggs with crab and avocado on an English muffin (we left off the Hollandaise sauce).
The coffee here (illy) is excellent and I enjoyed a strong cappuccino each morning as well as an immune booster juice (turmeric, ginger, cucumber, orange, and lemon).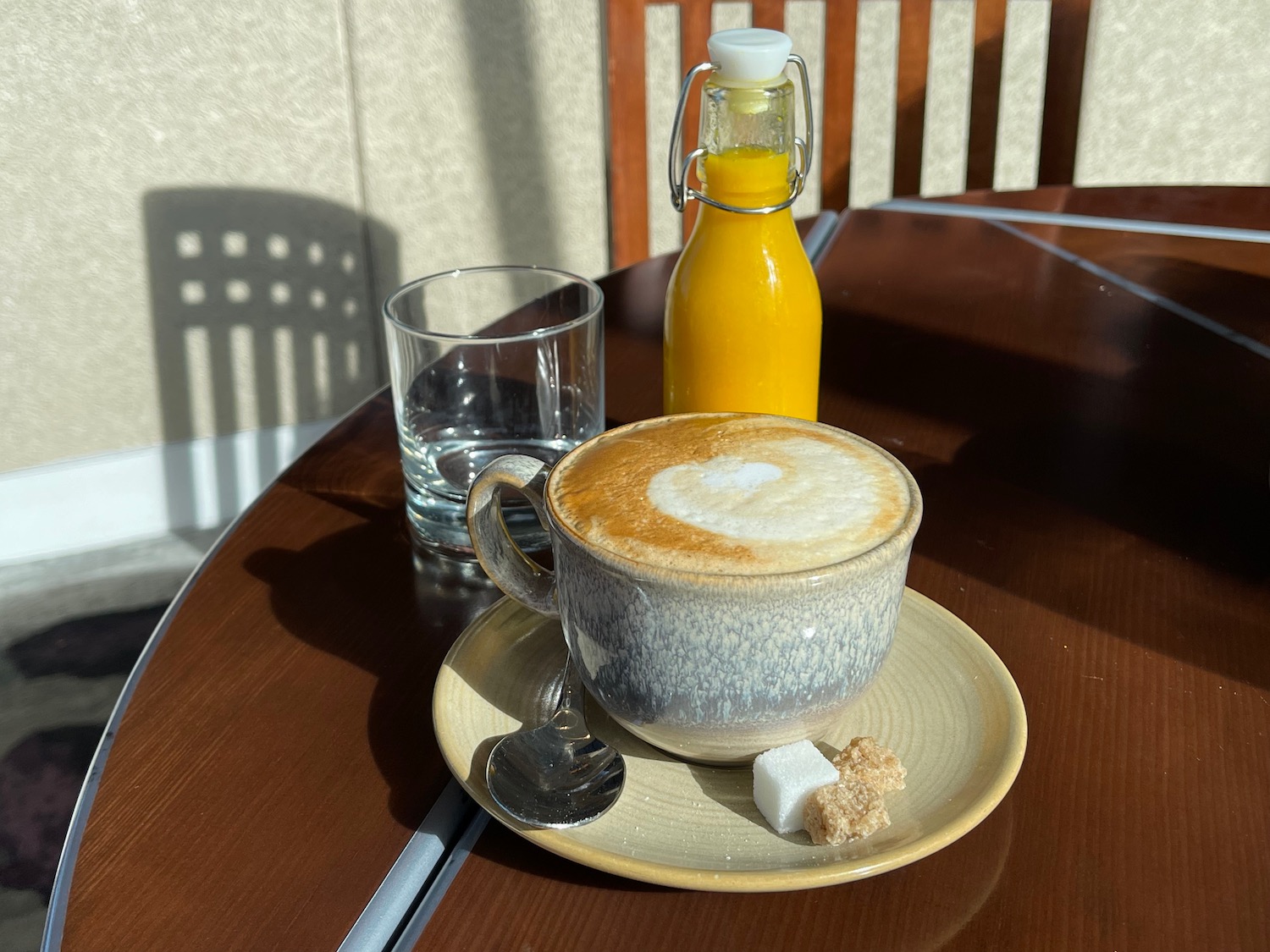 We did order a fruit plate the second morning and found it to be massive, which helped to justify its $15 price tag.
Overall, I quite like the breakfast here, though I am sorry to see the tightening of the Globalist benefit.
I am not sure how exactly it was calculated, but at check-out there was a residual due for each our breakfast.
There's also a bar area in Pacific's Edge that still has a "real" fireplace.
Internet
The most common complaint at this hotel was that the internet did not function. This problem has been solved. The hotel has added Eeros extenders and I found the wi-fi signal strong and internet speeds fast in my room.
Even though I never experienced non-functioning internet, this was a critical complaint of several friends and I am glad the hotel addressed it.
Fitness Center
The 24/7 fitness center, accessible by keycard, has been expanded (and taken over what used to be the recreation center). You can enjoy a full-body workout here, with a wide selection of cardiovascular and resistance equipment.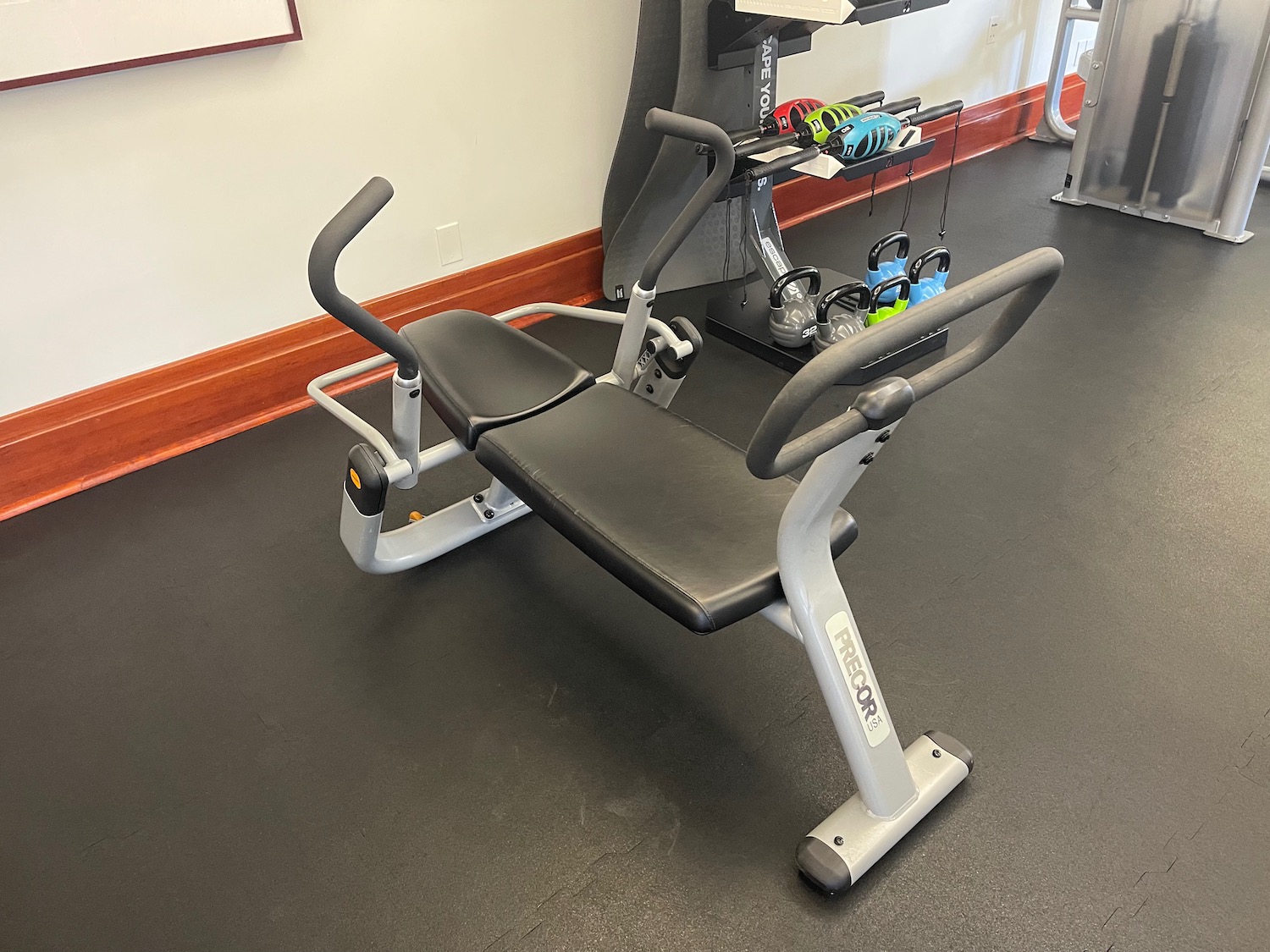 Spa Adeline
Back in the day when this was a Park Hyatt property, I suspect there was a spa, but for many years there has not been one. A spa has returned, with two treatment rooms, one on either side of the gym.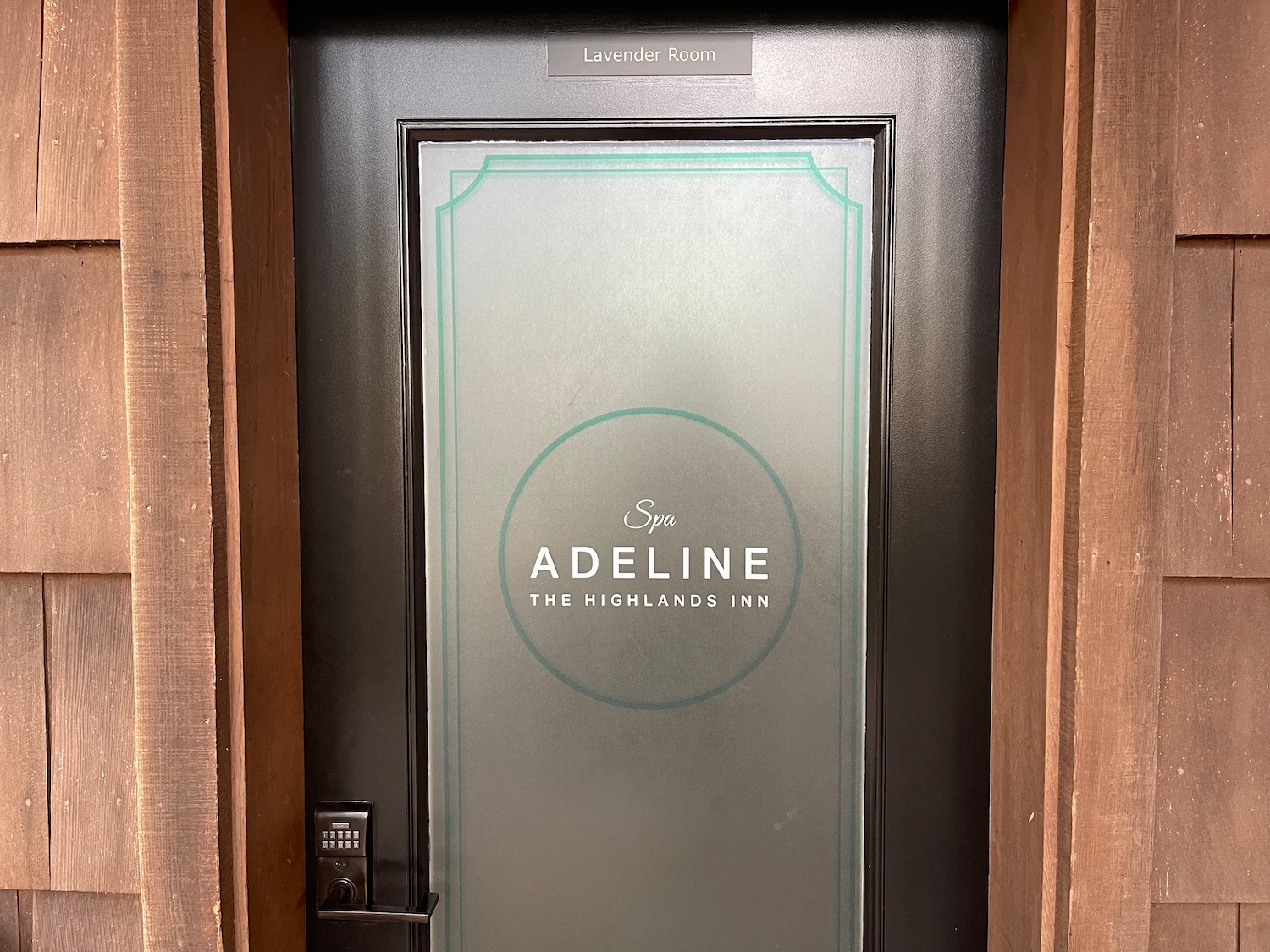 Treatments can be arranged by calling reception and run on the high side (with 20% gratuity automatically added).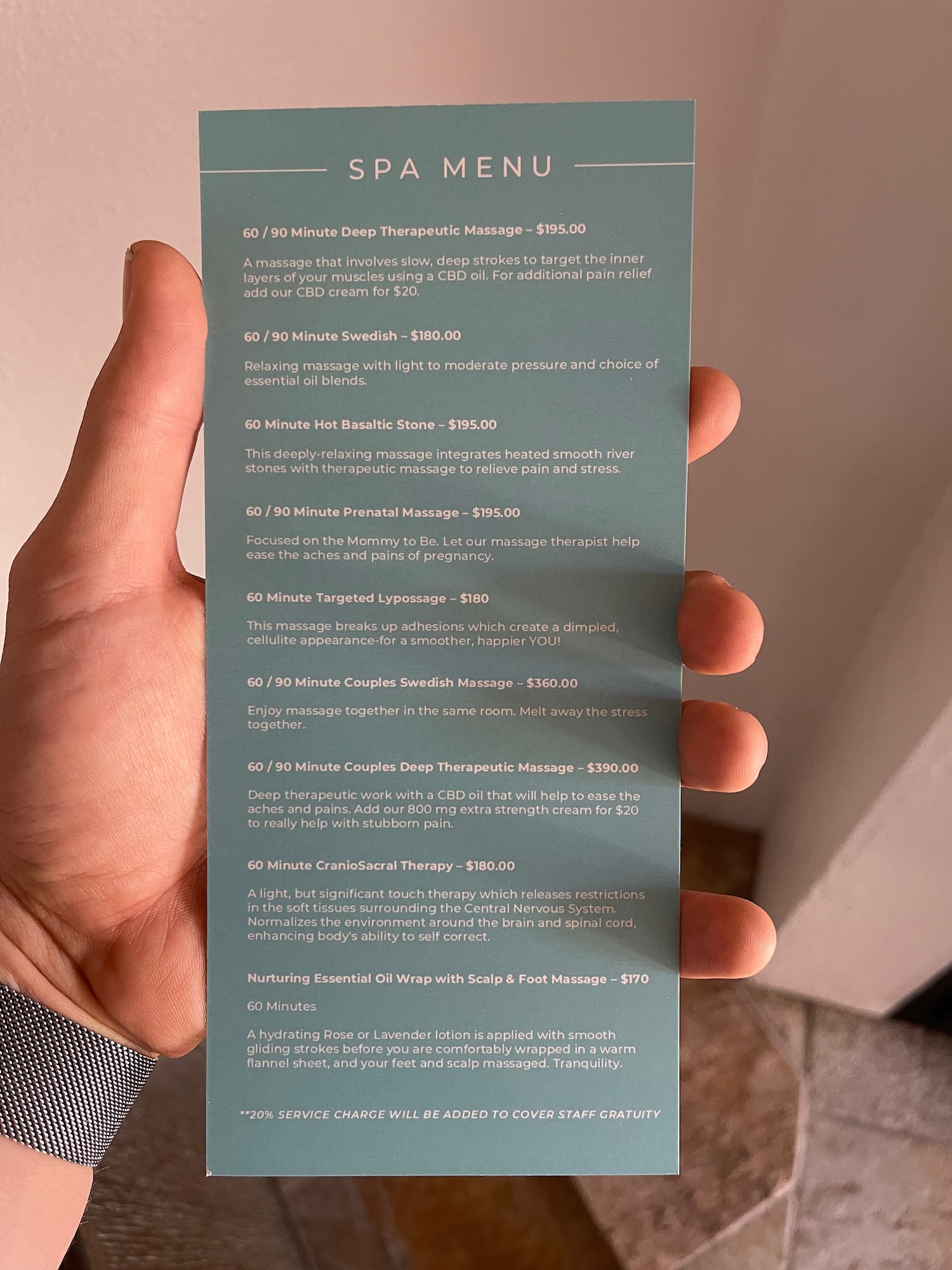 Pool + Whirlpools
In addition to the main pool, the hotel offers three whirlpools in different areas of the property. It was quite chilly outside and Augustine, who has been taking swimming lessons for over a year now, preferred to simply soak in the hot tub (which I certainly was not opposed to).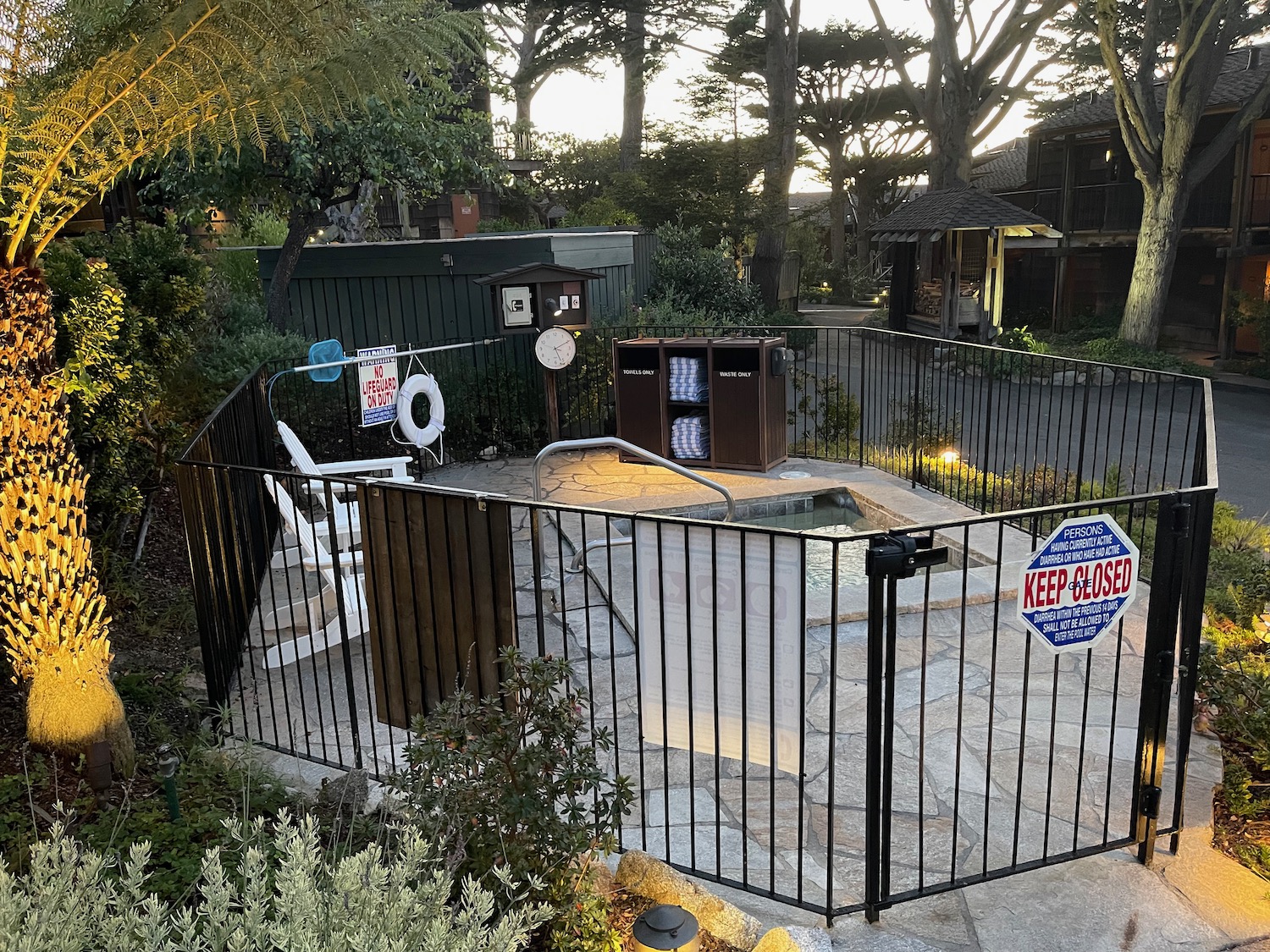 Parking
Self-parking or valet parking is complimentary. I prefer to self-park in case I have to dash out for groceries (there is a Safeway less than five minutes down the road from the hotel) and also so I can charge my car.
There are only three charging spots on-site (two Tesla chargers, one more universal charger) and a lot of electrical cars on the road in California. Thankfully, I was able to plug in my car overnight on the second night.
---
Tip: If you want one of the three car charging parking spots, arrive back to the hotel early.
---
Hopefully, the hotel will add many more charging stations in the years ahead.
Laundry
Complimentary laundry facilities are located next to the fitness center and spa. Soap and fabric softener is also free.
Service
Over the years, since we traditionally came here twice per year, we got to know the staff at the restaurant. I wondered if they would still be around post-pandemic and was elated to see both Shama and Tony. Both are delightful people and both welcomed us back with opened arms (and met Claire Marie for the first time). 
Those two dear people (and William, the barista as well) are reason alone for us to return.
However, not all was well. After the first night, the maid folded up the bed and took the sheets with her. I called for some fresh sheets, was told by the front desk they would be sent over, but they never arrived.
Another time, I called for a razor and shaving cream (I left mine at home) and was told it would be dropped off at the room. It never arrived. Eventually, I walked to the front desk to get it myself.
There were no towels at the whirlpool the first night. I picked up the phone in the pool area to call the front desk and found it was dead…
So yes, the staff in Pacific's Edge are lovely, but for a top-tier hotel, I do expect a bit more when it comes to service.
Hyatt Residence Club Discount
Stop by the Residence Club desk in the lobby for a 10% discount card – it will give you 10% off all food and drink at the hotel.
CONCLUSION
I absolutely will return to this hotel and look forward to doing so. That said, there were some rough edges this time and I really am sad that the hotel has eliminated its wood-burning fireplaces.
Those issues aside, I love the location, I love the views, and I actually love the rooms, even though they are drab. Having a full kitchen works out so well for my family and I hope to be back sooner rather than later.
My original review, published on August 3, 2018, is below.
---

The Hyatt Carmel Highlands, also known as the Highlands Inn, is my favorite Hyatt hotel in California.
This Category 7 Hyatt property (30,000 points per night or 15,000 points + $250/night) is located along Highway 1 on the California Coast, just south of Monterey. Last year I spent 10 nights at this hotel and will likely meet or exceed that again this year.  The hotel has only 48 guest rooms, meaning it is often sold out.
What makes it so special? These views:
The property is not a single building but multiple buildings clustered on the mountainside. About half of the units are timeshares while the other half is reserved for hotel guests. The hotel has a craftsman/lodge style motif.
Hyatt Carmel Highlands Guest Room
The first time we visited this hotel, we arrived late and were assigned a standard room two levels below the pool, along the hotel's driveway. While the room was spacious enough, it misses one of my favorite elements about this hotel: a wood-burning fireplace.
Binoculars are available in each room for bird watching.
And DVD players. How quaint.
Bedside lamps have USB ports and plugs.
Coffee (Keurig machines) is horrible. Bring your own!
Bathrooms are quite small in standard rooms:
To ensure you have a fireplace, you need to reserve a Townhouse Suite, which I'll review in my next installment on this property. 
You can see the rooms are nothing special. You are paying far more for the location than a luxurious room. The suites are much larger, but in the same style.
Hyatt Carmel Highlands Dining
As best I can tell, this hotel is both a Hyatt Residence Club and a Hyatt hotel. That "and" is extremely important, because Globalist members of the World of Hyatt program are technically not eligible for complimentary breakfast at Hyatt Residence Club properties. But breakfast has always been complimentary for me at this property. It's also one of my favorite things about this property.
Look at the beautiful Pacific's Edge dining room:
Every time I am here I try something new, as the pictures below demonstrate. 
Ask for Makiko or Sharma to be your waitress. Both are amazing.
A large patio offers outdoor seating, but we prefer to sit indoors. The views are amazing and breakfast is always a treat. 
Here's a typical breakfast menu:
And yes, not everyday is so beautiful. Expect cloudy days as well:
On weekends, a brunch is offered. The ciopinno at this restaurant is my wife's favorite.
Lunch and dinner are also available here, as well as a full bar.
Room service is available as well, though not 24/7.
Hyatt Carmel Highlands Parking
Self-parking and valet parking are complimentary. I usually drive as close to my room as possible and park there. Last year, I did experience a "hit and run" incident where someone backed into my bumper and took off without leaving a note. 
Hyatt Carmel Highlands Pool + Fire Pit
Although the ocean is very close, the hotel has a heated pool. I've rarely see people in it and have never seen it crowded. Perhaps that is because the hotel does not keep it very clean.
The hotel also has a couple of fire pits, which are nice on cold autumn and winter evenings. Wood is available all over the property for guest rooms with fireplaces. You can just help yourself or call guest services to have it delivered to your room. 
Hyatt Carmel Highlands Fitness Center
While small, the fitness center offers a mix of cardiovascular and strength training equipment, mostly from Life Fitness.
Hyatt Carmel Highlands Laundry
Complimentary laundry facilities and soap are available for guests. The laundry room is located adjacent to the fitness center. One-site laundry and dry cleaning services are also available.
Hyatt Carmel Highlands Recreation Room
Between the laundry room and fitness center is a recreation room with a ping pong table:
Hyatt Carmel Highlands Nature Walks
Daily nature walks are available for $20. They start at 10am and children under five are free.
Hyatt Carmel Highlands Location
As I mentioned earlier, the location is what I love most about this property. You can hop on Highway 1 going north and you'll hit Carmel by the Sea or Pacific Grove in mere moments. Monterey is also not far. If you head south, you can trace the highway along the coast toward Big Sur, with stunning scenery like this:
CONCLUSION
This property is pricey, perhaps unjustifiably so, but it has become a favorite getaway for my family and a new tradition that we look forward to each year.
People often complain that the hotel rooms are tired and dated. They are. But there's a certain rustic charm to them and I don't mind them at all. You don't come to this property for the luxurious room.
I highly recommend this property as either a romantic getaway for couples or a family-friendly property.