I did something I normally do not in ordering the Japanese meal on my ANA business class flight from Tokyo Haneda to Bangkok.
Japanese Meal In ANA Business Class
Over the years, I've been told I am greatly missing out by only ordering off the western menus when I fly on East Asian airlines. So for this trip on ANA, I resolved to try the Japanese menu, particularly on a flight departing from Tokyo.
This was the menu for my flight:
Japanese Cuisine 〜Washoku〜

Zensai (A selection of morsels)

Kelp with herring roe, simmered red konjac in soy-based sauce, cucumber
Simmered roasted chestnut in syrup
Simmered prawn in soy-based sauce
Roasted duck with salt
Deep-fried ginkgo nuts Carrot
Deep-fried sweet potato Bulbil and vegetables tofu

Reisai (A selection of chilled morsels)

Seared sea bream with sesame soy sauce

Kobachi (Tasty tidbits)

Marinated crab meat and chrysanthemum in sesame sauce

Shusai (Main course)

Braised beef sukiyaki and grilled tilefish with salted rice malt [293 kcal]

Steamed Rice

Steamed rice, miso soup and Japanese pickles
Served with Sainokizuna (KINMEMAI rice) produced in Saitama
The flight attendant seemed surprised, but in a very good way, that I had pre-ordered the Japanese meal. I realize ANA has a western meal on most flights, even within Asia, for a reason, but assumed most travelers would prefer a Japanese meal. But the two Americans seated around me ordered off the western menu so I certainly wasn't alone in my prior practice.
The appetizers arrived and I had to marvel at how beautiful the presentation was. Everything was carefully arranged with attention to the smallest of details, like eating at a fancy restaurant.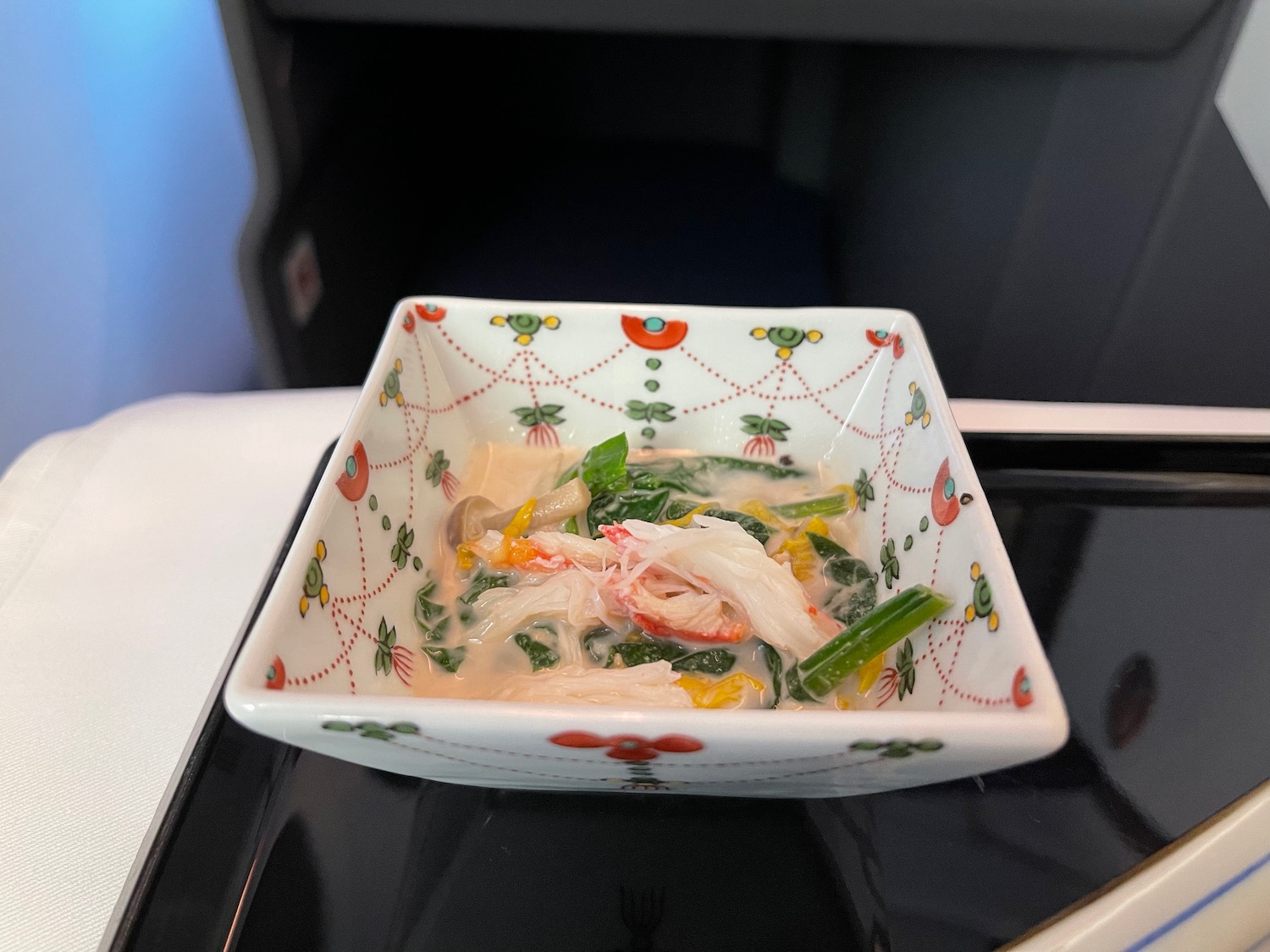 The roasted chestnut was tasty, but the highlight of the first course was the seared sea bream, which was so fresh and delicious.
Before the meal I resolved to eat everything placed before me, and I did.
With lunch I enjoyed Japanese sake, my first time trying it.
The main course included both braised beef sukiyaki and grilled tilefish. Both were tasty. I was too full to finish the miso soup.
Dessert included cheese, fruit, and a lovely ice cream cake…I paired it with a glass of Japanese malt whiskey.
Prior to landing, a snack was offered from an a la carte menu. Sticking to the Japanese theme, I ordered "ANA original curry and steamed rice." The portion was huge! I ate half of it…and I understand why many consider this Japanese comfort food. It was very tasty.
Final Verdict
I'm glad I tried the Japanese meal and I give ANA very high marks for both the quality of the food and the tremendous presentation.
Will I order it again? I have to be honest: I wish I had ordered the herb-encrusted halibut from Greenland off of the western menu for my main course. It's simply something I prefer much more. But I have no regrets giving the Japanese meal a try.