From Nairobi to Johannesburg, I traveled on Kenya Airways on a Boeing 787-8 in economy class. Service was pleasant onboard and the meal was acceptable, but the chronically-delayed airline was late again.
Kenya Airways 787-8 Economy Class Review
After flying from Nairobi to New York in business class on Kenya Airways on my prior trip, I was happy to try out Kenya Airways again, this time on the same Dreamliner in economy class for a much shorter flight to J'berg. This ticket was booked with Flying Blue miles (Mombasa – Nairobi – Johannesburg was 22,500 miles and $143.oo in taxes and fees).
Transit At NBO
My transit at Jomo Kenyatta International Airport was quite annoying. I landed in the international area of Terminal 1 from Mombasa, was bussed over to the domestic arrivals, then had to exit and walk back (outdoors) to where I started.
There was a massive line outside the door to get into the terminal (you are screened as you enter the terminal and again after check-in) that would have 100% eaten up the entire layover, but thankfully my SkyTeam Elite Plus status (thank you ITA Airways) allowed me and my colleagues to bypass that horrific line and use the business class line. What a poorly thought-out way to do security…
Once you get inside the terminal, there was another long queue for economy class. Note to self: if flying on Kenya Airways from NBO, do so in business class.
Simba Lounge
I stopped by the Simba Lounge (and Turkish Airlines Lounge) prior to my flight. My ticket did not offer complimentary lounge access, but I entered the Kenya Airways lounge thanks to my SkyTeam status and the Turkish Airlines Lounge via Priority Pass.
---
> Read More: Kenya Airways Simba Lounge – Nairobi (NBO) Review
---
Flight Delay
All monitors showed an on-time departure and I dutifully lined up to board about 55 minutes prior to departure. No announcement was made, but boarding time came and went. Once actual departure time arrived, a gate agent showed up and simply announced that our flight was delayed (no kidding…) and to wait for an update.
There were a lot of Germans in the gate area and this made several of them very upset (Germans and their punctuality you know…). I snickered when they started shouting at the gate agent, as if that would make the flight depart anytime sooner.
Another 3o minutes went by. I could have gone back to the lounge, but I was positioned to board first and did not want to lose my place. So I just stood there. And stood there.
Eventually, we did board, about 90 minutes late. No apology for the delay or explanation, we just started boarding, which caused a massive gaggle at the gate as everyone–bored of waiting–pushed to get onboard.
I ran down the jetbridge as fast as my legs would carry me to get some pictures of the cabin.
Kenya Airways (KQ) 762
Nairobi (NBO) – Johannesburg (JNB)
Thursday, December 1
Depart: 12:45 PM
Arrive: 04:00 PM
Duration: 4 hr, 15 min
Distance: 1,801 miles
Aircraft: Boeing 787-8
Seat: 15G (Economy Class)
Onboard, I was welcomed by masked flight attendants (passengers were not required to wear masks) and proceeded through business class to my seat.
Seat
There are a total of 204 seats in economy class. The first three rows in economy class (27 seats) are branded as "economy comfort' on the 787 and have up to four extra inches of legroom (36 inches versus 32 inches). These are available for an upcharge during booking or when assigning a seat. The cost for this was $149, which I thought was rather high.
I ended up sitting one row behind economy comfort. My original seat, 32A, was missing a window! Once boarding was complete, I asked a flight attendant if I could move up to a different seat and she obliged. I chose 15G, which was particularly nice because there was no passenger in the middle seat.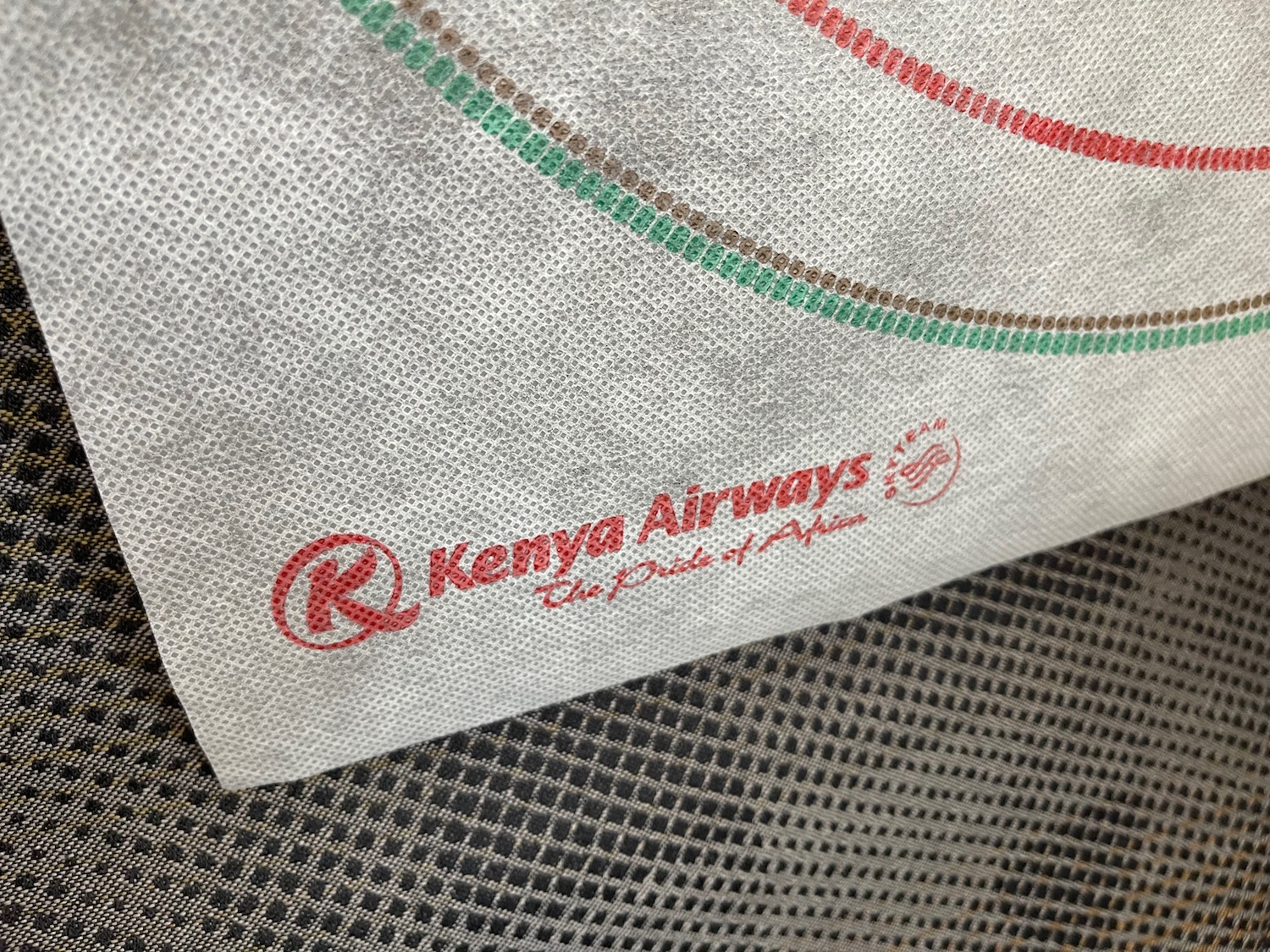 Seats are well-padded and include both a USB-A charging port next to the IFE screen and a full a/c power outlet below the seat.
There are no individual air vents.
Waiting on each seat was a blanket and pillow. The blanket was wrapped but the pillow was not.
We finally pushed back, though not before flight attendants went down the aisle spraying some pretty pungent bug spray.
IFE + Wi-Fi
Kenya Airways offers audio and video on-demand via seatback screens on the 787. A passenger service unit was located under the monitor. The library included a moving flight map, info on Kenya Airways, movies (including many African movies), TV shows, and music. A game section was "blocked."
Headphones were placed on each seat prior to boarding.
No wi-fi was available.
Food + Drink
Lunch was served after takeoff, with a choice of chicken or beef (no further explanation given). I wish more carriers would place menus on their IFE systems.
I chose beef and thought the meal was very respectable; the beef was stewed and very tender, served with collard greens, zucchini, and Ugali.
Dessert was a rather dry piece of cake, which I skipped, but the main meal was quite satisfactory.
I had soda water to drink and then coffee after lunch. Beer and wine were complimentary.
Lavatory
The Kenya Airways 787 features standard Dreamliner lavatories. I used the restroom prior to landing and found it to be fairly clean (just a few scraps of paper towels on the floor).
Service
Flight attendants were very pleasant onboard. I would not call them attentive, but many people around me used the call button to summon them for more drinks during the flight and it was always promptly responded to. Beyond the first meal service, there was no formal service (even a beverage offered) prior to landing.
CONCLUSION
I landed 90 minutes late at O. R. Tambo International Airport and was quickly through passport control and on my way to Pretoria. The Kenya Airways experience in economy class on the 787 was quite pleasant onboard, through the ground experience in Nairobi certainly was not. Hopefully, as Jomo Kenyatta International Airport in Nairobi continues to modernize, the bottlenecks will lessen.
But I would not hesitate to fly Kenya Airways again for travel within the continent in economy class. For longer flights, I'm sticking to business class.
---
> Read More: Kenya Airways 787-8 Business Class Nairobi – New York Review