The final leg of our trip was from Amsterdam to Los Angeles on a KLM 787-10 in economy class. Despite every seat being taken, I thought the flight was lovely…with excellent service, a copious amount of food, and a seat that was tolerable with two young children.
KLM 787-10 Economy Class Review (AMS-LAX)
This was my first longhaul flight on KLM in economy class, but at 22K Flying Blue points one-way from Zurich to Los Angeles, including a 26-hour stopover in Amsterdam, it was too good of deal to pass up. Plus, flying in economy class takes all the pressure off of flying with young children.
We left our hotel at about 10:30 am, arriving at Amsterdam Schiphol Airpot about two hours ahead of our departure. That was more time than we needed (thankfully, AMS has solved its security checkpoint woes…), but it left us time to sit in the Aspire Lounge for a bit prior to boarding.
The planespotting from AMS (or "SkyTeam land" as my son calls it) is excellent.
Our boarding pass indicated boarding would commence 40 minutes prior to the flight, though boarding began about 10 minutes earlier.
KLM 601
Amsterdam (AMS) – Los Angeles (LAX)
Tuesday, January 17
Depart: 1:05 PM
Arrive: 3:15 AM
Duration: 11hr, 10min
Distance: 5,578 miles
Aircraft: Boeing 787-10
Seat: 36H (Economy Class)
We boarded amongst a large pack of families and found our seats in the rear economic class cabin.
Seat
KLM offers three classes of service on its 787-10, including business class, premium economy class (not present yet on all aircraft, though it was on ours), and economy class.
Economy class begins in row 17 and runs to row 47. Seats are configured in a 3-3-3 layout and KLM utilizes the Recaro CL3710 seats, featuring a 4-way adjustable hammock-style headrest and a retractable bi-fold tray table.
Seat pitch is 31 inches (economy comfort, an extra-legroom economy class section offers 35 inches of legroom), the width is 17.1 inches, and the recline is about five inches.
While 31 inches is tight, the fact that I had my two kids next to me that did not take up much space (including my two-year-old daughter in the center seat) helped me to stretch out a bit. I'm also thankful the person in front of me never reclined (I did not either).
Every seat has a universal AC outlet under the seat as well as a USB-A outlet located on the IFE screen. Each seat also has a coat hook. There are not individual air vents, though the cabin never got warm during the flight.
Waiting on each seat was a blue blanket, but no pillow.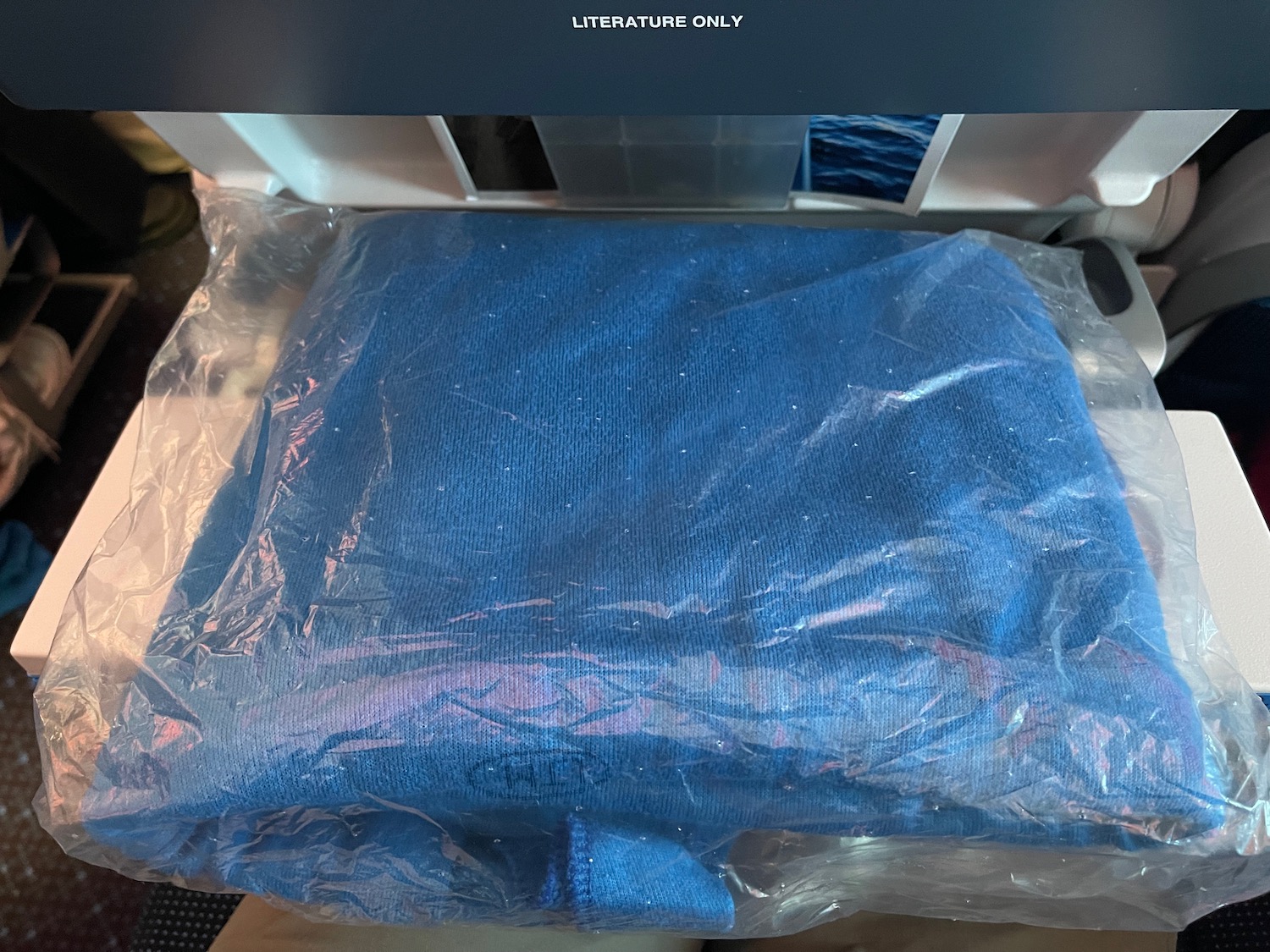 With my wife seated across the aisle and our kids next to me, I really thought the experience was tolerable for a daytime service. Sometimes business class is particularly nice on daytime flight when you are wide awake, but here we did just fine in economy class and the kids were remarkably well-behaved (a couple of squeals here and there, but excellent overall).
Lavatory
Since I had consumed three cups of coffee, two glasses of water, and two glasses or orange juice just a few hours earlier, I had to get up a couple times to use the restroom…and always found it clean. I'm not sure if flight attendants went in and cleaned it up or people were just tidy, but I appreciated the clean restroom.
Food + Drink
KLM keeps its economy class passengers well-fed. Lunch was served after takeoff, which began with giving each passenger a bottle of water, followed by a full beverage service (alcoholic drinks are complimentary), then a choice of main course: pasta with cheese or meatballs with mashed potatoes. My daughter Claire Marie had pasta liked it very much: I sampled it and also thought it was fine (I think it is difficult for airlines to mess up pasta).
My son Augustine and I had meatballs and quite enjoyed them. Seriously, this was a lot better than many of the business class meals I've had over the last few years.
Lunch was served with a large green salad topped in sun-dried tomatoes and mozzarella bells and served with a small block of Dutch cheese from Beemster and a warm bread roll.
After lunch trays were cleared away, flight attendants offered coffee or tea with a small chocolate tart for dessert.
During the flight, self-serve snacks (crackers, oat bar, stroopwafel) and beverages were available from the rear galley.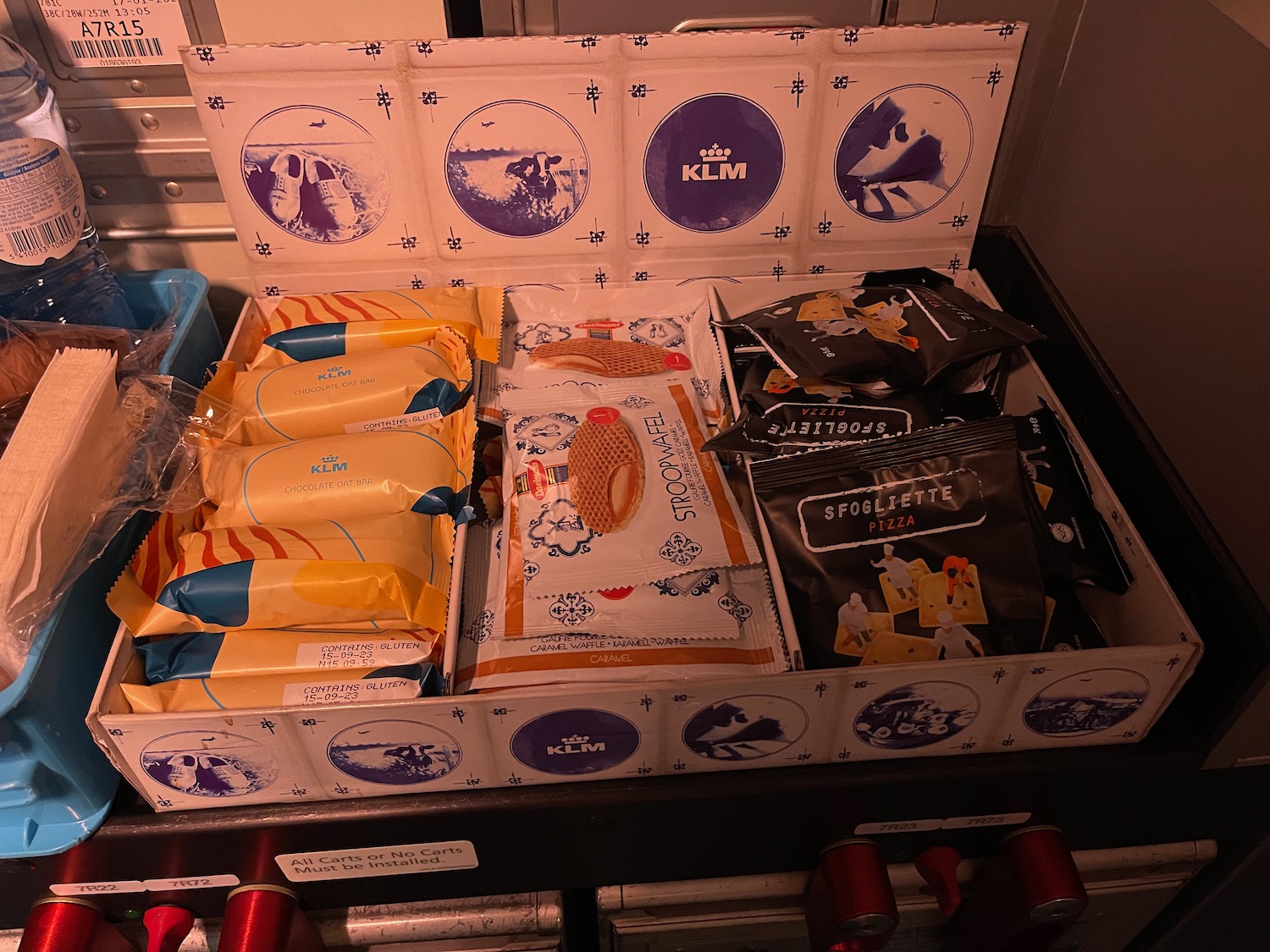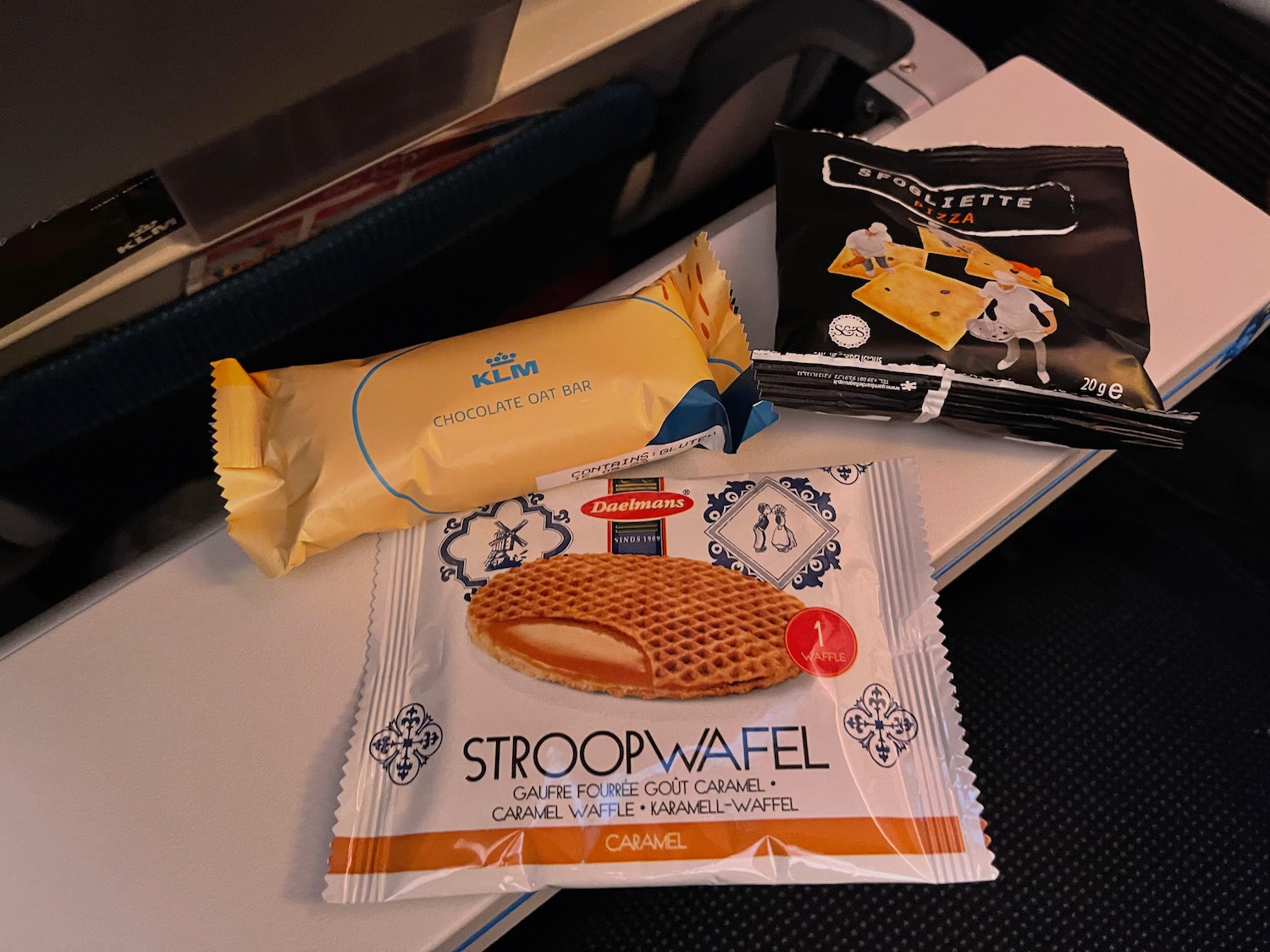 Midway through the flight, flight attendants came through the cabin offering a beverage and a cheese sandwich.
Finally, about 75 minutes before landing a final snack was served that included a hot pizza-type sandwich, a pesto pasta salad, and a rich pudding-like dessert topped in caramel sauce and crumbled stroopwafels.
This was absolute carb-bomb and therefore something I would never eat at home…but it was quite enjoyable…kudos to KLM for keeping its economy class passengers quite satiated.
IFE + Wi-Fi
Each seat in economy class includes a 11-inch HD touchscreen display with a vast collection of movies, TV shows, games, and audio files.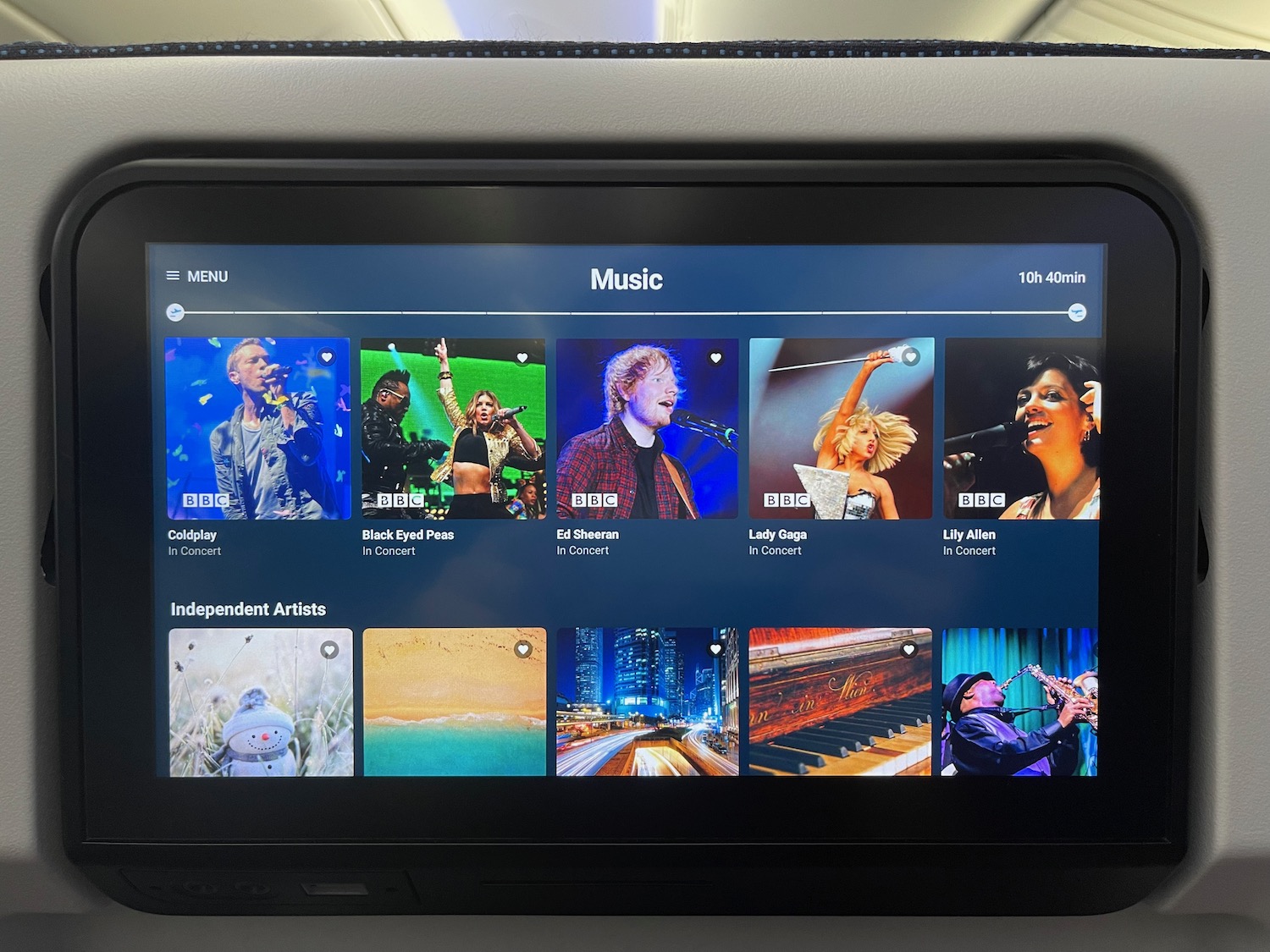 I stayed mostly busy caring the kids during the flight, but did have a chance to watch a movie called My Best Friend Anne Frank (I previously mentioned that I was quite moved by the story of Hannah Goslar while visiting the Anne Frank House in Amsterdam the night before). I am glad I watched it, though I thought the film took far too many artistic liberties.
Meanwhile, the kids spent almost the entire flight watching the screens in front of them, which is the deal we have: screens are for flights, not for home. It certainly kept them quiet…and eventually sleepy.
Complimentary headphones are provided but are of very poor quality: bring your own.
WiFi internet was available onboard, with data packages ranging from complimentary messaging to surfing ranging from 8EUR/hour to 18EUR for a flight pass. Internet worked well throughout the journey and I appreciated the complimentary  messaging option.
We also enjoyed some lovely views outside the window, including a very snowy eastern Canada:
Service
The crew was mostly mature (older) and offered excellent service throughout the flight. The frequent beverage services and service flow were one thing, but the smiles on their face and cheerful disposition was a pleasure to see.
People sometimes rag on "old" flight attendants, but when you get veteran flight attendants in the US, Canada, or Europe who love their job and have a record of longevity, I would argue the service rivals any Asian or Gulf carrier.
And of course I already shared the very special gift of a Delft blue house Augustine received.
Upon landing the crew walked with us on the way to baggage claim and continued to be charming, even off-duty. One asked if they could help us carry anything. What a lovely group of flight attendants, which has always been my experience when flying on KLM.
CONCLUSION
We landed on-time at LAX and pulled into the new gate area at LAX. That represents quite a walk to the passport control area down a hall, down an escalator, through a tunnel, and up another escalator.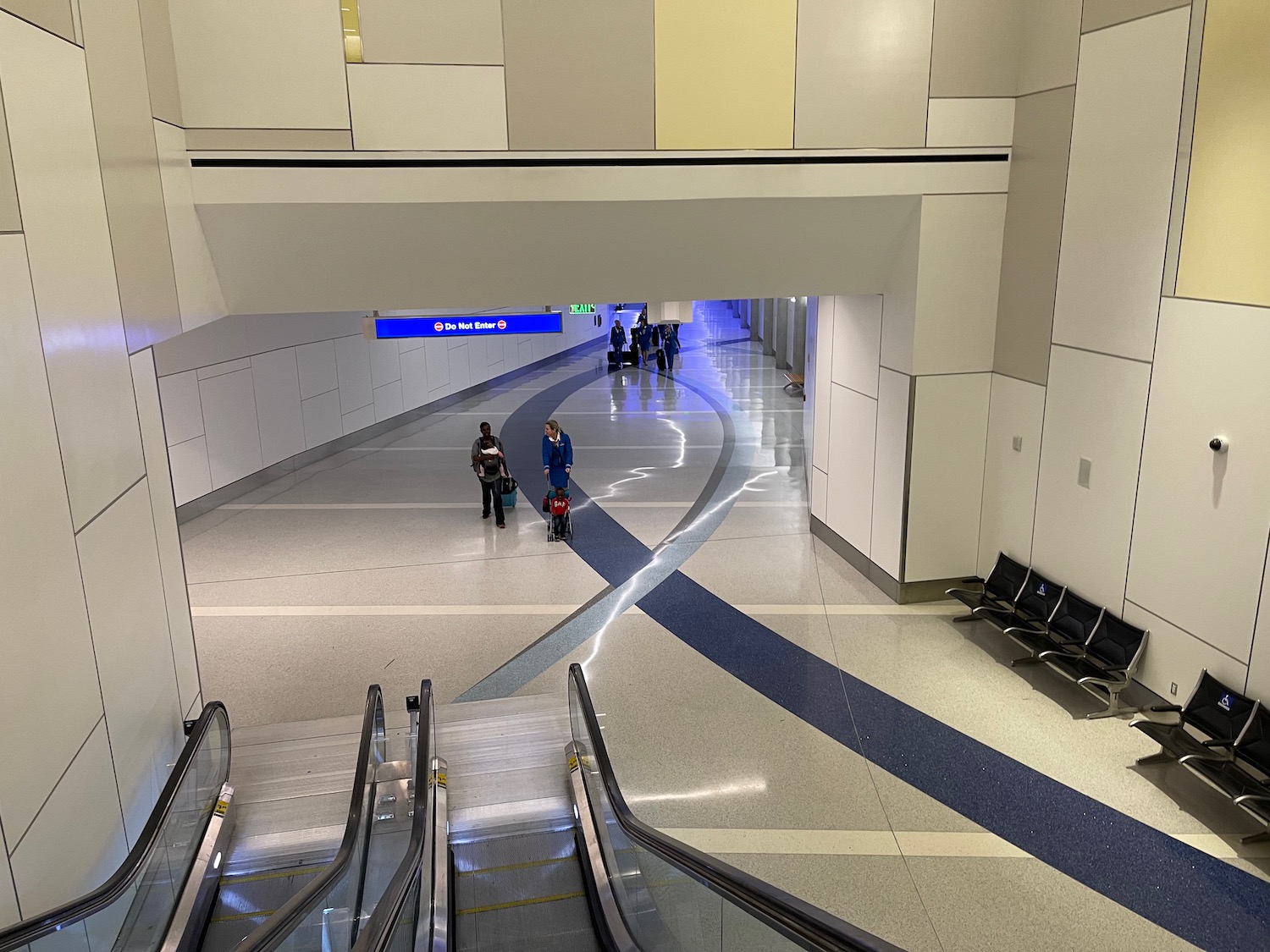 Make no mistake: this was a long journey and I think all of us were happy to step off the plane. But this was a very solid economy class experience. It's hard to beat a one-way journey from Switzerland to the West Coast of the USA with a stopover in Amsterdam for 22K miles and about $120 in taxes. For that reason, I would not hesitate to use KLM again when traveling with the kids and using miles. Still, I missed business class…that's a treat on KLM as well.