We chose the Andaz Amsterdam Prinsengracht for our night in Amsterdam and used points to upgrade to a large suite. This hotel has not changed much from my first stay nearly six years ago, and that is a very good thing.
Andaz Amsterdam Prinsengracht Suite Review
This hotel runs anywhere from $250-450 a night, with our nightly rate closer to $300. That's a bit steep (we could have stayed at the lovely Hyatt Regency across town for cheaper), but I wanted to be in the heart of the city considering the short duration of our stay and that we would be visiting the Anne Frank House.
In addition to paying cash for the stay, I used 9,000 World of Hyatt Points for an upgrade to a premium suite. This hotel has three suite types: the Andaz Suite (a standard suite), the Andaz Large Suite (a slightly larger suite), and the Prinsengracht Suite which akin to the presidential suite. both the suite and larger suite were available and I paid 3,000 points more (9,000 versus 6,000) for the larger suite.
This is a Category 6 hotel, meaning a free night ranges from 21,000 (off-peak) to 25,000 (standard) to 29,000 (peak) per night. I value Hyatt points at two cents each, so the $280 made a lot more sense than 25K points. At the valuation, it means I effectively pay $180 for the upgrade, which was well-worthwhile.
From Amsterdam Schiphol Airport, the hotel was a 25-minute car ride away.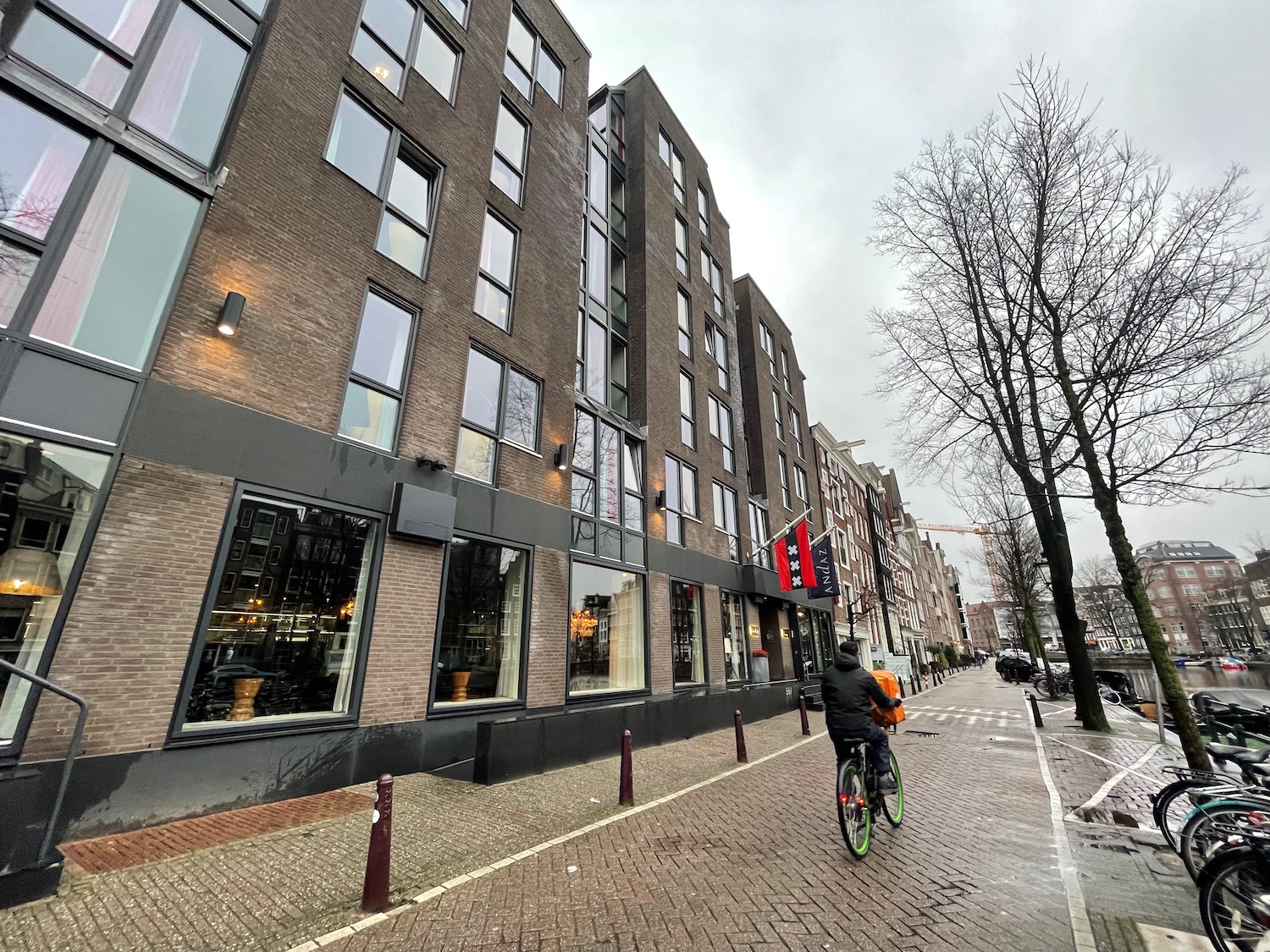 Check-In
We arrived at noon, hoping we could check in but prepared to wait, and were delighted to find that our suite was ready. I had sent a note earlier that morning asking if an early check-in was possible and received a response from a hotel manager named Jacques that he would do his best to accommodate that. It turned out to be Jacques who checked me in and he warmly welcomed me back to the hotel.
The hotel describes its interior as "playful" and I find it very hard to put into words beyond the word electic, though I quite liked it:
Housed in the former public library, Andaz Amsterdam Prinsengracht is one of the most creative luxury lifestyle hotels in the city, featuring stylish yet playful interior décor that celebrates Dutch heritage and the unique flavours of our charming city, with stories around every corner. Staying at our hotel is a dream for every design lover looking for an unforgettable local experience.
The lobby featured high-backed red chairs around the check-in desk with bell-shaped lights overhead.
Nearby, a sitting room offered a cozy place to sit and look out the bustling street and canal outside.
Suite
Our suite, 283, was quirky, but I enjoyed it. Although our room did not overlook the Prince Canal (Prinsengracht), the windows provided plenty of natural light and the suite was made to resemble a Dutch apartment. The more traditional couches, fish/spoon artwork, and Delft Blue WC all came together for what I considered an attractive room design.
The living room consisted of a large couch and matching chair with ottoman and coffee table with a desk and book case behind it.
On the other side, a refrigerator with mini-bar (non-alcoholic contents were complimentary), coffee machine, and water kettle. The hotel also left a welcome note and tin of stroopwafel cookies.
A closet separated the bathroom and living room and opened on both sides.
Through the living room was the bedroom, featuring a king-size bed and two chairs.
That connected to a large bathroom with dual sink, huge bathtub in the center of the room, shower, and water closet.
Sure, a standard room with two beds may have done the job just fine, but it was nice to have this space and the kids slept on the couch with extra bedding the hotel sent up. The hotel offered to send up rollaway beds, but we found this was unnecessary and that kids enjoyed creating a "fort" by moving the couches together.
We picnicked in the room for dinner after stocking up on groceries at a local Spar.
Augustine prepared a list to guide our time:
Power ports and USB outlets in the room were plentiful.
One last thing I liked about the suite was that it had a bluetooth speaker…I use mine all the time at home to listen to music and news throughout the day and it was nice to be able to connect here as well.
Happy Hour (Gin Tasting)
On thing I missed was that the traditional happy hour and all-day coffee are no longer present. In the sitting room of the lobby you used to be able to make yourself an espresso all day long and each evening could enjoy a glass of wine with a light tasting menu. That has been a casualty of the pandemic, though in its place the hotel offered a Dutch gin tasting, which was enjoyable and where I met a great couple from Australia that I remain in touch with.
Fitness Center
While small and focusing primarily on cardio equipment, the hotel fitness center is functional. Heidi rose before dawn on the morning of our departure and did a workout prior to our flight home.
To reach the fitness center (and spa), you walk into the "red light district" of the hotel, down a set of stairs in the lobby that takes you down to a lower level.
Spa
A full-service spa is located on nearby the fitness center with a full menu of services available. You can also proceed through the locker room into a wellness area with a large sauna that I used both days at the hotel.
Garden
While this hotel has no pool either indoor or outdoor, it does have a beautiful garden in between the hotel's two buildings. It's not as picturesque during winter as it in spring or summer or autumn, but this is a great place to sit down and take a break from the bustle of the city.
Bluespoon Bar
The most picturesque part of the hotel is the Bluespoon Bar which offers a beautiful seating area, an attractive bar (cocktails aren't cheap, though), and great coffee. More on the coffee in a moment.
Breakfast At Bluespoon Restaurant
Breakfast is superb (with a big asterisk) at Bluespoon Restaurant. World of Hyatt Globalist members receive a full run of the menu, including the extensive and high-quality buffet and also a la carte items. Even if breakfast is not included in your package, I think the 32EUR/person price tag is quite reasonable for the high quality of the food.
I particularly recommend the egg shakshuka (United could learn something from this) and the avocado toast with poached eggs and chili. These may be "hipster" staples, but they are done very well here.
The buffet truly has some very fine quality meats, cheeses and pastries. Give the Dutch cheese a try–it really is some of my favorite in the world.
We ordered hot chocolate for the kids and that came with a bowl of frothed milk and the chocolate on a stick like a popsicle. While that was not the way I intended the kids to begin breakfast, they greatly enjoyed it.
My complaint is that the coffee was horrible. You can serve yourself or a member of staff will get it for you, but the coffee was extremely bitter and those German-made WMF are consistently the worst, in my experience.
However, in the morning bad coffee is better than no coffee at all and so I requested a refill. When my flat white came, it looked very different…and it tasted great.
I asked the woman who was caring for our table what happened and she said, "Oh, I know. So much better, right? I made this one manually at the bar."
Sure enough, the bar has a beautiful La Marzocco machine and the coffee truly is like night and day. Had she not been so kind, I would have had no idea.
Ask for coffee from the bar – don't waste your time with the automatic swill from the restaurant.
CONCLUSION
Our brief stay at the Andaz Amsterdam Prinsengracht was a great one. Hotel staff were lovely, the hotel has aged very well, our room was comfortable and spacious, and the breakfast was excellent.
I do love the Hyatt Regency Amsterdam as well, but if you want to stay in a central location, this is a very good choice.