From San Francisco to Munich I flew on Lufthansa onboard the A350-900 in business class. I am not a fan of these seats when traveling solo, but I did manage to sleep well and found the service and food onboard satisfactory.
Lufthansa A350-900 Business Class Review
After a few hours in the SFO Polaris Lounge, I walked over to the boarding gate in Terminal G, where boarding shortly commenced for the 11 hour flight to Munich.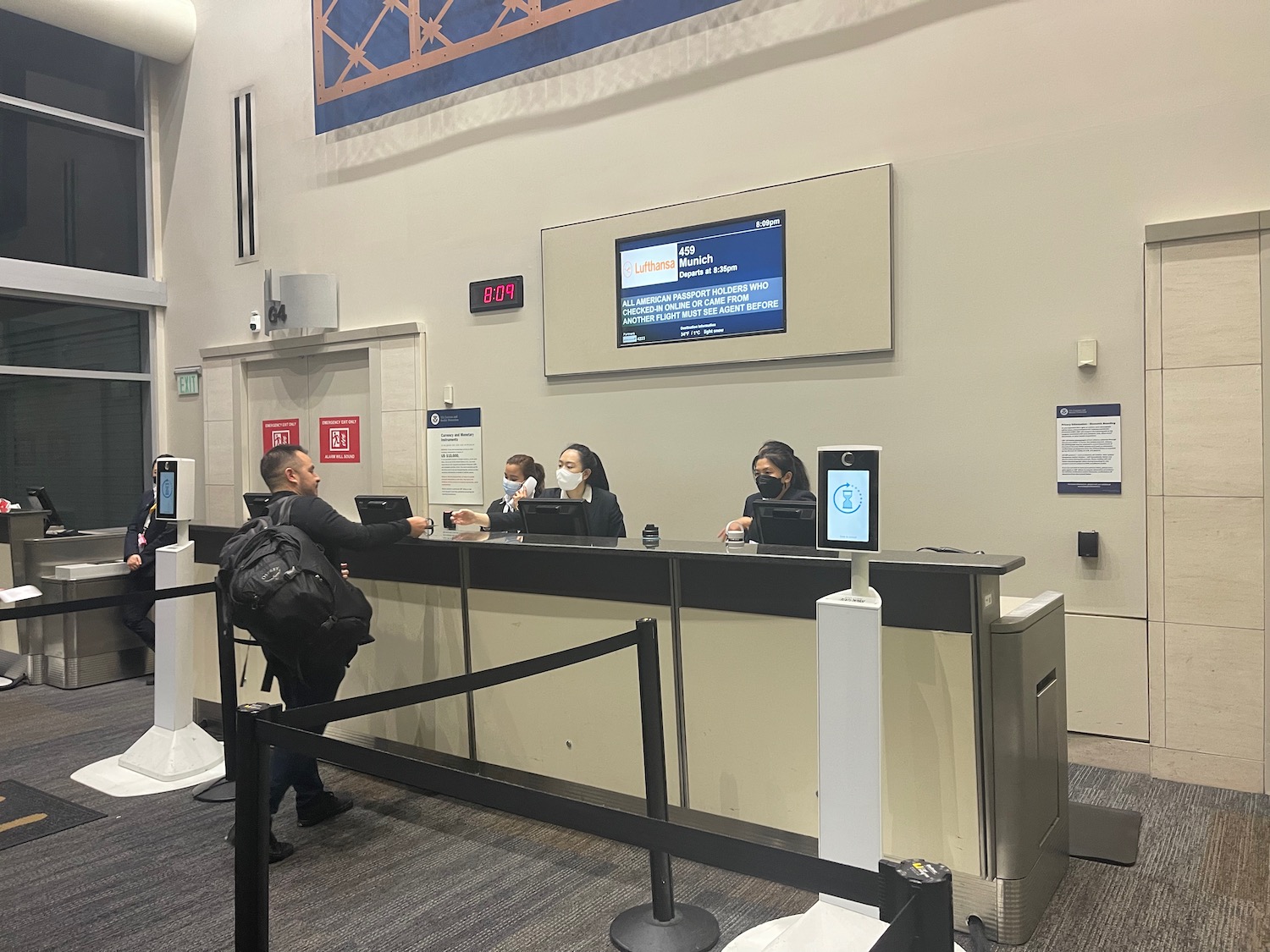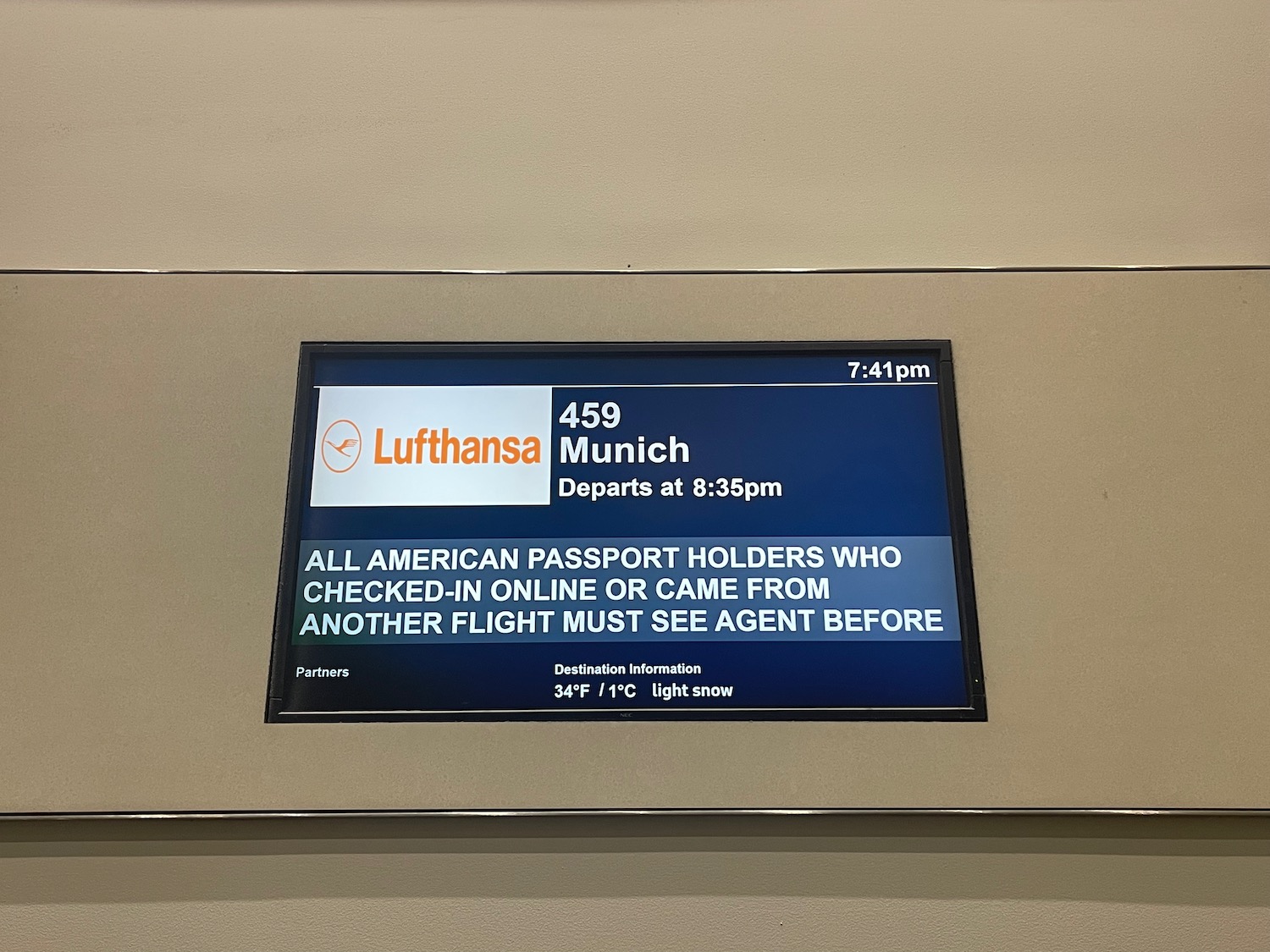 Lufthansa 459
San Francisco (SFO) – Munich (MUC)
Sunday, November 27
Depart: 08:35 PM
Arrive: 04:40 PM+1
Duration: 11hr, 05min
Distance: 5,879 miles
Aircraft: Airbus A350-900
Seat: 6K (Business Class)
Onboard, flight attendants were still prepping the cabin, but I was warmly greeted in German.
I was originally seated in row one, but moved to row six prior to boarding, hoping the seat next to me would stay open. It did not. All seats went out full.
Seat
Lufthansa uses a proprietary business class seat onboard much of its A350 fleet that while functional, lacks the privacy and space of more modern business class seats. The 2-2-2 configuration (48 business class seats spread over eight rows, with rows 1-6 in the front cabin and rows 7-8 in a mini-cabin with a galley and lavatories in between) does not provide direct aisle access to window seat passengers.
Furthermore, these seats are 20 inches wide (less than on other Lufthansa jets) and feature a 64 inches pitch. The bed is 78 inches in lie-flat mode.
I was traveling solo and while my seatmate was a perfect gentleman, I still had to climb over him to get out, which was annoying for me and annoying for him. These seats would be just fine if I was traveling with a friend or family member, but I really prefer the seating on United Airlines (which operates the same route) for the extra privacy.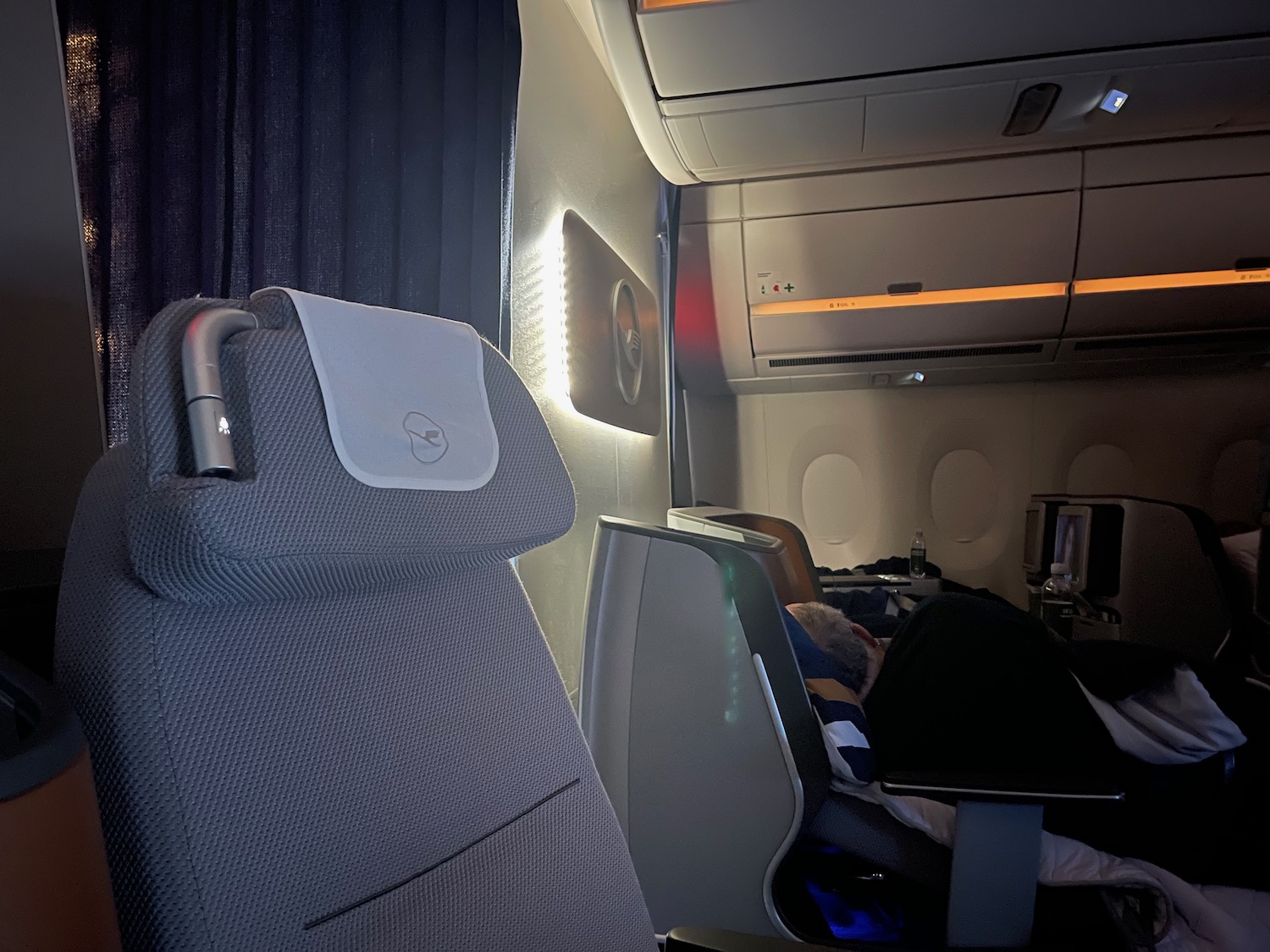 The only personal storage this seat offers is a small compartment between seats that is large enough for small personal items (a bottle of water and the amenity kit took up most of the space).
Seat controls include a 7-way seat adjustment as well as five levels of cushion firmness.
One reason I chose this flight to Munich instead of traveling on United was that it left so late. I love a late-evening departure to Europe because it truly helps to combat jet lag. When you take off late, your body is ready to go to sleep and you end up sleeping better onboard. Even better, when you land it is already the late afternoon so you only need to make it a few hours before going to bed again, thus avoiding the deadly afternoon nap that can induce jet lag for days.
There are no air vents, but thankfully the cabin was not hot and I managed to sleep for about seven hours. Bedding includes a mattress pad, blanket, and pillow. The blanket is much improved and is light while still warm.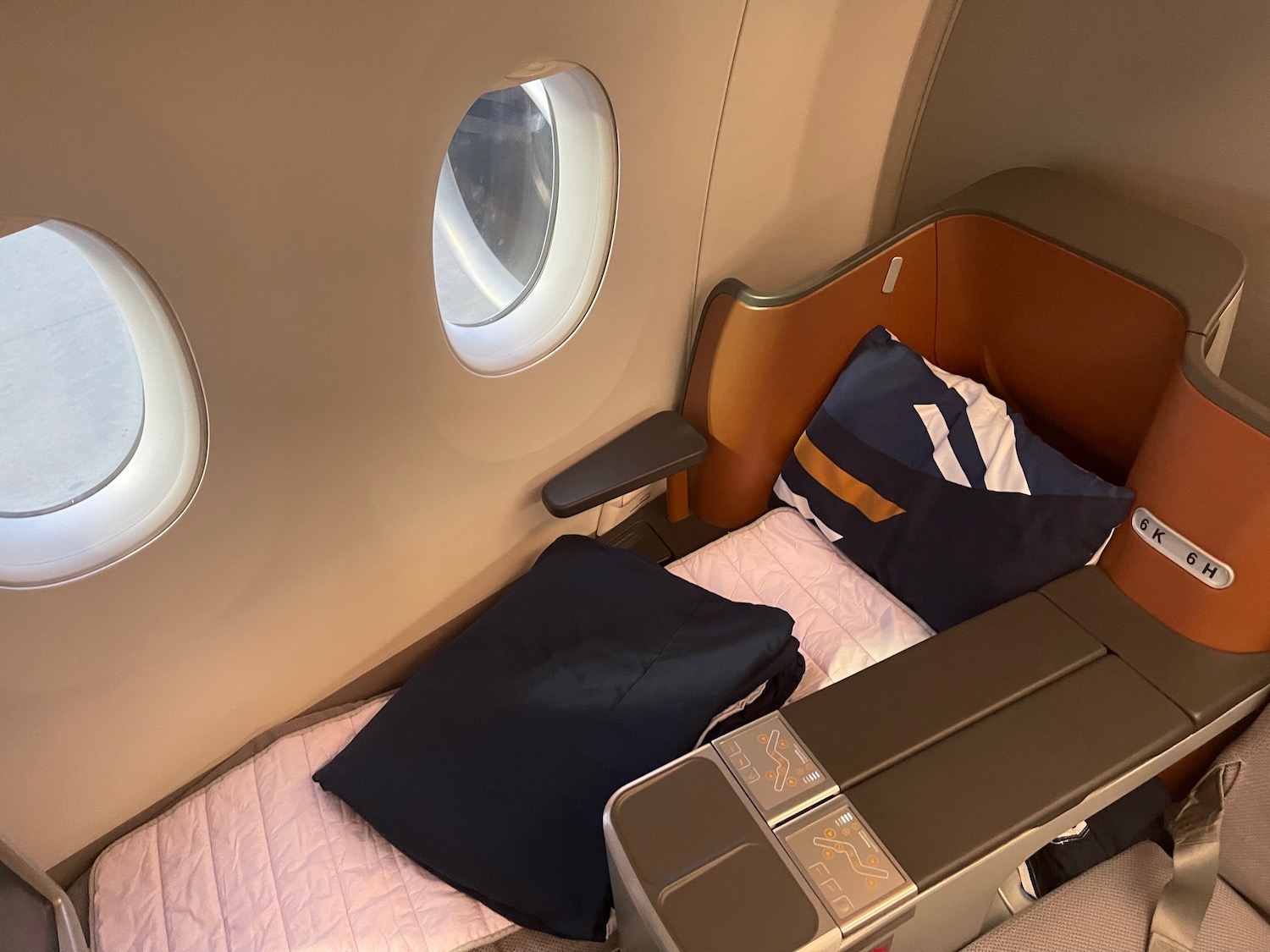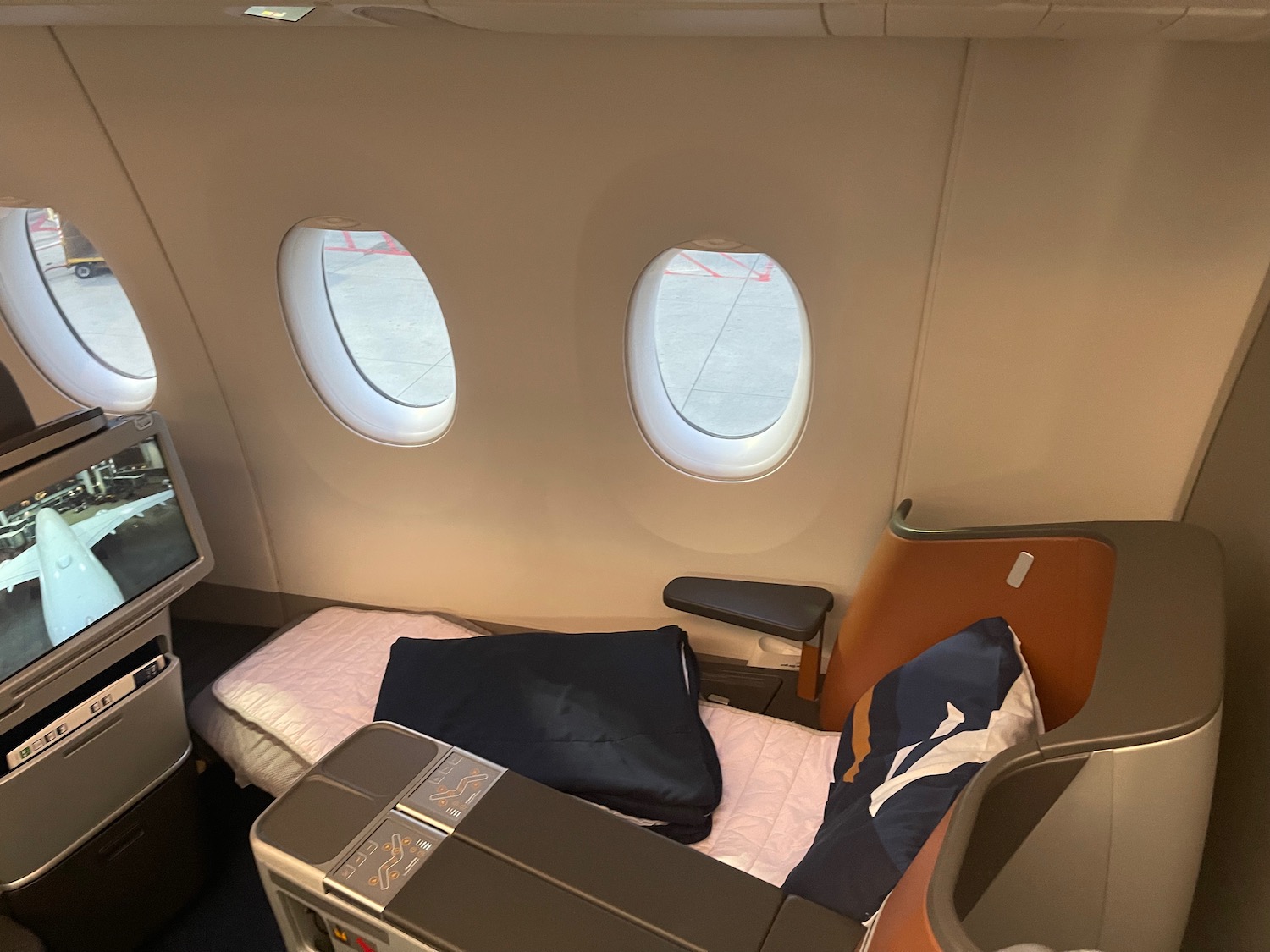 The plane boarded efficiently and we were soon ready for takeoff.
Service
I really scratch my head when I hear reports of poor service on Lufthansa because that is simply not my experience and I fly the German carrier quite a bit. No, this was not first class. Even so, I received amazing service from a flight attendant named Doris R. that was almost on the level of first class.
The four flight attendants who worked passenger-facing roles in business class carefully choreographed service to enter the cabins with carts at the same time and Doris, who worked my row on the starboard side of the cabin was so kind, courteous, gracious, and attentive.
Sometimes we spoke German, sometimes we spoke English, but there was such a lovely heart for service on display that I greatly appreciated and that truly helped to compensate for a business class seat I no longer find competitive.
Amenity Kit + PJs
Amenity kits were placed at each seat prior to boarding. Until recently (and for many years), the Lufthansa business class amenity kit was a reusable tote bag with contents inside including ear plugs, an eyeshade, toothbrush, and toothpaste. I love these bags, have about a dozen of them, and use them for my grocery shopping. My understanding is Lufthansa is currently offering Porsche Design amenity kits that can serve as a glasses case, but I hope it returns to these, which I find so much more practical than most amenity kit cases.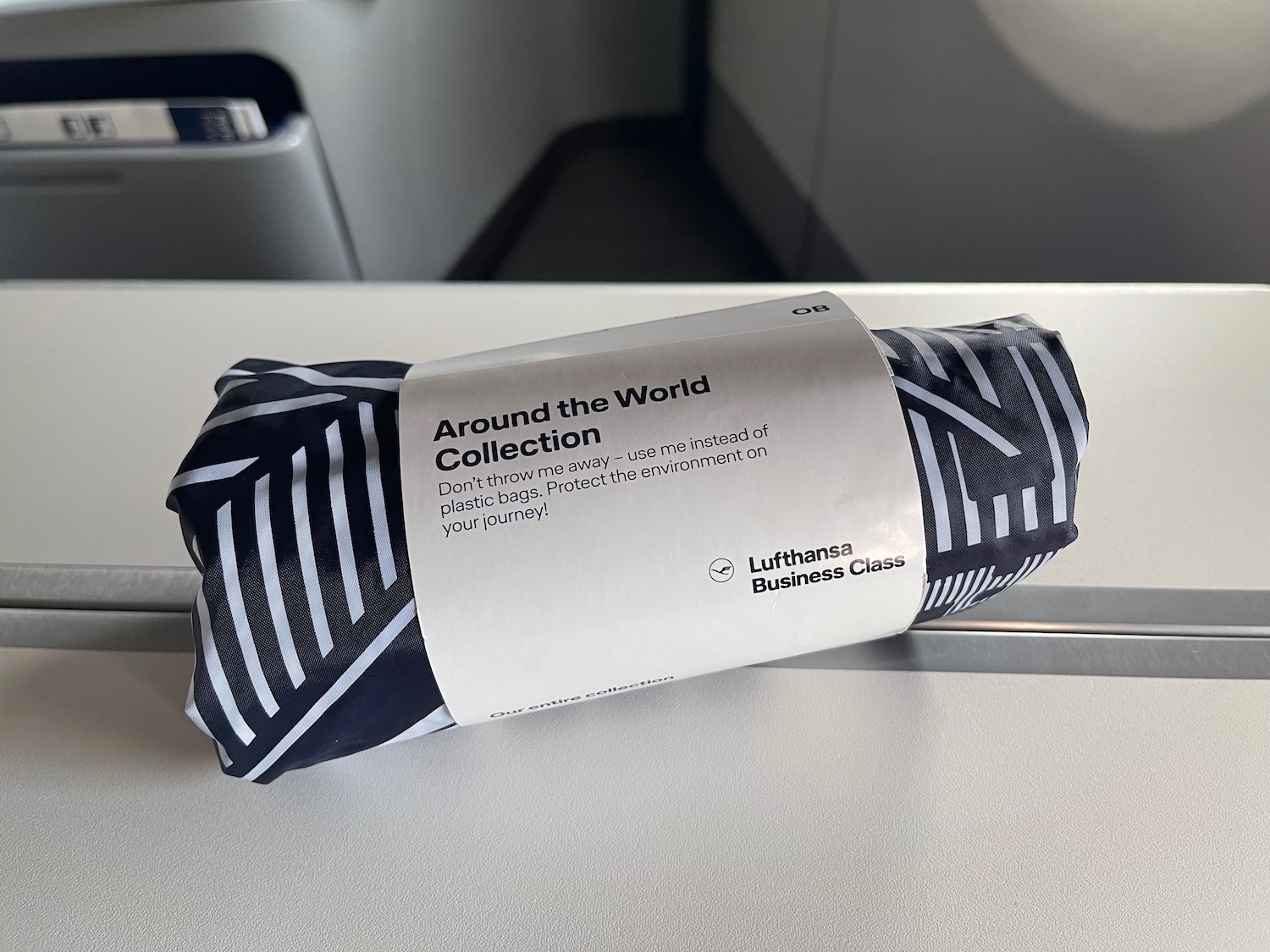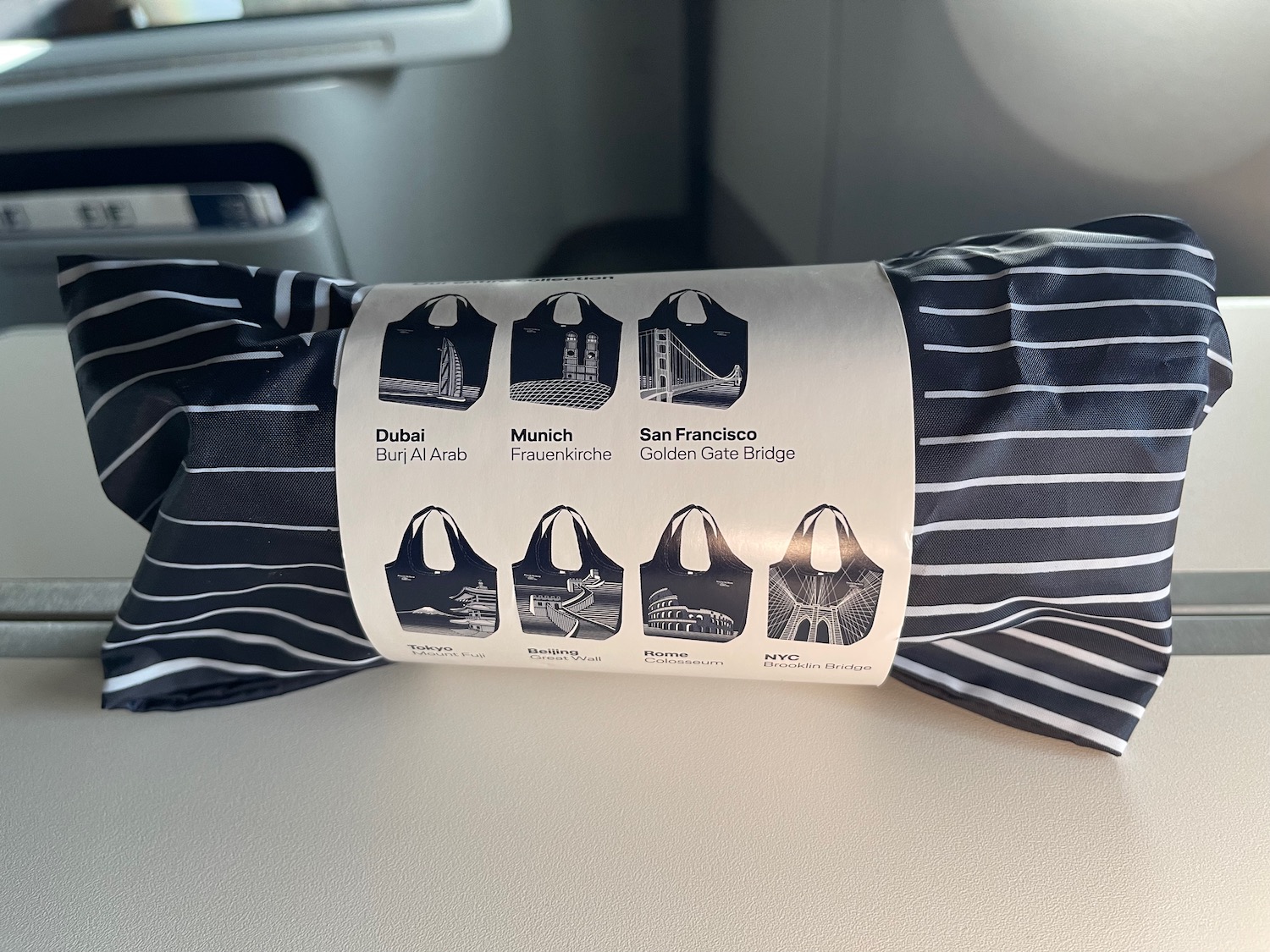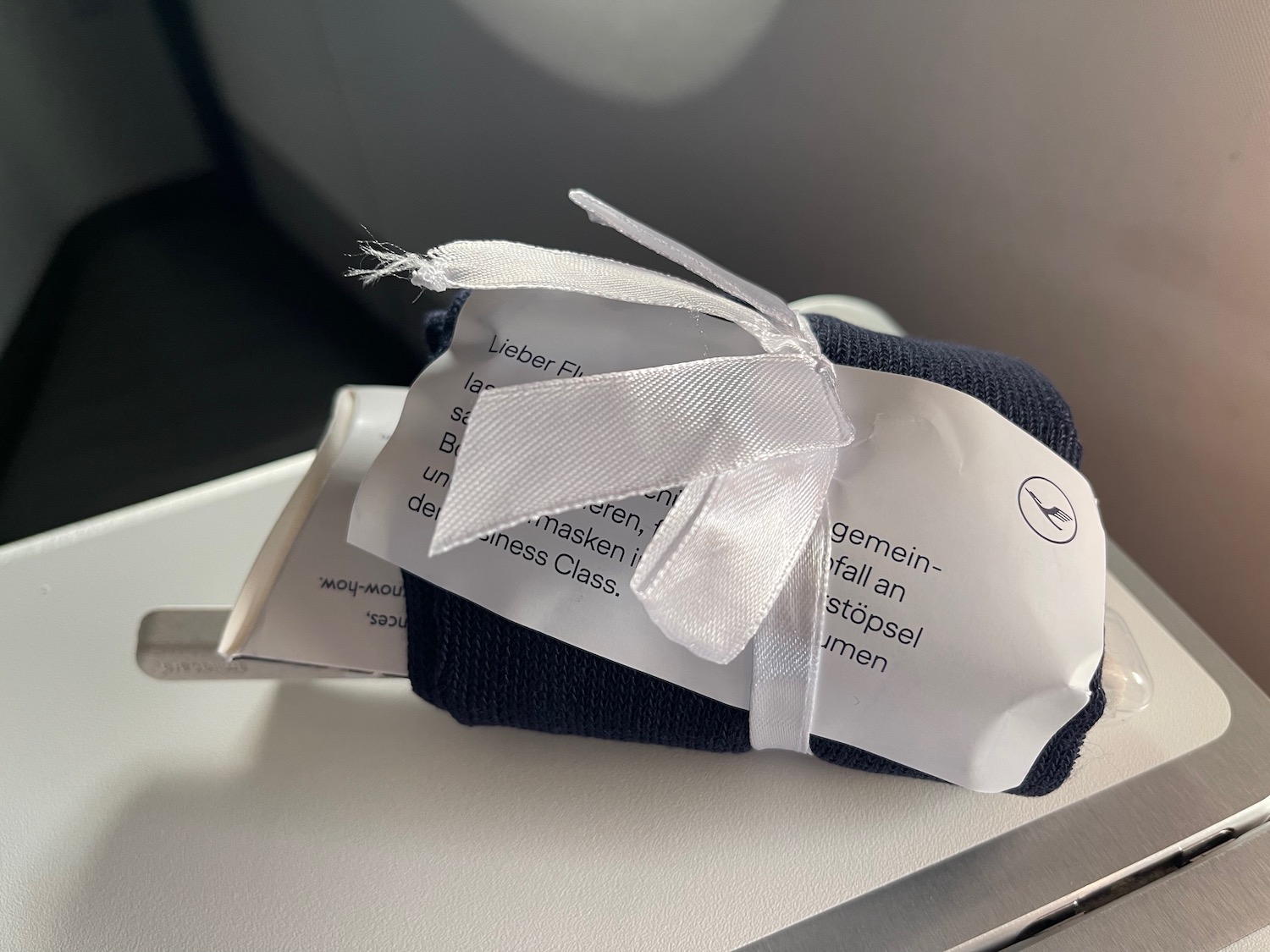 Full pajamas as not offered in business class, but PJ tops from van Laack are offered and I put mine on and left it on after I spilled food on my other shirt.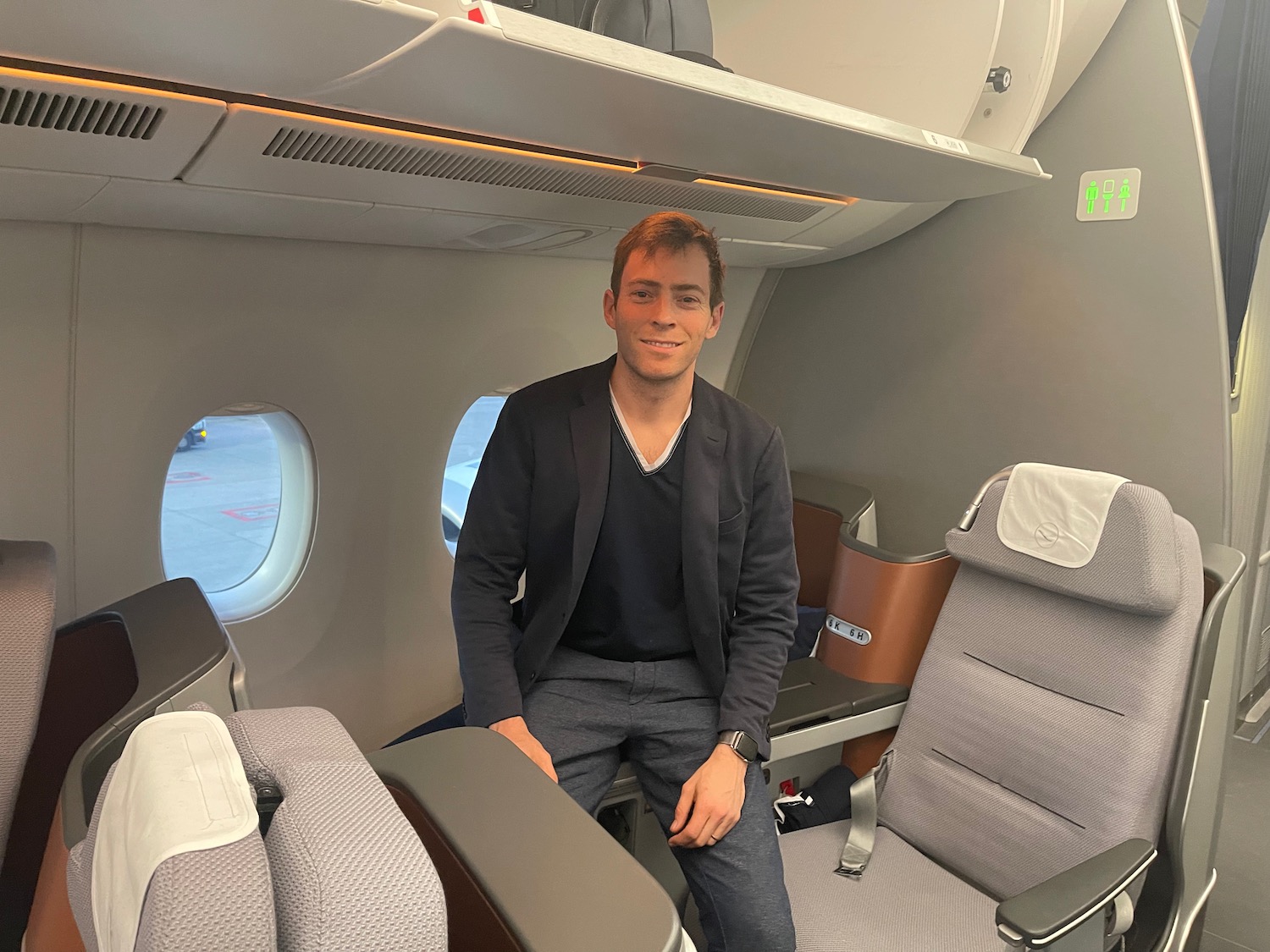 Food + Drink
Dinner was served after takeoff with snacks available in between and breakfast before landing.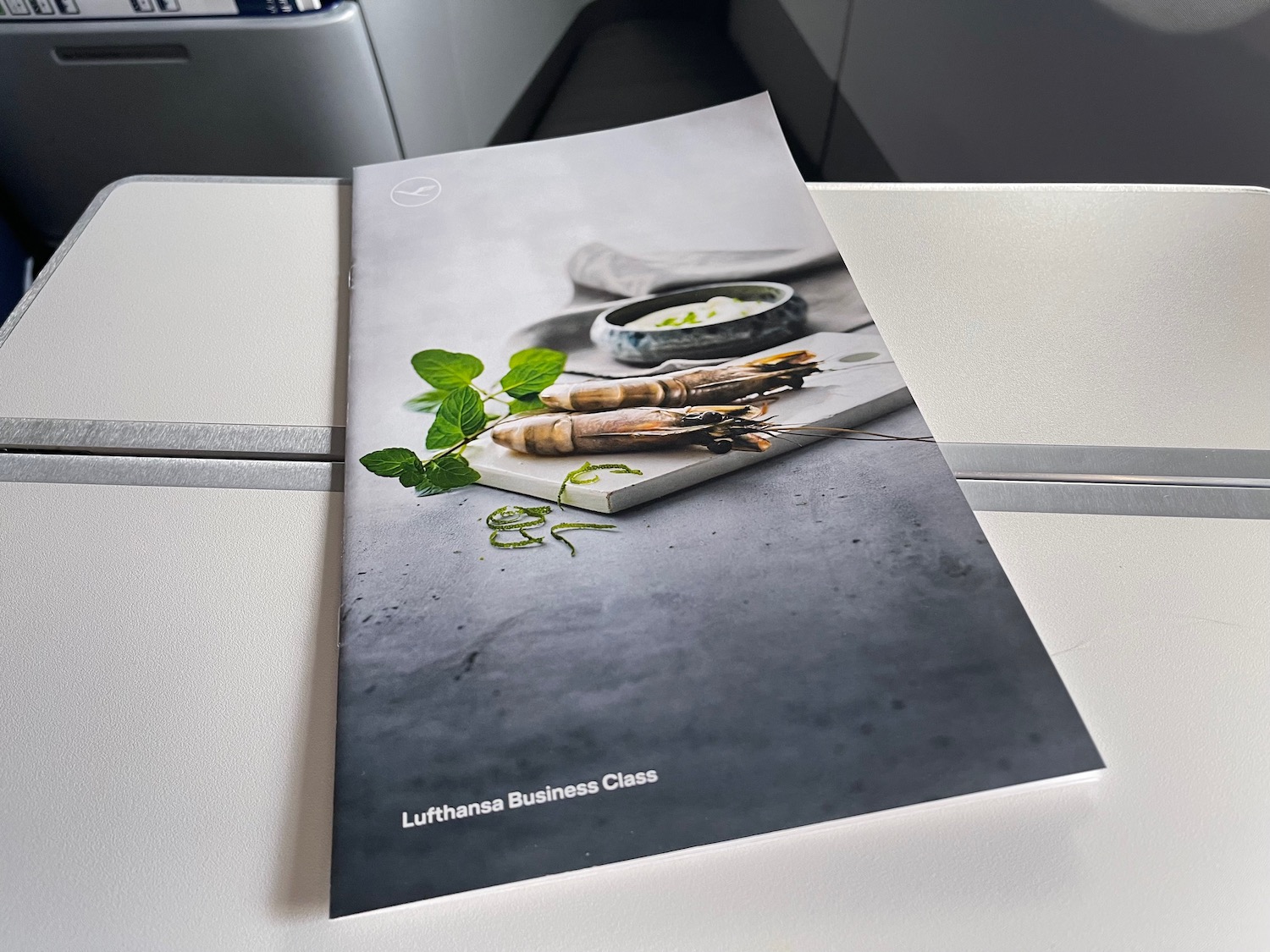 Dinner
Service began with a hot towel, a choice of beverage (I ordered a glass of Riesling, my favorite white wine, even though I planned to order red meat for my main course), and mixed nuts. The nut mix included pistachios and pecans, which I loved.
Lufthansa serves meals in three courses, with an appetizer followed by the main course followed by dessert or cheese.
Appetizer choices included:
Spicy Chili Crusted Tuna and Buckwheat Noodle Salad with grilled Chayote and Chili Lime Dressing

or

Honey Ancho Beef Jicama Roll with Corn Pepper Salad and Gazpacho Vinaigrette

or

Green Asparagus, Red Peppers, Feta Cheese, Quinoa, yellow Beets and toasted Pistachios with Truffle Oil Sherry Vinaigrette
I love asparagus, but apparently so did everyone else in the cabin because that choice was gone by row four. The ladies in front of me both wanted it and became very angry when told it was gone. If you want your first choice of appetizer, do consider sitting as close to the front of the cabin as possible.
I chose the beef roll with corn pepper salad and it was fine, though nothing to write home about. Bread was offered and I chose some dark rye bread (in anticipation of the cheese course) and a hot sourdough roll.
Main course choices included beef short ribs, cioppino, and pasta.
Beef Short Rib with Gremolata, Braised Red Cabbage, Grilled Baby Carrot and Rutabaga Whipped Potatoes

or

Pier 39 San Francisco Cioppino Shrimp and Scallop with Cioppino Sauce, Julienne Vegetable Mix and Saffron Rice

or

Black Pepper Fettuccine in Tomato Wine Sauce with Olives, Herb Roasted Cherry Tomatoes, Red Swiss Chards with Cannellini Beans, Grilled Baby Zucchini and Sunburst Squash
Let me note that while first class has the additional caviar service along with salad and often a soup course, the appetizers and main course choices are identical (this plane does not have a first class cabin, but had I flown to Frankfurt on the 747-8 the first class and business class dinner menu would have been almost the same).
I specifically chose the beef short ribs to compare them to the same dish (with the same sides) I had in first class 11 months earlier from SFO-FRA.
Frankly, the beef was much better on this flight and so was the presentation. I love tender short ribs (which should be well done) and the sauce complemented the meat well. I also love cooked red cabbage.
Dessert choices included cheese ("Marco Polo, Beecher's Smoked Flagship and Montchevre Garlic and Herb Goat Cheese") or pumpkin cheesecake with caramel sauce. I could have had both, but just had the cheese and thought the herb goat cheese was particularly delicious (with the rye bread I saved from dinner).
The meal concluded with chocolate truffles from Coppeneur (made in Bad Honnef in North Rhine-Westphalia).
Mid-Flight Snacks
I am always impressed by the selection of mid-flight snacks Lufthansa offers, which appear to be thoughtfully selected to include high-quality snacks from smaller companies. I greatly enjoyed rosemary-spiced almonds from Filbert's and also appreciated the extra water bottles.
Breakfast
90 minutes before landing, breakfast service began with the offer of "fresh-squeezed" orange juice. More accurately, this was Tropicana 100% juice, so not horrible but also not fresh-squeezed.
Lufthansa offers straight espresso in business class, but not cappuccino or lattes. Still, the espresso was strong and hit the spot as I tried to wake up.
Breakfast choices were either eggs or overnight oats. I ordered the heartier eggs dish, which included an omelet filled with cheddar cheese, potato rösti, sautéed mushrooms, and grilled Canadian bacon.
The omelet was very satisfactory and I loved the bowl of berries. The croissant was also hot and flaky. The "Canadian bacon" was just a very cheap processed ham and the "potato rösti" tasted like deep-fried hash browns (because they were deep-fried hash browns). Real rösti is different from hash browns in that hash browns are made from potato that is already cooked.
I concluded breakfast with one more cup of coffee (also good, though I prefer the espresso).
IFE + W-Fi
I appreciate the Lufthansa A350 business class cabin has modern, responsive, and large touch screens. The interface is still quite dated, but I was able to navigate through the collection of movies, TV shows, games, and music quite well.
Best of all, I loved the high-resolution tail cam, which I had on for most of the flight.
On-ear noise-canceling headphones from AKG worked well.
I was very thankful I got my essential work done before the flight because wi-fi did not function for the entire duration of the flight. The network signal was present and the landing page opened, but clicking through always resulted in a "server busy" error.
Lufthansa now sells internet packages with data caps, which it did not do before.
Lavatory
Lufthansa lavatories are often full of goodies when traveling in a premium cabin and this flight was no exception. Not only was the lavatory spotless, but it included shaving kits, combs, and mouthwash, socks, and eyeshades.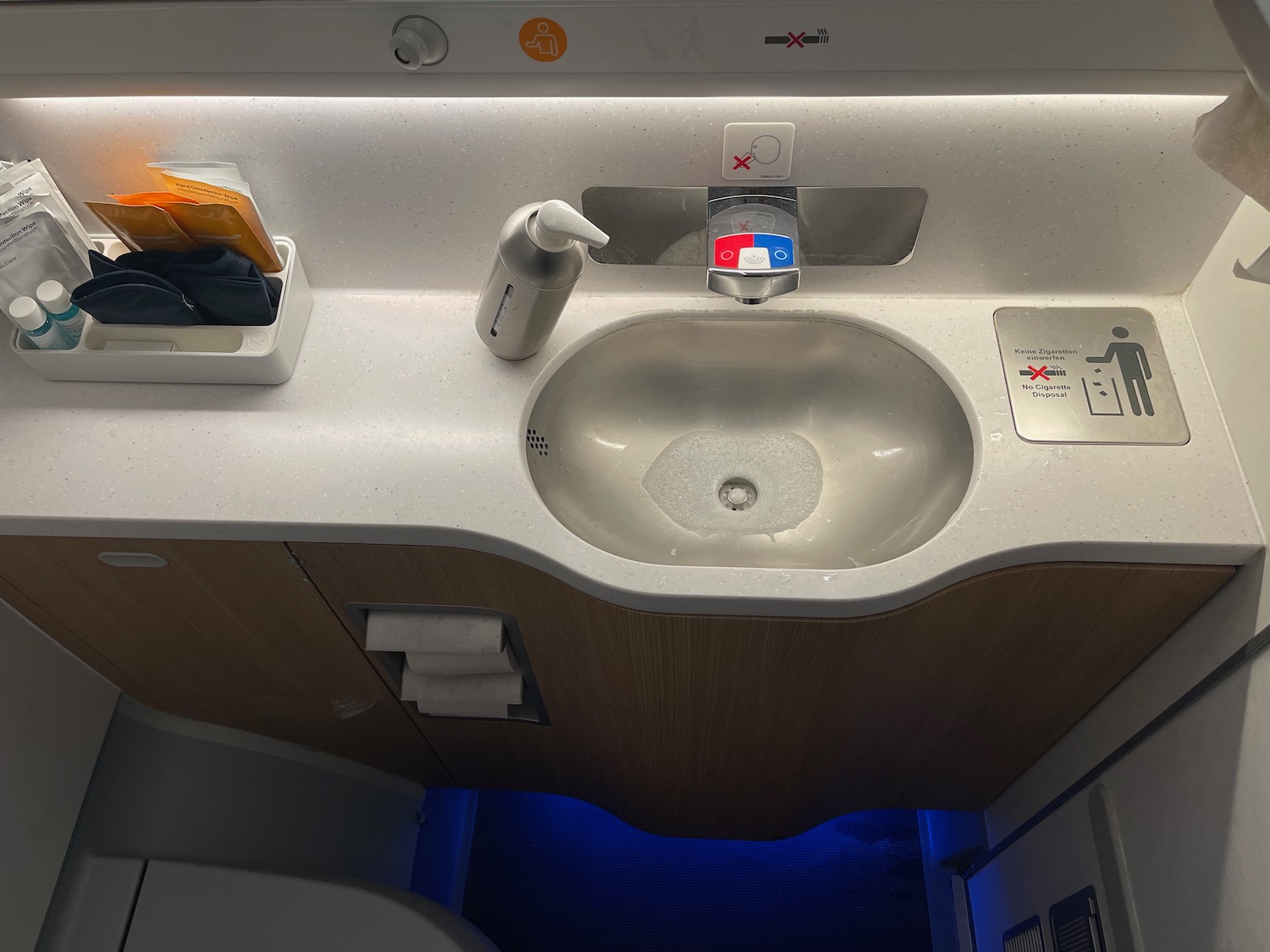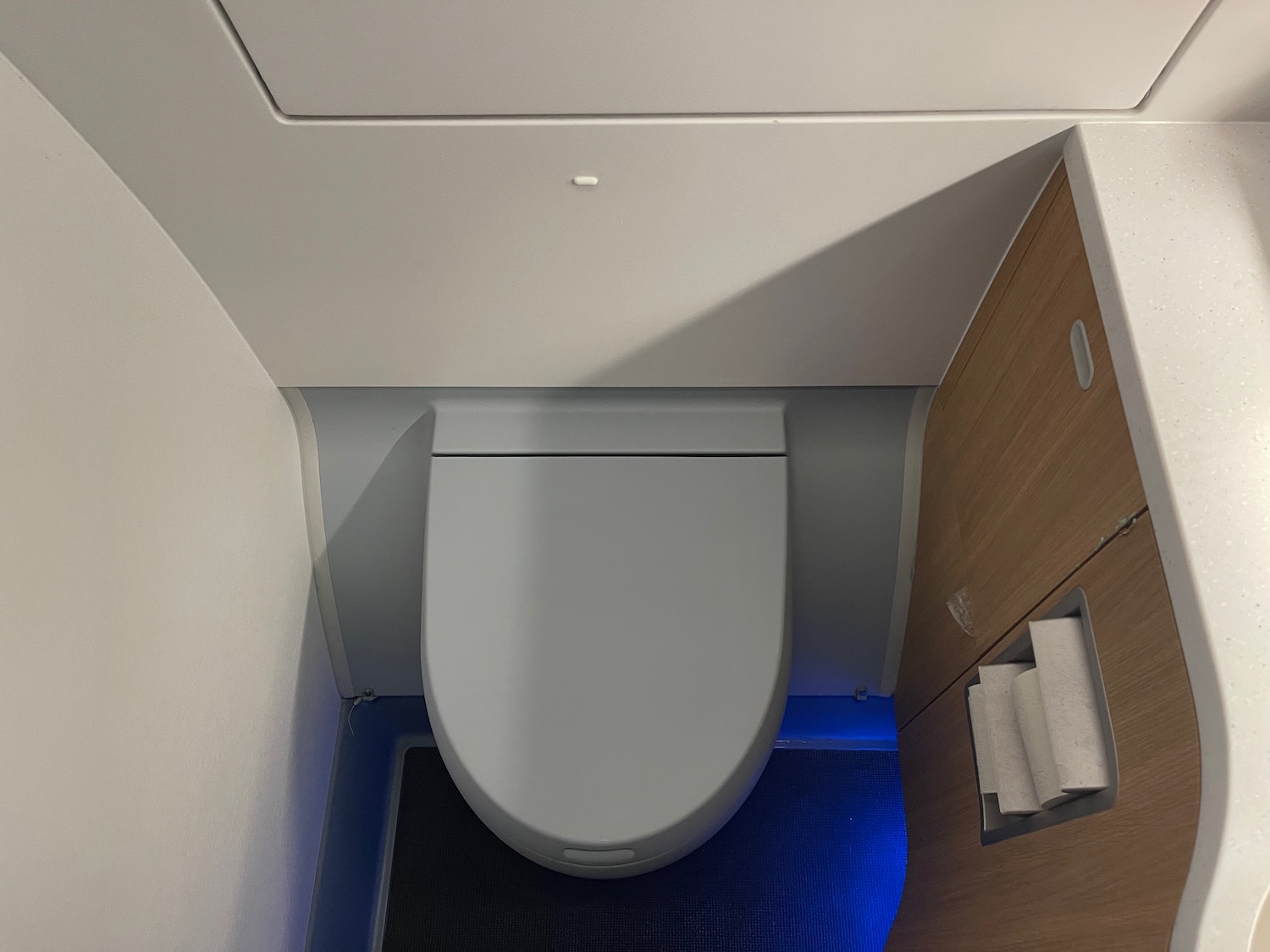 CONCLUSION
As we descend into Munich, we said goodbye to the sun and hello to the clouds.
Overall, this was an excellent flight on Lufthansa. The current Lufthansa business class seats on the Airbus A350 are not competitive unless you can secure one of the ex-Philippine Airlines jets (those have totally different seats – look for configurations with 30 seats instead of 48 seats). Even so, I slept well, enjoyed the meals, and found the service onboard outstanding.
I'd still choose United over Lufthansa, but Lufthansa is by no means a bad choice.