I checked off a bucket list item in treating my family to Lufthansa First Class when we flew together from San Francisco to Frankfurt for Christmas. The flight was nearly flawless and today I want to share with you the joy of traveling in first class with the family.
Lufthansa First Class Family Review
I have to be honest, I was scared. Five-year-old Augustine is old enough now to keep himself occupied on a plane, but would my one-year-old daughter Claire Marie sleep or keep the entire cabin up all night?
That's a risk you take whenever you fly, whatever the cabin. While I dismiss as illogical the idea that children should not be allowed in first class, of course I do not like it when babies disturb other passengers, particularly if that baby is my own. I want my children, even at a very young age, to be quiet passengers. 
But ask any parent and they'll tell you that between birth and the terrible terrific twos, a child's behavior can be very unpredictable.
Thus, the biggest objective for me on this flight was keeping my daughter happy by feeding her than putting her to bed. The flight left a bit early for bedtime, but we hoped the darkness outside would help her to go to sleep.
Thankfully, it did. She fell asleep relatively quickly and slept uninterrupted until minutes before landing.
That's a big deal. Had Claire Marie been boisterous, I'd probably be writing a very different report today.
With that out of the way, let's return to the flight.
Check-In
Upon arriving in San Francisco, I dropped my family off in the United Club and then proceeded to the gate to complete our check-in. There was a bit of line, only one agent on duty, and no special line for first class passengers. On the other hand, this was about 75 minutes before the flight, so I don't blame Lufthansa for not having the gate fully staffed so early.
After checking in, I returned to the lounge and about 50 minutes before departure we proceeded back to the gate. We could have stayed in the lounge another half hour, but I wanted to be first onboard to take some family pictures in the cabin prior to other passengers boarding.
Unfortunately, we found that boarding was delayed due to a medical emergency aboard…yes, before the flight even departed. From what we could gather, a member of the cleaning staff collapsed. Paramedics were called and treated the man, who appeared to be okay.
That incident delayed boarding by another half hour, meaning we ended up waiting in the gate area for 40 minutes…not ideal with two young children.
Finally, we were invited to board…only to be stopped for another 10 minutes on the jet bridge. My daughter made herself at home…
I'm actually thankful for the slight delay…it wore the kids out, which made them quicker to fall asleep onboard.
Lufthansa 455
San Francisco (SFO) – Frankfurt (FRA)
Thursday, December 23
Depart: 02:45PM
Arrive: 10:30AM+1
Duration: 10hr, 45min
Aircraft: Boeing 747-8
Distance: 5,699 miles
Seats: 1A, 1K, 2K, 3K (First Class)
Onboard, we were welcomed and directed left to the beautiful nose of the Queen, which is home to Lufthansa's eight-seat first class cabin. I've reviewed the hard product many times and will only note that it never gets old. This is not a very private first class cabin. Indeed, it is less private than some leading business class products today.
But it's comfortable, timeless, and still very luxurious.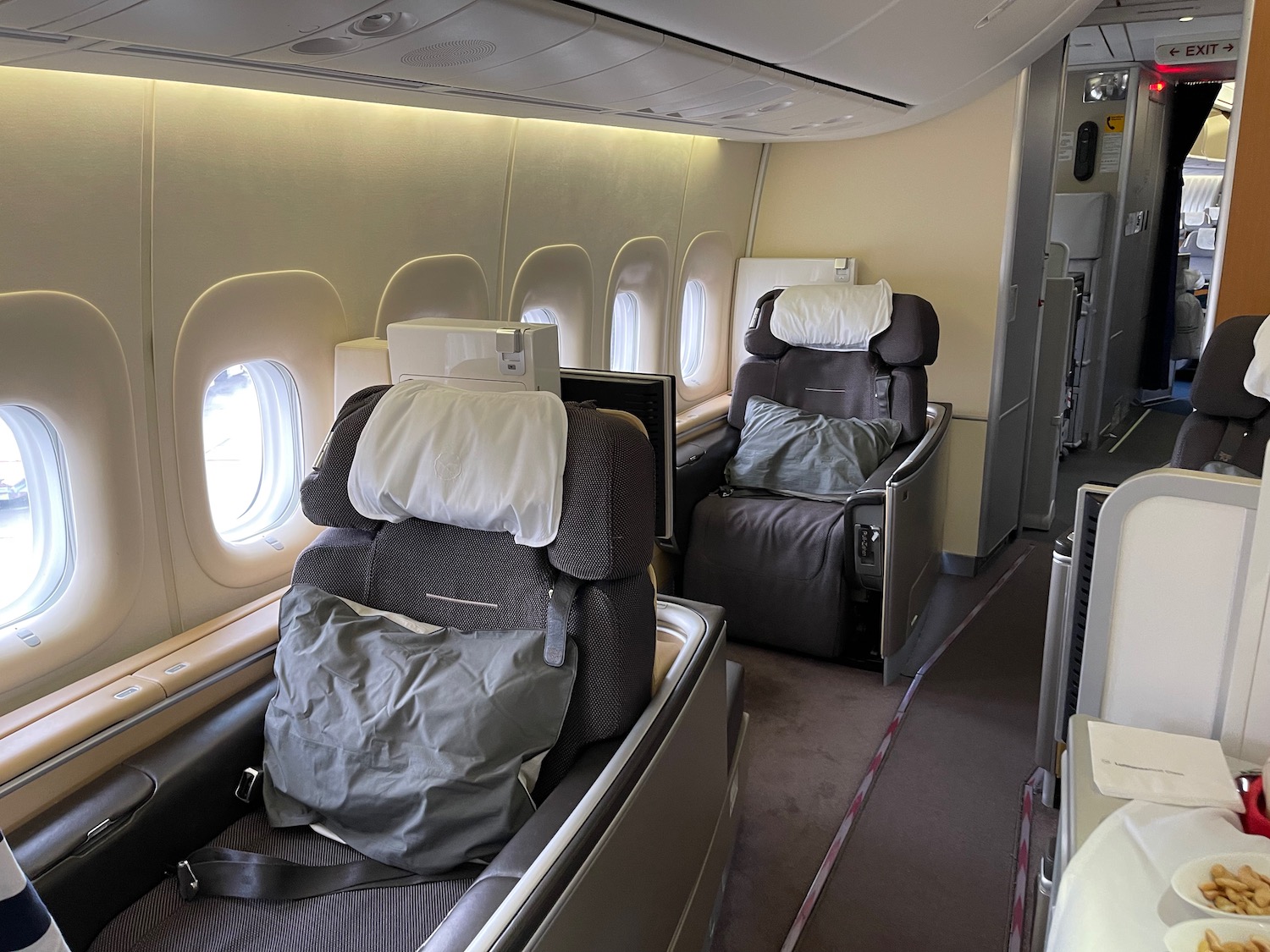 As my wife, Heidi, and children got settled onboard, a flight attendant appeared and offered us a welcome beverage, including champagne or fresh orange juice for the kids. I simply had a glass of water and some cashews (where were the macadamia nuts?)
A Rimowa-branded amenity kit, slippers, and menus were present on the seat already and I was also offered pajamas.
The captain apologized for the delay, explained briefly the medical emergency, and said we would make up time over the Atlantic thanks to a generous tailwind.
With the cabin only booked 7/8, we were offered the extra seat for Claire Marie, which really came in handy later on in the flight. Meanwhile, she stayed busy entertaining herself with the seat controls.
Meanwhile, Augustine began browsing the IFE library. We only let him watch TV when he is on a plane and he takes full advantage of the opportunity.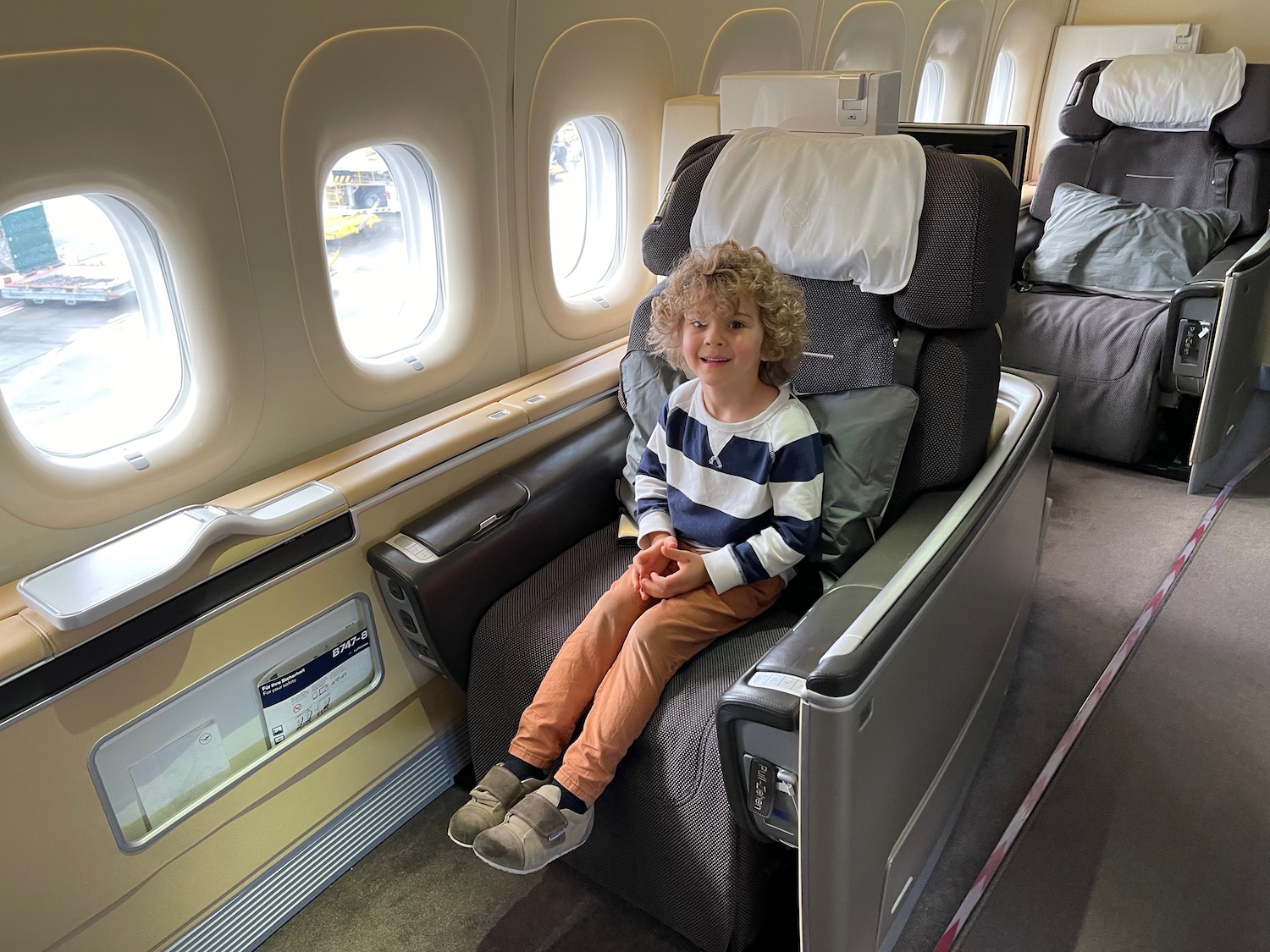 After takeoff, the purser stopped by and greeted every passenger, offering me a wi-fi voucher for the flight and making small talk about our trip to Basel.
I'm sure the crew detected my American accent, but I'm pleased to report that all conversations onboard took place in German.
It was a beautiful day in San Francisco and the views out the window were vibrant. After takeoff, I changed into my pajamas in the oversized lavatory.
Family Dinner
It was time for dinner, which to me was the pinnacle of the flight. I sat down in 1A and Augustine took the guest seat while Heidi sat down in 1K and Claire Marie took her guest seat. A family dinner together in first class, utilizing the guest seats (which technically are not even guests seats, but suitable for young children) was oh so very special.
Of course it wasn't all smooth. I had to pry Augustine away from his movie.
And Claire Marie was sleeping…
…but thankfully woke up and was cheerful.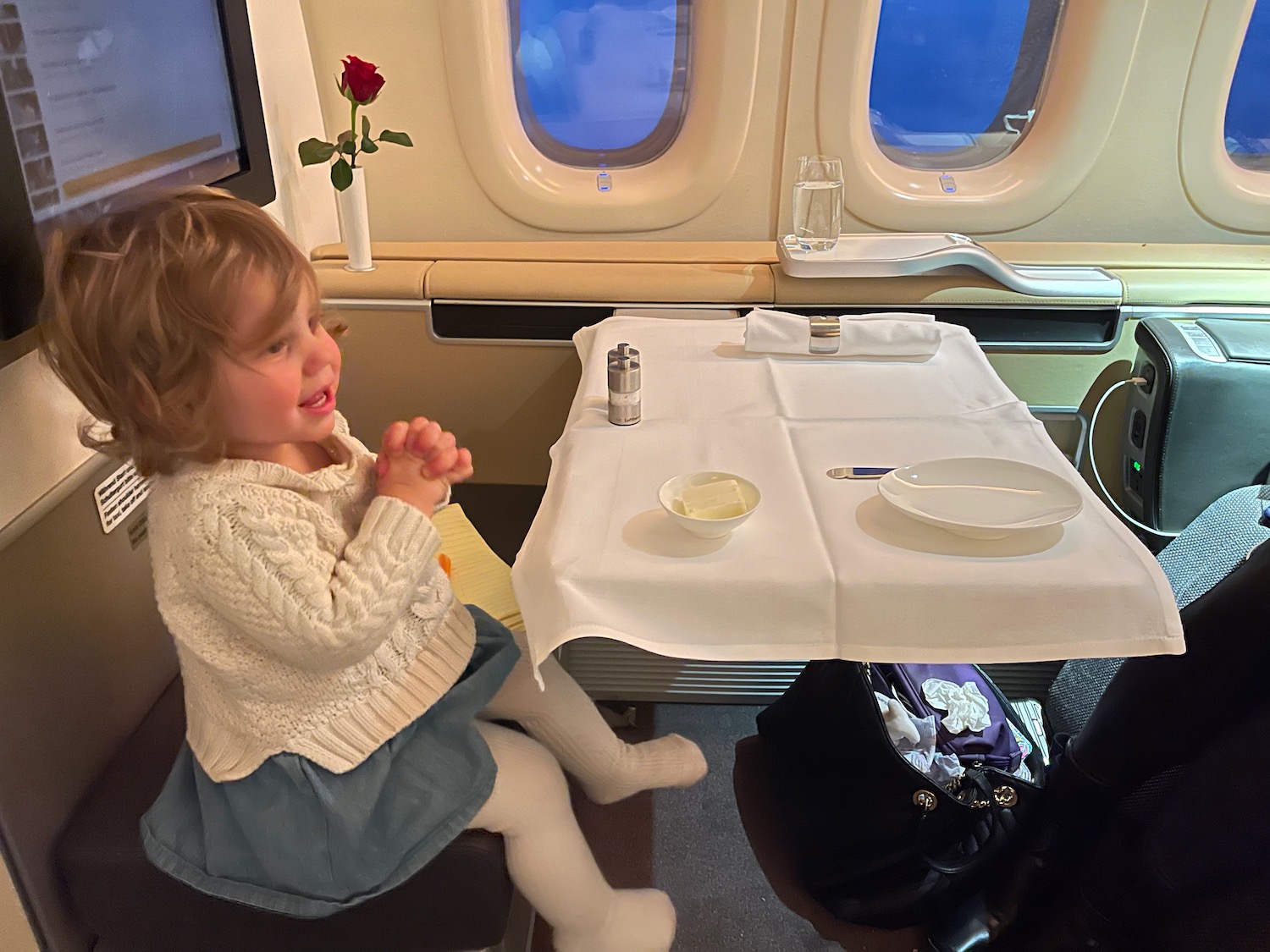 I'll treasure this pair of pictures in particular, which shows Claire Marie and Augustine sitting cross from another in the nose of the 747:
First, the table was laid for dinner, followed by a choice of bread (the garlic bread is always good on Lufthansa, but particularly tasty from SFO), and then caviar. Would Augustine like caviar?
Well, he tried it…but a few bites was enough for him. It's an acquired taste…
Next came a quartet of appetizers, including:
spicy chili crusted tuna, buckwheat noodle salad, and lime dressing
honey ancho beef jicama roll with corn paper salad and gazpacho vinaigrette
green asparagus, red peppers, feta cheese, and toasted pistachios with truffle oil sherry vinaigrette
seasonal salad with saved fennel, pine nuts, tomato, and parmesan cheese
All appetizers were tasty, but the asparagus with feta cheese was particularly tasty.
For our main courses, Heidi, Augustine, and I each tried something different.
Augustine tried the herb roasted chicken breast with baby carrots, Brussel sprouts, quinoa, and barley….and proceeded to go to sleep once it was served. He was full and didn't want it…he even skipped dessert! So much for my family dinner…
Heidi and I shared it and found it to be tasty. In fact, it was better than the beef short ribs with gremolata, braised red cabbage, grilled carrots, and whipped potatoes that I ordered or the Pier 39 San Francisco Cioppino (lobster, shrimp, scallop with Cioppino sauce, Julienne vegetable mix, and saffron rice) she ordered.
Claire Marie had a few bites from our plates as well a banana and bread for her dinner. We then  put her in seat 1K and put up the privacy divider.
With the kids in bed, Heidi and I sat down and split a dessert (cheesecake with strawberry sauce) and a decaf cappuccino. We were both too full for the cheese course.
In case you're wondering, here is the full food and beverage menu:
Sleep, Then Breakfast
Then came sleep…about six hours of glorious sleep. I awoke over Ireland and found the rest of my family sleeping. The flight attendant saw me stirring and immediately appeared, offering me a glass of orange juice and cappuccino.
Although he was sleeping soundly, I decided to wake up Augustine for breakfast. I gave him the choice earlier in the flight and he indicated that he wanted to be woken up. Part of me regrets doing so because the poor kid was so tired (it was midnight in California after all), but we had a nice breakfast together including:
fresh orange juice
cappuccino
fresh fruit
fruit smoothie
yogurt
scrambled eggs with bacon and chives (prepared freshly in the galley)
croissant
Smoked salmon, cheese, ham, and bresaola were also offered.
The breakfast really separates first class from business class and is always worth waking up for it, even with the prospect of a great lounge on the ground.
I enjoyed one more cappuccino prior to landing and was also treated to some extra chocolate.
Meanwhile, my daughter continued to sleep.
Great Crew
A huge shoutout to the crew working this flight and an apology: I misplaced the name of the flight attendant who took such amazing care of my entire family. But you can see him in a few of the pictures in this report and I applaud him for his kind and gracious service. He was great and truly provided attentive and genuinely caring service. 
We took a few more pictures after landing, said goodbye to the crew, then watched them close the door behind us. It was only after proceeding down the jet bridge that I remembered I had left our passports onboard…oy. But that's another story…
---
> Read More: How I Nearly Ruined Christmas But Lufthansa Saved It…
---
CONCLUSION
This flight represents all the reasons why I work so hard to save miles and points. It's one thing to treat myself to first class, it's another thing to treat my beloved family. Not only did we have the joy of traveling to Germany (something perhaps we often take for granted), but were able to do so in immense comfort. Thanks to Lufthansa for always taking care of us in first class and for the wonderful way to begin the German chapter of our Christmas celebration.
A few final thoughts. First class offers a huge premium experience over business class on Lufthansa. It's always worthwhile. Second, don't hesitate to take your kids in a premium cabin: it's really just fine. Finally, if you are able to use miles for your travels, this represents one of the most aspirational uses of your miles (I outlined how I booked the tickets here).