Lufthansa First Class never fails to impress. My flight from New York to Frankfurt was far too short, but every moment of it was enjoyable, with excellent food and even more excellent service onboard. I was deeply grateful for the opportunity to celebrate my birthday in the nose of a Lufthansa 747-8.
Lufthansa 747-8 First Class Review: New York JFK To Frankfurt
I've reviewed Lufthansa First Class so many times on Live and Let's Fly, yet there's always a unique aspect of the flight. Here, the focus will be on the onboard service as well as the food and beverage offerings.
Booking
I booked this one-way ticket for 121K United miles and $68 in taxes, which included not only my New York (JFK) – Frankfurt (FRA) flight, but also connecting flights in Lufthansa Business Class to Dubrovnik (DBV) via Munich (MUC). It made for a long day of travel but had we taken the direct flight from Frankfurt to Dubrovnik (also available), the overall travel duration would have been even longer since the Dubrovnik flight departs in the middle of the afternoon.
While I always hesitate to book Lufthansa First Class from the East Coast (versus West Coast) due to the shorter flight time, this time it simply made sense because I was meeting my friend in New York City.
Lufthansa First Class award space has been sparse this summer. About a week before departure I noticed that there were five first class seats available on the Washington (IAD) to Frankfurt flight in first class and booked us on that flight. On a separate ticket, because there was no connecting award space, I booked a flight from New York LaGuardia (LGA) to Washington Dulles. Had there been award space, it would have cost no extra miles.
Two days before travel, nonstop space from New York JFK opened to Frankfurt. I would have preferred to depart from Newark (EWR) because of the later flight time, but I grabbed the nonstop, which gave us a couple of extra hours in NYC.
Check-In + Boarding
After arriving via BLADE helicopter to JFK, we pulled up in front of the Lufthansa check-in area in Terminal 1. Inside, the check-in desk was literally deserted. It was about 75 minutes before departure, but apparently, everyone had checked in early.
An escort took us through security, which involved using a special area called VIP One, which included a living room-style set-up and a door that opened to the front of the TSA line.
Once through security, we were dropped off at the lounge for about 45 minutes and then a different escort took us to the aircraft, where we were the last to board. There were two jet bridges in use, one for first class passengers and one for the other cabins.
Lufthansa 401
New York (JFK) – Frankfurt (FRA)
Tuesday, August 2
Depart: 4:05PM
Arrive: 5:45AM+1
Duration: 7hr, 40min
Distance: 3,856 miles
Aircraft: Boeing 747-8
Seat: 3K (First Class)
Onboard, a flight attendant greeted us by name (her last two first class passengers to board) and we found our seats. Shortly thereafter, the captain welcomed everyone onboard and announced we'd be pushing back on time, the flight would be quick, and we'd be arriving nearly an hour early in Frankfurt.
Seat + Sleep
Flying from New York to Frankfurt in first class almost seems like a waste because there is so little time to sleep between meals. The 4:00 pm departure from New York and 5:45 am arrival in Frankfurt (5:00 am on our flight thanks to favorable tailwinds) really taxes rest.
Even so, Lufthansa delivers one of the most comfortable beds amongst carriers with a first class. The comforter is soft, pillow plush, and as long as the cabin is not too hot, I sleep very well.
The downside to the Lufthansa First Class seat is that it is not very private, even with a privacy divider raised. Seats are spaced out such that this isn't a huge deal (unless you are sitting with a stranger in seats 3D,F), but as other carriers add doors to their business class suites, the Lufthansa First Class suites are still very much open.
Seats 1A and 1K offer the most privacy, but 3K is my favorite because I like to take in the whole cabin instead of having people look over my shoulder.
A rare negative mark for ordinarily spotless Lufthansa: I found a pretzel in my seat. Perhaps Lufthansa needs new cleaners at JFK?
Food + Beverage
Upon boarding, we were promptly offered a bowl of mixed nuts (macadamias, almonds, cashews) and a glass of Champagne. In August, Lufthansa offered two types of Champagnes (2007 Grande Cuvée Rosé Alexandra from Laurrent-Perrier or 2007 Thiénot Cuvée Alain) and I loved the rosé.
This flight centered around dinner. I don't see my friend very often so we spent three hours dining together in suite 2A. While the little ottoman is not meant to be a guest seat, it worked just fine for me.
With such a limited flight time, dinner began shortly after takeoff with a tempura wrap offered as an amuse-boushe and a refill on beverages. Hot towels have also returned.
The menus:
The table was laid for dinner and a selection of hot bread was offered, including pretzels rolls and garlic bread.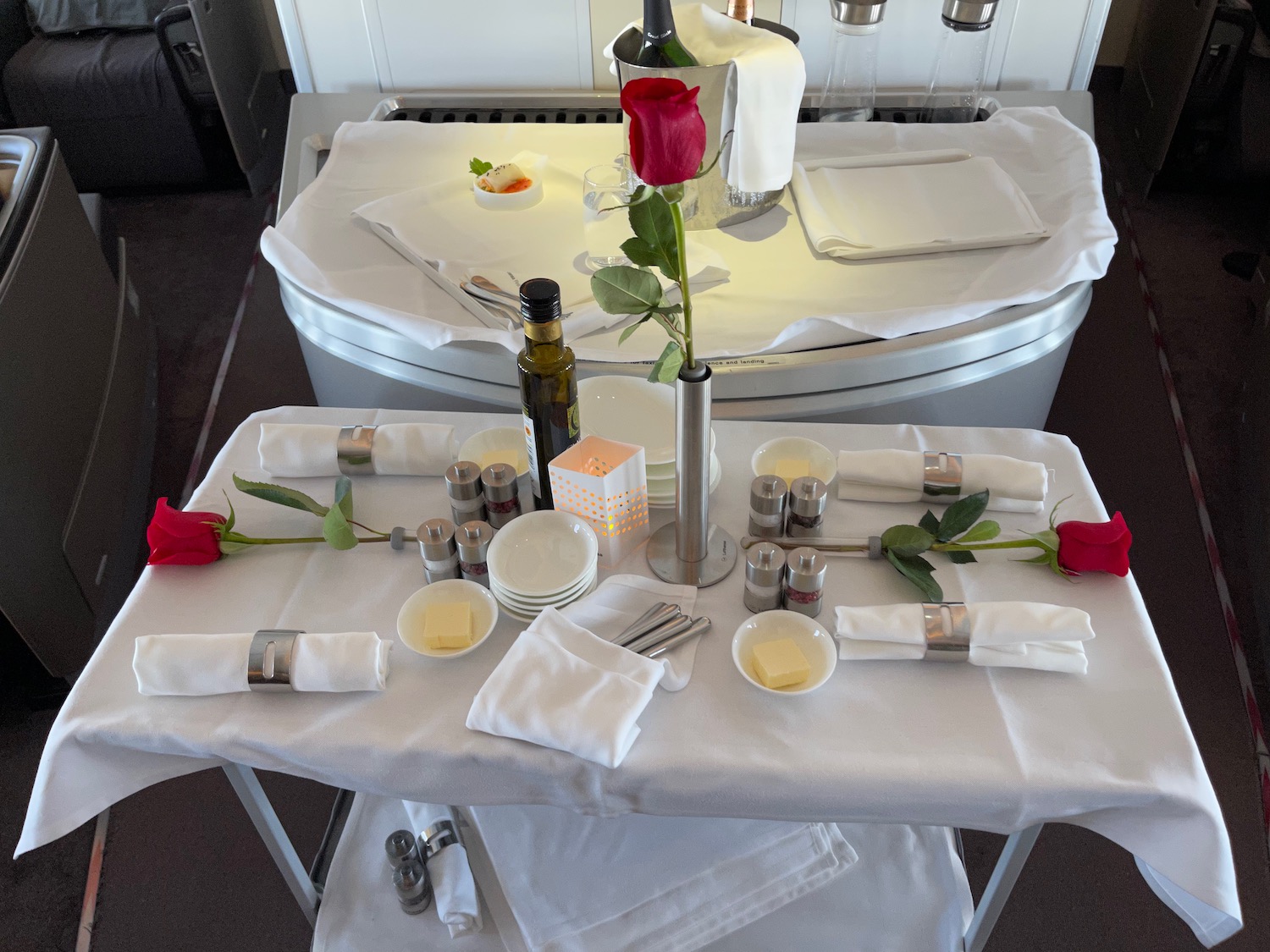 Next came caviar with garnishes….nowhere else would I ever eat caviar, but it's a fun part of the first class experience.
My friend tried the prosciutto, red heirloom tomato, peeled yellow cherry tomato, watercress, and balsamic pearls appetizer and enjoyed it.
I tried the broiled goat cheese, served with grilled artichoke, char-grilled and roasted bell pepper, Kalamata olive, and lemon herb vinaigrette. It was very light and refreshing.
A soup course followed: green asparagus and pea soup that was topped with fresh chives and my favorite course of the meal.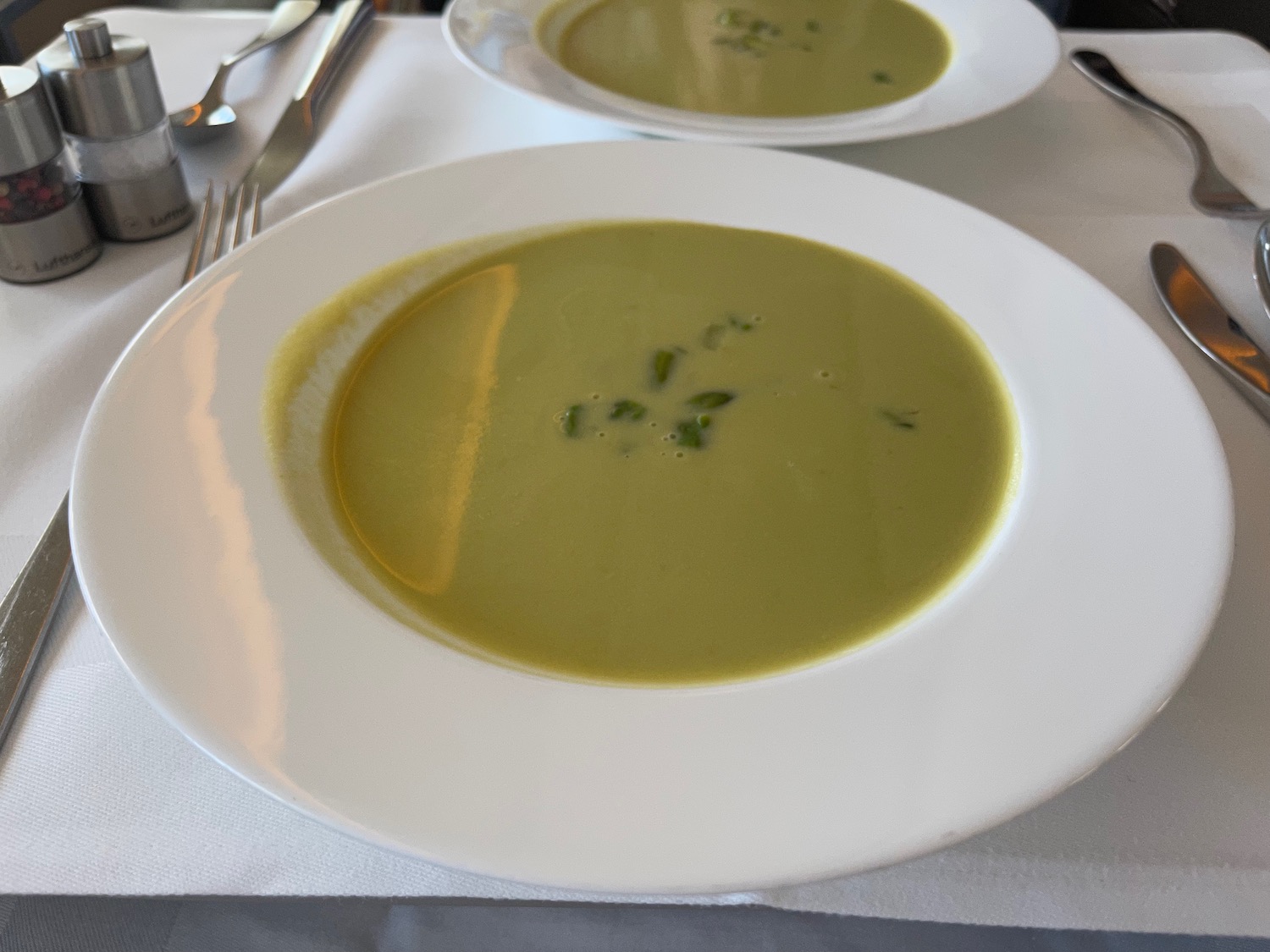 As a palate cleanser, I enjoyed a fresh leaf salad with shaved fresh fennel, celery, and sun-blushed tomato.
Main courses are typically a disappointment on Lufthansa (meat is always overcooked) and this flight was no exception. I chose a seared veal medallion with baby zucchini, caramelized fennel, roasted cherry tomatoes, and Anna potatoes (a French dish of sliced, layered potatoes cooked in melted butter). It came with a green peppercorn sauce, but I asked that it be left off.
My friend ordered seared chicken breast, served with Haricot Vert with olive oil, porcini truffle cream sauce, heirloom baby carrots, and purple potatoes.
Rather than order our own dessert, we shared one of each choice on the menu, including a cheese plate with:
• Manchego
• Double Gloucester
• Camembert
• Rougette
• Amablu Blue
This was another highlight of the meal. With it, we had a crème brûlée tart garnished with fresh raspberry and blueberry and butterscotch bread pudding accompanied by vanilla ice cream.
We concluded wtih cappucino and chocolate.
Three hours later, dinner was finished…and there was only 3.5 hours left in the flight.
I told Mark that I would sleep through breakfast and turned in.
I did end up sleeping in – as much as I love the freshly scrambled eggs, I appreciated the extra 30 minutes of rest instead. When I woke up, there was about 40 minutes until landing and I still enjoyed fresh orange juice, a green apple smoothie, an espresso, a warm croissant, and some fruit…still a large breakfast and delicately illumined by candlelight as others in the cabin slept.
Amenities
Lufthansa sends first class passengers home with a lot of goodies. That includes an amenity kit (which I did not bother to open…we're going to do something about my terrible hoarding of amenity kits and hopefully help out a worthy cause…stay tuned), slippers, and pajamas.
I modeled the pajamas here and appreciated the more modern Porsche Design branded pajamas, which I did take home with me.
---
> Read More: Lufthansa First Class Pajamas Now Porsche Design Branded
---
Tip: Ask for a business class amenity kit (reusable Lufthansa-branded grocery bags) to store all your first class goodies.
IFE + Wi-Fi
Lufthansa appears to have upgraded its wi-fi onboard. I say "appears" because it has worked on a stable basis my last few flights, though the speed is still not what I would consider "high speed."
First class passengers enjoy complimentary wi-fi onboard with no data caps, though beyond connecting my phone so I could stay up on news headlines and text messages, I took a break from my computer during this flight.
As for the inflight entertainment screen, it is one of my biggest complaints about the current Lufthansa First Class product. The screen is tiny and difficult to read. Even Bose noise-canceling headphones do not solve the sound issue and the map constantly freezes. Mine froze over Greenland and never thawed out…
At least there was some great views out the window during the flight:
Lavatory
A spacious lavatory offers room to move around, a window, and now new skincare products from Augustinus Bader. It seems the La Prairie contract is over? Evian spritzes, mouthwash, dental kits, and shaving kits are also available.
Service
Last and certainly not least, a huge shoutout to Mark Kling, who served as a first class flight attendant on my flight. He was an absolute professional who was attentive throughout the flight, courteous, charming, and a pleasure to be served by. We had a great conversation about life in Germany versus life in America and his use of the faux candle onboard was something I've never seen before on Lufthansa and I hope to see again.
A shoutout as well for Anja, who worked with Mark in first class, and the lovely purser Andrea, who offered us a hearty welcome after boarding, checked in on us during dinner, then offered us a heartfelt goodbye before landing.
CONCLUSION
If only this flight was five hours longer….but even at just over seven hours, it was a wonderful flight I will always remember. It was great to fly Lufthansa First Class with a friend and I am so thankful for the kind service onboard that I have come to expect on every Lufthansa flight. I look forward to returning to Lufthansa First Class hopefully sooner rather than later.