The SAS Gold Lounge in Copenhagen is even better than prior to the pandemic, with a section of both hot and cold food, great coffee, and plenty of room to spread out.
SAS Gold Lounge Copenhagen Review
My original review, below this update, is still relevant. Even so, I wanted to provide an update on catering and how the lounge has held up over the last few years.
After entering the lounge, walk past this sitting room on the first floor and head upstairs to the main part of the lounge.
While some airlines uses the pandemic to permanently enact cost-cutting, SAS appears to have gone the other way, at least in terms of its lounge food. I was there in the morning on my way to the Faroe Islands and in the afternoon on my way back and found the food spread quite satisfactory.
Morning selections included scrambled eggs, which I never saw before the pandemic, as well as yogurt, cereal, cold cuts, hardboiled eggs, and oatmeal.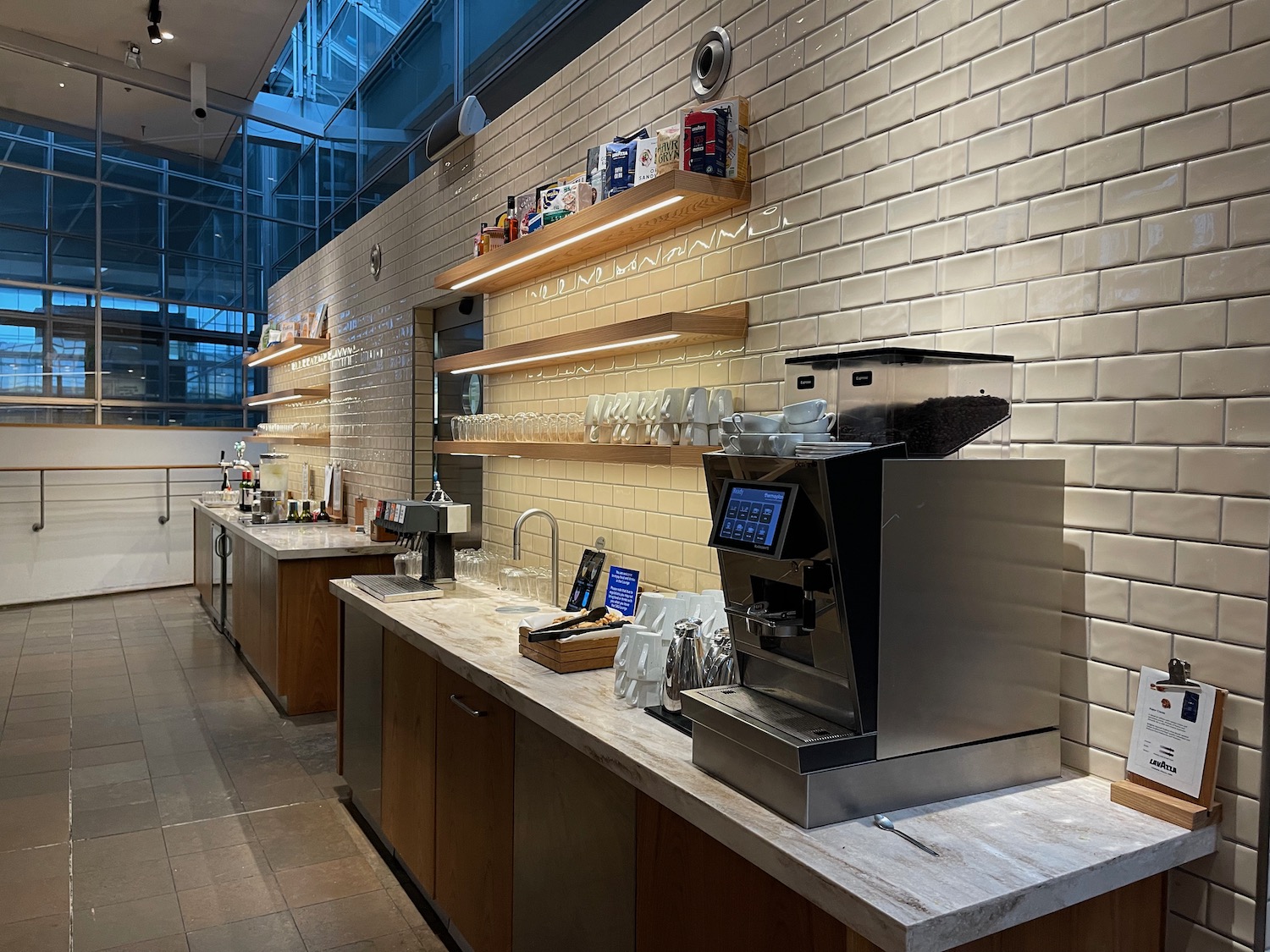 Afternoon and evening selections included a large salad bar, pizza bread, two types of soup, sweet and savory snacks, and cake.
Few things are more satisfying than a delicious slice of whole grain bread with butter:
Soft drinks, beer, wine, and spirits are self-serve:
My favorite part of the lounge remans the "café" which offers barista-made coffee. I enjoyed several cups over the course of my two visits:
Copenhagen can be dark and dreary during the winter months, but a "daylight booster zone" is available to simulate natural light. I stood in it for a few minutes (just a bright white room).
In conclusion, this remains an excellent lounge and in terms of food, I prefer the post-pandemic menu even more than the pre-pandemic menu.
My original review, published on November 15, 2019, appears below.
---
Give me good coffee and you've already made me happy. Everything else in the SAS Gold Lounge in Copenhagen was icing on the cake.
SAS Gold Lounge Copenhagen Location + Opening Hours
The SAS Gold Lounge is open to Star Alliance Gold members and located directly above its business lounge "SAS Lounge" near the entrance to Per C in Terminal 3. It is open from 5:15AM to 11:00PM Monday thru Friday and opens at 6:00AM on Saturday and Sunday.
SAS Gold Lounge Copenhagen Coffee
Let's start with the coffee, because I found this the highlight of a lounge. A barista is on-call, throughout the day, to make the coffee of your choice. Lavazza is used and I enjoyed three cappuccinos during my stay.
> Read More: The Updated SAS Gold Lounge In Copenhagen Is Superb!
SAS Gold Lounge Copenhagen Food + Drink
I know some people complain there is no English/American breakfast items, but the Scandinavian breakfast spread is still comprehensive and quite tasty. Think:
Sliced ham
Hardboiled eggs
Harvarti cheese
Cereals
Yogurt
Oatmeal (hot)
Overnight Oats with apple
Seeds

Black currant
Sunflower
Flax
Drinks include soft drinks, juices, water, beer, wine, and various kinds of tea.
SAS Gold Lounge CPH Seating
The Danish modern style appears eclectic at first glance, but is really quite deliberate also quite comfortable.
SAS Gold Lounge Copenhagen Business Center
A small business center offers two spots to work with plug-ins and a copy machine.
Nearby, four HP computers offer web browsing.
SAS Gold Lounge Copenhagen Internet
Speaking of internet, you want to avoid the whole front side of the lounge (facing the terminal, directly above the entrance) if you want to use the internet.
That side of the lounge has desks and tables with plugs and I set up shop there first. But the wi-fi Internet signal from the lounge was too weak to reach that room…I could not connect and ended up moving closer to the coffee bar.
SAS Gold Lounge CPH Daylight Booster Zone
Winters are long and dark in Copenhagen. As a result, the lounge offers a room that simulates sunlight. It is apparently quite therapeutic during times of the year when the light is brief and low in the sky.
SAS Gold Lounge CPH Restrooms
Restrooms are clean…as simple as that.
SAS Gold Lounge Copenhagen Showers
I had arrived from Berlin and had a big day ahead of me in Reykjavik, so I used my extended layover to take a shower. The shower suites, I thought, were located downstairs in the SAS Lounge (not the SAS Gold Lounge). 
There were showers there, but turns out there were showers upstairs as well that I just missed.
Anyway, I appreciated the warm shower and the chance to sync my iPhone with a built-in speaker via bluetooth and listen to music while showering and shaving.
SAS Gold Lounge CPH Quiet Area
A rest area near the corner of the Gold Lounge offered a few easychairs to stretch out in.
SAS Gold Lounge Copenhagen Service
Service, outside the coffee bar, was non-existent. I don't say that in a negative sense, just an observational one. I really didn't see staff proactively roaming the lounge and collecting empty cups and plates. That said, everyone seemed to be taking care of themselves.
CONCLUSION
The coffee won me over and will bring me back to this lounge every time I fly via CPH. But this lounge actually has a lot going for it and my time in this lounge reminded me of how much I appreciate my Star Alliance Gold status.