For our trip home from Europe, we opted to fly nonstop on SWISS from Zurich to Los Angeles onboard the 777 in business class. Overall, I had a sleepless but lovely trip while my wife walked away with a very different impression.
SWISS 777 Business Class Review
Booking
Zurich is the closet airpot to my in-law's house that has nonstop service to LA and we were carrying a lot of bags, so it made sense to book this rather than travel back to Frankfurt via Basel.
We booked using Aeroplan points at a cost of 70,000 miles each. My five-year-old son required his own ticket while we only purchased an infant lap ticket for my daughter, at a cost of 2,500 miles. My daughter is far too big for a bassinet onboard, but I was not interested in spending an extra 70,000 miles for her own seat. Business class flights on Aeroplan remain a great value.
Taxes and fees totaled about $125 per-person, which includes a C$39 Air Canada booking fee on all partner awards. Our flight would be operated by a Boeing 777 (777-300ER to be precise). SWISS uses this aircraft on long haul flights.
On the morning of the trip I set out to leave four hours early so we could arrive at ZRH Airport three hours early, check-in without stress, and visit the lounge prior to our flight. But packing ended up taking longer than expected and my wife wanted to go for one last run before breakfast in the crisp morning air (it was snowing), so we ended up leaving much later than expected…more like 2.5 hours before the flight.
Traffic moved more slowly because there was check at the German-Swiss border and the snow slowed everyone down. We got to Zurich Airport about 90 minutes before the flight took off. That was still more than enough time to check-in, but left us virtually no time to use the lounge.
Check-In
I could not believe how packed the airport was…in all my years of traveling through Zurich I've never seen it this packed. Social distancing? Ha, ha, ha: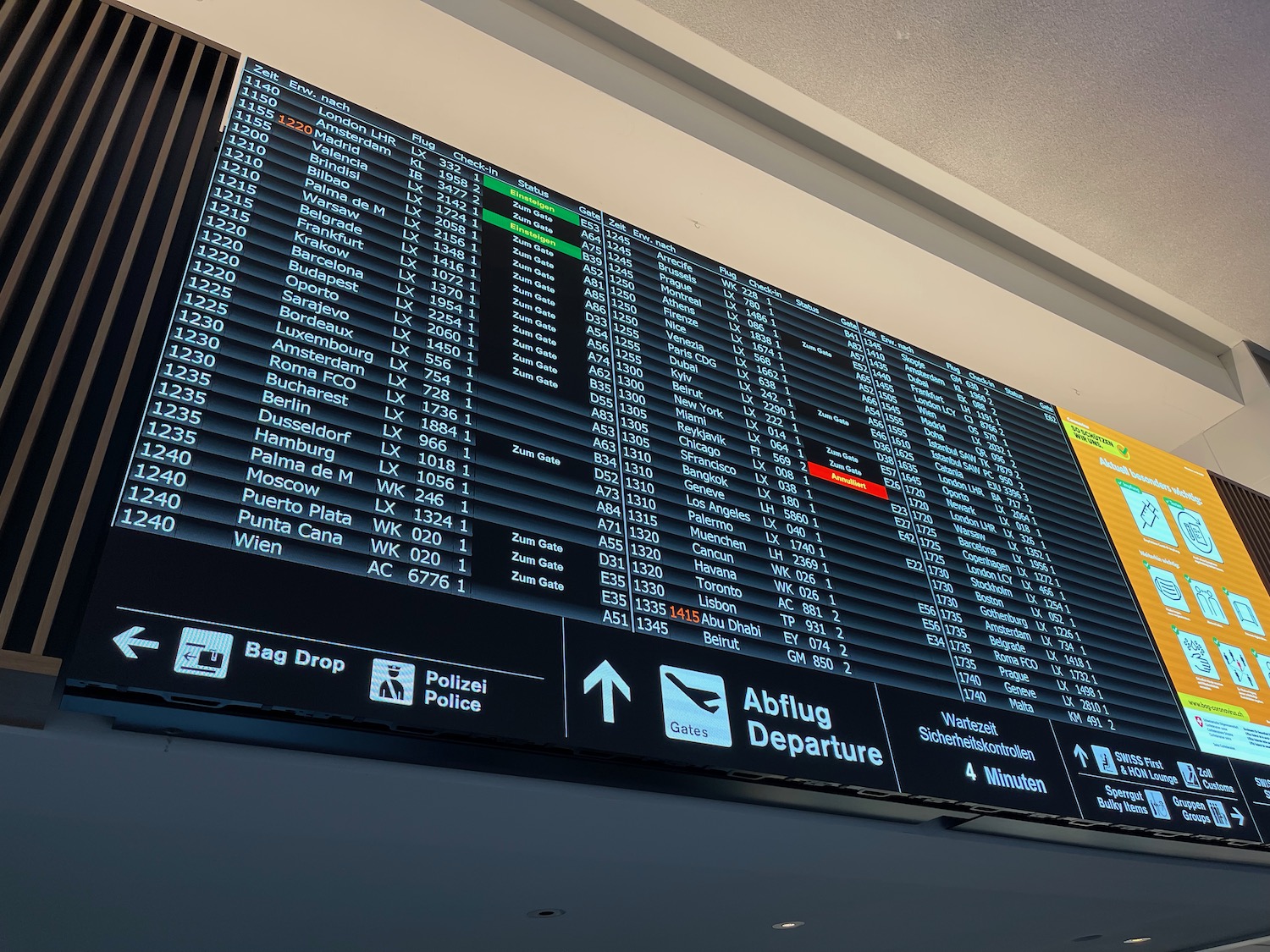 Thankfully, I have Star Alliance Gold status and was able to use the first class check-in to avoid the insane queues in the economy and even the business class lines.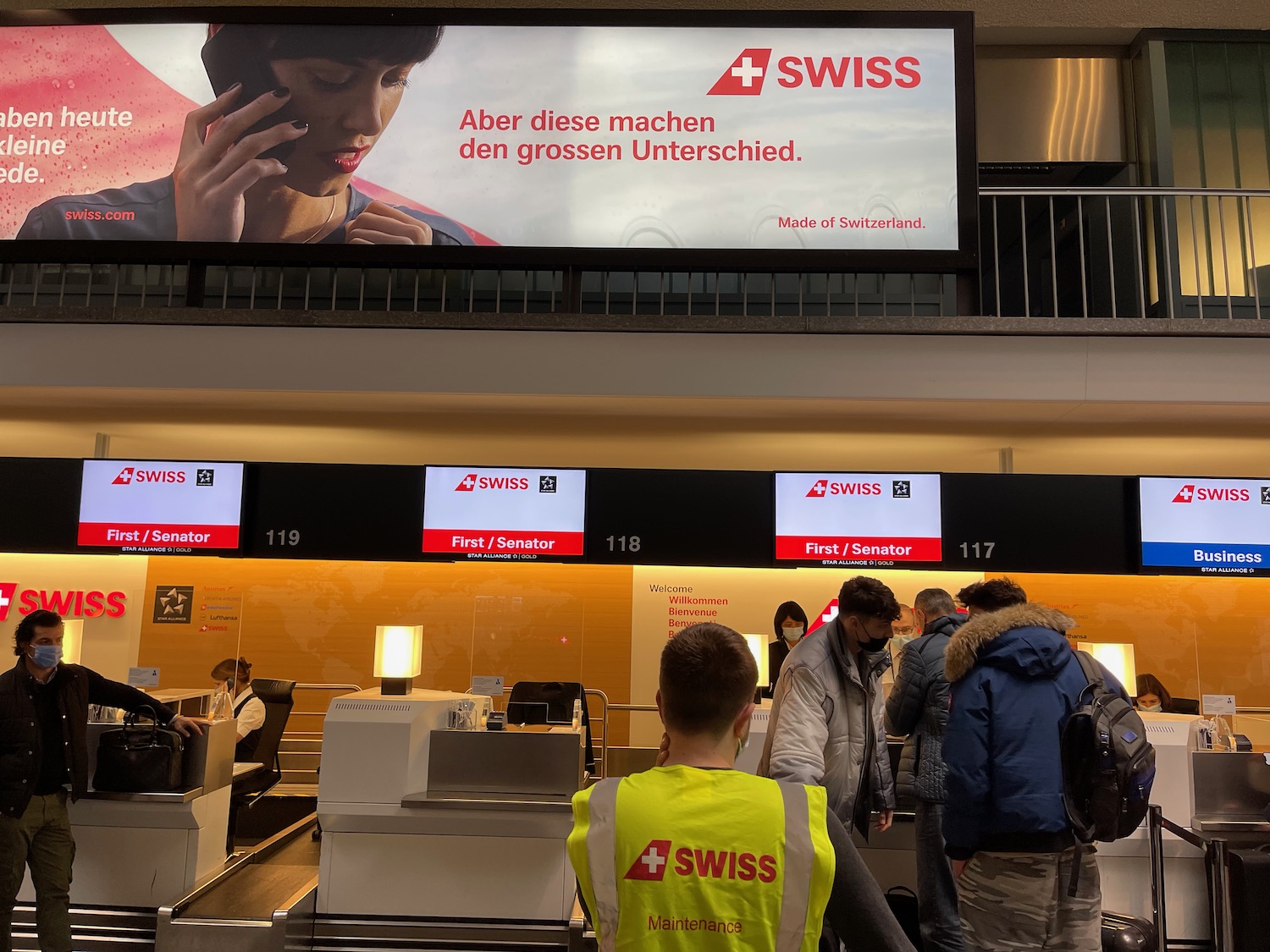 After checking our caravan of bags (my wife imports dishes into the USA and sells them…a cool little side hustle), we proceeded through security and then briefly to the lounge to pick up some apples and bananas for the kids (the A Gates Senator Lounge and Business Class Lounge are no longer combined).
We then ran into a huge line for the escalator going downstairs for passport control and the train to the E Gates. There was literally 250+ people in a line that stretched the length of the terminal.
Thankfully, we took the elevator down and avoided it all…an airport staff member was turning most people away from the elevator, but welcomed us because we had a stroller.
After stamping out of Switzerland and taking the train to the E Gates, we made the long walk down to the end of the pier to Gate 22, where our flight to Los Angeles was departing. We could have gone upstairs to the lounge, but my friend had been there an hour earlier and said there was no food at all, just beverages.
Boarding was absolutely chaotic, as is often the case on SWISS. HON Circle and First Class passengers were boarded first, followed by families needing more time to board (us). Boarding passes were theoretically scanned at the gate, but the reader was not working forcing the gate agent to manually enter seat numbers as passengers board. That meant quite a long boarding process for what would turn out to be (nearly) a full flight.
SWISS 40
Zurich (ZRH) – Los Angeles (LAX)
Thursday, January 6
Depart: 1:10PM
Arrive: 4:20 PM
Duration: 12hr, 10min
Distance: 5,938 miles
Aircraft: 777-300ER
Seat: 16J (Business Class)
A tale of two flights began at the door. I boarded with my daughter in my arms and was warmly greeted and directed to my seat. I went to work taking pictures and did not even hear what was going on behind me.
Five-year-old Augustine was not wearing a mask because we were under the impression that SWISS only requires masks for children aged 12 and over. That is the general rule, but there's an exception for flights to the USA, where SWISS goes along with U.S. requirements that all children aged two and older must wear a mask.
Rather than simply state this rule gently, the flight attendant screamed at my wife Heidi that she could not step onboard until Augustine had a mask on. The problem was I was carrying the bag which had a mask for Augustine in it.
Heidi suggested they walk to their seat and put the mask on, but the flight attendant screamed again that they could not enter, then just stood there glaring at them as if Heidi was supposed to snap her fingers and create a mask out of thin air.
Observing the impasse, Heidi asked for a mask. With a huff, the flight attendant turned around and found one, handing it over to her. It was far too big for Augustine, but Heidi looped it around his ears several times and the were finally allowed onboard (it had fallen under his chin by the time he reached his seat).
Heidi read me the riot act…she was ready to step off the flight, but I calmed her down as we settled in.
Strange thing? I did get another mask for Augustine, but he took it off to have a drink before takeoff and was never asked to put it back on…in fact, the cabin was full of mask violators and the flight attendants really didn't seem to care (until another flight attendant with a thick British accent walked in from economy class and curtly demanded that passengers raise their masks). He was so unnecessarily rude…
I'm ready for the mask mandate to end, but respected it…I'd rather wear a mask than be thrown off a flight or face a future flight ban.
Seating
The SWISS business class on the 777 includes 62 seats in a staggered 1-2-2, 2-2-1 configuration. A mini cabin behind first class features just two rows of seats (rows 4 and 5) while the main cabin includes 11 rows (6-17).
If traveling solo, throne seats are available in odd-numbered A seats and even-numbered K seats. These single seats provide the most privacy and space for business class passengers but are reserved for Miles & More HON Circle or Senator members up until 24 hours prior to departure, when they open to everyone. If traveling with a friend or loved one, any pair of seats will do…I saw no advantage to one side or the other.
Since we booked at the last-minute and had an infant on the reservation, we were unable to reserve seats in advance. The flight ended up going out nearly full and that left us separated in the cabin. I booked myself the only window seat left in the cabin, 16K, while I booked Heidi and Augustine in 10 D, G. My goal was to ask the passenger in 16J if s/he would be willing to switch an aisle for an aisle so Augustine could sit next to me, but were fortunate that 16J was a no-show and that seat ended up being the only open seat in the cabin.
Thus, Heidi had an open seat next to her in the cabin for the baby and Augustine and I sat next to each other in row 16, with me in 16J and him in 16K.
The seat includes 60 inches of pitch and is 20.5 inches wide. In lie-flat mode, the bed is 79 inches long, which is over 6.5 feet. Room for your feet is a bit tight. Seats are controlled by a unit on the center console (including seat cushion pressure) and each seat has a nifty storage unit under the monitor for personal items like mobile phones, wallets, and keys (but not passports…).
Power ports and USB charging ports were available and my seat had a side storage compartment for a water bottle and privacy divider. Overall, I like the look of the seat (the pegboard woodgrain and dark leather with chic reading light) but don't find it particularly comfortable.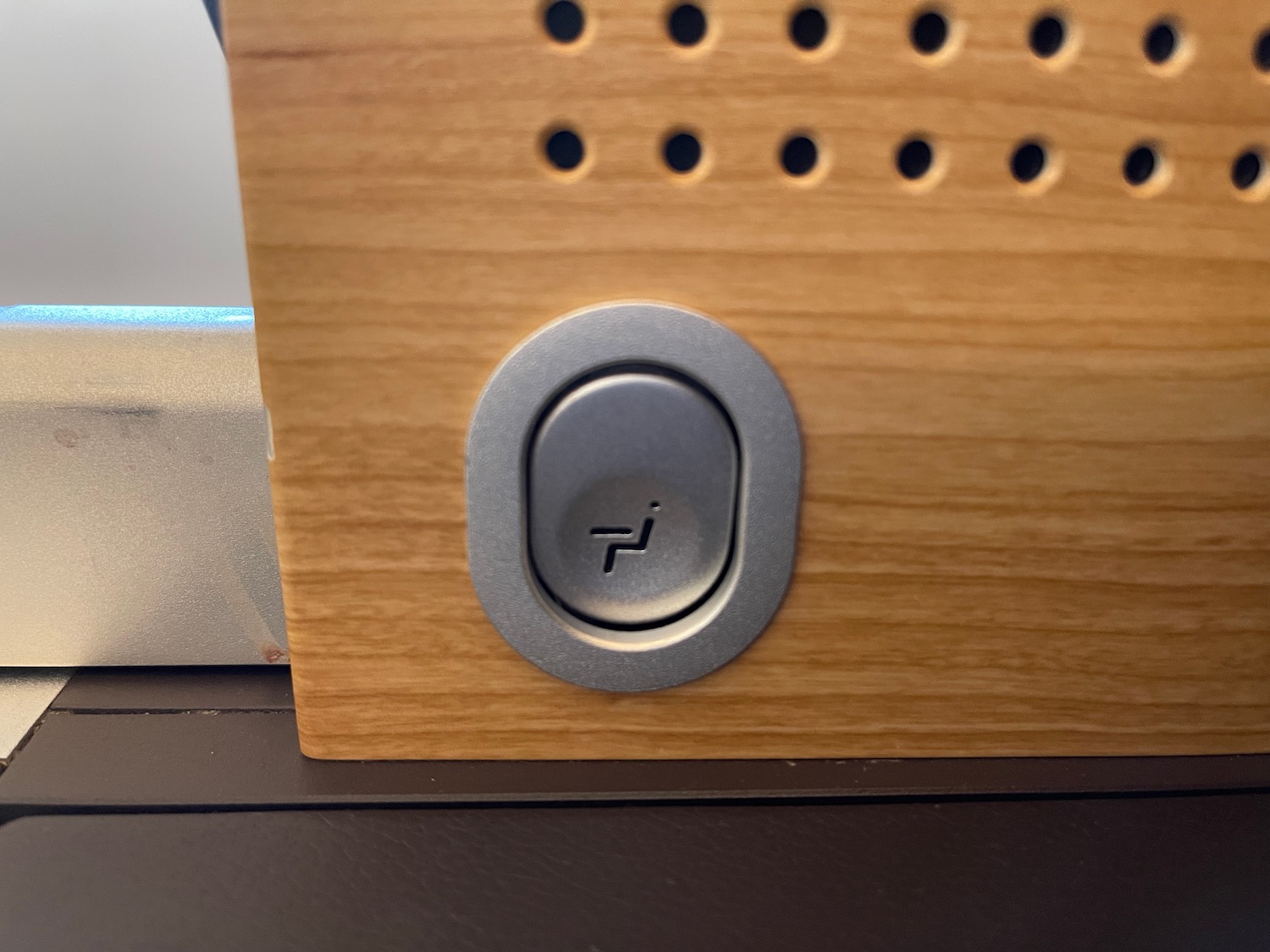 Speaking of the cabin, I loved the world map in the front galley, as well as the faint image of the Matterhorn etched into the bulkhead wall.
Where SWISS really lags its competitors (even Lufthansa) is in bedding. The blanket is small and heavy and the pillow far too small…this is really economy class bedding and it is time that SWISS upgrades its bedding.
No matter, however, because I could not sleep during the flight…this is a notoriously difficult flight to sleep in (it leaves midday and is in daylight for the entire flight), but thankfully my daughter managed to sleep after several hours, as did Heidi. Augustine and I all stayed up, though.
Food + Drink
Prior to pushback, we were offered a pre-departure beverage, a choice of sparkling wine (not Champagne) or a fruit drink, which Augustine and I both enjoyed. Menus were also distributed.
SWISS offers printed menus in business class.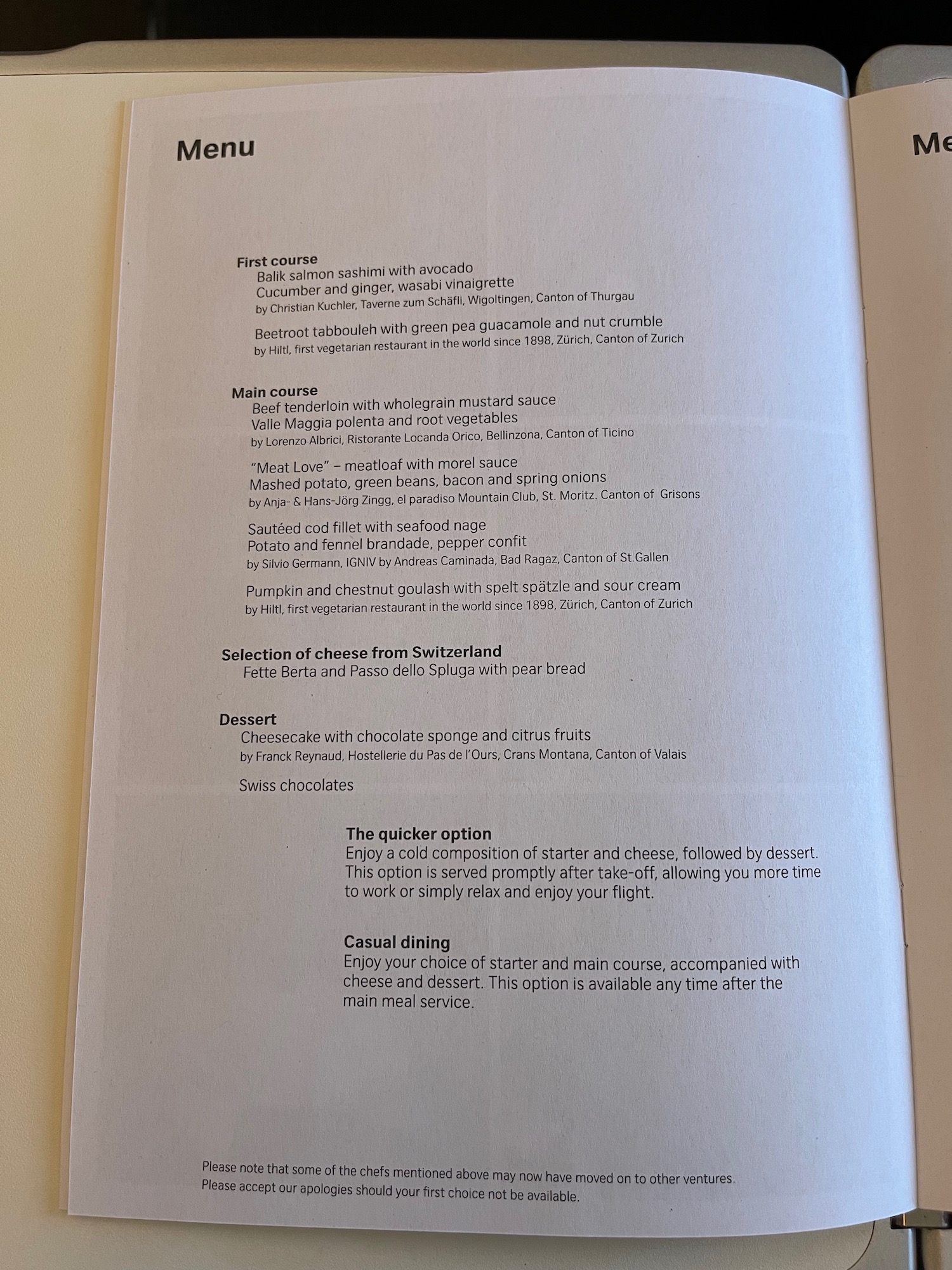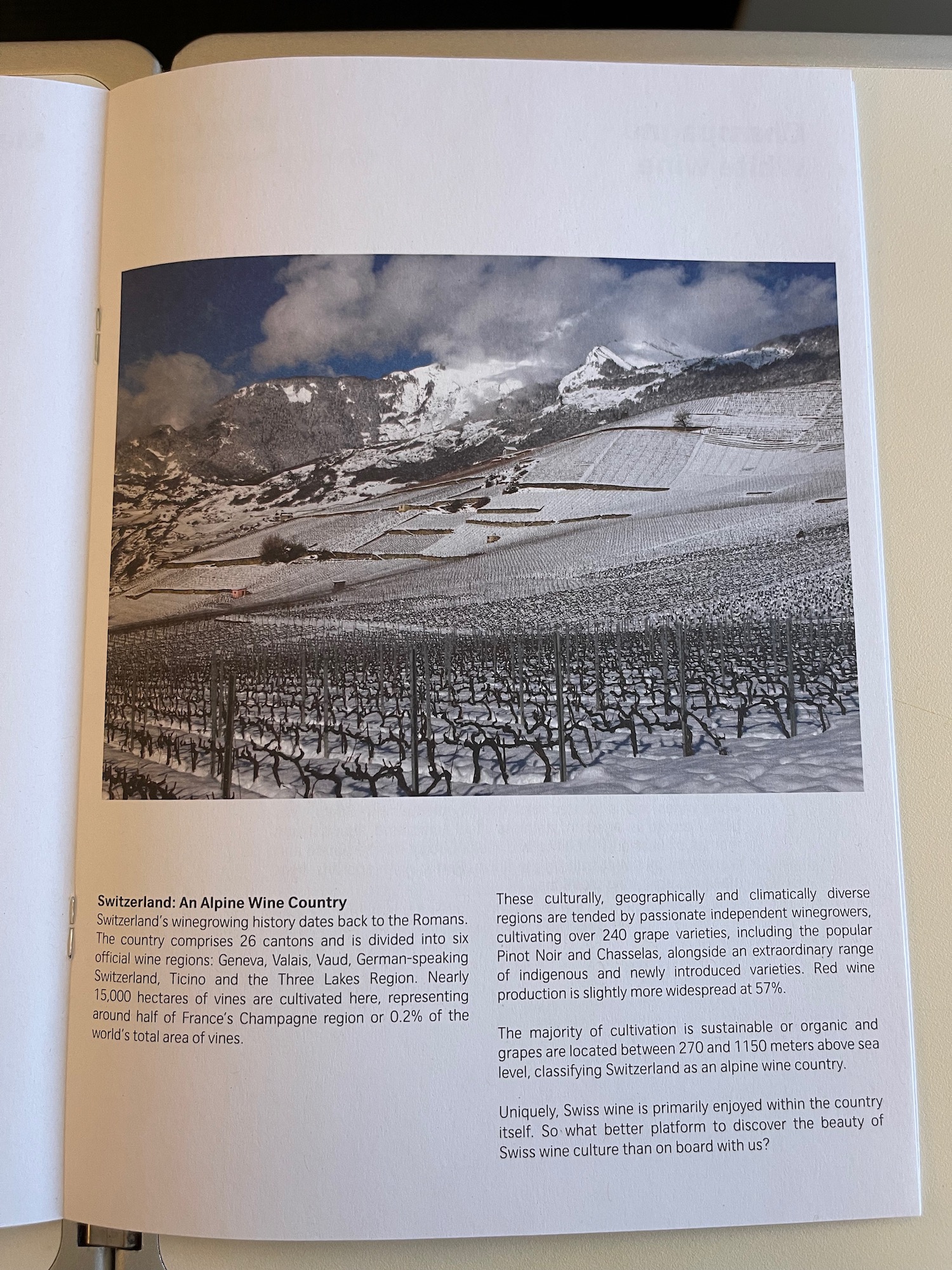 In what felt like we were on a U.S. carrier, flight attendants took meal orders before we even took off, with one flight attendant per aisle taking orders via a tablet.
It appeared that meal counts were updated in real-time, giving flight attendants the ability to limit choice when options were exhausted.
Thankfully, all options were still available when Ekaterina reached our row. I ordered beetroot tabbouleh with green pea guacamole and nut crumble for my appetizer and sautéed cod filet for my main course, a speciality from the Canton of St. Gallen according the the menu.
Augustine ordered alike salmon sashimi with avocado for his appetizer (we [as in me] decided we would share) and ordered meatloaf with morel sauce for his main course (apparently a specialty of the Canton of Grisons).
But lunch was actually still a long way away.
Lunch
Service did not begin until about one hour after takeoff, for reasons I cannot explain. Lukewarm mixed nuts were provided along with a choice of beverage. I had a Negroni spritz while Augustine had orange juice.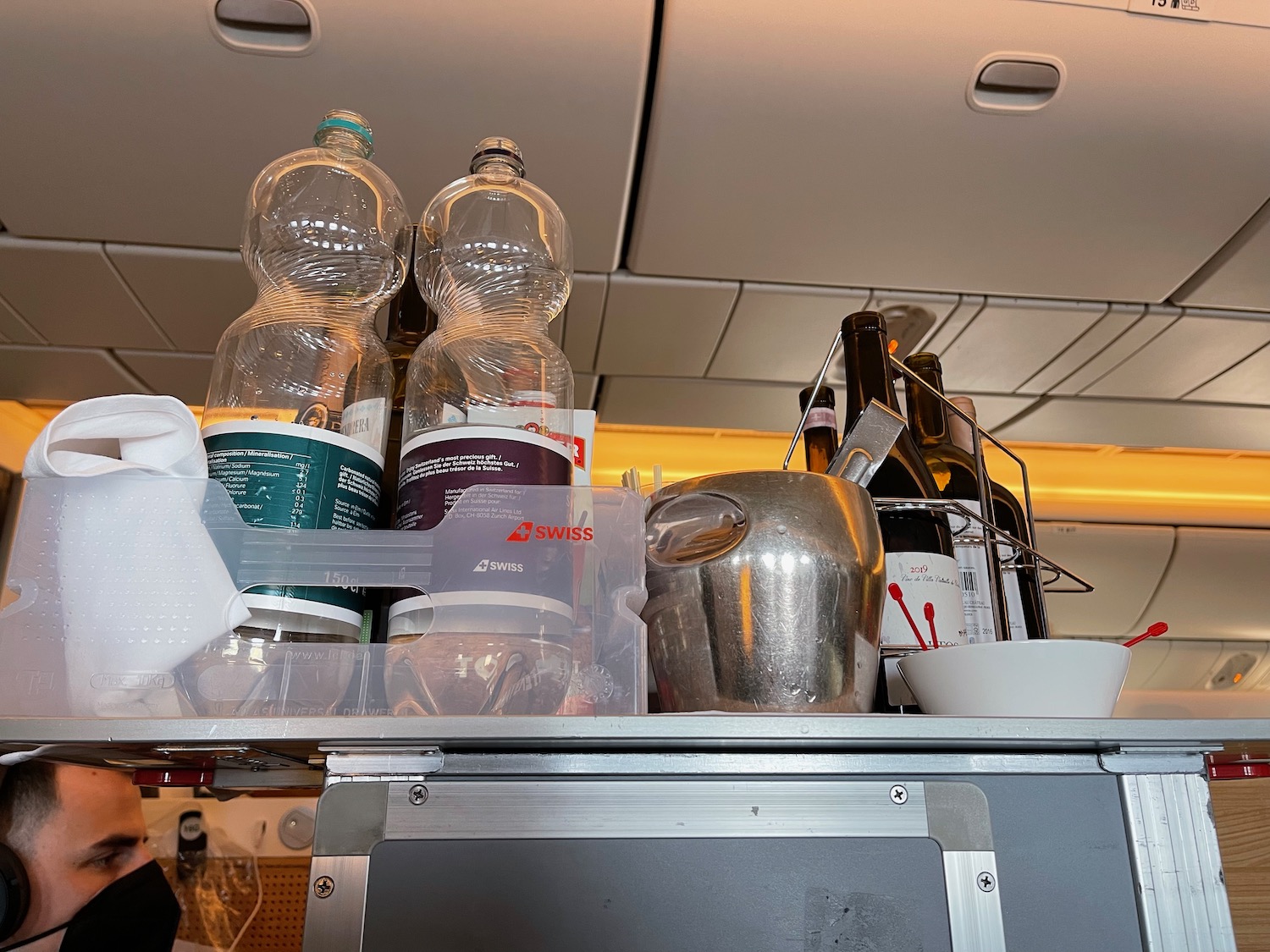 Meanwhile, my daughter received her baby meal right away, which included apple sauce and pasta salad.
Another 40 minutes passed before the purser personally placed a table cloth down for every passenger in the cabin.
17 minutes later the appetizer arrived, along with a cheese course (Fette Berta and Passo dello Spluga from Switzerland) and warm bread.
Both appetizers were very tasty, though the salmon was particularly fresh. I ordered a glass of Swiss wine (Chateau de Chatagnereaz 2019 – 1er Grand Cru) to pair with my fish and found it to be dry and not overly sweet…just the way I like it.
24 minutes later the main courses arrived. Augustine's meat loaf may not look very tasty, but it was the absolute winner, just brimming with flavor.
My fish was just okay. Cod is one of my favorite types of fish, but this was a tad overdone.
Meanwhile, Heidi ordered the beef tenderloin, which was delivered well-done and not very tasty (according to her). I sat with Claire Marie while she ate.
40 minutes after the main course was served, dessert arrived; a cheesecake with chocolate sponge and citrus fruits. It wasn't great, but the Swiss chocolate always is, as was the decaffeinated cappuccino.
My final assessment of lunch: quite drawn out, but tasty. I appreciated that most recipes originated in Switzerland.
Ice Cream Mid-Flight
No SWISS flight from Zurich would be complete without Mövenpick ice cream mid-flight. The Swiss chocolate flavor always hits the spot and it was really tasty.
Other snacks were available as well in a basket in the galley.
A La Carte "Bistro" Menu
About three hours before landing, flight attendants appeared with "bistro" cards which served as an a la carte menu. Selections included a salad with red cabbage, apple, walnut, and mustard dressing topped in rösti balls filled with Gruyère cheese as well as a Swiss prime beef burger in a brioche bun with Apline cheese, cole slaw, and red onions.
I was not all that hungry, especially after the ice cream a couple hours earlier, but almost immediately Ekaterina showed up to take my order.
ME: May I order something closer to landing?
FA: You can try, but I recommend you order something now.
ME: So it doesn't run out?
FA: Exactly.
So even though neither Augustine or I were hungry, we ordered one of each. I asked about the "various soups" on the menu, but was told there was just instant noodles in a box…
The snack was both hearty and tasty. Augustine wasn't very hungry, so I ate the salad and we split the burger. In terms of an airline cheeseburger, this was a winning dish, simple yet delicious. But the salad was even better, with beets adding a very nice flavor.
For dessert, I had an espresso with fruit, followed by another cappuccino. Augustine was presented with a large SWISS-branded chocolate bar (which he carefully took home and was saving for special occasion, but little Claire Marie found it and devoured it…).
I love that SWISS has both still and sparkling bottled water available for between meals.
Service
Flight attendants who I interacted with were great. Ekarterina, who was the primary flight attendant serving Augustine and me, was so kind and friendly. She made small talk with both of us, never stopped talking to me in German (despite my American accent), and really went out of her way to make sure we were comfortable.
Carole and Karin also worked my side of the cabin and both were lovely, attentive, and gracious.
But even beyond the mask incident while boarding, Heidi found the flight attendants to be rude and indifferent on her side of the aisle (except for Karin, who worked on both sides).
For example, I noticed that Heidi's empty cups piled up…the flight attendants did not take them away. Even during the meal service, her glass remained empty and upon completing her main course her dishes were finally taken…but she was not offered any coffee or tea or even dessert.
Remember how I mentioned Ekaterina advised us to order food right away when the a la carte menu was distributed? Heidi and the baby were sleeping at the time.
When Heidi tried to order a salad off the menu 90 minutes later, the flight attendant simply said there were none left and walked away. No offer of something else to eat. No offer of a beverage. Certainly no apology. I told her to just use the call button to order coffee…but that went unanswered. I joined her for a bit and we watched as the flight attendants on her side simply ignored the illuminated call light.
It was absolutely amazing(ly bad).
I asked Ekaterina if she might find my wife a salad or something besides a burger to eat and she was able to locate a salad for her…
This is really a conundrum, as my flight was lovely and Heidi walked away vowing to take Lufthansa next time, even with an extra stop.
In-Flight Entertainment System + Wi-Fi
SWISS offers a variety of movies, shows, games, and music from its interactive entertainment library.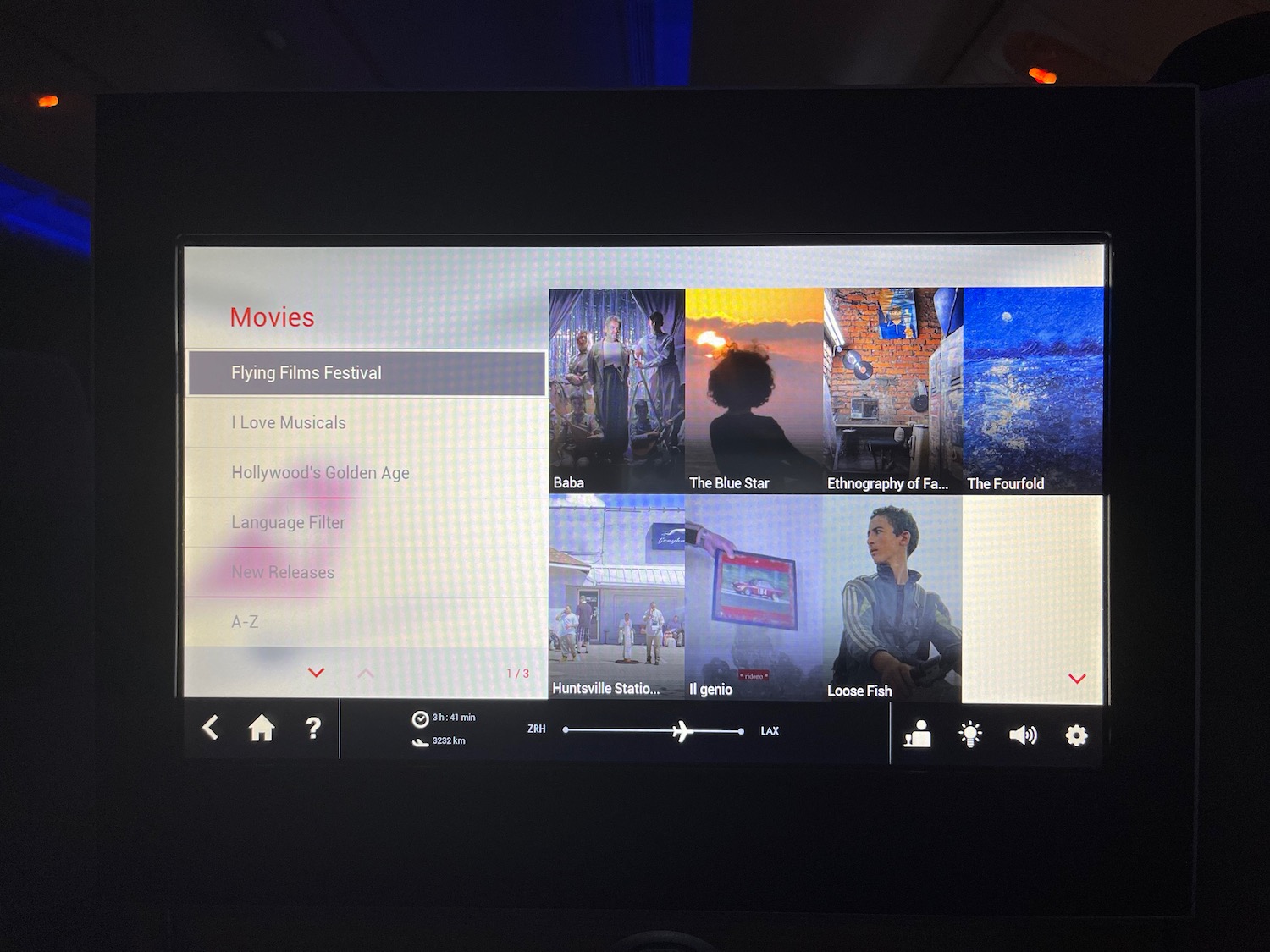 Funny story (and the reason we'll probably just fly in coach next trip): Augustine spent the entire 12 hours with his eyes glued on the screen. No exaggeration…
We don't have a TV at home and greatly limit his screen time. We do this for health reasons and because there are too few hours in the day to rate watching a screen. But when he is on a plane, he can watch as much as he wants.
On LX40 he took full advantage of that, though I had to laugh. SWISS has this short subject feature for kids called Bernie's and Lexi's Adventure. There were 4-5 episodes available, each about 20 minutes long. Augustine spent the entire flight watching those over and over again. It's not like those were his only choices – there were all kids of Disney animated movies to choose from. But nope, he wanted to watch Bernie and Lexi…
There was one thing that drew him away from the screen for an instant.
It wan't the beautiful scenery outside:
It was the de-icing crew prior to takeoff…he was fascinated by what they were doing:
The noise-cancelling headphones were subpar (clunky, not very comfortable, and they did not work all that well), but I did watch one movie I cannot believe I've never watched…the 1996 legal thriller A Time To Kill starring Matthew McConaughey, Sandra Bullock, Kevin Spacey (I really miss House of Cards…), and Samuel L. Jackson. Great, great move which gives you a lot to think about.
I find Wi-Fi on SWISS to be prohibitively expensive. I'm glad it is there for emergencies*, but pricing was absurd, including:
20MB – 9CHF
50MB – 19CHF
120MB – 39CHF
220MB – 59CHF
* actually, it showed as unavailable for the first several hours of the flight…
Amenity Kit
SWISS once offered really nice amenity kits in business class that we still travel with today that were durable and included hooks, making them very practical to re-use as toiletry bags when traveling.
These days, the amenity kits are Victorinox branded bags with a mesh lining on one side and contents which include:
toothbrush
toothpaste
socks
eyeshade
earplugs
No other skin products given. I can understand why SWISS may not want to provide La Prairie products to business class, I'm surprised there was nothing at all.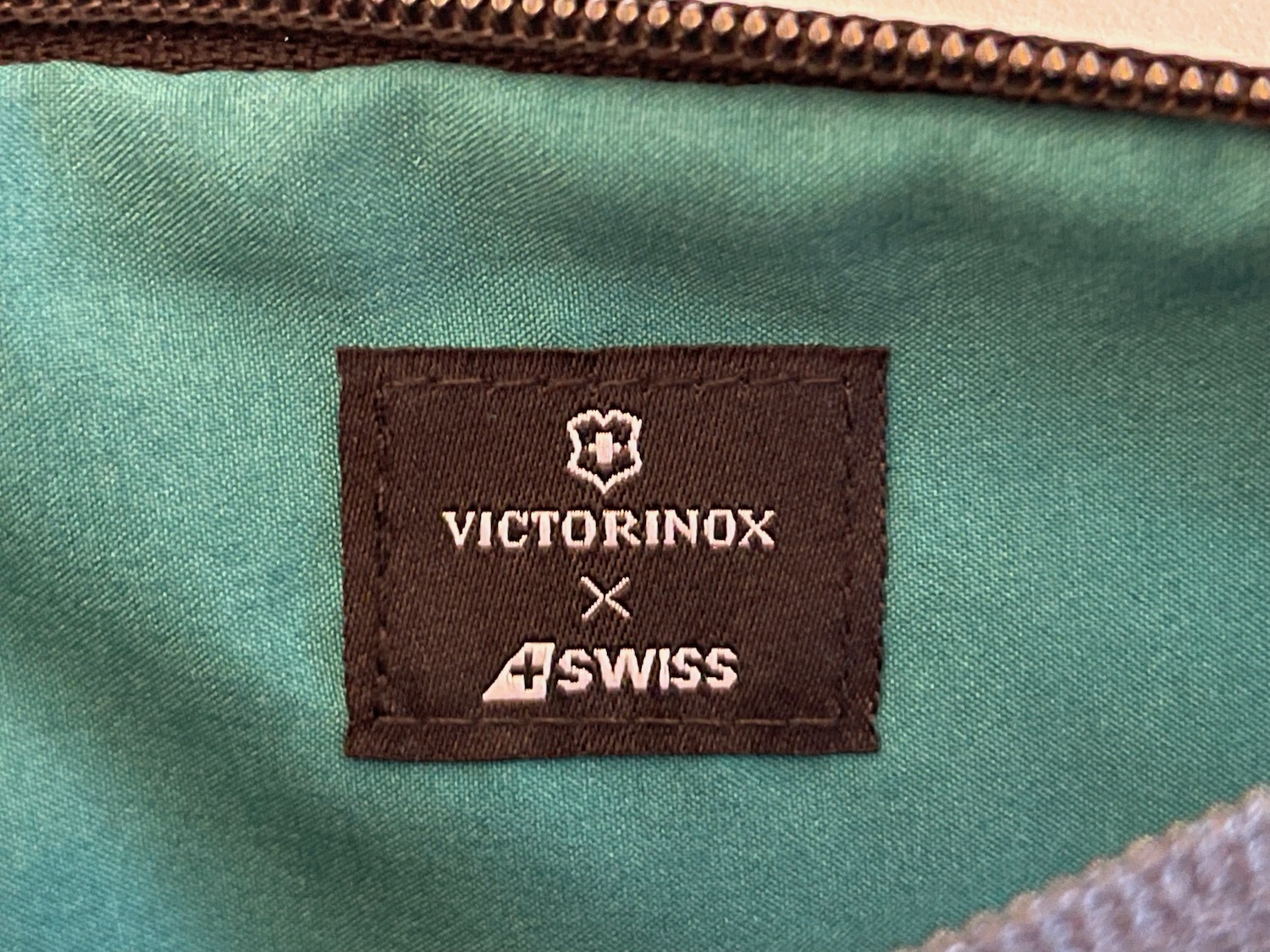 A card inside the amenity kit indicated a shoe horn, shaving kit, and nail file were available upon request.
Lavatory
I visited the lavatory a couple times during the journey and appreciated that it was clean. Other than that there were no amenities offered.
CONCLUSION
Due to strong headwinds and a delay loading bags, we landed an hour late in Los Angeles. With a flight time of literally over 12 hours, I was quite happy for the upgrade to business.
In fact, overall I had a very nice daytime flight on SWISS with kind cabin crew and tasty food and drink. Sadly, my wife had a very different experience onboard and I really cannot blame her: I watched the call light being ignored for 20 minutes myself. I saw her empty glasses and dishes piled up.
I am certainly open to trying to SWISS again in business class, but the poor-quality bedding and difficult sleeping would keep me from choosing SWISS to fly eastward. In all honesty, next time I think I'll just save the points and fly economy class (as we did for our summer trip). It's not ideal for me, but my kids don't need business class to sleep and my wife is certainly not willing (at least right now) to give SWISS another try.
Thankfully, all our bags made it…