Economy class is rarely anything to get excited about, particularly in a middle seat of a 10-across layout on an 11-hour flight. Nevertheless, I found SWISS Economy Class onboard the 777-300ER to be entirely tolerable with service that exceeded expectations. This review covers my journey from San Francisco to Zurich.
SWISS 777-300ER Economy Class Review
This trip marked the start of our summer holiday in Switzerland and Germany and came just one day (coincidentally) after Switzerland re-opened its borders to U.S. travelers.
Booking
I booked a one-way fare from San Francisco to Zurich in "Economy Light" (no checked baggage, even for Star Alliance Gold members) for $259 about six weeks in advance. It was too good a deal to pass up and reflective of a different era of travel. Prices are much higher today, even when booking in advance, and planes are once again full.
With no checked baggage included (and $70/bag if needed), we carefully packed and managed to include everything we needed for five weeks into three large-carryon bags and three personal-items (we also had a stroller and diaper bag for the baby). I was so proud of my wife for packing so smartly!
My K-class booking already posted to my United MileagePlus account, where I earned 2,922 redeemable miles and 292 Premier Qualifying Points (PQP).
Check-In
I checked in online prior to the flight and received a check-in confirmation which had all the elements of a boarding pass except for a barcode. That led to some trouble trying to access the United Club in SFO prior to the flight.
We arrived at the gate about 45 minutes before boarding began. After examining our passports and verifying our vaccination cards, gate staff issued boarding passes.
I had strategically assigned a middle section of four, including two aisles and one middle seat, hoping that the second middle seat would stay open. Instead, we were greeted with this note on the departure board:
It would be a full flight aboard the Boeing 777.
At about 7:20p, just 35 minutes before scheduled departure, boarding began. Every seat would be taken on the flight, a total of 340 passengers.
SWISS (LX) 39
San Francisco (SFO) – Zurich (ZRH)
Tuesday, June 29
Depart: 07:55PM
Arrive: 03:45PM+1 (arrived 04:41PM+1)
Duration: 10hr, 55min
Aircraft: 777-300ER (HB-JNF)
Distance: 5,840 miles
Seat: 31F (Economy Class)
Stepping onboard, a flight attendant handed us a moist towelette and inspected our boarding passes before directing us toward the back of the plane.
Seat
SWISS squeezes 10 seats across in each aisle in order to accommodate 270 passengers. Seats are arranged in a 3-4-3 configuration with 32 inches of legroom, except in exit rows and bulkheads, which offer extra legroom.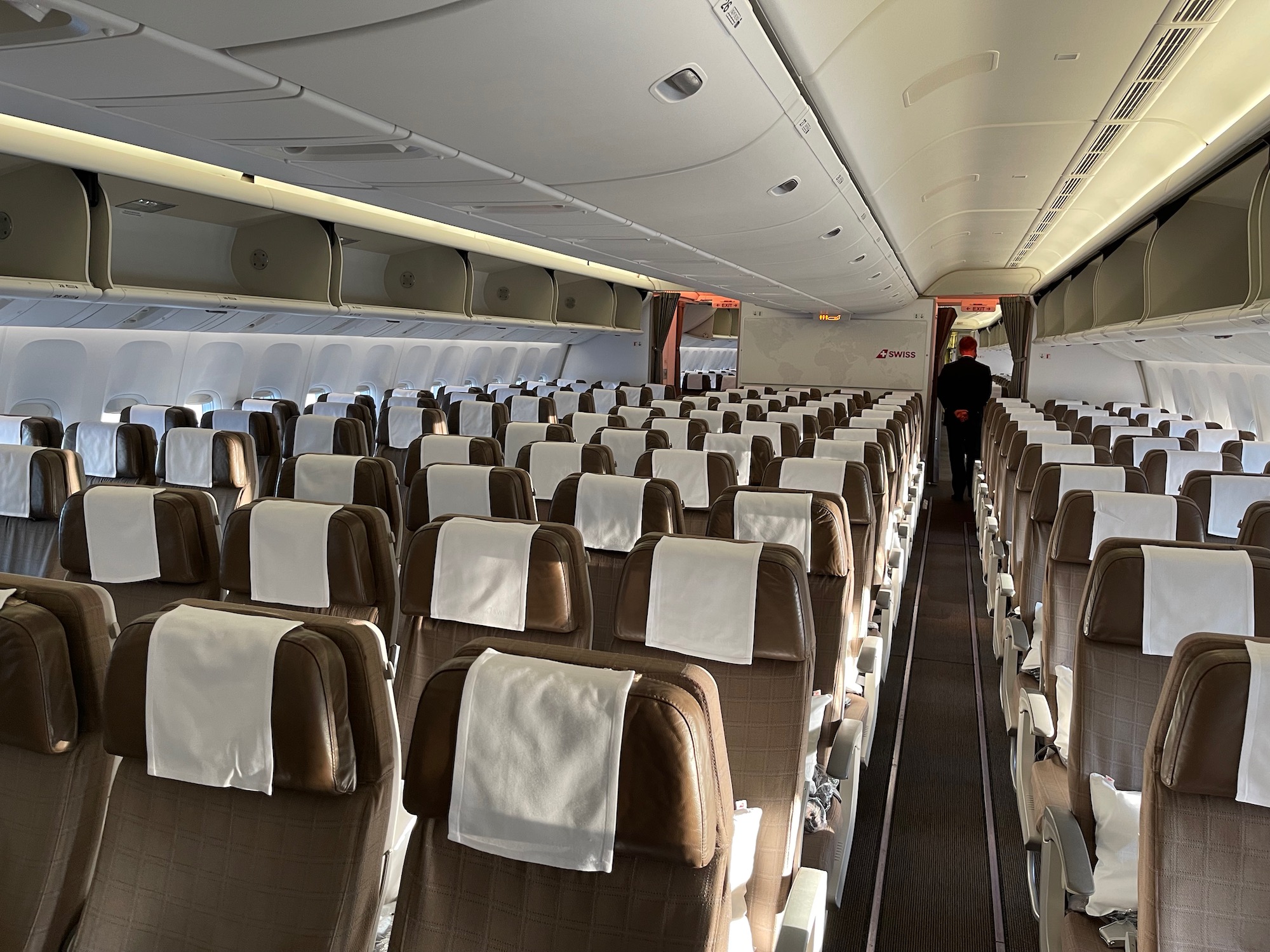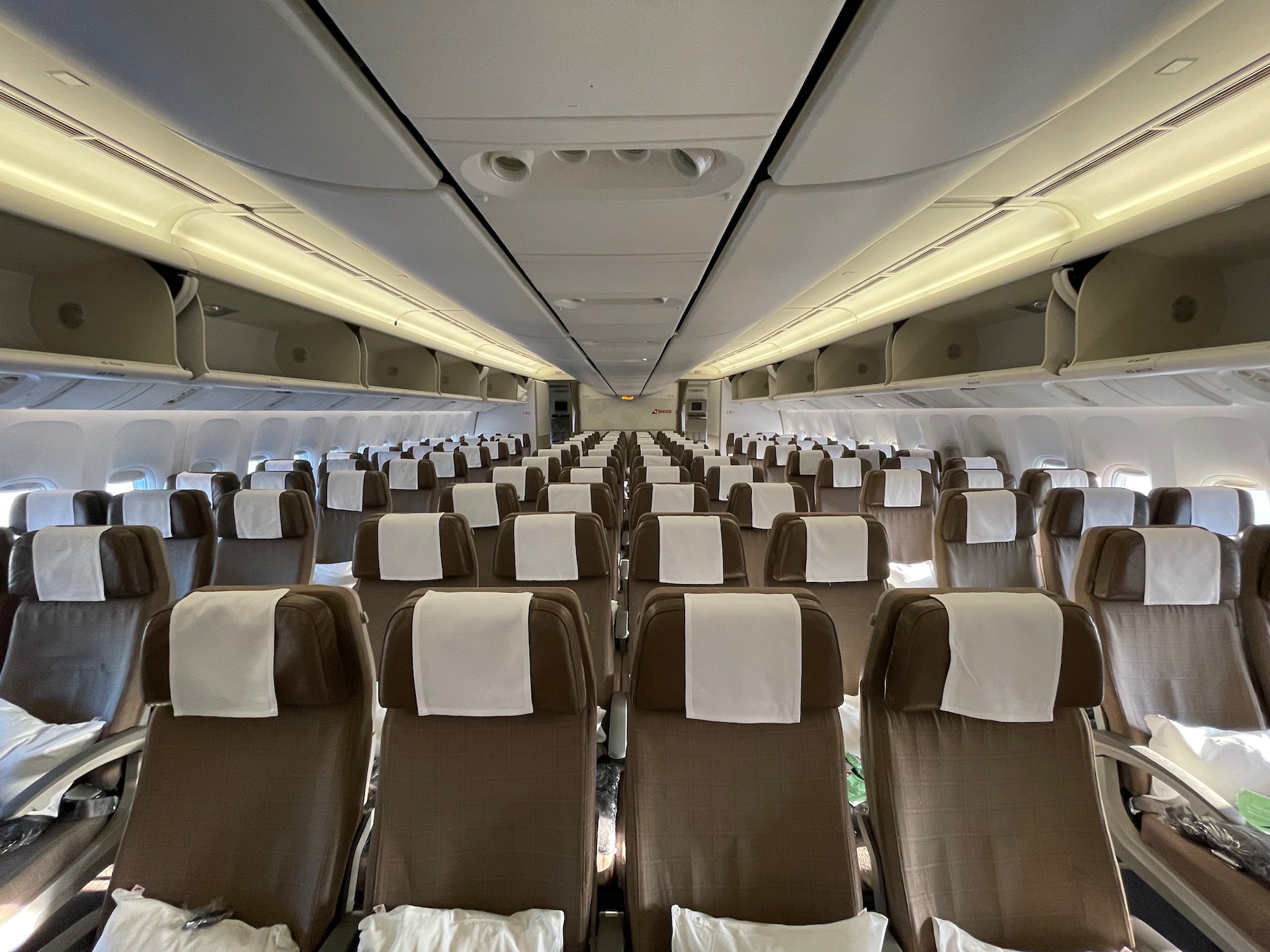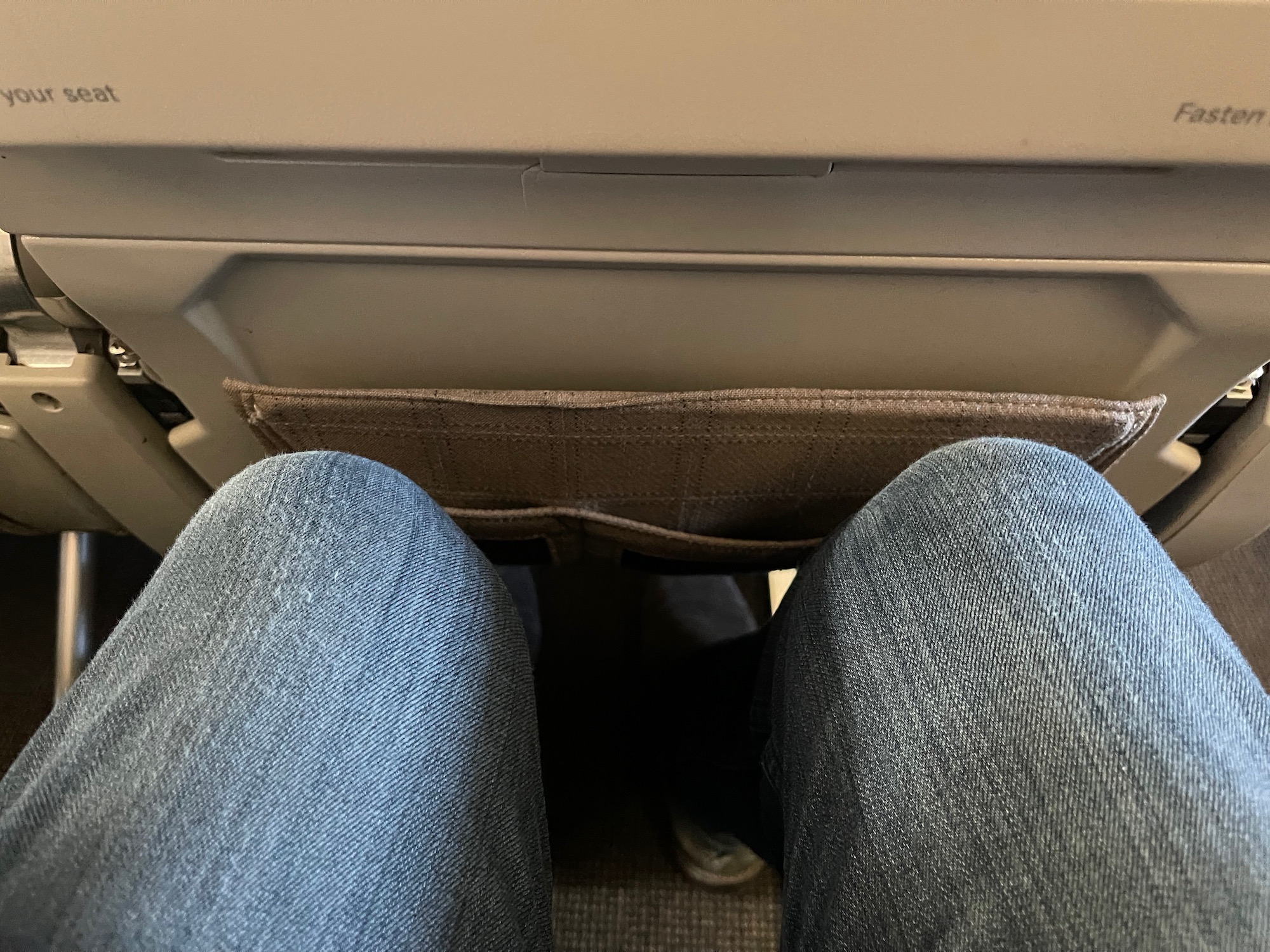 Seats feature an articulating seat pan, meaning when you recline the seat not only leans back, but slides forward. This "trick" is meant to maximum legroom and recline.
Each seat also features a cupholder, tray table with upper literature pocket, and in-flight entertainment system (IFE) with USB charger. There are no power chargers in economy class, which I had prepared for by bringing battery packs, but was nevertheless disappointing for 2021.
Our seats, 31D, 31E, and 31G were located in the middle of the front economy class (there is a front and rear cabin divided by lavatories and a galley).
Also present on each seat was a pillow and blanket. The pillow was not wrapped and had a white reusable cloth cover it. Blankets were sealed and on the heavy side. I brought my own softer duvet and neck pillow along, which greatly helped as I spent most of the flight attempting to sleep.
Toward the end of the boarding process, the passenger seated in 31F arrived. When I offered her my aisle seat for her middle seat, she was elated to make the trade. She turned out to be a perfect seatmate, also sleeping for most of the flight, not getting up even once, and turning down both meal services.
There are no air nozzles onboard the SWISS 777-300, though thankfully the cabin never got too warm during the flight. Storage space in the overhead bins requires placing many larger carry-on bags sideways, particularly in the middle section. If you want to ensure overhead space, board as early as you can. There were a number of passengers who were forced to gate check bags.
In-Flight Entertainment + Wi-Fi
Wireless internet constitutes highway robbery on SWISS, with pricing high and data capped. Our price list for wifi:
20MB – 9CHF
50MB – 19CHF
120MB – 39CHF
220MB – 59CHF
Pricing is simply absurd – we all passed on connecting to the internet.
The IFE library included:
Movies (including a mix of Hollywood, Swiss, and international films from around the world)
TV shows
Games
Music
Moving flight map
I found the interface to be easily navigable and with the screen directly in front of you, I did not mind the missing passenger service unit (remote control). That said, I did not watch anything, instead trying to sleep.
Prior to landing, connecting gate information was displayed:
Single-use headphones were present on the seat during boarding: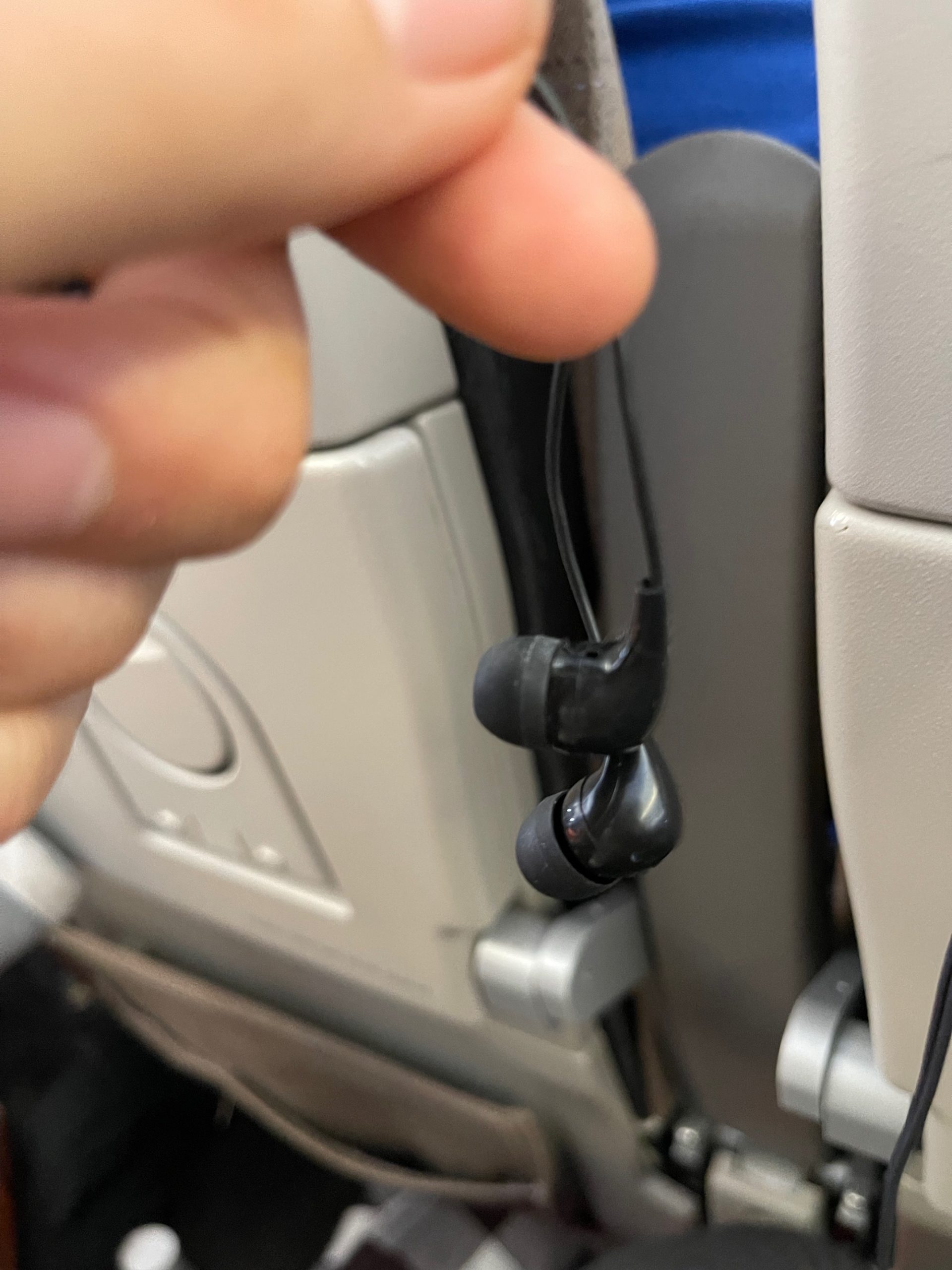 Prior to takeoff, flight attendants offered special children's headphones:
My son enjoyed watching cartoons, which I don't allow at home but do allow up in the air. Plus, they were in German so that helps his language development.
Flight attendants also offered coloring books and stuffed planes to small children.
SWISS really needs to offer more competitive wi-fi pricing, though I do not see that coming. Unfortunately, Lufthansa recently changed from an uncapped data model to selling data caps in a similar manner (albeit much cheaper) than SWISS.
Food + Drink
SWISS used to offer passengers menus in economy class, at least on some routes, but did not offer a menu on this flight.
Dinner
About 20 minutes after takeoff, service began with a choice of beverage and a bag of delicious rosemary crackers produced in Basel.
I had a glass of sparkling water and then noticed the apple juice was "direktsaft" (fresh juice) and requested a cup. While not freshly-squeezed, it was pure apple juice and very tasty.
Moments later, a flight attendant appeared with a child's meal for Augustine. We did not order one (after our poor experience on Lufthansa), but decided to take it because Augustine was hungry and this would hopefully expedite his sleep schedule.
His main course included breaded chicken tenders, sliced carrots, and macaroni & cheese, a predictably unhealthy meal. Deplorably, it was served with Oreo cookies and a KitKat bar, along with potato salad, bread, cheese, and a chocolate brownie for dessert. My goodness, was SWISS trying to fatten our son? We confiscated the sweets, but he did eat the chicken and macaroni.
About 40 minutes later, dinner was served for the remainder of the cabin along with another beverage service. Dinner choices were a pasta with white sauce or beef stew with vegetables, potatoes, and olives. Both choices came with green salad, bread, cheese, and a coffee cake for dessert. SWISS uses metal cutlery in economy class.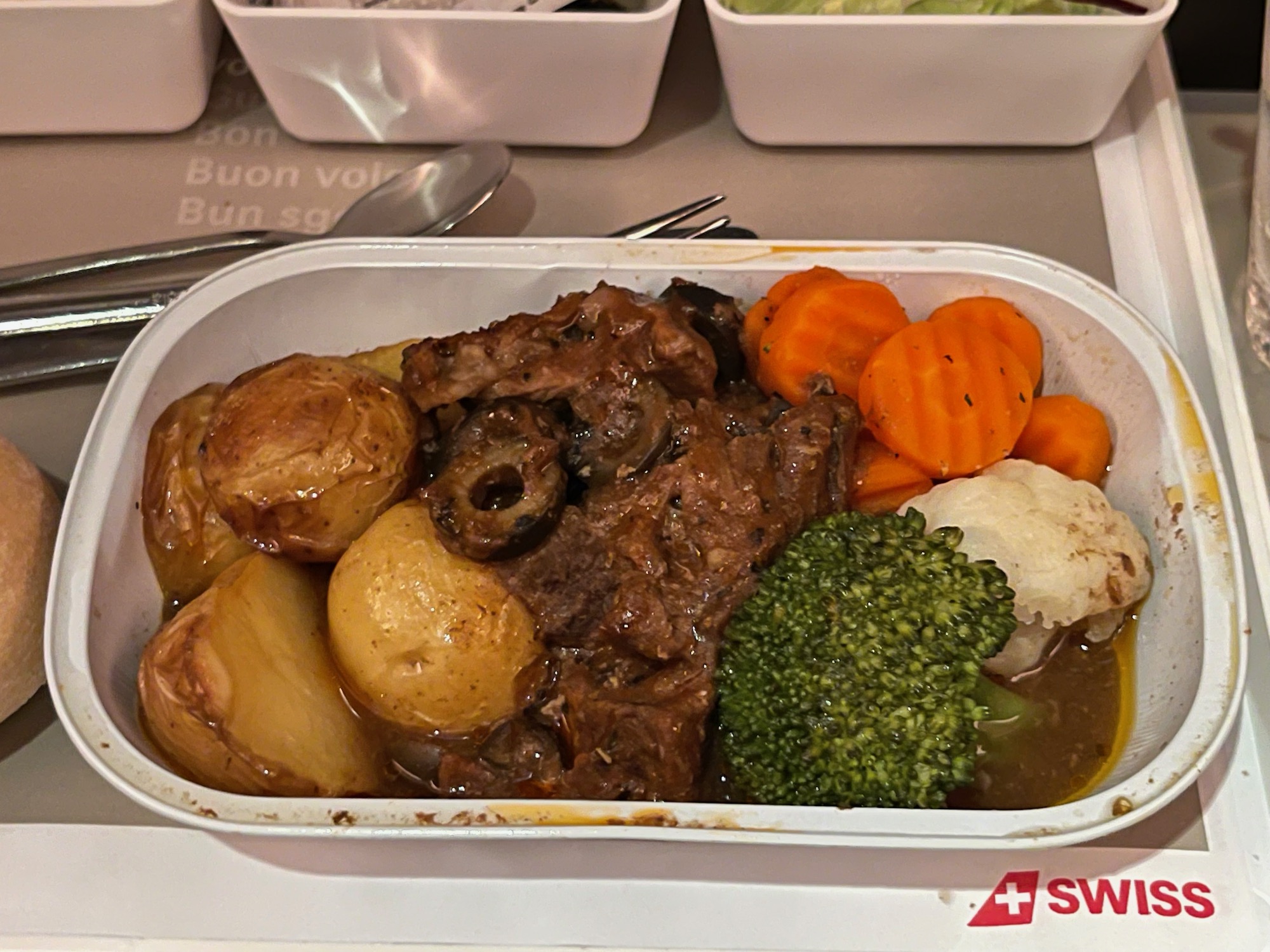 I ordered the beef, which was delivered in a red SWISS-branded container. The portion size was hearty and I have to commend SWISS (and Gate Gourmet catering in SFO) for the tasty dish. The beef was extremely tender, the vegetables and potatoes flavorful, and I loved the sauce with olives on top. Quite honestly, this was tastier than many business class meals I've eaten during the pandemic, even though the presentation was certainly economy class style.
Mid-Flight
About halfway through the flight, I happened to be up using the lavatory when flight attendants set up a snack service in the mid-cabin galley. The snack included a nice collection of Swiss-made products like Toblerone chocolate, Linzer torte, cookies, and Kägi chocolate wafers. There was even Ricola cough drops along with bottles of water and apples.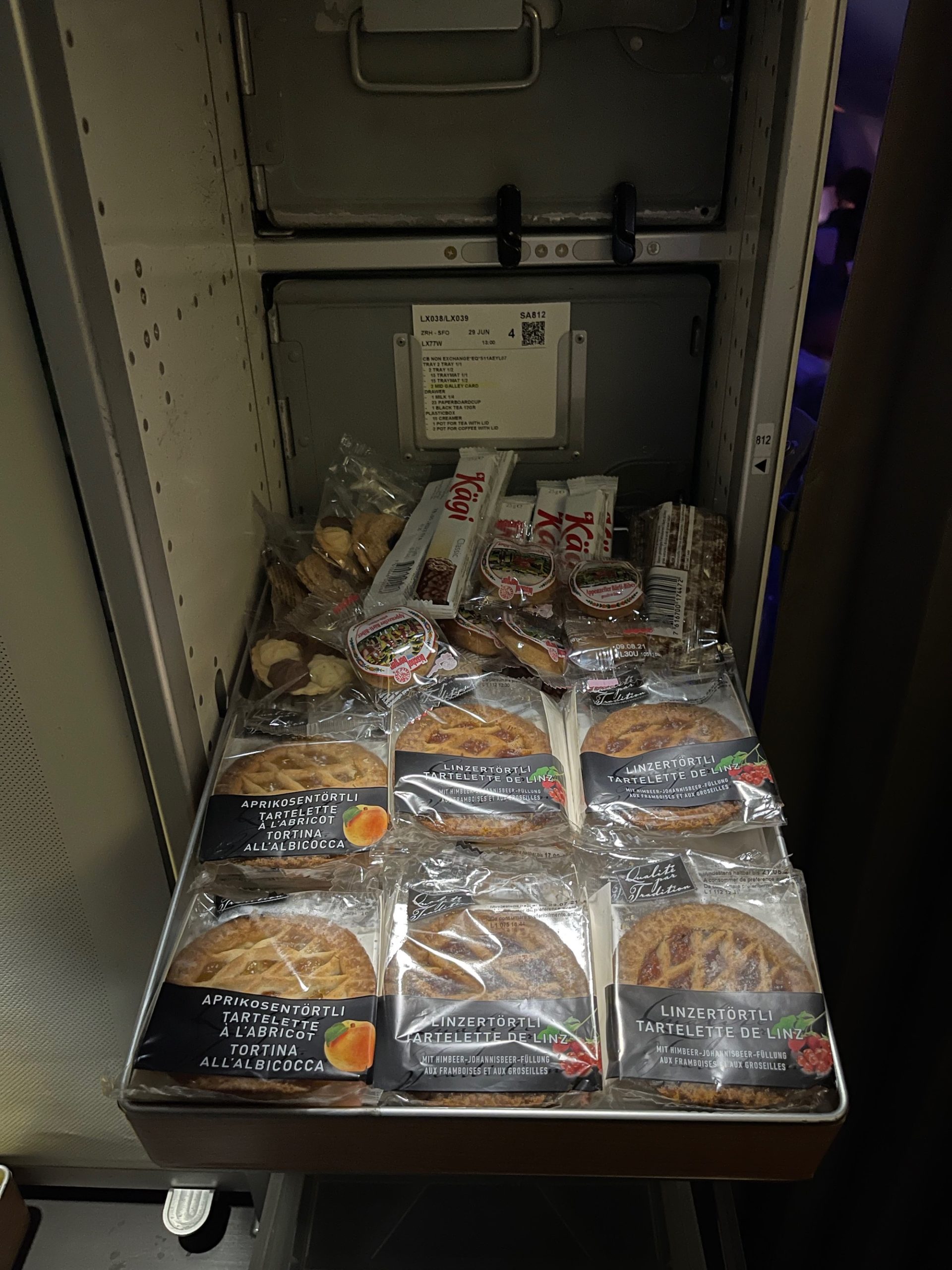 Sadly, there was no Mövenpick ice cream like on flights from Zurich!
Breakfast
90 minutes prior to landing, breakfast began. Even though it was after 3:00pm outside, not a single person in the cabin opened their window shade…which I found so annoying.
Each passenger received a breakfast box, which included:
Rye bread roll
Croissant
Cheese
Orange juice
Yogurt
Cream cheese
Butter
Raspberry jam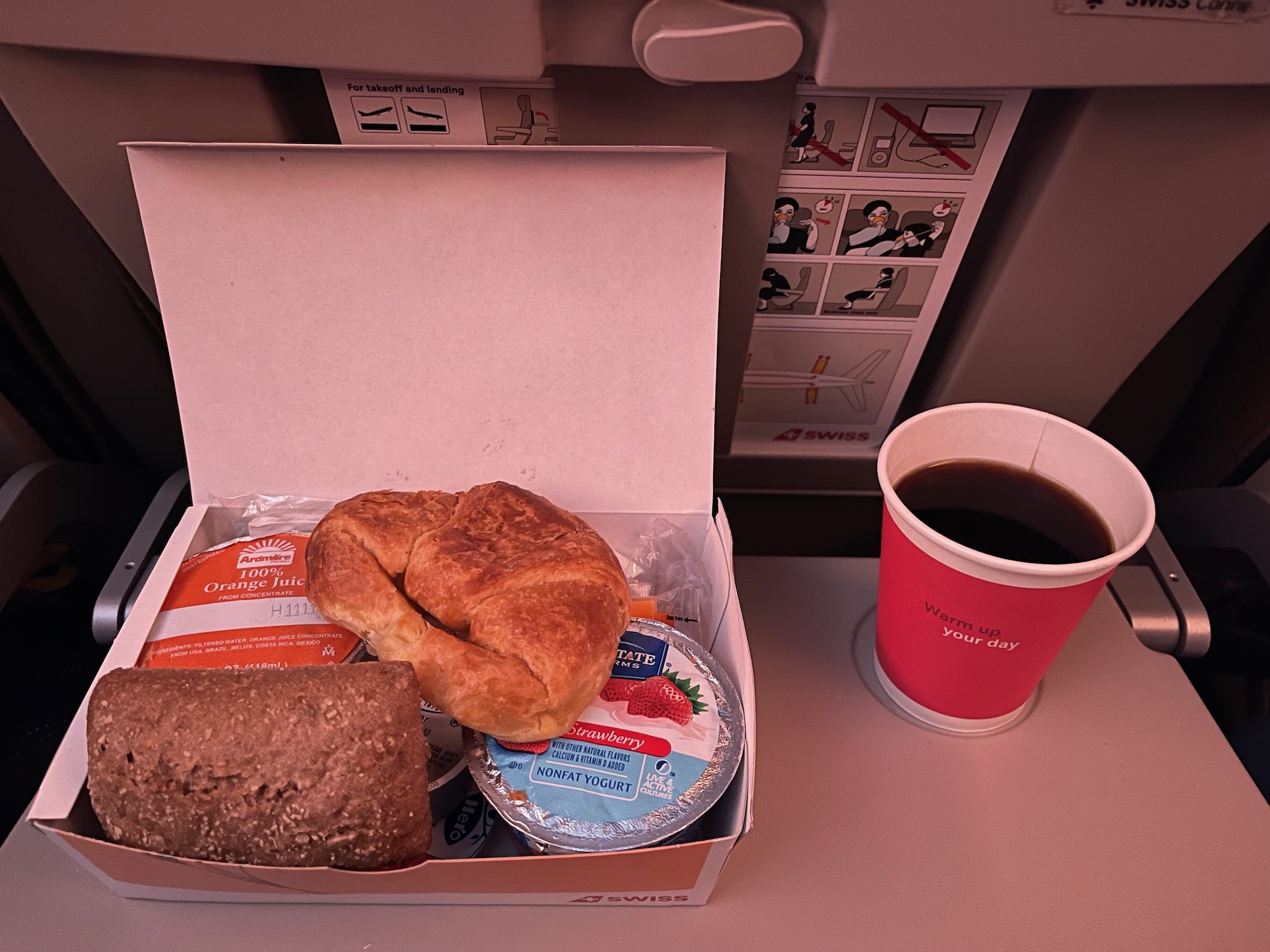 I was disappointed by the breakfast. While I was not expecting a hot breakfast, I do love fresh fruit with breakfast and note that British Airways, Lufthansa, and United serve fresh fruit in economy class on transatlantic flights of similar length.
Had the croissant been warm, I would have also given the breakfast much higher marks. Still, though, I wasn't that hungry and made do with dipping my croissant in the coffee. Note, my first cup of coffee was very weak and watery, but when I got a refill later on, it was much better.
Overall, I'd rate catering on SWISS as above-average for economy class, though I would love to see a heartier breakfast with fresher ingredients. I wasn't the only one who did not want to eat sugary yogurt and dense bread…there was a tremendous amount of waste for those seated around us.
Lavatory
I used the lavatory halfway through the flight and will note there was a puddle of water on the floor. Actually, I doubt that was water…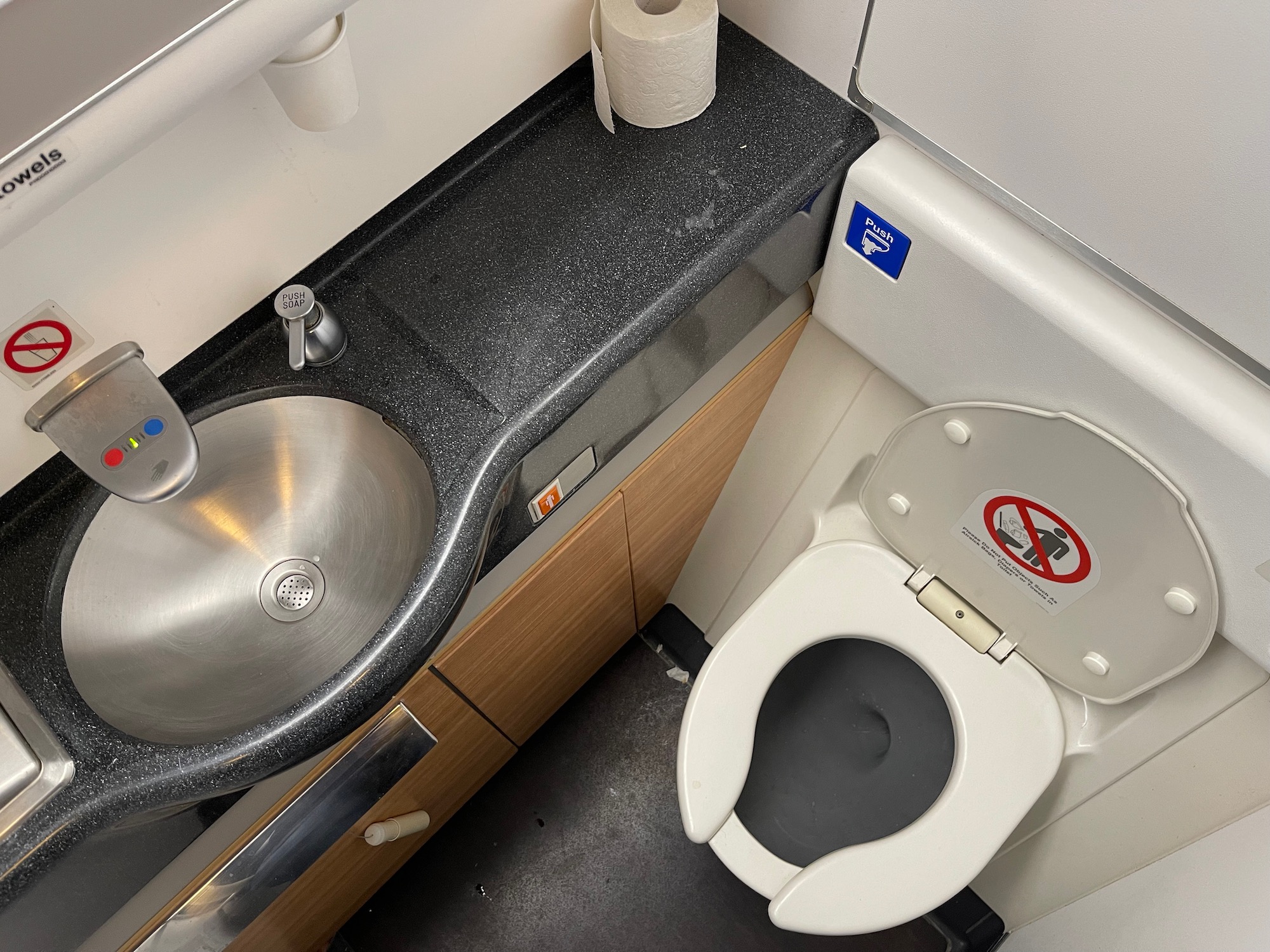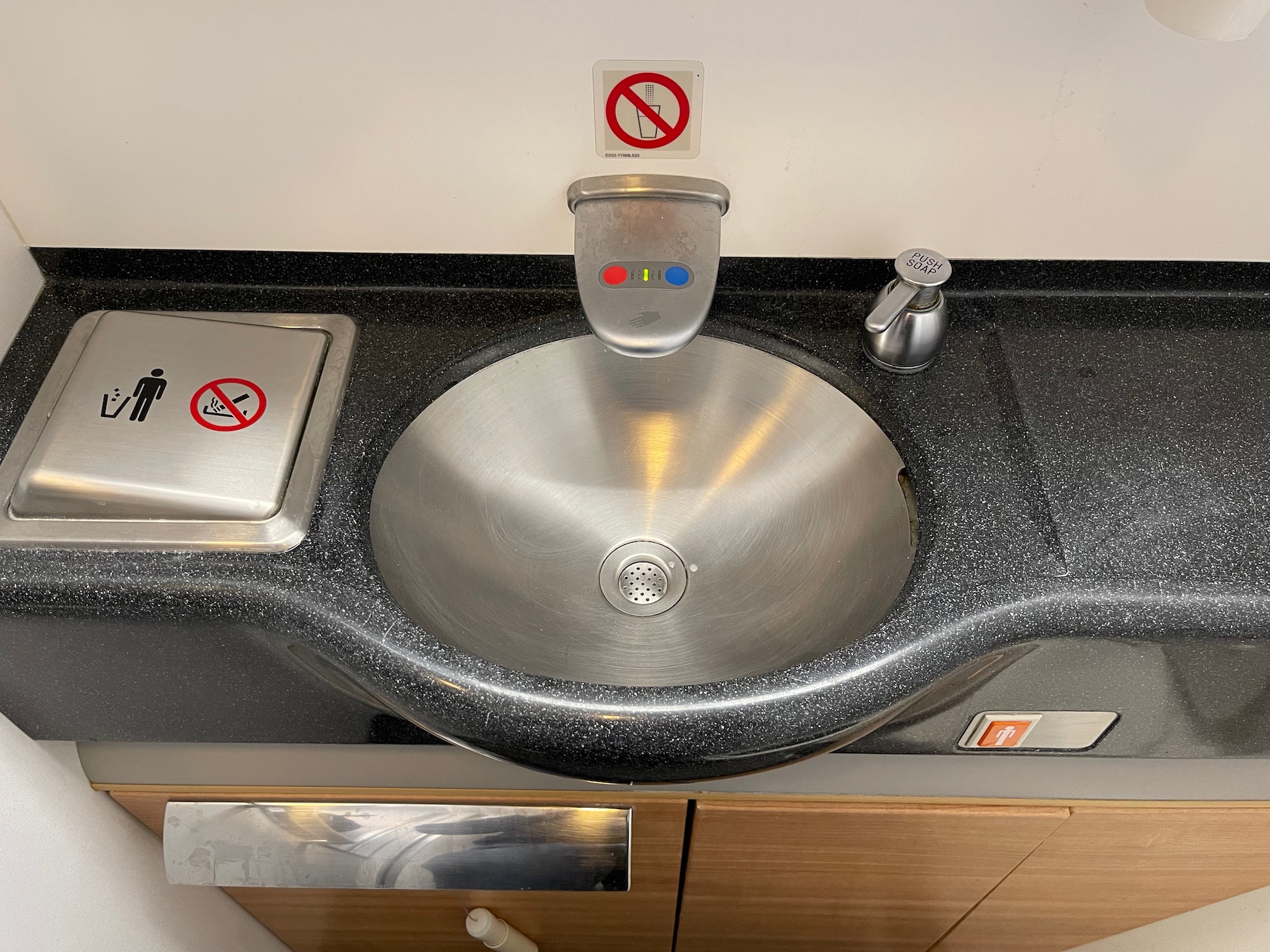 Service
The crew on LX39 must be commended for their efficiency and friendliness. I think back to the crew I had in business class from Los Angeles to Zurich a few years ago that refused to speak to me in German and was thankful that this crew was charming, attentive, and was happy to engage in my (decent) German (albeit with an American accent).
While the crew did not offer a formal beverage service in the middle of the flight, flight attendants constantly patrolled the aisle and offered water bottles at several points.
And they smiled…it was so appreciated.
I'll note that the crew was a mix of young and old, men and women. I'm very much against the notion that younger flight attendants provide better service. As a rule, I have not found that to be the case and appreciated both the young flight attendant who worked the left side of the aisle and the older flight attendant who worked the right side (not pictured above).
Due to headwinds and fairly regular turbulence over North America, we changed routings during the flight and ended up arriving almost an hour late in Zurich, despite departing roughly on time. That made for a long flight in a middle seat.
CONCLUSION
There was both good and bad on my SWISS long haul flight to Zurich. The good included warm, friendly, professional service and a decent dinner. The bad included tight 10-across seating, a lack of power ports, exorbitant wi-fi pricing, and a forgettable breakfast prior to landing. I also missed having a window seat.
All things considered, I scored an incredible deal on my one-way trip to Zurich and would easily choose SWISS again at that price. But 11 hours in a middle seat in economy class is never a truly fun experience.
I've also flown the SWISS 777-300 in business class and first class if you care to check out my other reviews aboard the same aircraft.
Have you flown onboard SWISS 777-300ER in economy class? How was your flight?