My gamble did not pay off. With Switzerland having just re-opened to U.S. travelers the day before, my hopes of stretching out on an 11-hour flight in SWISS economy class were dashed. Not only was every seat taken, but my son and I ended up with middle seats.
First Impressions: SWISS Economy Class Mini-Review
I took advantage of a particularly good one-way fare to fly the family to Zurich on SWISS. Although I usually use miles to travel back and forth between Europe on family vacations, my supply of miles is not being replenished nearly as fast as it used to be and so I opted to save points and try SWISS economy class, my first time behind the curtain on SWISS.
I booked the ticket over a month ago, during a time in which much of Europe was still closed to American citizens and figured borders would still be closed, meaning lightly-filled flights in which we could stretch out.
But with the United States having made significant strides in its vaccination efforts, most of Europe, including Switzerland, has now re-opened.
Our flight was operated by a Boeing 777-300ER. The flight was not only packed, but oversold (though volunteers were ultimately not needed). During online check-in, I chose a section of four seats in the middle of economy class, hoping that the unassigned middle seat (I took both aisles and a middle seat) would remain open.
Alas, it did not. Thankfully it was just a petite traveler who was the perfect seatmate. She was delighted when I offered her my aisle seat for her middle seat…
We were delayed in boarding due to document checks. When we finally took off about 25 minutes late, the captain informed us our flying time would be over 11 hours due to strong winds and turbulence enroute. Great…
Seat pitch is 32 inches in SWISS economy, which is decent. All things considered, we did okay on the flight. Both kids slept through the whole flight…I could not ask for more.
Service was friendly, dinner was edible (pot roast with potatoes and vegetables or pasta with white sauce), and we did manage to sleep for several hours.
At one point in the flight I woke up and smiled, thinking breakfast would begin soon and we we were close to landing. Sadly, I pulled up my map on the screen in front of me and saw we had not even left Canada yet…
But I fell back asleep.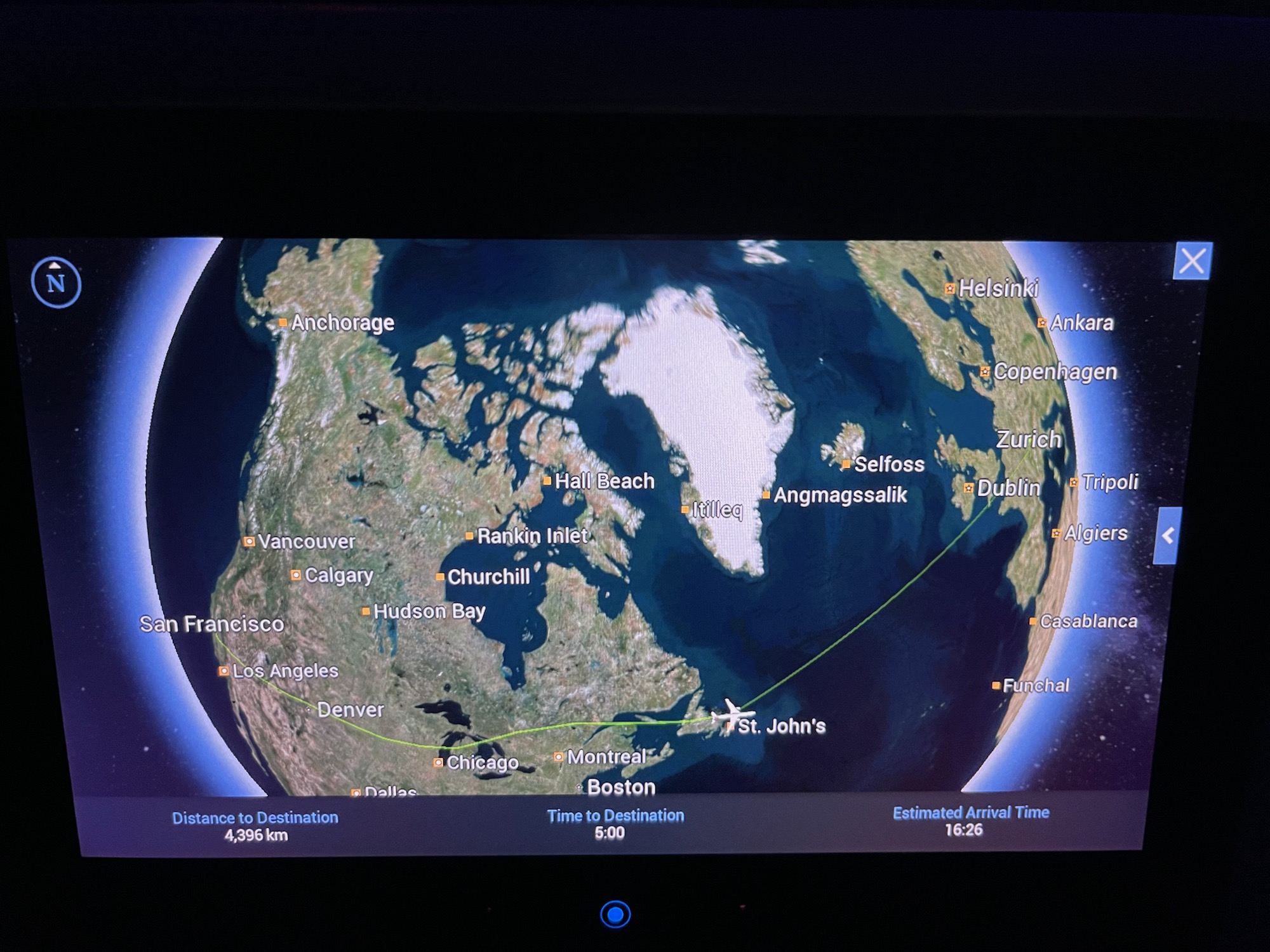 Breakfast was a disappointment. Sugary yogurt, sugary orange juice, and a cold bread roll and croissant. I'm sure catering is better ex-Zurich, but a natural yogurt and some fresh fruit would have been greatly appreciated. Coffee was also extremely weak.
We made it to Switzerland, had a bite to eat for dinner, then crashed for the next 12 hours. But I'm pleased to report our jet lag seems to be minimal after a long rest.
CONCLUSION
Stay tuned for a full review, but 1.) it wasn't as bad we thought and 2.) I hope I never have to do it again, though it was nice to save the miles on this trip. Flying in a middle seat is never fun. I hate not being able to get up or not having a window seat (we ate breakfast in darkness, even though it was 3:00pm outside). Still, we did fine. But we're flying home in business class!