It is good to see Tortas Frontera back in action at Chicago O'Hare. I was elated to enjoy a fabulous chipotle chicken sandwich last week after seeing the eatery closed for so long. If you're unfamiliar with this restaurant, allow me to introduce you.
Tortas Frontera @ Chicago O'Hare – Simply The Best
Throughout much of the pandemic, Tortas Frontera has shut its doors in Chicago O'Hare (ORD), where it has locations in both the United Airlines Terminal (1) and the American Airlines Terminal (3). Over the summer, the restaurant finally re-opened and is back to serving the sandwiches (tortas) and salads that have earned it fiercely loyal patrons.
I was flying American Airlines and although breakfast had been served onboard, I was quite hungry by the time I arrived in ORD. As always, there was a long line to order, but it moved quickly and I patiently waited for my number to be called.
My favorite sandwich at Tortas Frontera is the chipotle chicken sandwich, which includes:
chicken
jack cheese
poblano rajas
chipotle
black beans
cilantro crema
avocado
wild arugula
Be sure take both red and green sauce when you pick up your order. Both are unnecessary in that the sandwich is delicious without it, but both add an extra kick to the sandwich that I love (I dip the sandwich in the salsas).
You can also buy a jar of green sauce to go, though this is also available at many grocery stores and is not quite as fresh:
If you care to eat there, there is a bar from which you can order food, though everything is served in disposable containers.
A sandwich will set you back about $14.50 after tax…pricey, but a filling and delicious lunch (and not even all that unhealthy).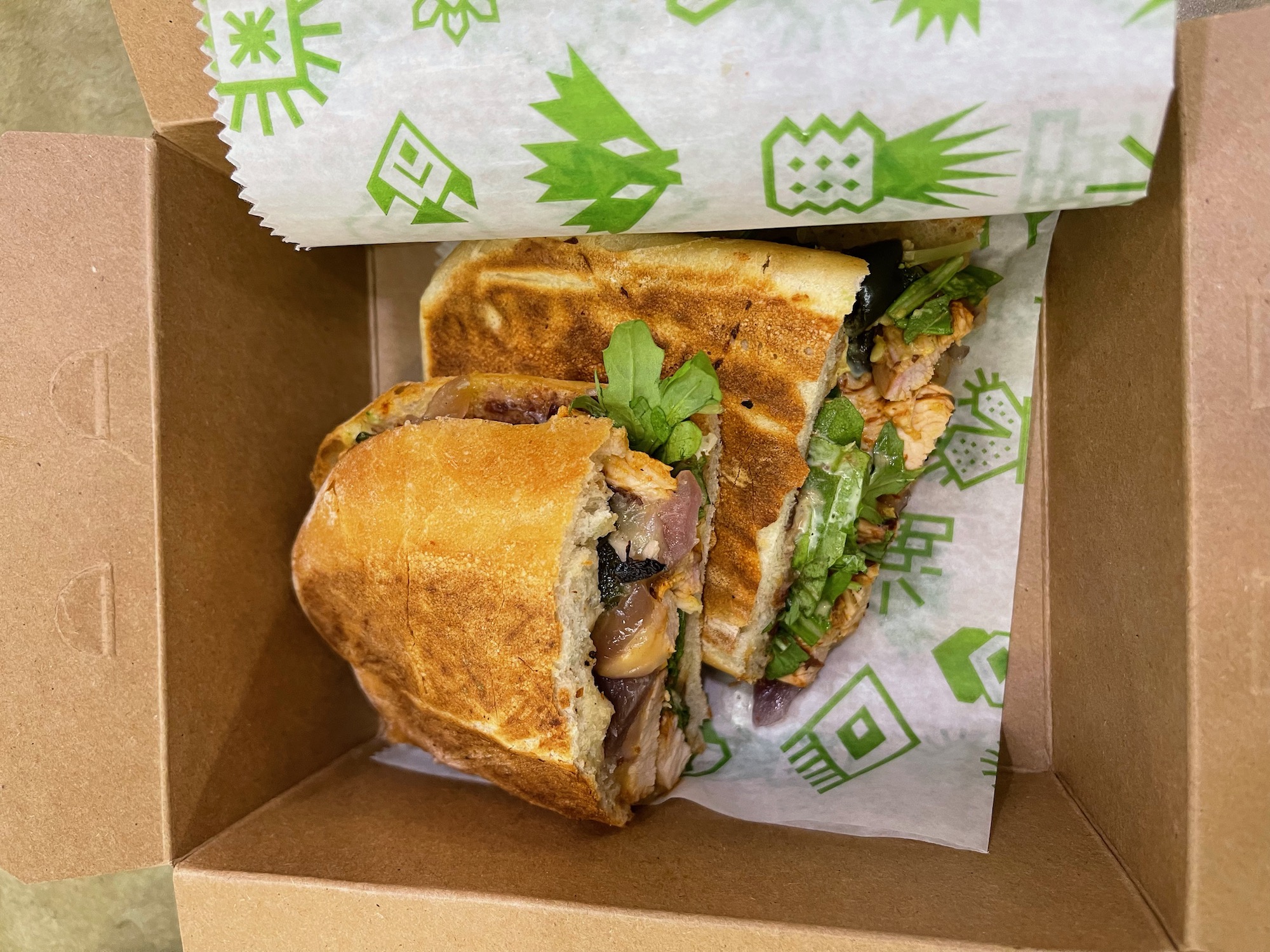 I also recommend the Cubana and Pepito sandwiches, but the chipotle chicken remains my favorite. Full menu here.
CONCLUSION
This is not a paid advertisement. Rather, this is an expression of gratitude for one of my favorite airport restaurants in the entire world (perhaps my #1 favorite…). If you like tasty sandwiches, you'll love Tortas Frontera, the number one reason I enjoy connecting in Chicago O'Hare.
What is your favorite sandwich at Tortas Frontera?