Earlier this week I had the chance to fly a Turkish Airlines A350 in business class. Although the journey was short, I had an excellent flight and was happy to see that Turkish Airlines has restored much of its pre-pandemic onboard soft product.
My Initial Impressions Of Turkish Airlines A350 Business Class
I'm in Istanbul this week and flew via Amsterdam just to experience the A350-900, which Turkish is running to a handful of cities including Amsterdam, Manilla, Montreal, Paris. While a longer flight from Manilla or Montreal would have been preferred, the logistics were simply too difficult and in the case of Montreal, the award space was not there.
First, the hard product. Business class seats on the A350 appear identical to the 787-9, but some run up to three inches wider and I felt that in my chosen seat, 4A. The cabin feels more spacious and the seat larger than the 787 (you can read my 787 review here).
The seat is extremely comfortable and also provides privacy, particularly if you choose an even-numbered window seat.
However, I was most interested in the soft product. After nearly a year of reducing meal service to a boxed lunch with water bottle, Turkish Airlines has recently restored meal service onboard. In fact, it felt like old times.
The chef was missing (Turkish has restored its onboard "chefs" on flights over eight hours) and the meals came sealed (with a deplorable amount of plastic waste), but the food was delicious as ever.
My lunch included Turkish mezze followed by a Turkish casserole with meatballs and vegetables. Delicious!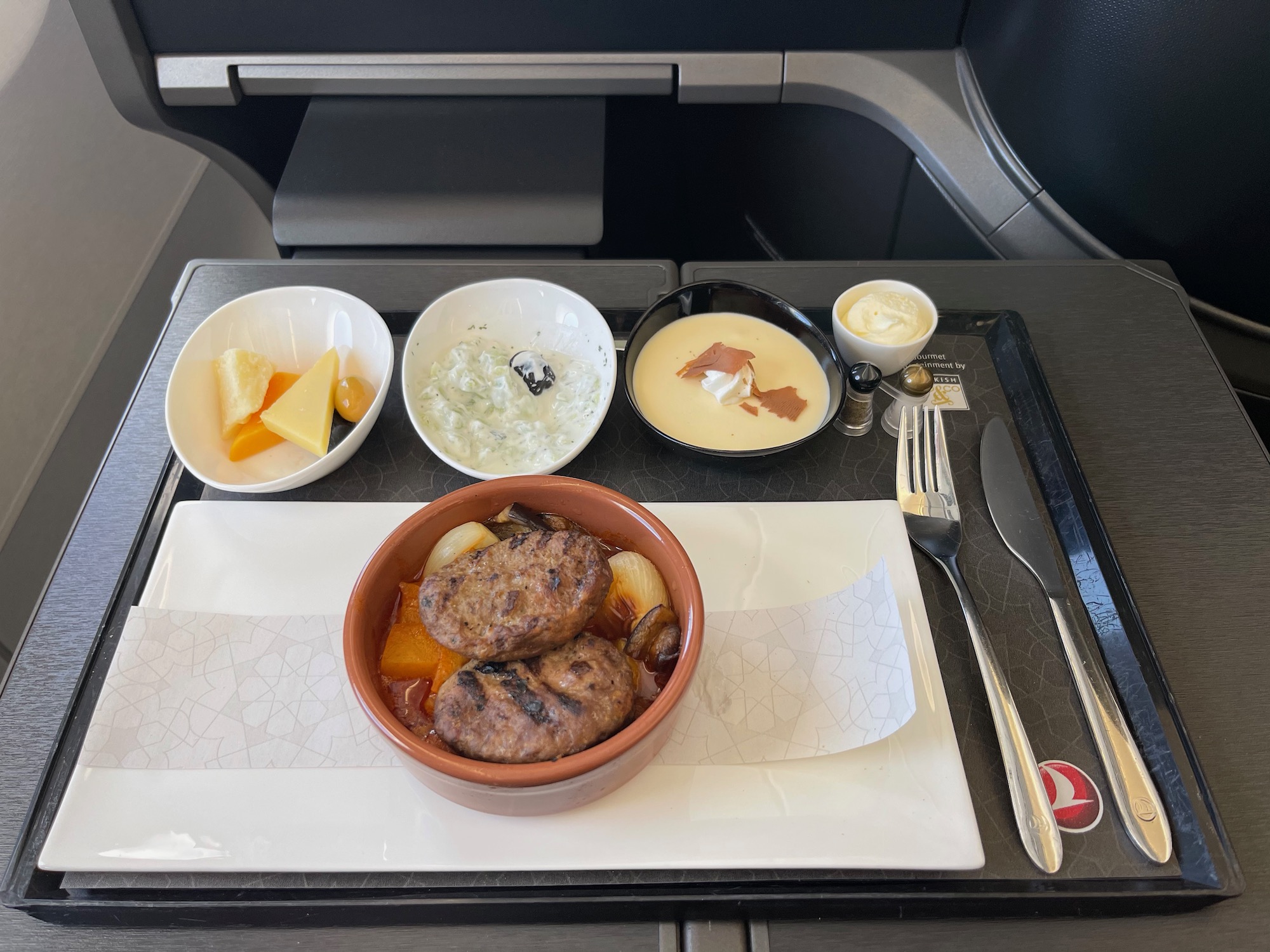 I concluded my meal with a strong Turkish coffee.
One other note – business class passengers received 1GB of free wi-fi and it was fast (28 down, about 4 up). I enjoyed that while listening to Andrea Bocelli and watching the tailcam!
Service was lovely and the flight itself was simply magnificent.
CONCLUSION
It was great to return to the Skies on Turkish Airlines. I last flew Turkish is March 2020 literally a week before the world shutdown. 14 months later, it felt like little had changed, though so much has happened in between.
But compared to the Turkish Airlines A330, 777-300ER or even the 787-9, this is the aircraft to choose, if you have that choice.