Without a doubt, the Airbus A350-900 is my favorite aircraft in the Turkish Airlines fleet. Not only is the aircraft spacious, but it is simply beautiful. Plus, Turkish Airlines has restored much (but not all) of its pre-pandemic service onboard. This review covers my journey in Turkish Airlines Business Class from Amsterdam to Istanbul on the A350.
Turkish Airlines A350 Business Class Review
Turkish Airlines took delivery of its first A350-900 in October 2020 and has since taken delivery of five aircraft. In total, 25 are on order. Currently, Turkish operates the Airbus A350 on the following routes:
Amsterdam
Manila
Montreal
Paris
Prior to the pandemic, this aircraft was planned for service to Los Angeles and Seoul.
I booked my ticket using 28,800 United miles plus $44.60 in taxes. A paid ticket was about $460, which meant I did not get a great value using my miles, but wanted to minimize out-of-pocket expenses.
Check-In
I arrived into Amsterdam on United Airlines and was connecting to Istanbul on a separate ticket. The transit desk had no Turkish representative, but an agent told me to check-in at the gate. Small problem: the flight was not for three more hours.
I proceeded to the Aspire Lounge, hoping I would be let in with a copy of my e-ticket, and I was…
About 75 minutes prior to departure I walked over to the gate area and checked in for the flight. That required presenting my passport and negative COVID-19 test. Check for the latest travel requirements ahead of your flights. Visas to Turkey can be arranged in advance electronically or purchased upon arrival.
Boarding began about an hour prior to scheduled departure time. We boarded via Door 2 Left.
Turkish Airlines 1952
Amsterdam (AMS) – Istanbul (IST)
Wednesday, May 12
Depart: 11:30 AM
Arrive: 05:50 PM
Duration: 03hr, 20min
Distance: 1,359 miles
Aircraft: Airbus A350-900
Seat: 4A (Business Class)
I was first to board and ended up having several minutes to myself inside the spacious business class cabin. Flight attendants seemed a bit bemused as to why I was taking so many pictures, but I explained that it was my first time on the Turkish A350 (true) and that I loved airplanes (true).
Seating
The Turkish A350-900 features a total of 329 seats, including:
32 business class seats, in a 1-2-1 configuration
297 economy class seats, in a 3-3-3 configuration
Business class is spread over eight rows in a single cabin and utilizes the Aurora seat from Stelia Aerospace. Even-numbered "A" and "K" seats represent true window seats and offer more privacy, while odd-numbered seats are angled facing the aisle with a shelf between the seat and window.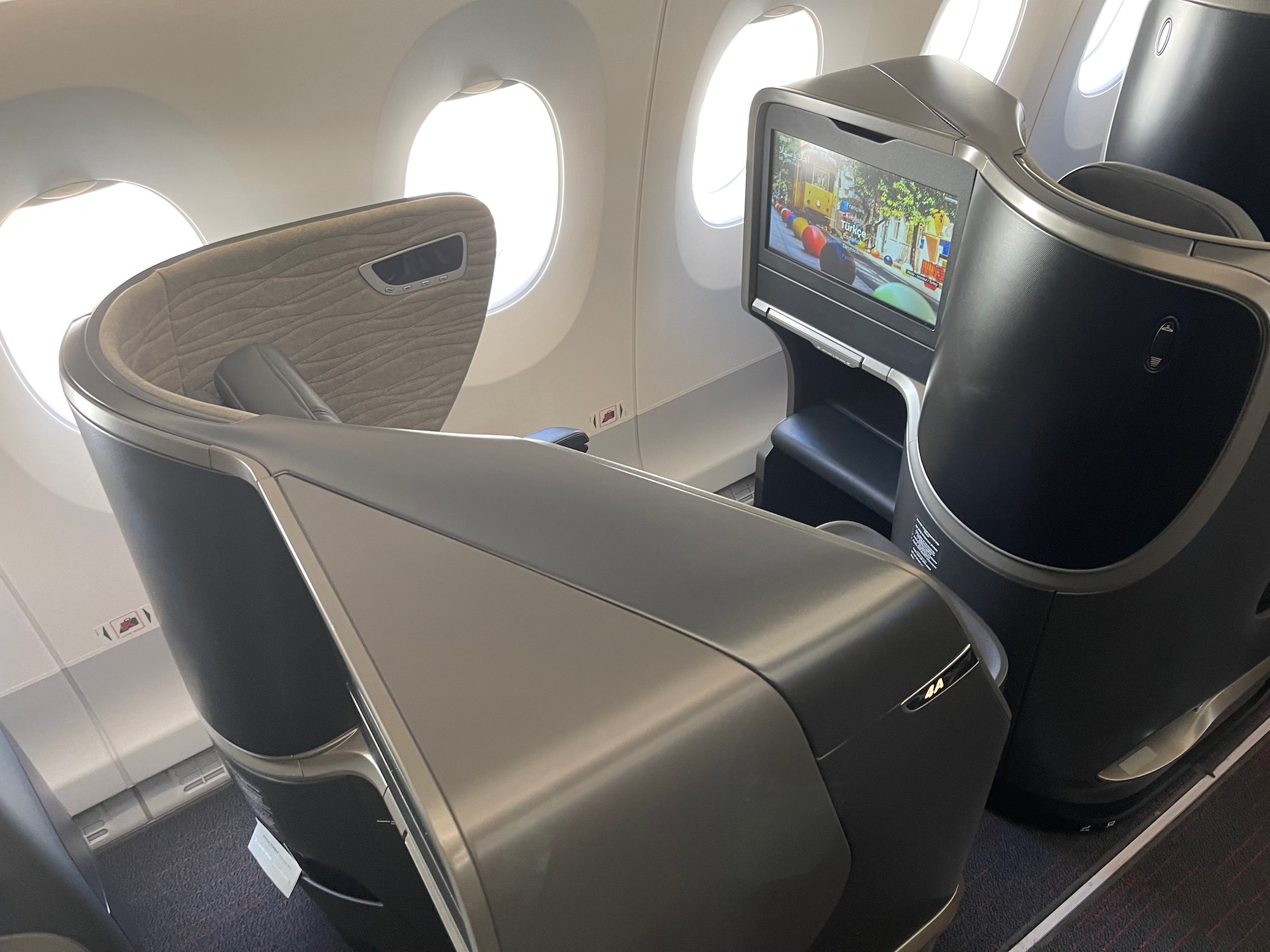 In the middle, all "E" and "F" seats (odd-numbered rows only) are "honeymoon seats" that are next to one another.
Meanwhile, the "D" and "G" seats in even-numbered rows offer more privacy thanks to tables between seats.
All seats have direct aisle access. Space for your feet is generous:
Turkish Airlines does not provide full bedding on short-haul flights, but pillows and blankets were available upon request. Seats are fully lie-flat.
You can also find this seat onboard Star Alliance partner Singapore Airlines.
Unlike the 787, the shoulder-level locker beside each seat features a combination lock, along with a warning not to lock it while a device is charging inside. An extra power plug inside is very helpful in allowing for the charging of mobile phones. There's plenty of space to store valuables.
There's also a mirror which slides out:
Seats are controlled by push-button located on the side console with additional light controls located on the other side of the seat. While the "shoulder" of the seat, which blocks window access, is a bit unique (perhaps strange is better word), I still had no problem looking out the window.
Mid-flight:
Service
I generally find service on Turkish Airlines to be hit-or-miss, but flight attendants were wonderful on this flight. The cabin was about 1/3 full and flight attendants were not only prompt and attentive, but also kind. Pre-departure beverages have not returned, but menus were distributed with a smile (behind the mask) before takeoff and flight attendants sprung to work immediately after takeoff.
I was addressed by surname and my glass never stayed empty very long.
Food + Drink
Meal service is available on international flights over two hours. Turkish Airlines has re-introduced printed menus onboard and they now have a new visual appearance (rectangular in shape and black).
The meal tray pulls out from the under the IFE monitor.
Historically, appetizers were served first, followed by main course via cart. Carts are not currently in use and my main course was delivered just moments after the rest of my meal.
I realize Turkish is simply trying to give passengers assurances that it takes hygiene seriously, but the amount of plastic waste is simply ridiculous. Lunch came on a seated tray  covered in plastic:
Upon removing the plastic, I found plastic coverings over the "Cacik" cucumber yogurt, cheese election, white chocolate mousse, and the Turkish mezze platter. The silverware was also wrapped in a plastic bag. Total overkill. There is simply no valid reason to waste so much plastic.
That said, the appetizer course was delicious. It was also nice to enjoy hot fresh bread with my meal.
For my main course, I chose a Turkish casserole with meatballs and vegetables. It had a great spice to it and hit the spot. The other choices were prawn with tomato sauce and buttered rice or rigatoni with tomato sauce. I could have sampled all three, but I was stuffed after eating my main course.
I enjoyed freshly-squeezed orange juice with my lunch and a strong Turkish coffee after.
IFE + Wi-Fi
The full IFE library was activated, including a wide variety of Turkish and international movies, TV shows, music, games, and Islamic material.
But the best IFE, as far as I am concerned, was the tail camera on the aircraft and the beautiful scenery outside the window. A daytime flight over Continental Europe, even from above 30,000 feet, is often a treat and I greatly enjoyed watching our progress both on screen and outside the window.
Unlike the Boeing 787-9 Dreamliner I flew from Istanbul to Atlanta where the flight attendants locked the dimmable windows in the darkest position, the A350-900 gives you full control of the window shades. Granted, a three-hour daytime flight is different than a nine-hour transatlantic flight, but I appreciated having full control over my window.
Noise-cancelling headphones from Philips were distributed, which I still used to cancel out noise and listen to Andrea Bocceli. Annoyingly, the headphones were collected about an hour before landing, though at least disposable ones were distributed.
Wi-Fi is complimentary for business class passengers, with data capped at 1GB. Internet was fast, with speeds of 29.3 Mbps down and 3.9 up.
Do note, however, that if flying in economy class internet is rather expensive at $24.99 for only 500MB. If you are a heavy internet user, it may actually pay to upgrade at check-in or the gate (sometimes for as little as 200EUR).
Amenity Kits
No amenity kits are distributed on intra-European flights, but if you find yourself on a longer A350 flight in business class, expect an amenity kit like this:
Lavatory
Business class lavatories are located in the front and back of the cabin, with black faux-marble countertops and faux-wood floors. There's also fragrance, hand soap, and hand creme from Molton Brown. Finally, disinfectant was available. It was nice to see that even the plant has returned to the lavatory.
Health Precautions Onboard
Flights attendants flawlessly wore their masks onboard. Each passenger received a hygiene kit upon boarding, which included:
one surgical mask (with a Turkish Airlines logo on it)
two wipes
Passengers were frequently reminded to wear masks, but I observed most passengers in business class remove them for extended periods during the meal service rather than replace them between bites.
We were greeted by an army of red tails in Istanbul and had a relatively short six minute taxi to the gate.
CONCLUSION
I was happy to see that Turkish Airlines has restored most of its soft product onboard after a year of serving cold boxed meals to passengers even in longhaul business class. The A350 is an incredibly comfortable, quiet, spacious aircraft in business class and I would not hesitate to go out of my way to fly it over the 777-300ER anytime.
Turkish Airlines is one of my favorite airlines and this flight only solidified its position as a solid carrier that represents a good value or excellent use of your frequent flyer miles.