United has a fleet of 74 Boeing 777-200s with six different configurations. Most configurations are geared toward longhaul service and premium-heavy. But one, the so-called "HD" or high-density configuration is used on flights to Hawaii and some transcontinental or hub-to-hub flights. This United 777-200 HD review covers my round-trip from Los Angeles to Honolulu.
United Airlines 777-200 HD Review
As I mentioned in my introductory post, we booked this trip for 15,000 Turkish Airlines miles round-trip plus $11.20 in taxes….a great price considering round-trip pricing was $500.
February seems like so long ago. Keep in mind this trip came a month before COVID-19 exploded, but the seats onboard this aircraft have not changed.
We could have used my 1K status to preboard, but had breakfast in the Alaska Airlines Lounge prior to the flight and thus were quite late to the boarding process. Thankfully, we did not have any issues finding overhead bin space even though half the flight had already boarded.
United 1158
Los Angeles (LAX) – Honolulu (HNL)
Monday, February 17
Depart: 08:00AM
Arrive: 12:33PM
Duration: 06hr, 33min
Aircraft: 777-200 HD
Seat: 25A,B (EconomyPlus)
I love this morning 777 to Hawaii, a flight I have taken for years on United. The friendly crews, often with Hawaiian-themed aprons or flowers in their hair set the mood for the trip to Honolulu.
I had assigned seats 25A and 25C in the rear of the EconomyPlus cabin, hoping the middle seat would remain open. Just a few days before the flights there were many, many unsold seats. But Honolulu is one of the most popular standby destinations in the United network and about 60 employee standbys cleared onto the flight. I ended up giving up my aisle seat and sitting in the middle while Augustine took the window.
The HD configuration has only 28 seats in business class and 336 seats in economy class (78 EconomyPlus and 258 United Economy).
Another note on the cabin. There are 10 seats across–3-4-3 configuration–and legroom ranges from 31″ in United economy to 35″ in EconomyPlus. Personal TVs have been pulled out and instead there is a clamp holder behind each seat for a mobile phone or tablet so you can stream IFE from UA's intranet library. Power ports have been added, with plugs spaced between each seats (a row of three has two plugs). I include more unobstructed cabin pictures in the return journey below.
We enjoyed a number of aircraft as we departed, including two classic liveries, one for Continental and one for Allegheny (American Airlines). It was a beautiful morning.
Once we leveled off, flight attendants began service, offering a beverage of choice, stroopwafels or pretzels, and a menu of buy-on-board items. By virtue of my 1K status (which I had added to the Turkish reservation), I was entitled to one free drink and one free food item. I chose the Italian sausage frittata, which was smaller than the pictures make it look but quite tasty. Augustine and I split it. He also had a banana.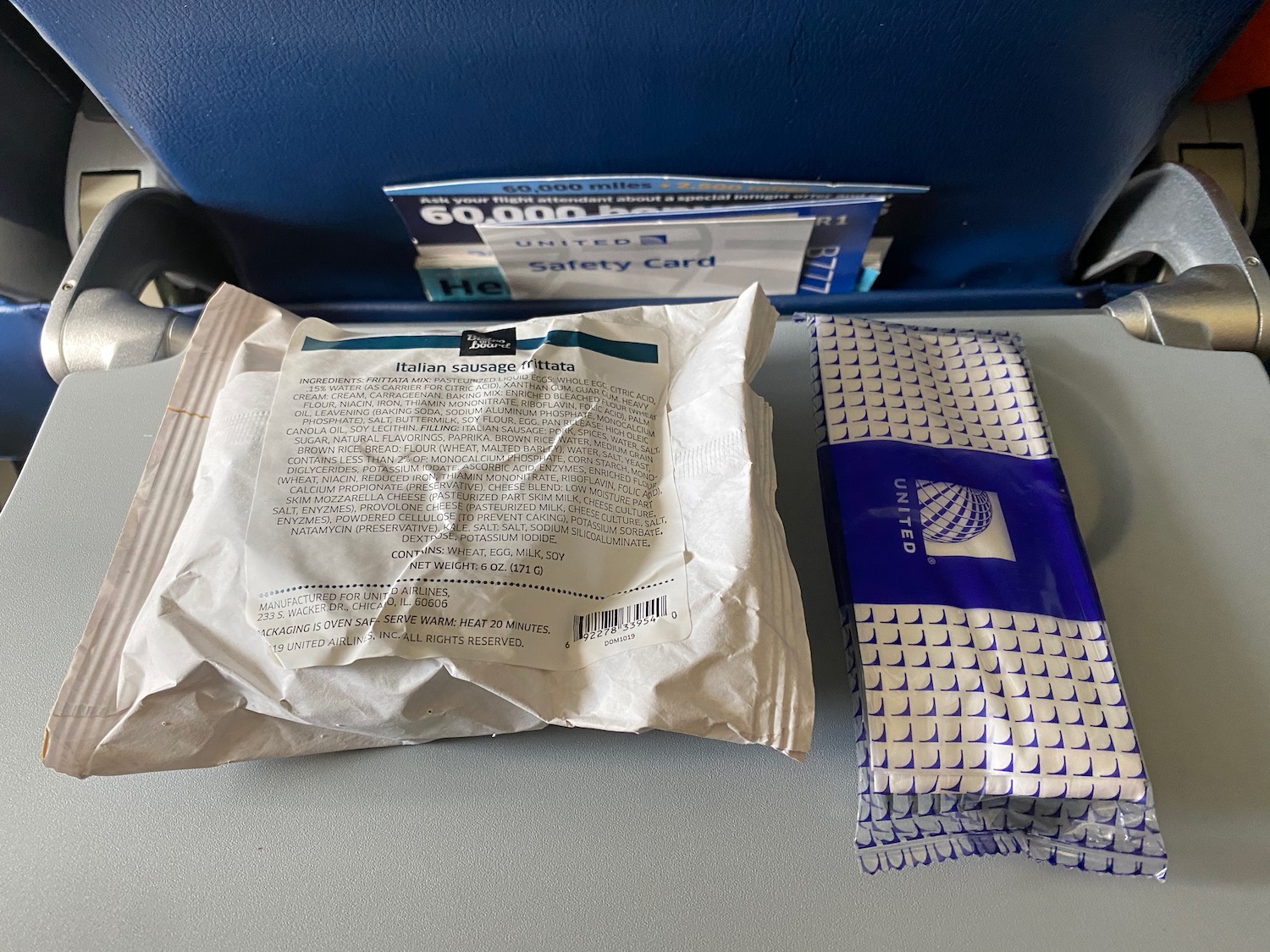 A second beverage service was offered prior to landing. I had my customary Mai Tai and Augustine had another apple juice.
What do you do on a six hour flight with a restless three-year-old? Honestly, Augustine was very well-behaved on this flight. He sat still for the most part. He colored a bit, we practiced distinguishing aircraft from one another, watched some German cartoons I had downloaded on my phone, and even took a little nap. It was a very smooth flight in that respect.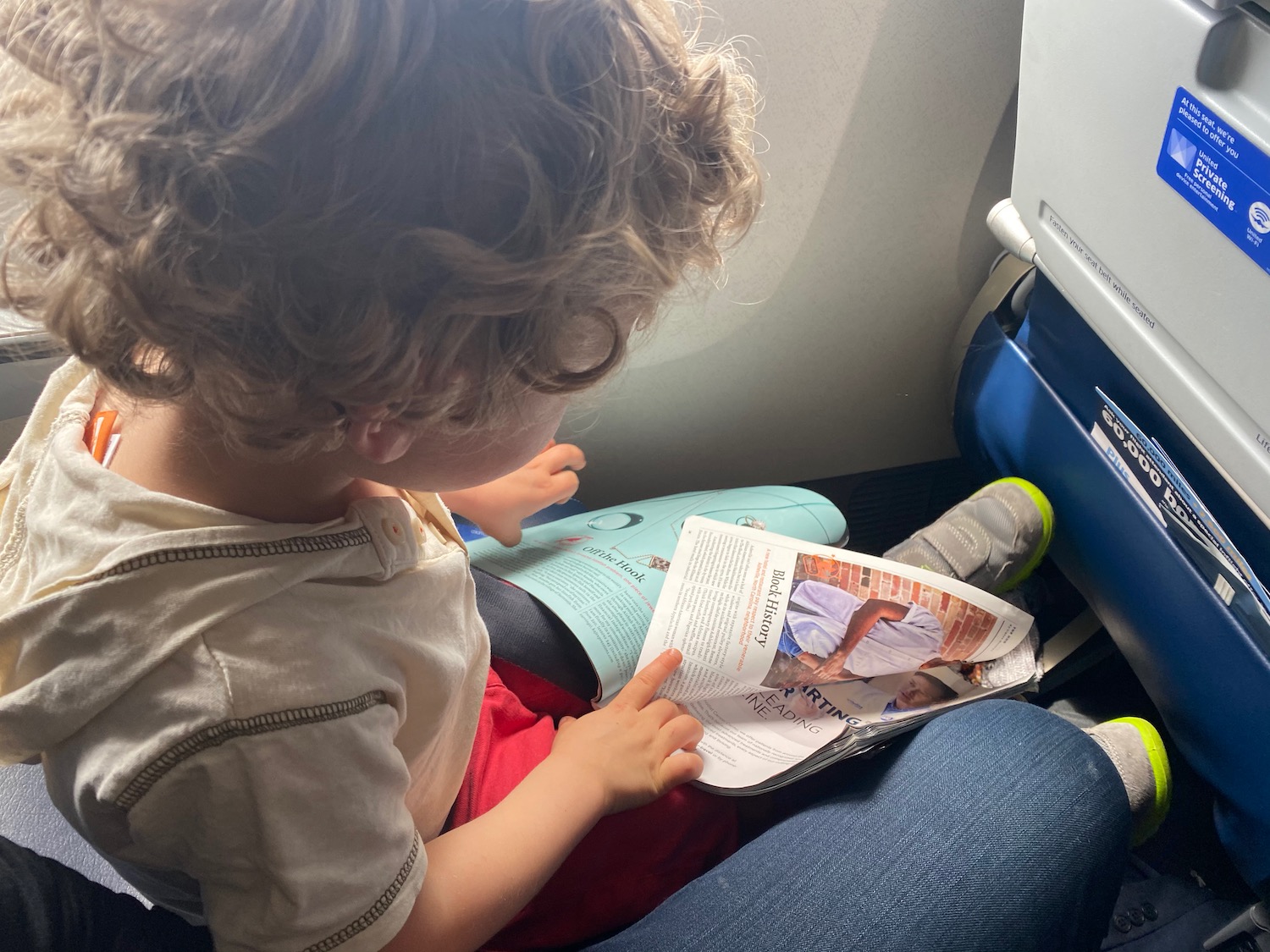 Truly, this flight was a precious memory.
We landed a couple minutes late in Honolulu and began the plane spotting game once again.
After a great day and half in Honolulu, we took a redeye back to Los Angeles.
Rather than allot time for the United Club (review here), we just waited and left the hotel late. We still managed to arrive early enough to have a snack in the Plumeria Lounge and do a bit of planespotting.
United 534
Honolulu (HNL) – Los Angeles (LAX)
Tuesday, February 18
Depart: 10:50PM
Arrive: 06:02AM+1
Duration: 05hr, 12min
Aircraft: 777-200 HD
Seat: 27A,B (Economy Class)
Not much to say about the flight itself, which is why I am lumping it into a single review. We were among the first to board, so I was able to capture some cabin pictures before it filled up:
Augustine got comfortable, then promptly fell asleep before boarding was even complete. He did not wake up again until we landed in Los Angeles. I quickly fell asleep too after takeoff, so no commentary on inflight service during the redeye flight.
How was legroom in a "regular" economy class middle seat? It certainly wasn't comfortable, but I managed to drift in and out of sleep for the five-hour journey.
We landed early in Los Angeles and that's when the trouble started.
Try waking up a three-year-old who has only had five hours of sleep. Augustine did not want to leave the plane and had a TOTAL MELTDOWN. Kicking, screaming, going limp when I tried to pick him up or carry him…
Oy…
That left me to carry him and two rollerboards. A kind good Samaritan (an understanding mother of course) stopped to help me with one of the bags. What a blessing she was.
So, great flight…not so great disembarkation.
CONCLUSION
United's 777-200HD is not horrible. While I far prefer most other planes in the United fleet, the daytime flight in EconomyPlus was totally manageable. I'd love to see PTVs at each seat, but that certainly won't happen, especially in this pandemic era. Just remember to bring your own IFE or download the United app prior to your flight and you'll also have hours of entertainment to help pass the time.