The United Club in Honolulu is one of my favorites in the system, not so much because of the club itself, but because of the nostalgic memories of Hawaii associated with it.
United Club Honolulu Review (HNL)
Location + Access + Hours
The lounge is open daily from 5:30 AM to 10:30 PM. Access is reserved for United Club members or Chase United Club credit card holders plus Star Alliance Gold travelers, with a big asterisk. If your Star Alliance Gold status is with United, you can only access the lounge if traveling on an international Star Alliance itinerary. Star Alliance Gold members from other programs can access the lounge when traveling on any Star Alliance itinerary, even a flight on United to the Mainland in economy class. Global Services members enjoy access and one-time passes are accepted. Finally, Star Alliance business class or first class travelers have access to the lounge, though United domestic flights are excluded.
---
Tip: If you are at HNL in the morning and are a United MileagePlus Star Gold, Platinum, or 1K member, you can access the ANA Lounge if traveling on any Star Alliance flight in any class of service. (the lounge is open during the morning hours)
---
You'll find the United Club in Diamond Head Concourse, 2nd Floor, above Gate G2 and G3.
United Club Honolulu Seating
The lounge recently was refurbished with new furniture, but the core of the lounge really hasn't changed over the years. I'm talking about the design, the white etchings on the glass partitions, and some of the artwork that makes this lounge unique.
This is the way the lounge looked prior to the pandemic (a look I somewhat prefer):
The lounge has great tarmac views during the day and is large enough that it never feels packed, though it can feel crowded. I was there during the middle of the afternoon for my prior visit and the lounge never filled up.
There are power ports throughout the lounge and also some charging stations like this:
United Club Honolulu Food + Drink
Food choices have improved in this lounge. A buffet offers different choices throughout the day, including salads, sandwiches, soups and even some spam musubi.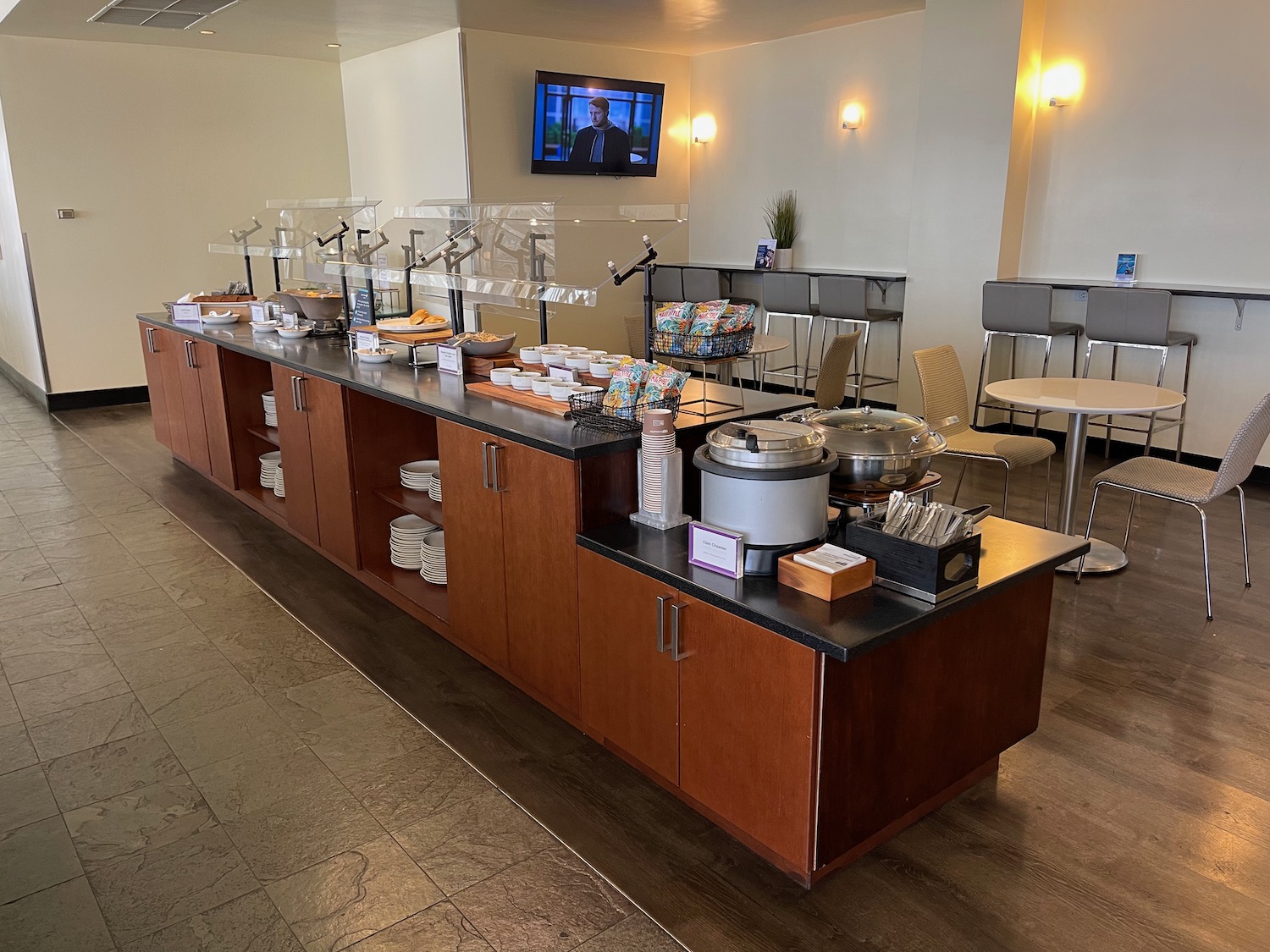 Compare that to what was offered before the pandemic and you'll note an improvement since 2019:
Self-serve coffee, juice, soft drinks, and water are available why the bar offers free beer, wine, and lower-shelf spirits. Other liquor and cocktails will cost extra.
The Mai Tais are recommended.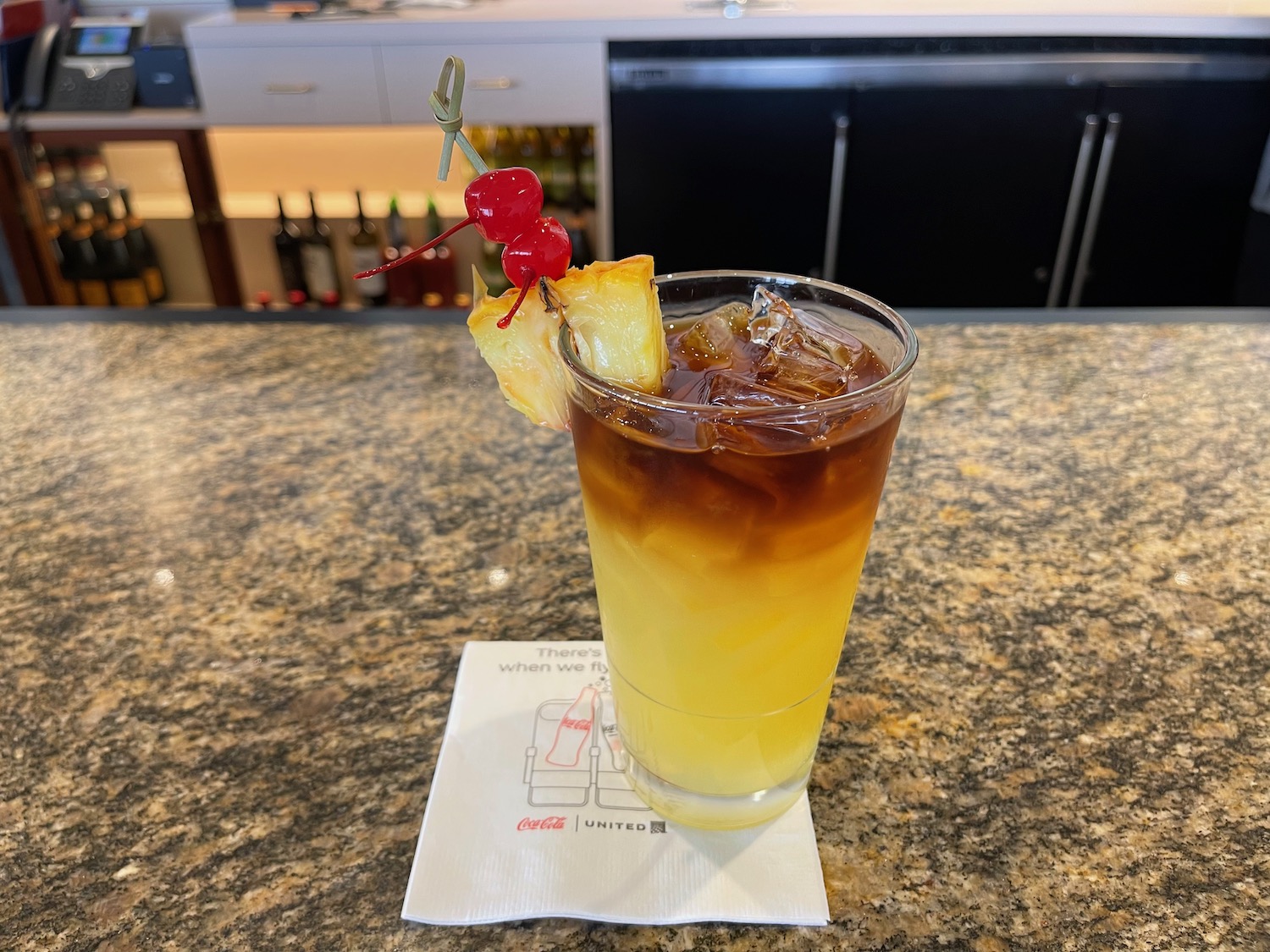 United Club HNL Restrooms
The men's restroom was clean, but overdue for a remodel. The lounge may stuck in a cool 1980's design, but the restroom is stuck in an ugly 1990's design.
United Club HNL Printing
A printer and fax machine are available.
United Club Honolulu Service
I always chuckle at the service in this lounge. The staff is generally great–kind and friendly. But it seems that almost every time I enter the lounge there is an issue. It used to be they had no idea how to scan my bmi, SAS, or Turkish Star Gold cards back in the day. One time, I used a Chase one-time pass and the lady, nice as could be, said she could not accept the passes because they were expired. I looked at the passes, saw they had not expired yet, and asked her to check her calendar. She did…and burst out laughing.
I don't know what it is about my access drama, but it seems there is always something. But overall, the staff truly exhibits the Aloha spirit. On my latest visit, I was with Tom Stuker and we were warmly welcomed in and offered a complimentary bag of Mauna Loa macadamia nuts.
CONCLUSION
Don't forget that ANA has a great lounge in Honolulu, though with much more limited opening hours. If you are at the airport in the morning, I suggest you head there. But United's Honolulu club is comfortable and has become better over the last several years. It's a nice place to wait for your flight in a concourse that is really in need of a refresh.
---
> Read More: United CEO Bemoans Honolulu Airport