My Meal of the Week feature examines an airline meal from my travels over the years. This may be a meal from earlier in the week or it may be a meal served over a decade ago.
Earlier this week I flew from Los Angeles to Chicago on United. My upgrade cleared so I had the chance to put two of United Airlines' highly-caloric new first class sandwiches to the test. The result? Tasty, but probably not worth the fat and carbs.
The New First Class Sandwiches On United Airlines
After limiting domestic first class meal service to snack boxes only for several months, United has introduced sandwiches as an alternate choice. Depending upon the time of day, a selection of two sandwiches is available onboard.
On my midday flight, the two sandwich choices were tomato basil and mozzarella focaccia or carved roasted chicken on Italian flatbread.
For you, dear readers, I decided to try them both.
I began with the carved roasted chicken on Italian flatbread. Kudos to the flight attendants for warming them up prior to serving. The sandwich arrived warm (not hot, so as not to melt the plastic wrapping) on a "real" plate.
I could not help but to noice the nutrition facts. 680 calories. 36 grams of fat. 18 grams of saturated fat. 1360 milligrams of sodium. 61 grams of carbs. Ouch.
The sandwich was tasty; a bit doughy, but tasty. With that many calories, it darn well better be tasty! It included provolone cheese, parmesan garlic butter, and kale aioli.
I chose not to finish it…so I could move on to the next sandwich.
Next up, I tried the tomato basil and mozzarella focaccia with sun-dried tomato and pesto cream.
I preferred this sandwich to the first one. It had a strong basil flavor and seemed lighter than the chicken sandwich.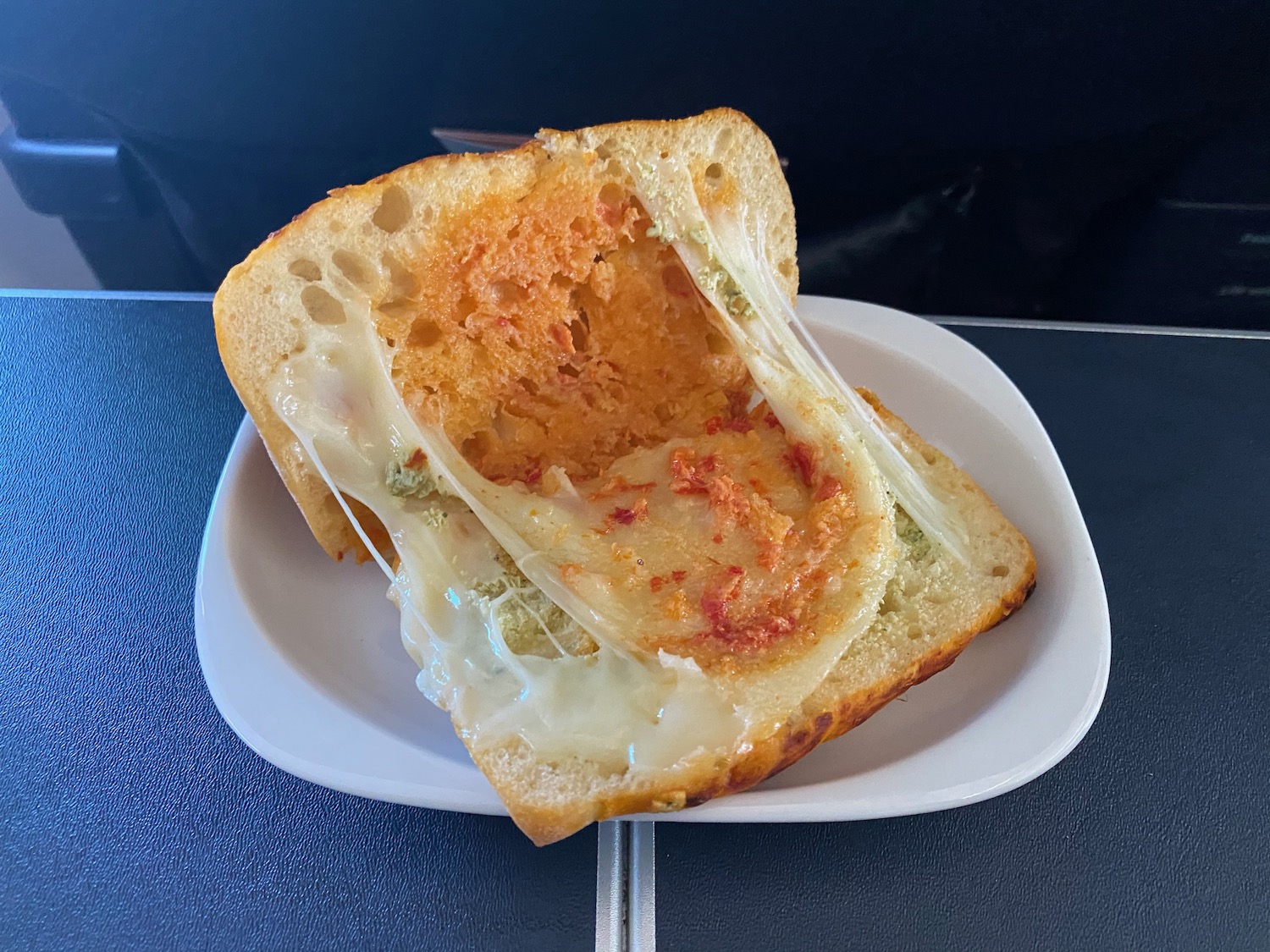 That said, it still had 500 calories including 18 grams of fat, 8 grams of saturated fat, 980 milligrams of sodium, and 65 grams of carbs (including added sugar!).
CONCLUSION
I don't always do a great job, but I make a conscious effort to eat heathy. If that is your aim, steer clear of these sandwiches. But they are tasty, especially when heated. If you're hungry, these should do the trick nicely. Still, I look forward to the return of full meals and particularly salads onboard…hopefully sooner rather than later. If sandwiches are not your thing, you can still ask for a snack box.