If you're flying to Japan on United Airlines in Polaris business class, here's what you can expect onboard. This review highlights my recent flight from Los Angeles to Tokyo on a 787-9.
United Airlines Tokyo Business Class Review
This flight was part of my "lunch in Tokyo" trip earlier this year. I already wrote about the return flight, in which I was the only passenger in business class, but provide this review of the outbound flight (in which there were a whopping eight passengers in business class) to give you an idea of what to expect right now if flying to Tokyo (or any other Asian destination) on United Airlines.
Check-In
I checked in at LAX on a kiosk, which offered to check me in for both flights. An agent was very confused, especially when I mentioned I was going to Tokyo for lunch, but verified my COVID-19 test and I received boarding passes for both flights bearing the "Travel Ready" stamp.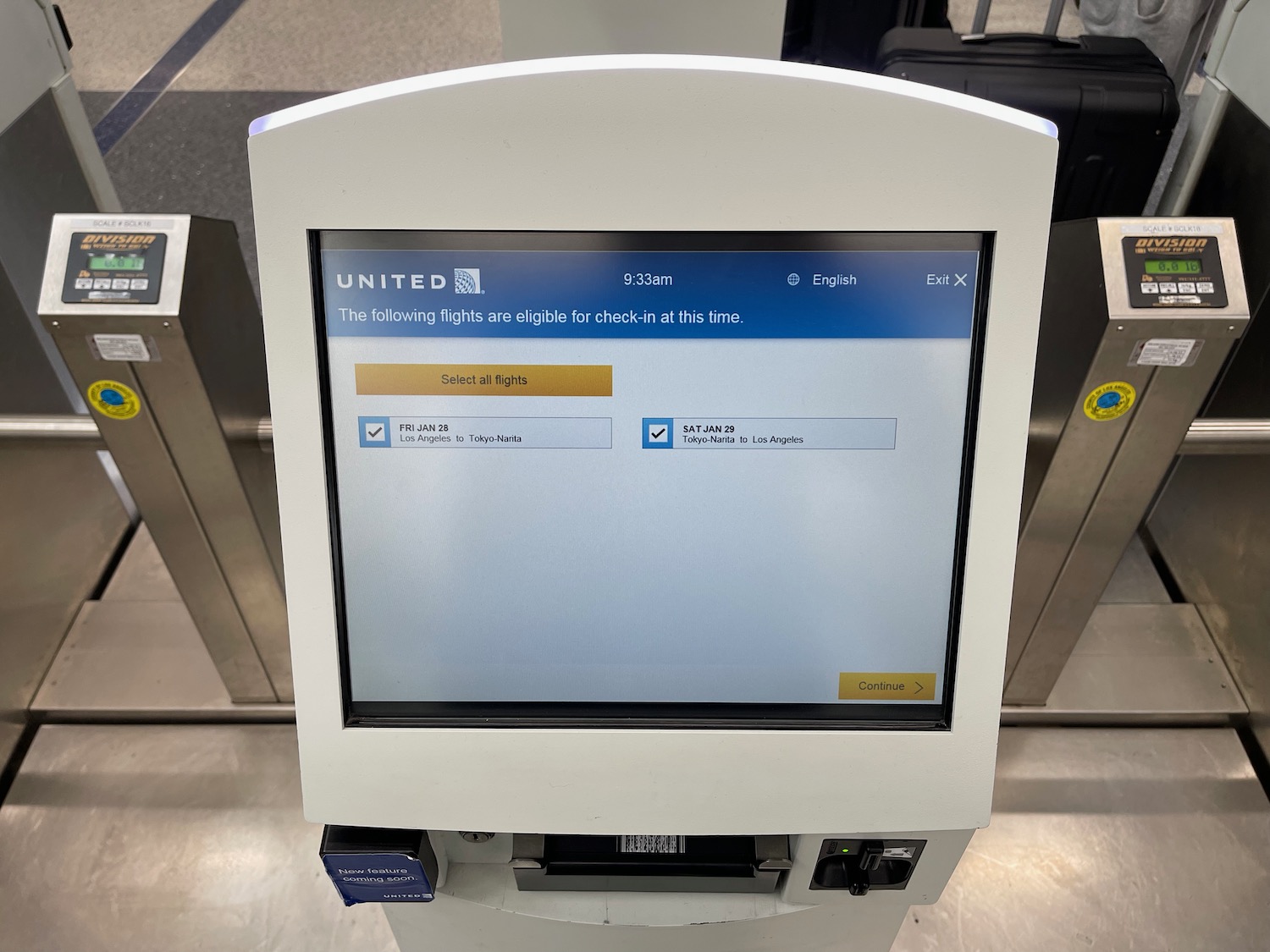 This trip occurred just before the Polaris Lounge at LAX reopened, so I used the United Club before the flight. The food spread in the lounge is now very much like pre-COVID days, with most individually-packaged items swapped for a buffet-style service.
I enjoyed a croissant, bowl of berries, double espresso, and very unhealthy but very delicious egg and sausage sandwich on a buttermilk biscuit.
Boarding began 40 minutes prior to departure at 1o:00AM and with such light loads, I was among the last to board at 10:10AM.
United Airlines 32
Los Angeles (LAX) – Tokyo (NRT)
Friday, January 28
Depart: 10:40AM
Arrive: 03:45PM
Duration: 11hr, 05min
Distance: 5,451 miles
Aircraft: Boeing 787-9
Seat: 7A (Business Class)
Onboard, I found my way to seat and settled in for what I hoped would be a very productive flight.
Seat
United has now retrofitted the majority of its Boeing 787-9 aircraft (all 787-8 aircraft have been retrofitted and all 787-10 were delivered with the latest Polaris seat) and I was glad to get a new seat, even if I would have had an empty seat next to me with the old configuration.
While not as spacious as a reverse herringbone seat, I find the Polaris seats quite comfortable and will always choose an odd-numbered A or K seat, when available, for the extra privacy (these are "true" window seats). Seats are 20.5 inches wide and 6'6″ (198 cm) when fully reclined. The 789-9 has 48 seats, including eight rows in the forward cabin and four rows in a rear mini cabin.
Bedding was provided, including a comforter, throw blanket, cooling gel pillow, and standard pillow. Mattress pads were available upon request. I would not sleep on this flight, though, preferring to get my work done for the next couple days so that I could relax during my layover in Narita and flight back to Los Angeles.
It was a beautiful day for flying.
Amenities
Prior to departure, slippers, pajamas, and an amenity kit were proactively offered. United typically only offers pajamas on flights over 12 hours, but apparently this route qualifies because I was even offered them on my return flight, which was under 10 hours.
I didn't bother to open the amenity kits, the contents of which I've reviewed several times. If I fly United, I won't touch the amenity kit any more, hoping that it can be reused.
Lavatory
The lavatory is a standard Dreamliner lavatory. United adds Sunday Riley hand cream and face mist along with garment groom from Hutchinson-Hume. A warning on the garment groom, though. I tired it out on a stain on my khaki trousers and it made the stain worse…
IFE + Wi-Fi
My primary objective on this flight was to catch up on some email, correspondence, and other work and that required wi-fi. Although wi-fi has been far more reliable lately on United, it's always a gamble. Thankfully, internet was available and worked very well for the entire flight.
The flight pass cost $21.99, though note the odd pricing for two hours versus one hours…
Speeds were fast: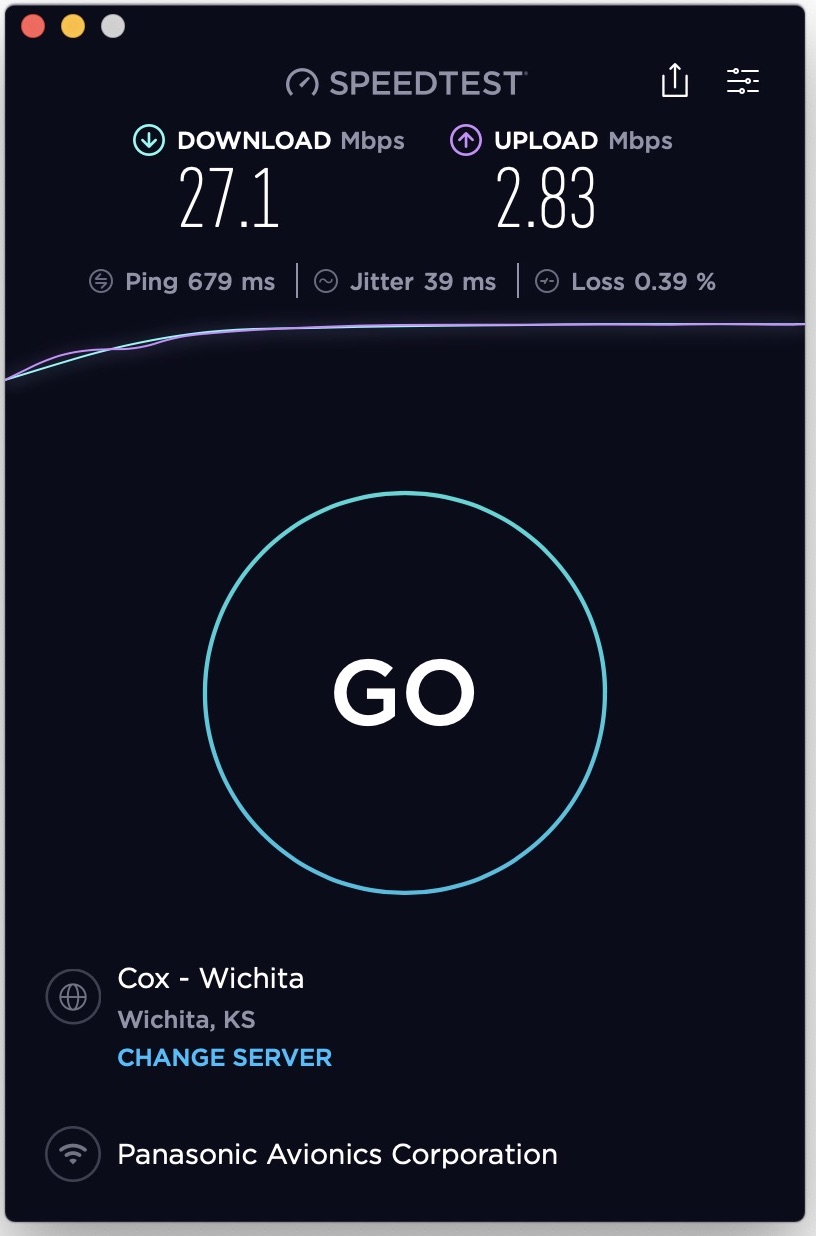 I took one break on the flight to watch Dune, which I thought was a great movie (I have not seen the original one).
A large library of movies and TV shows are available on your seatback screen or on your personal device (download the latest version of the United app prior to takeoff).
I know it sounds cliche for a travel blogger, but my favorite part of the flight was looking out the window. It was a beautiful day out and I thought the coolest part of the flight was when we flew over the Aleutian Islands.
Food + Drink
Lunch was served after takeoff, with choices including beef short ribs, salmon, or cheese ravioli. No menus were printed nor was an online menu available.
First, warmed mixed nuts were offered with choice of beverage. I had a glass of Champagne with lunch, which on today's flight was Ayala (which sells for about $50/bottle). It's a bit too sweet for me, but nice to see real Champagne versus sparkling wine.
The meal was served on a single tray, with salad and bread roll.
While United has restored more pre-pandemic elements to international business class meal service on flights to India and Israel, Japan has not made the cut yet and has such, a modified, one-tray service is presented for the meal service.
There's little defense, at this point, for a single-tray service in business class. It's time for United to bring back appetizers and its dessert choices on all longhaul routes. I think United realizes this too, but is struggling to balance cost concerns. Even so, it is something that must be done, especially as American and Delta offer far more substantial and more nicely presented meals on longhaul flights.
United's new concept on India and Israel flights needs to expand systemwide. But for at least the next month and a half, you can expect something like this onboard.
The good news is that the food is generally pretty good. I found the ravioli, flavored with tomato sauce and pesto and topped with cheese very delicious. I don't usually order pasta and did this to try something different. I'm glad I did.
The salad, with cherry tomatoes, mozzarella balls, and balsamic vinaigrette dressing, was also good, as was the hot pretzel roll.
Vanilla ice cream from economy class was served for dessert and was at least at the proper temperature for eating (sometimes it is hard as a rock and other times melted like soup).
I concluded lunch with coffee.
11 hours is a long time and mid-flight I got hungry. A snack basket was available (and occasionally passed by flight attendants) with snacks like Cheez-Its and potato chips.
A "mezze sampler" (which United sells in economy class on domestic flights) was also available, which included a grain salad, hummus, pita bread, and falafael. It hit the spot.
About an hour before landing, breakfast was served. Interestingly, it was afternoon in Tokyo and evening in Los Angeles, but United always serves breakfast as a pre-arrival meal for flights departing from the USA.
I ordered a kale egg puff pastry, served with a spicy tomato sauce and chicken sausage (the other choice was French Toast). On the tray was yogurt, a hot croissant, and sliced fruit. I switched to decaf coffee (powdered, but still by illy) in hopes of preparing myself to sleep on the return flight.
This is one of my favorite breakfast dishes on United (probably my second favorite to the southwestern omelet) and I don't mind breakfast no matter what time of day.
One other note. The water bottles onboard were from Australia…it made sense when I saw my aircraft had come in from Sydney earlier in the morning.
Service
As you might expect with only eight passengers in a 48-seat cabin, service was attentive and cheerful. I really didn't need much during the flight, but flight attendants checked in often to see if was okay or needed a top-up on my beverage.
CONCLUSION
As we landed at Narita Airport, we taxied past a pair of ANA A380s, which I hope will fly again in the near future. The bottom line is that you will receive far better food and beverage options on ANA or JAL, but I did enjoy the comfortable seat, fast wi-fi, and kind service for my daytime journey to Tokyo.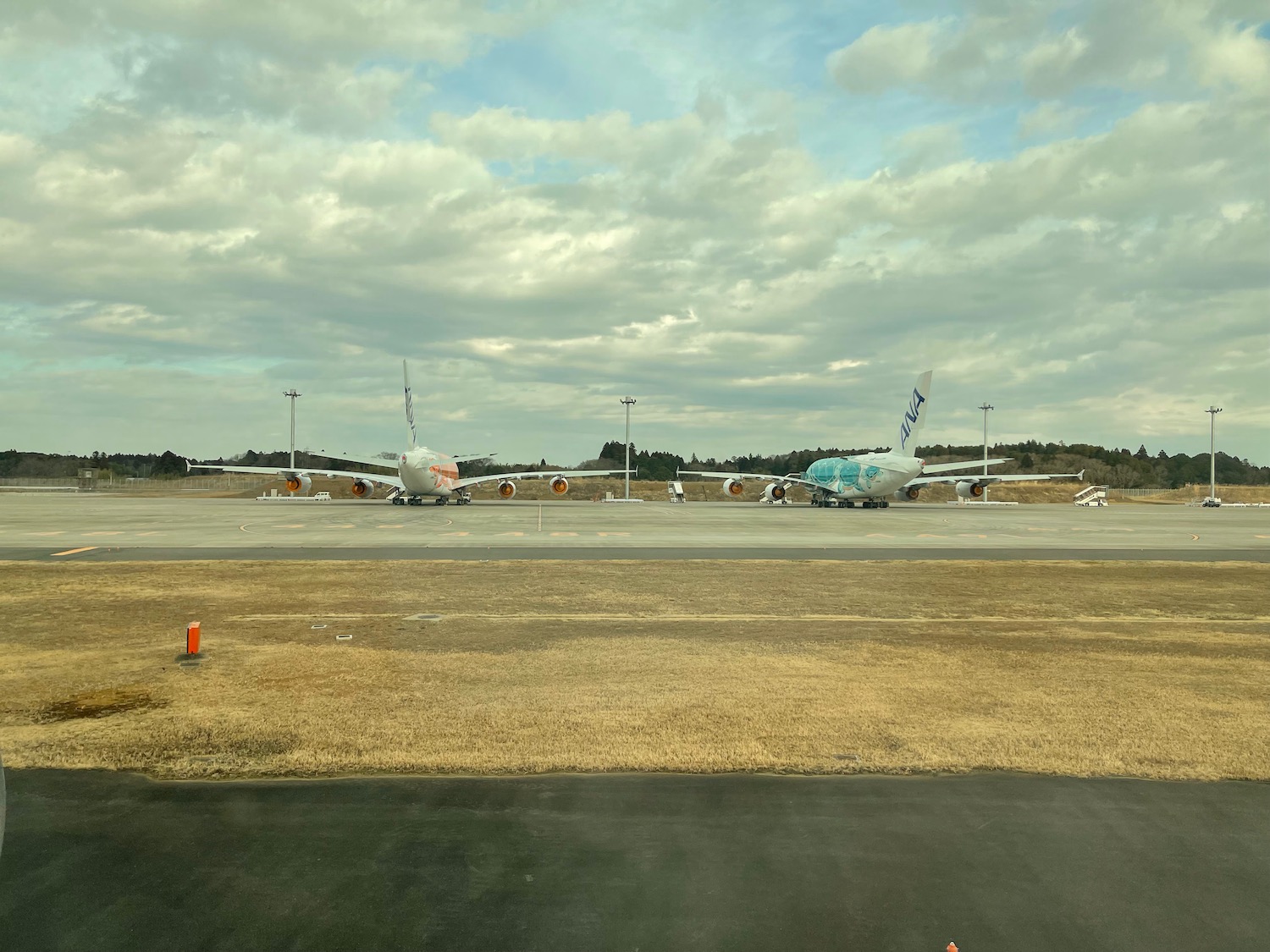 Interestingly, the transit security is gone (at least for now) at NRT. I was able to walk directly into the departures area without a security check. I preceded to the ANA lounge for my layover (the United Club is still closed).
I've said it before and I'll say it again: if United can spruce up the food and beverage menu, it really would offer a leading product: the other elements are already there.