What a difference a remodel makes. The newly renovated United Club in Denver B East is a total transformation from the tired old space and makes United Club access in Denver more valuable than ever.
United Club Denver B East (DEN) Review
I visited this lounge during a recent trip home from Newark, deliberately flying via Denver rather than nonstop just to check out the two United Clubs that have recently opened at United's most profitable hub.
Access + Hours + Location
The lounge is located next to Gate B43 and B44 in the B Concourse. It is open daily from 5:00 am to 9:30 pm.
Access is reserved for United Club members, Chase United Club Visa holders, Star Alliance Gold travelers, and international business or first class passengers traveling on any Star Alliance flight.
Furthermore, one-time passes are accepted (unless the lounge is very crowded). These are distributed to Chase MileagePlus Explorer credit card holders or can be purchased at the door for $59. Note that if you hold a Star Alliance Gold card from United Airlines (Premier Gold or higher), you can only access the lounge when traveling in conjunction with an international itinerary.
Those who have a Star Gold card from other programs can use the lounge when traveling on any Star Alliance flight in any class of service. Also note that from DEN, United does not give premium cabin passengers access on domestic flights without status.
Global Services passengers are also allowed complimentary entrance.
Seating
The old lounge was two stories: you checked in on the lower level and then went upstairs to the lounge. The new lounge is three levels, with check-in still on the concourse level but two floors of lounge space above. It's lovely…and huge. At 35,000 square feet and with 600 seats, this is now the largest lounge in the entire United network.
And it was crowded. I wanted to see what it was like at "peak" time and there were a lot of people in the lounge. And yet unlike in the past where you literally could not find a seat and had to roam around like a game of musical chairs waiting for something to open and then grab it instantly, this time there was sufficient seating for all guests.
As you reach the first second level of the lounge, you will be greeted by three pinecones suspended from the ceiling and a seating area below with the fireplace burning. Look closely: the entryway sculpture made by Will Schlough is inspired by the cones of the Colorado Blue Spruce, but the piece is actually crafted from dozens of skateboards.
On this level, you will find couches, booths, chairs, and a bar running along the window with chairs and great views of the apron below.
Upstairs there is more seating, including my favorite part of the lounge, a row of chairs with ottomans overlooking the apron outside.
Great views:
Power outlets are plentiful and 110-volt, USB-A, and USB-C receptacles.
Food + Drink
A wide variety of food and drinks are available at several stations within the lounge.
Food options included:
Soups
Brasied red cabbage
Macaroni & cheese
Maple-mustard chicken thighs
Red pepper rice
Sautéed mixed vegetables
Sandwiches
Salads

farro, butternut squash, kale salad with maple vinaigrette
citrus fennel, dried cranberries salad with balsamic vinaigrette

Cheese board

Donut hotels
Cookies
Brownies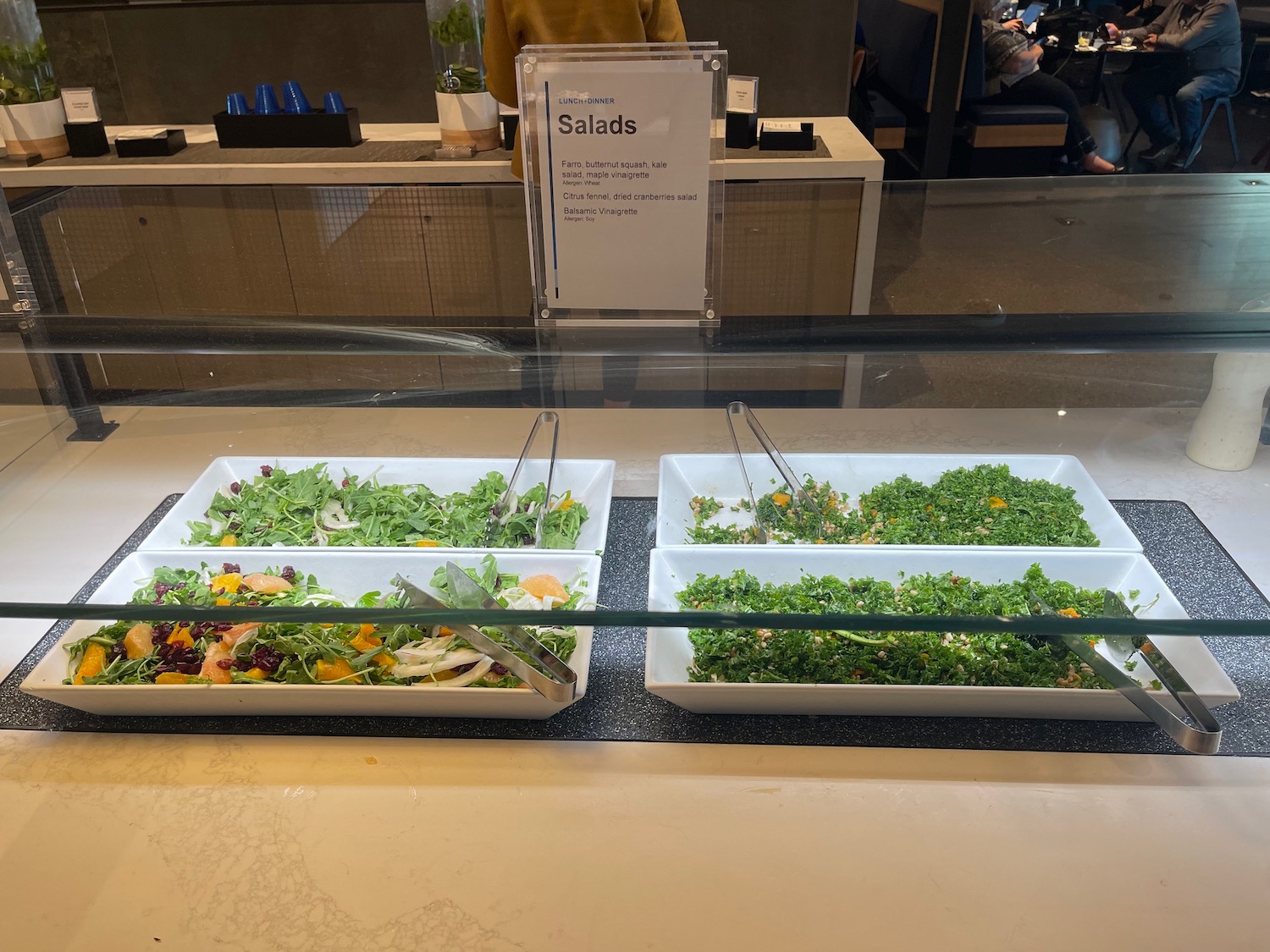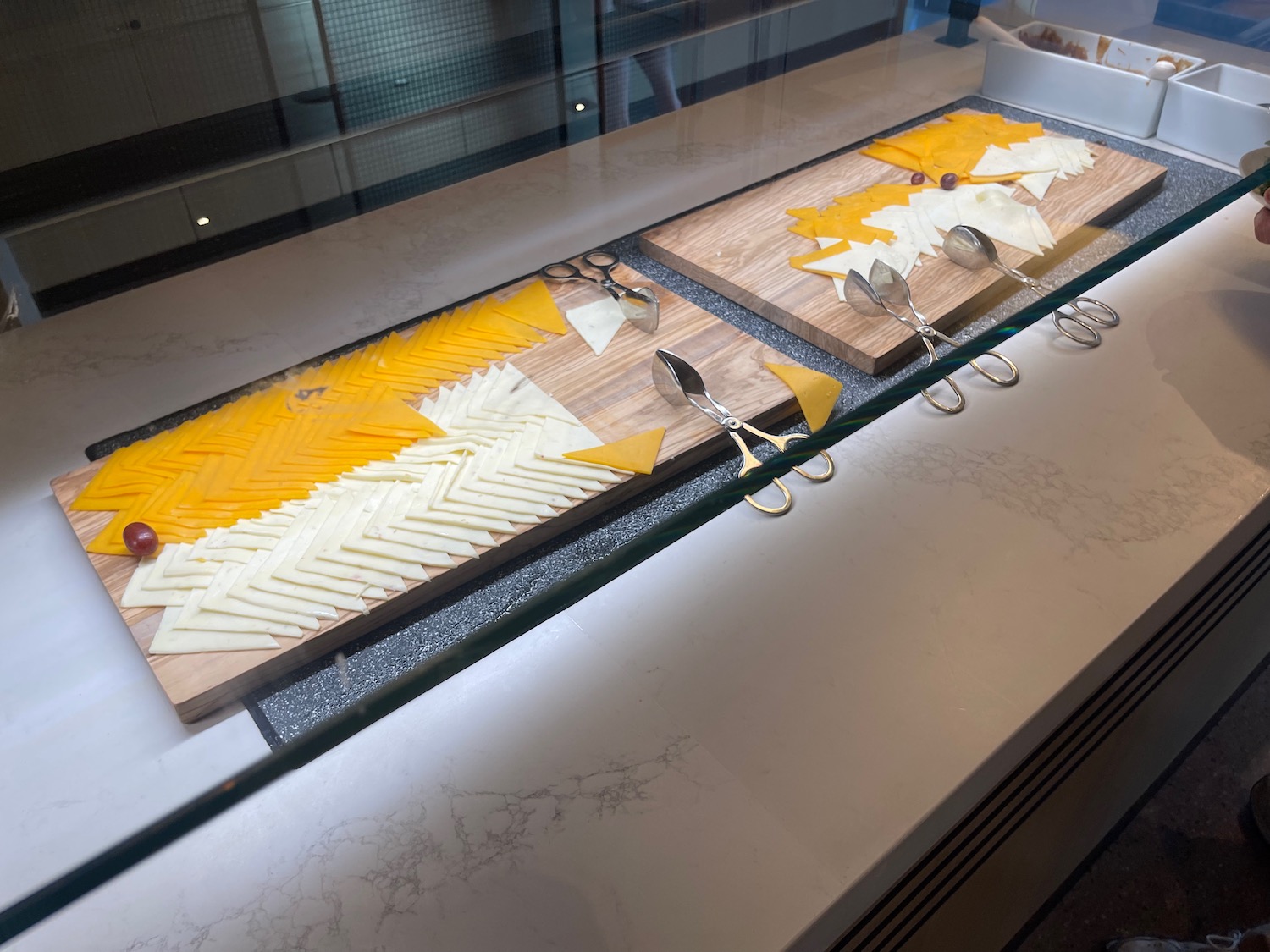 In the sports bar there were pretzel bites (both salty and cinnamon) with a beer cheese sauce and vegetarian green chili.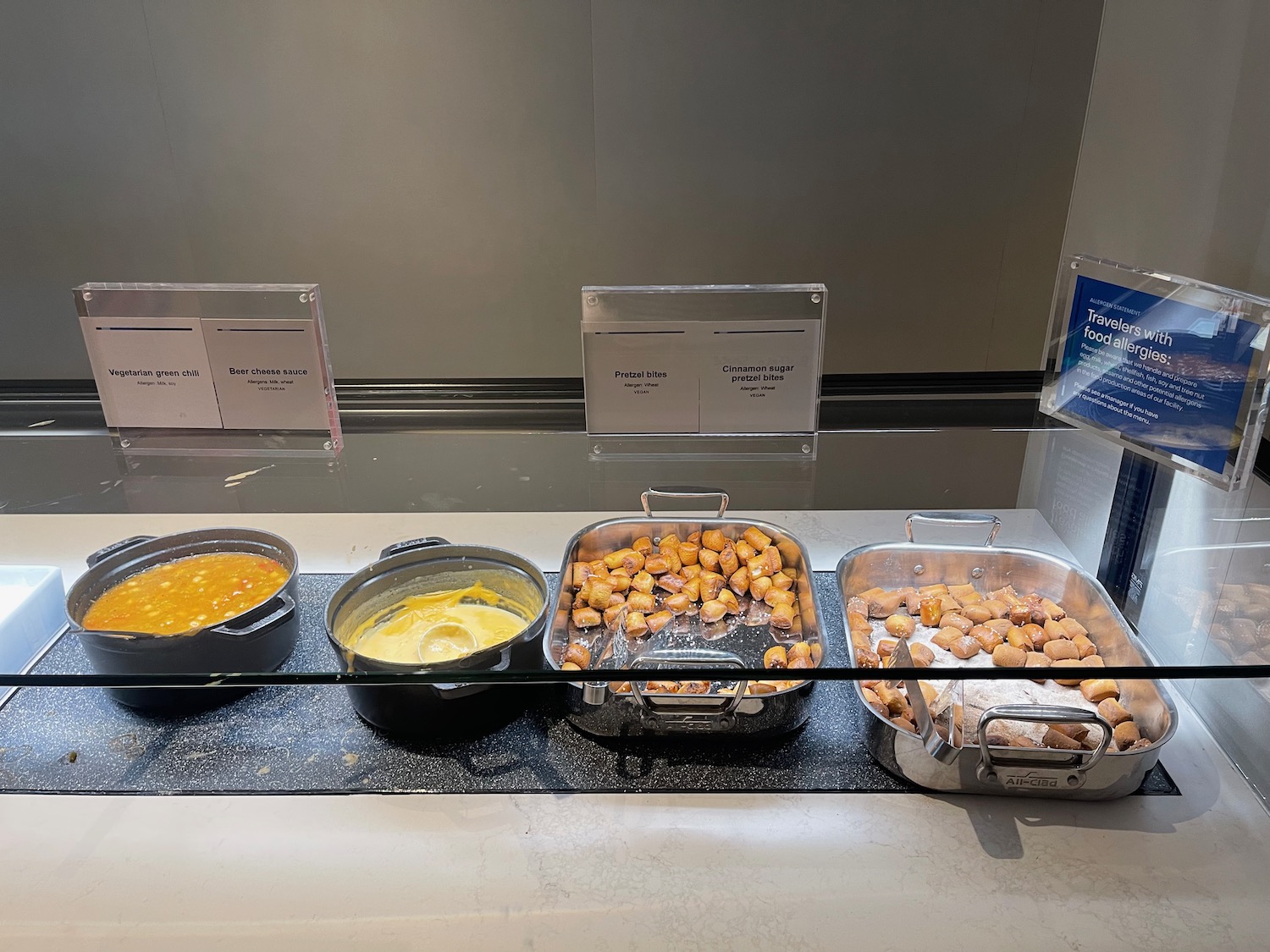 This is the sort of food that is so unhealthy…but I tried a couple. For you, dear readers, of course…
I remember the packaged cheese and crackers, vegetables slices, and apples wrapped in plastic that used to be the extent of the food in this lounge. What a positive change.
The lounge has two bars, with the lower level bar having a sports theme (with beer from Colorado breweries including New Belgium, Great Divide, Denver Beer Company, and Upslope) and the upper level bar resembling a ski lodge.
There are also several stations with Coke Freestyle machines, espresso machines, and filter coffee, tea, water, and juice available.
Restrooms
Restrooms are located on both floors and quite spacious, with both larger gendered restrooms and a number of individual unisex private restrooms.
There's a nursing room as well (United calls it a wellness room), but no showers.
Flight Help
Rather than one central desk in the center like the old lounge, there are agents seated in separate workstations located throughout the lounge.
One of the most valuable benefits of lounge access is help during irregular operations. While United continues to push people to use its app to make flight changes or virtually connect with an agent, there are still agents in the lounge who can help.
CONCLUSION
United has done a tremendous job in transforming Denver's B East Lounge into a spacious and inviting place with upgraded food and drink, plenty of unique artwork, and most importantly immense additional real estate to work or relax. Denver's United Club B East has gone from my least favorite to one of my favorites in the system.