For a one-night stay before my early flight out of CDG, the Hyatt Place Paris Charles De Gaulle Airport worked out very well as a comfortable an inexpensive option.
Hyatt Place Paris Charles De Gaulle Airport Review
Booking
I saved a significant amount of money by booking a long overnight in Paris, even when factoring in the cost of the hotel plus the Uber rides back and forth. Sure, I could have saved some money and time by spending a night at the Ibis, but it is going to be a struggle to re-qualify for my Hyatt Globalist status this year, so I take every chance I can get to stay at a Hyatt. My room rate was $85. This is a Category 2 hotel, so had I used points, 7,500 would have been required.
Shuttle
From Terminal 2F, an Uber arrived within four minutes. The 10-minute journey to the hotel cost about 17EUR. There is a shuttle bus that runs during very limited hours (only between the hours of 7:00AM to 10:30AM and from 6:00PM to 8:30PM. The meeting point is on Platform 2 at Level 5 of the train station in Terminal 2 of CDG Airport) for a cost of 3€ each way.
Check-In
When checking in, I was asked for my French vaccine pass, which I did not have but my electronic vaccination record was sufficient (and my understanding is that France no longer requires a vaccine check anyway). I was assigned to room 106.
Guest Room
The room smelled brand new…like an Ikea. It was clean, quiet, and internet was fast. Like many Hyatt Place properties, there was a large couch which could have served as an extra bed.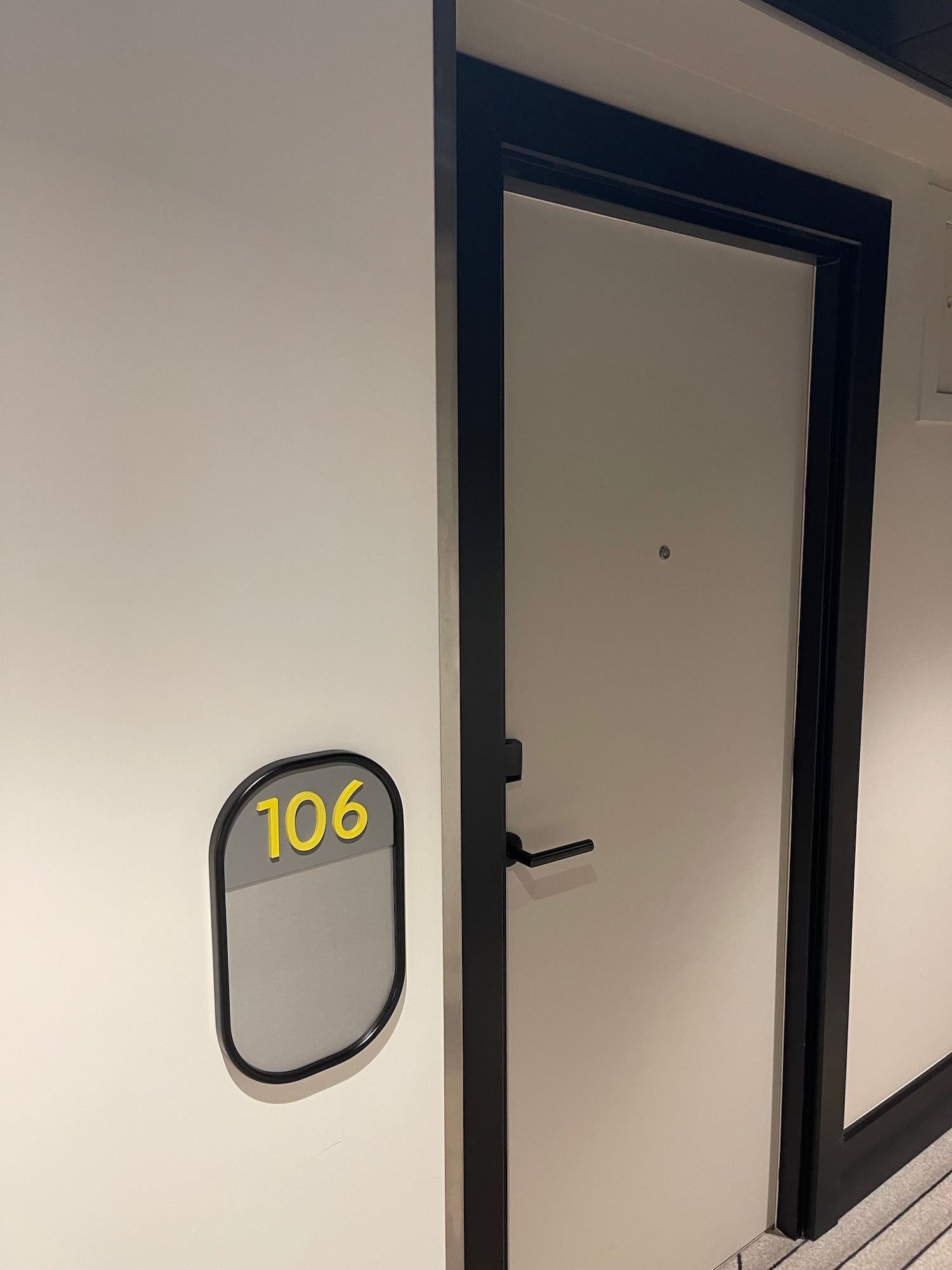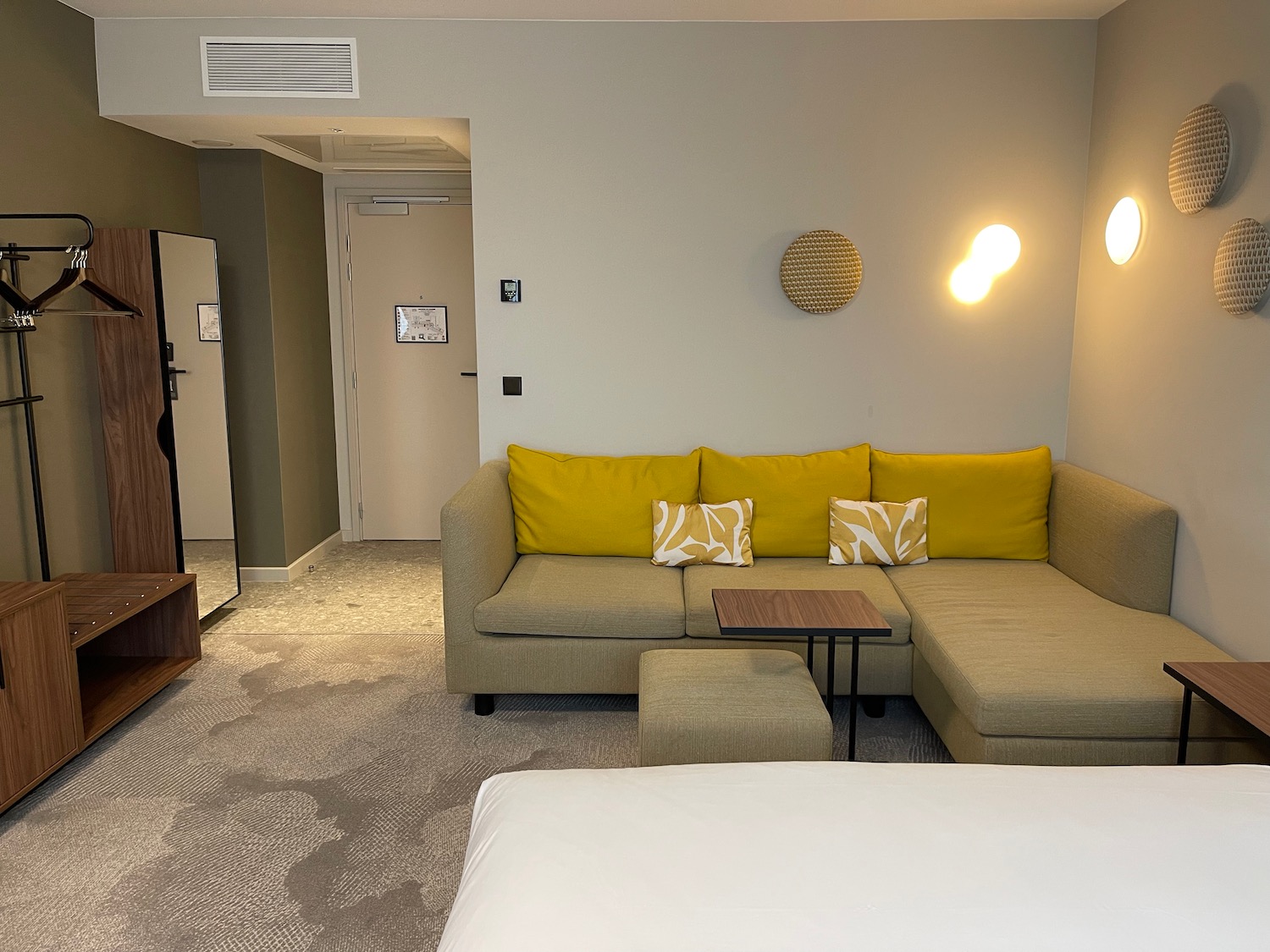 The room included a hot water kettle and a refrigerator which contained two bottles of still water.
Rather than a closet, there was a stand with a pair of hangers…this seems to be the new trend. An iron and ironing board were in a closet.
Power ports and USB A ports were available near the desk and adjacent to the bed.
My view out the window was of the parking lot below.
Individual amenities were placed in the restroom. There was a shower, but no bathtub.
Fitness Center
A 24/7 fitness center is located on the lobby level. During my visit, a special key card from the front desk was required to access it (also to access the pool). The gym included thee treadmills, two ellipticals, two bikes, free weights, medicine balls, and an all-in-one resistance machine.
Pool
The indoor pool was small but warm and large enough to swim laps. The changing room included lockers, restrooms, and a shower.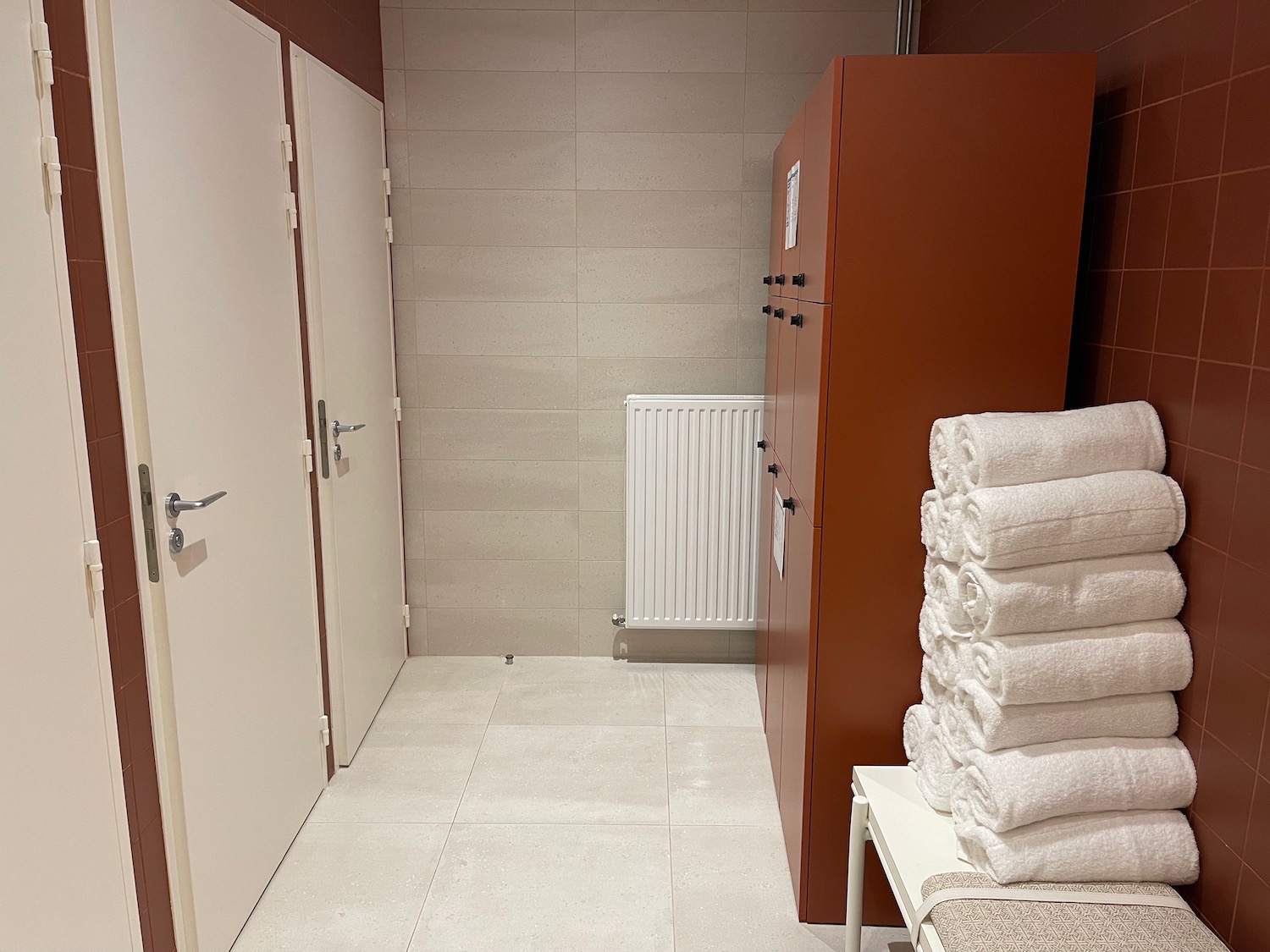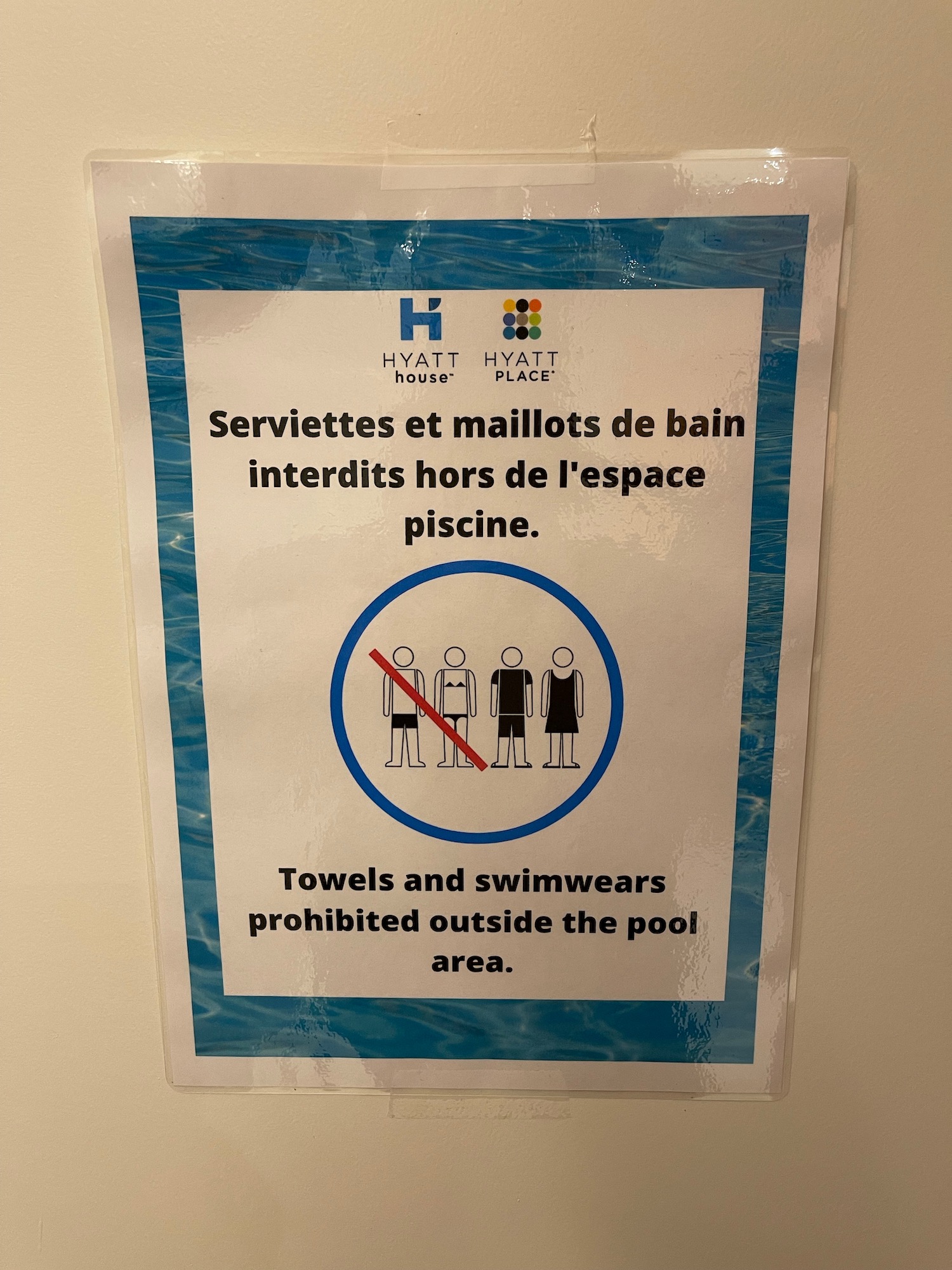 Dining
The hotel has a market which offered comfort food and French specialties like baguettes, cheese, wine, and comfort food like candy, chips, and instant soup.
Behind the check-in desk, Zoom Bar & Lounge offered a menu of light bites and drinks. I was going to order something from UberEats and have it sent up to the room, but decided to go downstairs for a Caesar salad at Zoom–it was edible and my first time ever eating anchovies.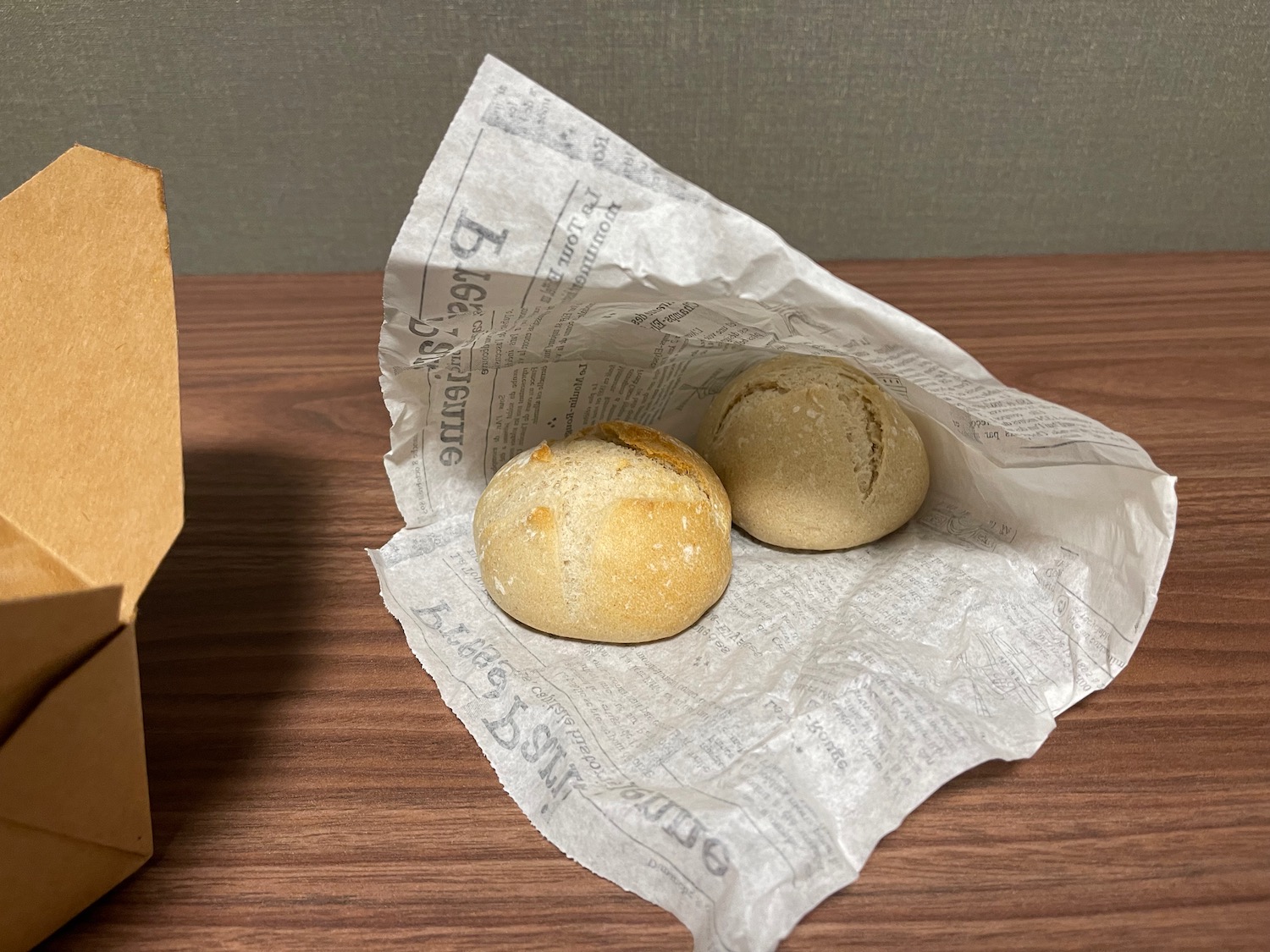 Zoom Restaurant was closed, but is now open again. This is also where breakfast is served. Unfortunately, I left the hotel at 5:30AM and therefore was unable to take part in breakfast.
Business Center
Business centers seem so quaint, but came in quite handy when I had to print out my Tunisian arrivals form and COVID-19 test.
Hyatt House
The hotel is connected to a Hyatt House, which offers rooms with kitchens and is intended for longer stays.
Location
Finally, let me know you really are trapped here. There's nothing nearby within walking distance…so come prepared. Parking is 12€/day and there is electric car charging available.
CONCLUSION
This hotel served its purpose well for my brief overnight layover in Paris. While it is always sad to visit Paris without visiting Central Paris, if you're not in the mood to go into the city during your layover or wish to get close to the airport the night before your flight, this hotel is a good choice.