While the Alila Marea Beach Resort Encinitas represents a great value for Hyatt loyalists and offers many attractive amenities, my stay at this beachside hotel will likely be my one and only.
Alila Marea Beach Resort Encinitas Review
I was very excited to try this hotel, which opened in 2021 and is part of a hotel brand that also includes the superb Alila Ventana Big Sur in California, a hotel my wife Heidi and I both love. Heidi gave me the perfect excuse to book a night here: she had an appointment in Encinitas just a couple miles down the road from the hotel. We debated whether to make it a date night or bring the kids along, but decided to bring the kids because of the pool and beach location.
Booking
This hotel is not cheap…a base room was running $650 for our Friday night stay. I could have used a confirmed suite upgrade to confirm us into a suite, as my two children would be coming along, but decided to roll my dice with a complimentary elite upgrade since we were only staying for one night.
This hotel is currently a Category 6 property in the World of Hyatt program, meaning a free night ranges from 21,000 (off-peak) to 29,000 (peak) points per night. On March 22, 2022, it will move to a Category 7, topping out at 35,000 points per night. Our stay, in February 2022, was during a standard period, which cost 25,000 points per night. We felt that was a great value, considering it included $52 valet parking (with complimentary electric charging).
As a Hyatt Globalist, my $50 resort fee was also waived and I received free breakfast for my entire family.
Check-In
We left Los Angeles after my son Augustine finished kindergarten for the day and arrived around 4:00pm. The hotel is off of I-5, about a mile down the road at the intersection of La Costa Avenue and US-101. The hotel is not secluded down a long driveway, but directly off of the street.
A valet took my car and also gave me a claim ticket for our bags in the trunk.
Inside, I was warmly greeted by a host named Kevin, who welcomed me to the property and quickly checked me in. He also informed me I had been upgraded to a king bed studio suite with a coastline View and a fire pit, which was going for $852/night.
The lobby is small, with a few chairs and the check-in desk, where I was invited to sit down to check-in. Our room, 135, was located on the first level (one floor up from lobby) and down a long hallway. We noticed the gym was located directly across from our room. More on that in a bit…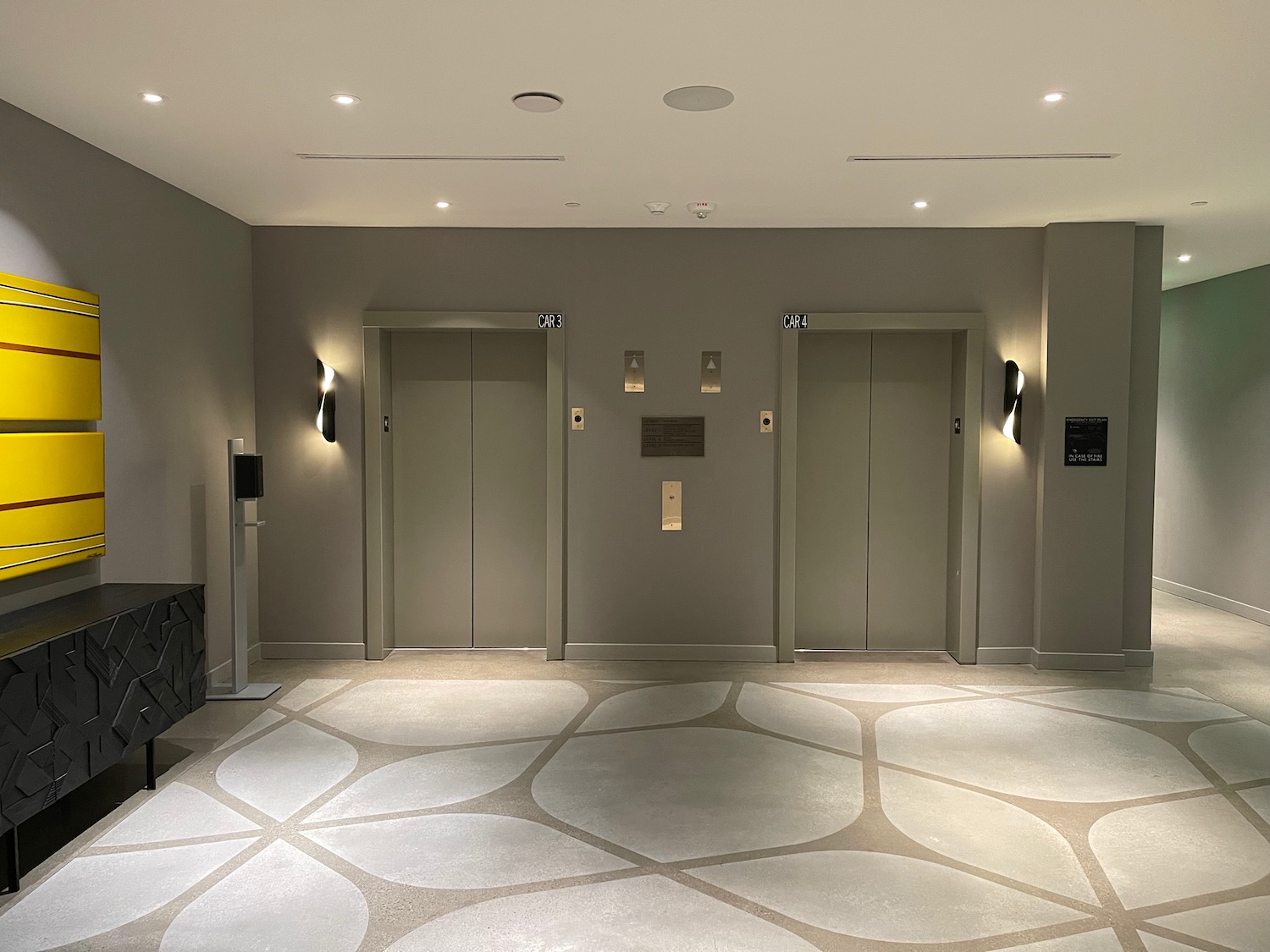 Guest Room
Even though we did not have a suite, the room was large, with a very comfortable bed in the center, a couch in front of the bed, another couch on the side of the bed, and a round table with chairs in the corner.
The bathroom was huge, with a full-size bathtub, walk-in shower big enough for a party, and even a separate "powder" area.
Toiletries were from VOTARY and I really liked the rosemary and chia scent (plus the unique toothpaste-like tubes).
Other toiletries like mouthwash and dental kits were proactively provided:
But perhaps the highlight of the room was the lovely terrace outside, which included a U-shaped couch (also big enough for a party) and a fire pit. 
While we could see the ocean from the room, we could also look over into our neighbors patio and our primary view was of the parking lot below.
Of course the terrace was a bit of a danger for little Claire Marie, who loves to climb.
A couple of other things I liked. There was a nice Nespresso coffee machine that we took full advantage of and I liked the cups in the room (not the Nespresso espresso cups, but the larger coffee cups). Plus, there was a Fellow Stagg hot water kettle, the same one we have at home.
In addition to coffee, a selection of tea was available.
Water was in cans rather than bottles.
Other than two cans of hard seltzer made in nearby San Diego, the refrigerator was empty.
Two robes were in the closet and I did use one when we went swimming.
Overall, I was really pleased with the room itself and thankful for the upgrade.
Fitness Center
Directly across from our room was the hotel's 24/7 fitness center, which features an excellent selection of equipment from TechnoGym as well as medicine balls, kettle bells, and even a couple Peloton bikes.
My wife and I enjoyed a good workout…and so did another guest at 5:00am in the morning. We were jolted awake by a tremendous thud on the ground. Seconds later we heard it again. At first I had no idea what it was, then it dawned on me that some dude was heavy lifting in there.
That's a real problem because I could not get back to sleep and two walls and a hallway did little to keep the noise out. It thankfully continued for only 10 minutes, but the damage was done in terms of my beauty sleep.
Pool
The pool is on the small side, also located on the first floor down the hall from my room and the fitness center, but the jacuzzi is large. Kids love pools and Augustine was so excited to jump right in. We ended up going in that night, again in the morning, and once more in the afternoon before we left.
I chucked at the picture below: you can see a house directly adjacent to the property. Can you imagine having a luxury hotel pool built on your property line? 
Cabanas were available for rent while seating around a fire pit or on beach chairs could be claimed on a first-come, first-served basis.
Beach
Beyond the pool is a walkway straddling the property line along with an access point to the beach. Beaches are public in California, though I did not see many people availing themselves to the beach during my stay.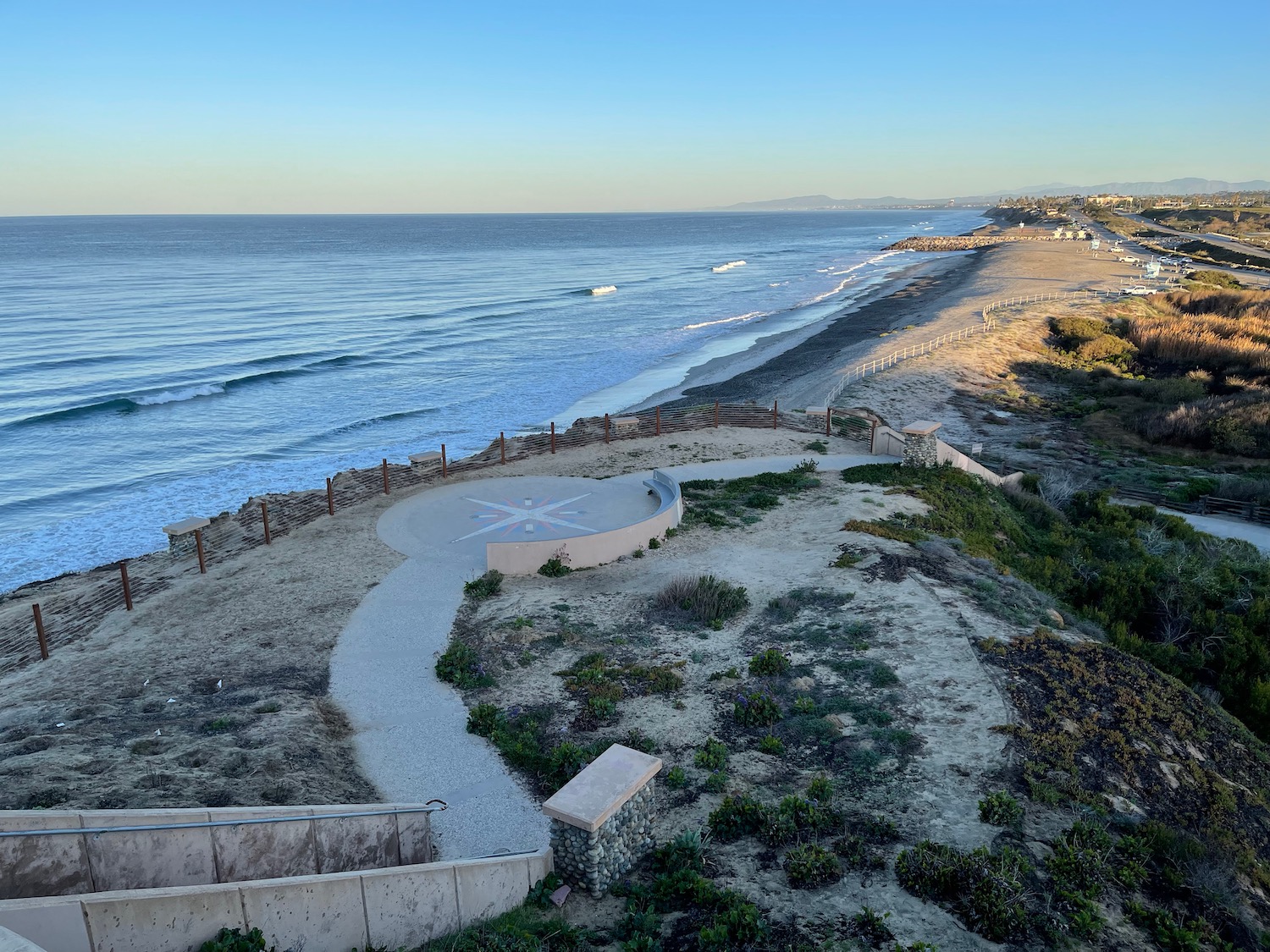 Vaga Restaurant
Vaga Bar
I met an Award Expert client for a meeting at the hotel bar to discuss his travel plans for the year and we enjoyed a nice chat while watching the sunset and sipping a cocktail. The bar became very busy at 5:00pm.
Here's the full menu for the bar: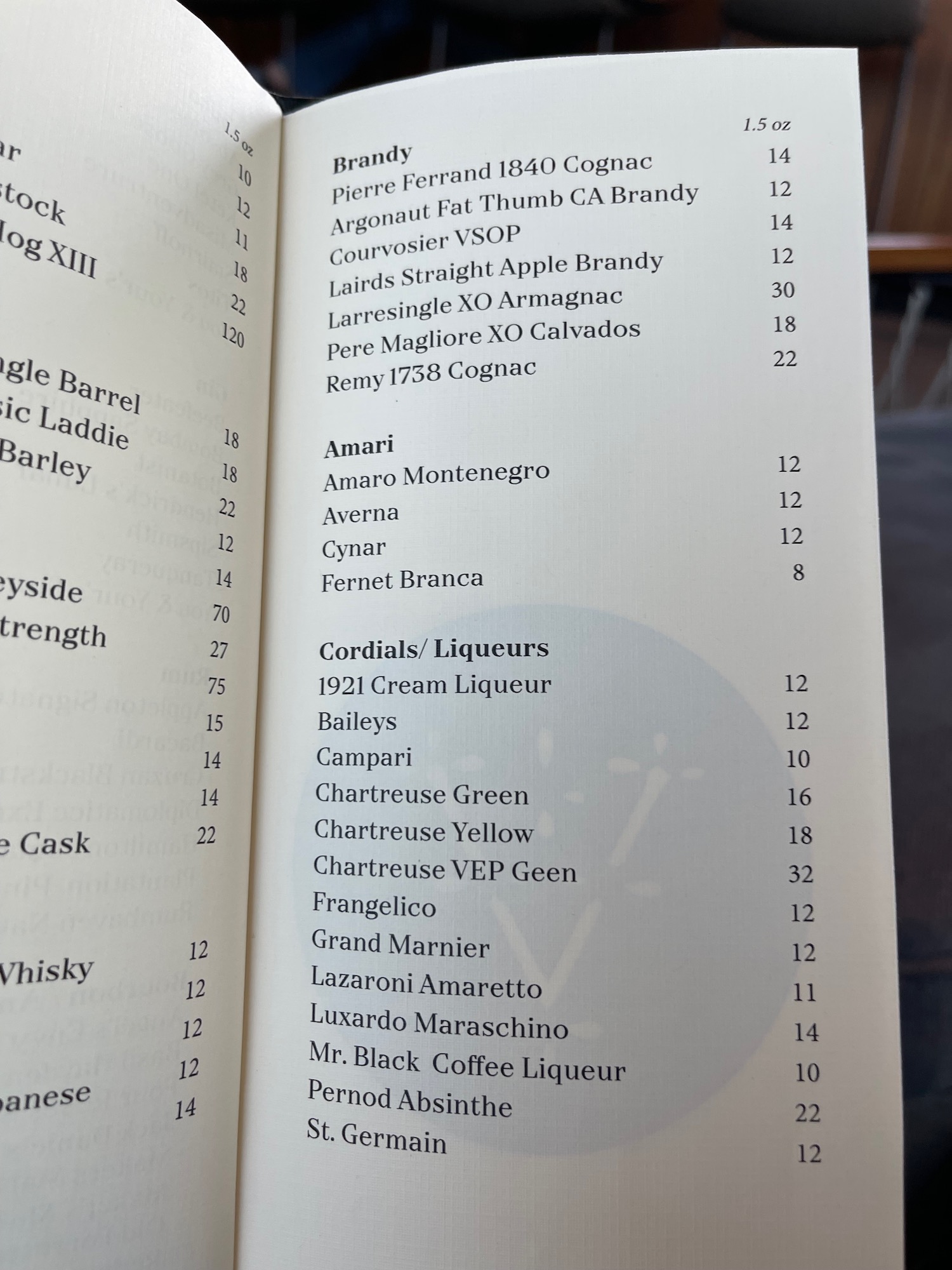 I ordered a Sunday Namaste, with gin, basil, fennel, lemon, and grapefruit but was disappointed by it: I didn't see or taste the basil and it seemed to be garnished with dill rather than fennel.
However, the sunset was beautiful:
Dinner At Vaga
Later on, my family had dinner at Vega, which everyone I spoke to about this property raved about. The concept is interesting here: a fusion between Mexican and Indian food (at least that was my take). The chef is Claudette Zepeda, a local.
The dinner menu:
We ordered bread to start as well as some crispy roots and a mushroom & tuna tostada. Both appetizers were unremarkable and I was particularly unhappy wit the "crispy roots" which was predominantly potatoes. $16 for a small bowl of potatoes? Beautiful presentation, though.
The tostada was tasty, but once again a few bites for $20…I don't mind splurging once in a while for a nice dinner, but it wasn't worthwhile.
For our main courses, the kids split a smoked half chicken, Heidi ordered sea bass, and I ordered a lamb shank.
We really enjoyed the main courses and the food truly was unique. My lamb shank, for example, had pasilla curry (a strong Indian flavor) with vaquita beans (a strong Mexican flavor). One balanced the other nicely, making for a tasty juxtaposition of flavors. 
Heidi's sea bass was also very tasty and the kid's smoked chicken had a very rich flavor with a nice sweet potato slaw (and looked more like duck than chicken). Unlike the small appetizer portions, the portions were very large and filling.
This is not a concept I would ever care to re-create at home, but I appreciated the effort and creativeness. It was a fun dinner.
Breakfast At Vaga
We returned to Vega for breakfast around 8:30am and encountered no wait for a table.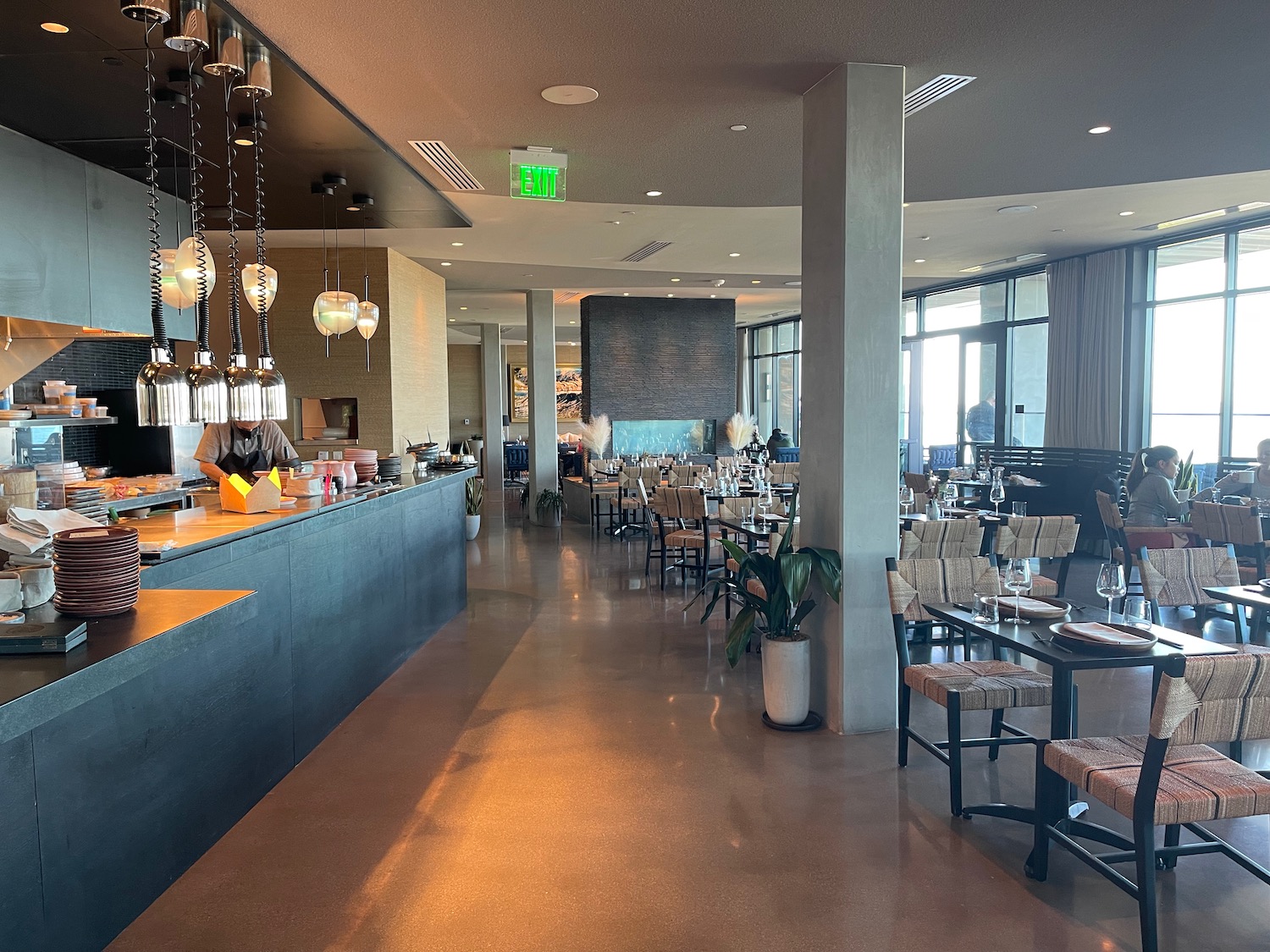 The breakfast menu:
And here's my first major gripe about the property. 
It wasn't the lack of fresh orange juice (though there's no excuse for that either).
I ordered a cappuccino right away and was told that the espresso machine was broken.
Hmm, okay…that happens. Knowing there was a coffee shop downstairs, I asked if they could send one up from there.
Nope. Not possible.
"I'm sorry sir, we can't do that."
Oh, the poor little millennial did not get his espresso. Cue the violin the size of a coffee tamper.
If you're even a semi-frequent reader of the blog, you know how important coffee is to me. It's one of the small joys of life that is very important to my daily life.
And when I stay in a hotel room that runs $852/night, I believe I reasonably expect a cappuccino or flat white with breakfast, especially when it is available on the premises.
I had to make do with black coffee, which wasn't horrible…but certainly not the same.
Perhaps I was influenced by the (lack of) coffee, but the only thing I really enjoyed from breakfast was the tres leches French Toast, which was perfectly topped with whipped cream, poached pears, and a cinnamon glaze.
We also ordered the shakshuka, which is generally one of my favorite breakfast dishes, but I found tomatoes far too acidic and the herbs had a garam masala flavor that overpowered everything.
The kids ordered bacons and eggs a la carte and the fruit plate was very nice.
We racked up a $126 bill, but it was taken off completely when we checked out. We were never informed of the hotel's specific breakfast policy, but apparently some Globalist members have been told breakfast includes one drink, one main course, and one side.
Coffee Box
I did make it to Coffee Box, which is hip little coffee shops that sells biking attire and equipment as well. 
Bless her heart, the young barista had no idea how to steam milk let alone create latte art. She was really nice and the coffee, from nearby Lofty Coffee, was very good.
So while my flat white—
and cappuccino—
lacked an artistic flare, the superb coffee made up for it.
The good coffee here made me even more disappointed the Vaga staff could not find a way to get me some espresso with breakfast.
The Pocket
There's a small restaurant called The Pocket adjacent to the pool that we did not eat at. It is open daily from 12:00pm to 5:00pm for food, with drinks available until 7:00pm. Menu here.
Bike Rental
Free bike rentals are available (to be precise, are included in the resort fee) and Heidi rented one to go to her appointment. It reminded her of Germany and she loved biking down the beautiful California coast.
Alila Spa
Ok, last point. Another gripe. Stick with me here. 
You can review the spa menu here. Massages are expensive. Look, I know I'm cheap, but even if I was fabulously wealthy I would not drop $200+ on a massage. No way.
The hotel has a nice sauna. Really nice. Every day at home I use the sauna (in my gym) and it is a critical part of my day. Here, I asked to use it and was denied.
Okay, I don't mind paying for it. How about a guest pass? 
Nope.
Why not? 
It's too crowded. If you want to use it, you have to book a treatment. 
So space isn't really the problem, I just have to book a treatment?
Yep.
To be clear, the hotel was very polite about it. We corresponded via text and they were gracious albeit firm in their denial:
I sincerely apologize for the inconvenience; However, our spa only allows those who have a treatment booked that day to utilize the locker rooms and spa. It is also nearly completely booked today. Please advise if there is anything else we may do for you as we remain at your service. Thank you for you patience with us.
I certainly cannot fault the hotel for being impolite: they were exceedingly professional. Still, not having access to the sauna is a deal-breaker for me…I won't return to the hotel unless I can pre-arrange access.
CONCLUSION
There's so much to like about this hotel and I hope you found my review helpful in understanding the property and its amenities. While a sauna or espresso may mean nothing to you, those two things are critical to me, especially when I stay at a hotel that costs upwards of $600/night for a base room and is on the cusp of becoming a Category 7 hotel in the World of Hyatt program. 
I hope the hotel will read this review and take my constructive criticism to heart. This isn't a Hyatt Place or a Hampton Inn, it's a luxury hotel. The hotel does so much right—but it can do even better.