For many years I've flown between New York and Washington, but recently decided to take Amtrak instead and splurged for Acela First Class. I'm glad that I did.
Amtrak Acela First Class Review
The door-to-door journey time might not beat an airplane (depends on where you are and where you need to go), but it was a highly productive and enjoyable three-hour journey from New York to Washington onboard Amtrak.
Booking
I booked my ticket for $121 in business class two days prior to departure. I had booked the same train for $203 the night before but was able to take advantage of Amtrak's 24-hour courtesy cancellation period to cancel and rebook. Pricing on Amtrak trains is dynamic and changes by the minute, it seems. In the past, Amtrak trains seemed to get progressively more expensive as the travel date approached and inventory was sold. That is not the case any longer – I find pricing is much more like an airline (and of course, former Delta CEO Richard Anderson, who ran Amtrak from 2017-2020, helped to implement this change).
Once confirmed, I placed a $111 bid for an upgrade to first class, which was just above the $99 minimum bid amount. I was cleared into first class about 2.5 hours prior to departure. I'll outline the Amtrak upgrade bidding system in a separate post.
Is Acela Worthwhile?
Taking the "high-speed" Acela train from New York to Washington is more of a novelty than a time-saver. Yes, it saves about 25-35 minutes versus a regional train, but calling it a high-speed train is a bit of a misnomer because the tracks and infrastructure prohibit Amtrak from reaching peak speeds for much of the journey.
For first class passengers, I do think the Acela splurge is worthwhile. However, if I was just traveling in business class (called coach on the regional trains), I likely would just stick to a regional train, where tickets can be half the price of Acela.
Moynihan Train Hall
Amtrak and the City of New York did a beautiful job on the Moynihan Train Hall, which sits adjacent to New York Penn Station. It is a train station worthy of Western Europe and a great testament to the promise of rail in the Northeast Corridor, where it actually makes sense versus driving and flying.
Boarding
After spending an hour in the Metropolitan Lounge (access was included with my first class ticket), I got a bit lost boarding the train. It is my understanding you can take an elevator directly down to the tracks, but I ended up on the escalator outside the upper-floor entrance and found myself wandering around looking for the tracks. I finally found them…rookie error.
While I usually line up early to board airplanes in order to get unobstructed cabin photos, my Acela train originated in Boston and so I figured there would already be people onboard and I'd just want to get some pictures when I arrived into Washington Union Station.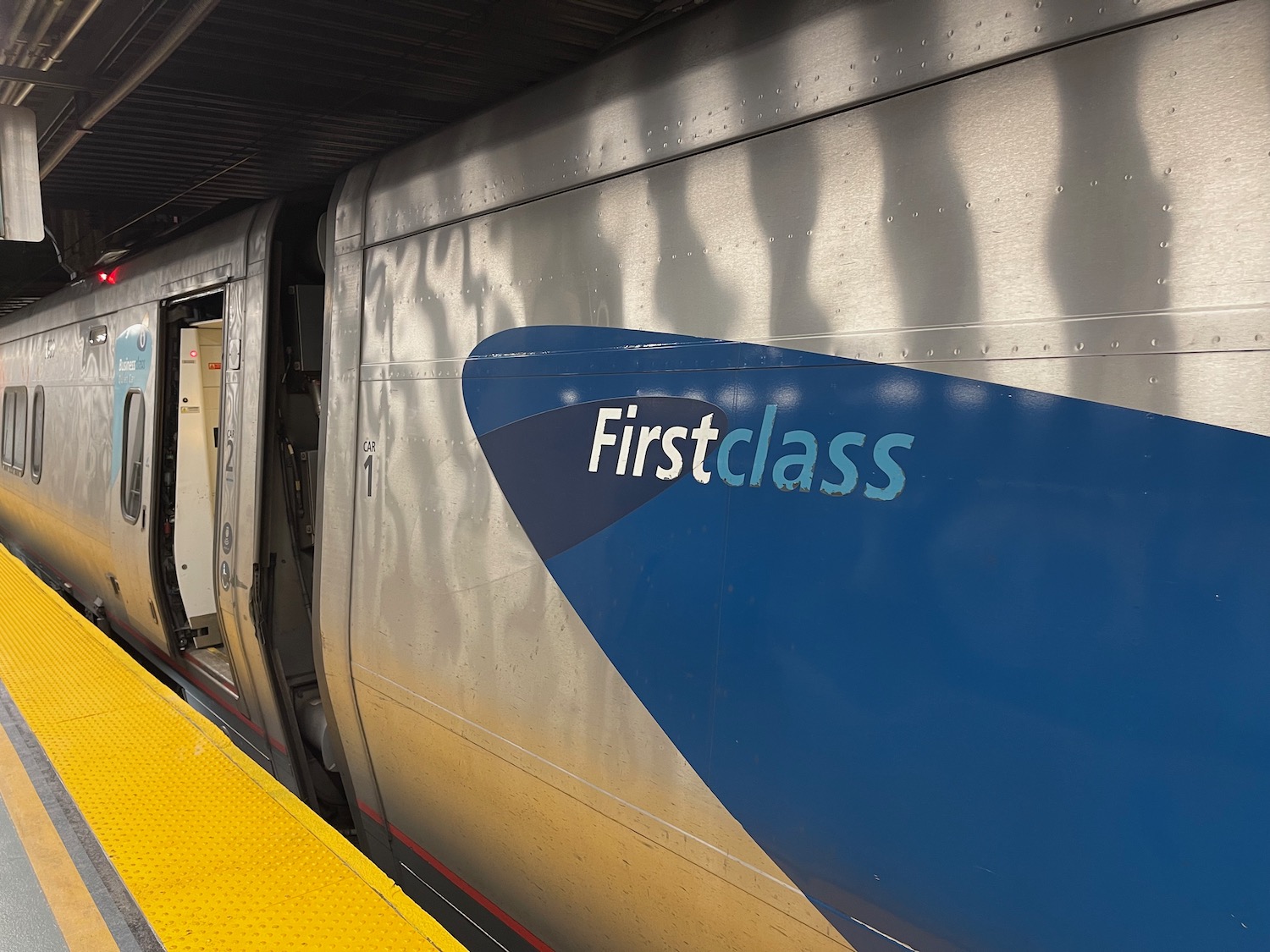 Amtrak 2155
New York (NYP) – Washington (WAS)
Saturday, August 27
Depart: 11:00 AM
Arrive: 1:56 PM
Duration: 02 hr, 56 min
Distance: 233 miles
Seat: 15F (First Class)
The seven-car train includes five business class cars, a cafe car, and a first class car. I entered through the "back door" (via the cafe car) and was admonished to go around since, "You cannot walk through the galley." The first class car has a dedicated galley on the end closest to the cafe car.
Seats
First Class seating on the Amtrak Acela is in a 1-2 configuration, with many seats facing each other with a table in between. Seats can be pre-assigned on the Amtrak app and can be changed at any time, even once onboard.
Each first class car (and my train only had one such car) has 45 seats and includes:
adjustable headrests
lumbar support
footrests
individual outlets
Over the next few years, Amtrak will acquire a next-generation Acela train, but seating will be similar.
I chose 10A, a rear-facing seat, but moved to 15F onboard which gave me more room to stretch out.
My three-hour journey was very productive and I found the seats perfectly comfortable for getting work done. Power outlets are easily within reach wherever you are seated.
Views out the window are not bad either:
Food + Drink
Moments after boarding, I was offered a menu, mixed nuts, and a choice of beverage. My train, departing at 11:00 am, featured a lunch service. All drinks, including alcohol, are complimentary.
Looking over the menu, I chose the Korean-inspired "Chicken Bulgogi" dish. This was a mistake.
Lunch was served promptly (within five minutes) and regrettably, the chicken was gristly, the rice hard, and the bulgogi sauce far too sweet.
I gingerly asked if it might be possible to switch to the pasta dish (baked spinach ricotta rotolo) and was obliged. This dish was far better and quite delicious. I love the artichokes and the fresh basil.
Throughout the journey, the conductors offered beverage refills and more mixed nuts.
Prior to our arrival in Washington, a hot towel was offered.
Service
I found the two conductors working the first class cabin a bit gruff ("You want lunch?"), but not in a bad way. They were efficient and quite proactive in providing service. In-seat service differentiates business class from first class on Acela and I liked not having to get up and walk to the café car in order to eat.
Note, it is customary to tip these train attendants.
Lavatory
My only complaint about the journey was the lavatory, which was quite messy when I used it just past Wilmington, Delaware. I don't know if the Amtrak employees are supposed to keep it clean, but the passengers certainly did not.
CONCLUSION
We arrived at Washington Union Station on time and I retreated to the lounge for a bit before heading out to Virginia to visit my friends. I would not hesitate to take Amtrak again, though I am not sure the upgrade to first class is worthwhile if the train is not running full. That said, I enjoyed the splurge and note that Amtrak offers a compelling alternative to flying between New York and Washington, particularly if you are starting and ending in the city center.