Is British Airways wisely beginning to realize that if you want people to pay more to fly BA than easyJet or Ryanair, you better offer them a good reason why? In what is hopefully a sign of things to come, British Airways is bringing back free food and drinks on two mid-haul routes in economy class. A complimentary meal service does not itself justify the fare premium on British Airways, but it is a good start toward offering a superior onboard product.
British Airways Brings Back Free Food And Drinks To Two Routes In Economy Class
In 2017, British Airways replaced complimentary meals with a buy-on-board scheme. Then-CEO Alex Cruz gloated about it in 2019. Passengers received a reprieve during the pandemic, when British Airways brought back complimentary bottles of water and a light snack (like small packets of crisps or cookies) to flights (during a time when there was no other service at all).
The free water bottles and light snacks have remained and British Airways has also experimented with free and tea and coffee on some routes. A broad menu of food items from The "High Life Shop" as well as a full bar of drinks are available for purchase onboard.
But British Airways faces intense competition from its low-cost competitors like Ryanair and easyJet and it is often difficult to justify flying BA when its competitors are far cheaper (and in the case of easyJet, offer more legroom). While ultimately it will be a package of benefits like plugs onboard, wi-fi internet, and perhaps even a bit more legroom one day, one way British Airways can instantly differentiate its product is to offer complementary food and drink onboard. And on two routes, free meals are returning.
Per PYOK, on September 7, 2023 British Airways will bring back free meal service on two routes:
London (LHR) ⇔ Amman (AMM)
London (LHR) ⇔ Cairo (CAI)
These mid-haul routes will now include:
complimentary bar service
cold meal

breakfast: pastrami-filled croissant, Nutrigrain bar, Actimel milk drink
lunch/dinner: chicken-filled roll, popcorn, Cadbury Dairy Milk chocolate bar
There's nothing revolutionary or particularly compelling about these meals. They are a far cry from the hot meals that used to be served, like the dinner from London – Istanbul below.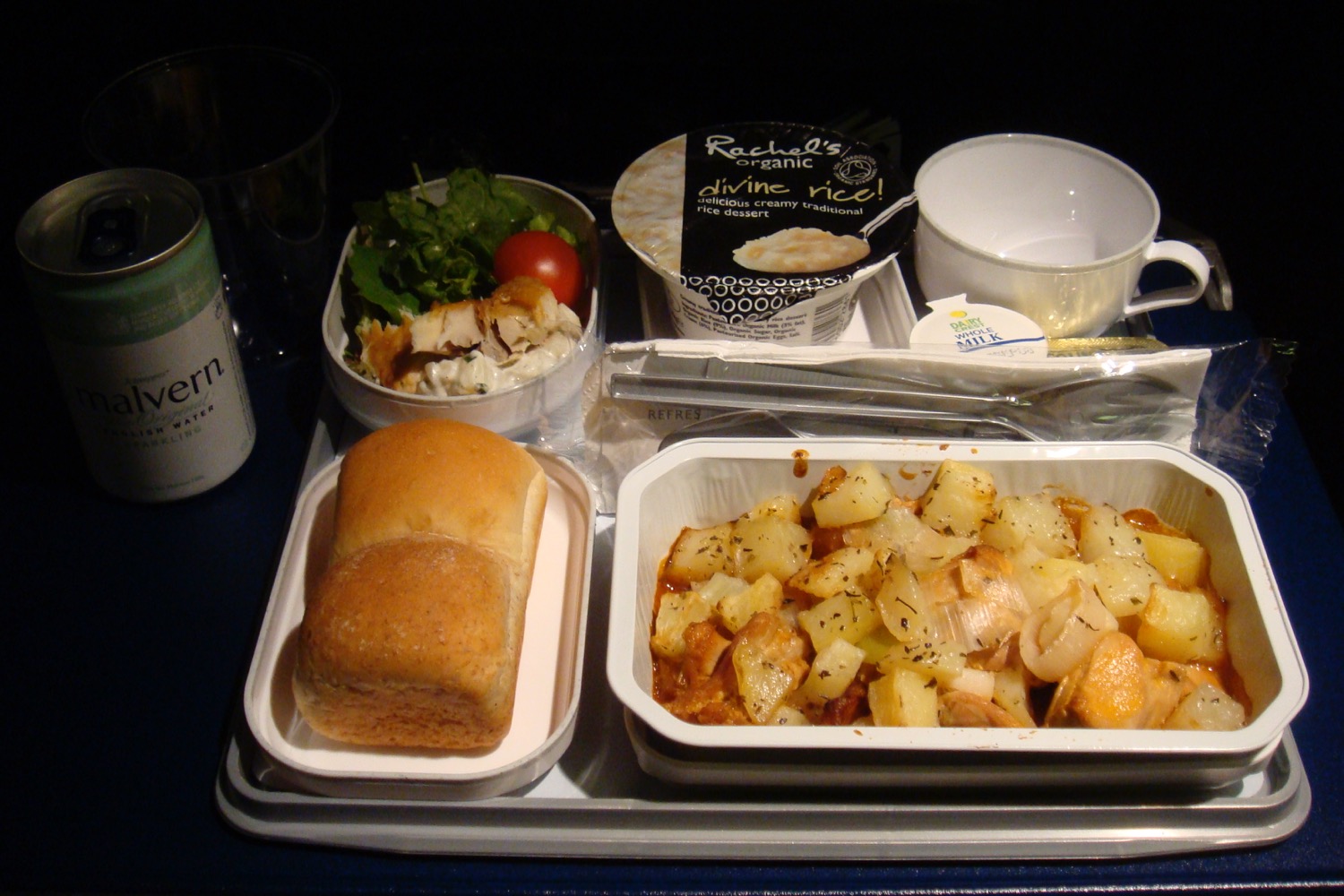 And yet I find this an important step in the right direction toward making British Airways a truly full-service carrier again. I hope we will see these free meals expand to many more routes (and not replace the buy-on-board service, which has proven popular).
Then again, this could simply be a very specific competitive response on two popular routes that are also served by the flag carriers of Egypt and Jordan. Both are full-service carriers and offer full meals on these flights. For example, this is what I received from Cairo to London on EgyptAir:
It may be that these two routes are simply a response to two particularly egregious disparities with competitors.
CONCLUSION
British Airways will bring back free drinks and meals in economy class on flights to Cairo and Amman. It's a small gesture, but hopefully is just the start of things to come. Even if it is not, it is better than nothing.