Delta Air Lines impressed me on my journey from Detroit to Amsterdam, with warm service, excellent food, and a comfortable suite aboard the A350-900 in "Delta One" business class. While it was not a flawless flight, it was very good overall.
Delta A350-900 Business Class Review
At 50,000 Virgin Atlantic Flying Club miles and $5.60 in taxes, this marked one of my best award redemptions in recent memories. Delta, as usual, wanted over 300,000 SkyMiles one-way for the same flight in business class.
Check-In
Upon arriving in the Edward McNamara Terminal at Detroit (DTW), I found the Delta One / Sky Priority line, which had about 10 people waiting in it and three agents working. Another employee greeting guests at the start of the line suggested I use the international check-in area instead, which had no line.
While there was only one person in front of me, it took quite some time because he did not appear to have the documentation necessary to travel where he was going. When it was my turn, I presented my vaccination card and a negative COVID-19 PCR test and was issued my boarding pass for Amsterdam. I would be connecting on to Paris, then Tunis, but the next two segments were on a separate ticket.
Lounges
Delta One passengers have lounge access prior to their flight and I had time to check out all five Sky Clubs before my flight:
My personal favorite was the A43 lounge. While the Sky Clubs provide a wide selection of food and drink, I was happy that I waited till my flight to eat.
Boarding
Boarding began 45 minutes before the flight, with Delta 360º and passengers needed more time to board invited to board first, followed by business class passengers.
Gate monitors indicated loads for the flight. While business class would be fully-occupied, economy class was empty such that most passengers could stretch out over three seats to sleep.
Delta 134
Detroit (DTW) – Amsterdam (AMS)
Thursday, February 1
Depart: 6:45PM
Arrive: 8:20AM+1
Duration: 07hr, 35min
Distance: 3,940 miles
Aircraft: Airbus A350-900
Seat: 6D ("Delta One" Business Class)
A flight attendant greeted me at the door and handed me off to a colleague, who directed me through the galley and left to my seat in the business class cabin.
Seats
Delta's A350s have 32 seats in business class in a staggered 1-2-1 configuration. Each suite in business class has direct aisle access and a sliding door that offers additional privacy. All seats face forward. The modified Thompson Vantage XL seat can also be found on SAS and Qantas (among others), though without doors.
While I normally prefer "true" window seats (which on this aircraft would be odd numbered A and D seats), I chose an aisle seat because there were no windows when I booked my flight. This wasn't a big deal because the flight departed and landed in darkness. Choose an even-numbered A or D seat if you want to be closer to the aisle.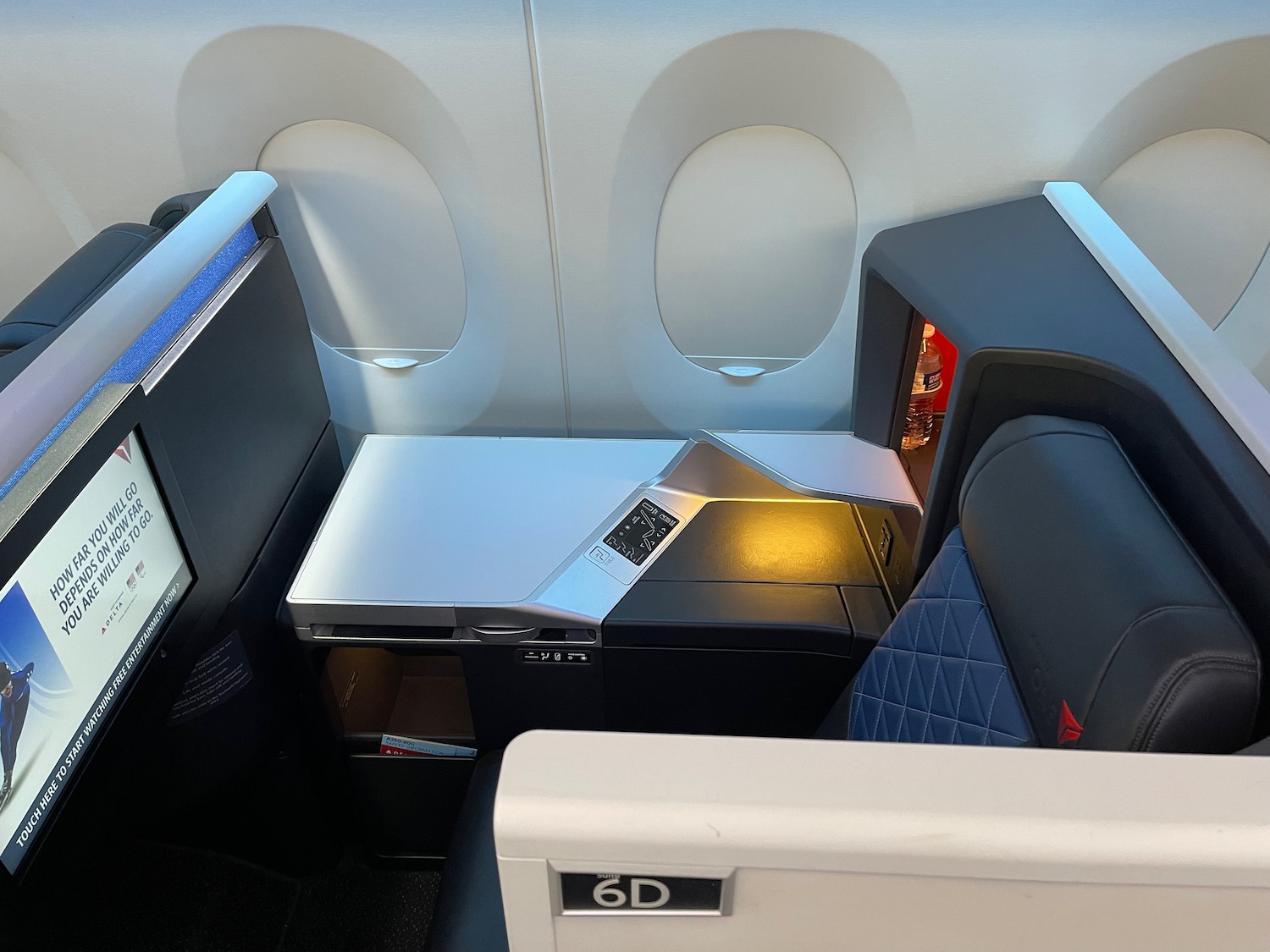 Each seat is 20.46 inches wide and transforms into flat bed 76 inches long (6 feet 4 inches). The seat can be adjusted into a partially-reclined lounge position by seat controls located in the side console.
A power port and rapid USB A charger were within easy reach.
I liked the red and blue color scheme inside the suite.
A larger personal storage space was available, though it was too small for a carry-on bag.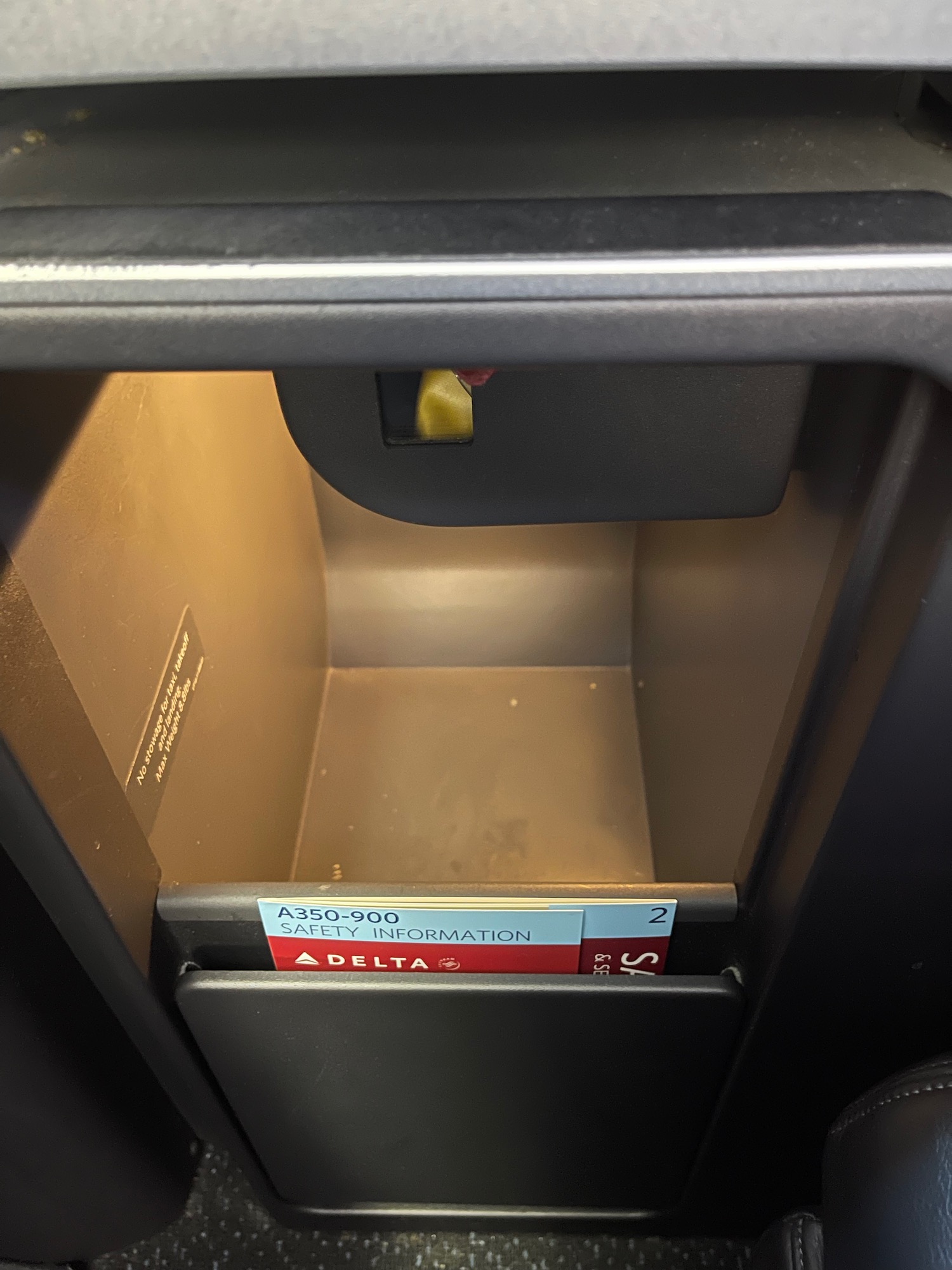 A "feature light" provided ambient light within the suite.
Suites also had a coat hook, though a flight attendant collected my coat and placed it in the closet.
I found the doors to be very flimsy. Mine had trouble staying shut (it kept sliding open) and it was also difficult to detach it. Even when closed privacy is limited and overall I found the closed doors more gimmicky than practical.
With a flight time of just over seven hours, I only managed about four hours of sleep, despite a prompt meal service after takeoff. Unless you are departing from the West Coast, I find transatlantic flights too short for a deep sleep unless you skip the meal service. Fortunately, air nozzles kept my area cool (though the cabin was not hot) and I slept well using Delta's new bedding, which somehow is made from recycled bottles but just felt like cotton to me! The pillow was large and duvet warm yet very light, which greatly helped me sleep.
I thought the suite had plenty of room for my feet.
---
Be aware: Delta recently purchased additional A350s from LATAM that have a very different business class seat in a 2-2-2-2 configuration. Check the seat map to see which configuration your A350 flight will have.
> Read More: A Tale Of Two Delta A350s
---
Amenity Kit
Delta's Tumi-branded amenity kit includes basil-scented lip balm and face mist from Le Labo, mouthwash, Crest whitening toothpaste, a toothbrush, socks, eye shade, hand sanitizer, and pen. Overall, this is a very practical amenity kit: I love the scent of the Le Labo products and the large(r) tube of toothpaste is much nicer than the tiny Colgate tubes often offered in business class amnesty kits.
I read that Delta would no longer include plastic wrappers around the amenity kit in order to reduce waste, but mine still had one.
Service
A big shout-out to the flight attendants on DL134, who were extremely kind and attentive. Donna, the purser, greeted every passenger personally prior to the flight with a big smile on her face. She asked how I was doing and was thrilled when I told her that I usually fly United but was trying Delta today.
During our interaction, she also confirmed that my pre-ordered meal had been loaded. More on that below.
For most of the flight, John took care of me. He was also a class act; professional, attentive, and friendly. For example, the menu indicted Old Fashioned cocktails were available (I wanted to compare Delta's with United's) but apparently they were not loaded. That did not stop John from spending 10 minutes searching high and low for one (instead of just giving up after a few seconds). He also gently woke me up, as instructed, about an hour prior to landing for breakfast.
I've always experienced good service on Delta and appreciated that service remains top-notch.
Dining
The biggest treat of the flight for me was the dining. This flight made me realize how much better catering can be with a just a bit of effort (hint, hint United). After booking my trip, Delta offered me a choice between six different meals when I pulled up my reservation in the Delta app:
I chose the braised Australian lamb shank, which Donna confirmed had been loaded during her pre-flight greeting.
Prior to departure, a choice of water or sparkling wine was offered in a plastic cup. The bubbly was not memorable.
Meal service began promptly after we hit 10,000 feet, which was greatly appreciated considering the short flight. A beverage was offered from a cart: I chose a bellini along with sparkling water. The bellini was decent considering it was pre-mixed in a bottle, though still nothing like fresh peach puree.
Menus were also distributed, though my order had already been placed.
This was just a partial menu, though I followed the QR code to reveal the full menu:
Following the beverage service (no nuts or canapés), a tray was delivered which included:
smoked red pepper chickpea soup with dill yogurt
buffalo mozzarella, cherry tomato, and avocado salad
brioche roll with Banner butter
chocolate mousse
My flight was last month: this month (March 2022) Delta has reintroduced ice cream sundaes in Delta One.
I must admit, the salad was fresh, delicious, and such a lovely change of pace from the usual green salad. The bread roll was hot, butter creamy, and the chickpea soup with a dollop of yogurt the perfect appetizer.
Next, the main course arrived: but it was pasta. The passenger behind me, who had ordered pasta, received beef short ribs. I alerted John about the mix-up and he seemed confused, since he did not take the meal orders. A few moments later Donna appeared, apologized profusely, and said that she had neglected to heat up my lamb but it would be ready in a moment. I should have asked if I could keep the pasta (it looked lovely) but she took it. Meanwhile, the guy behind me had dug into his beef brisket and was quite happy about the swap.
You could call that a service failure, but it was promptly addressed, Donna took ownership of the situation, and I really did not mind.
When my lamb shank did arrive, it was very much worth the wait. What a delicious meal! Truly, one of the best airline meals I've ever had. The lamb was so tender it just fell right off the bone and was brimming with flavor from the thyme and lamb jus. The sweet potato gratin was crispy on top and simply perfect. What a fabulous meal.
I skipped the mousse…after all, breakfast was in a few hours!
A self-serve beverage station was set up in the galley behind business class. Snacks (cookies, chips, candy) were available upon request.
Delta-branded water bottles were present in each suite.
About an hour before landing I was gently awakened for breakfast and another feast awaited.
Breakfast choices were a ricotta stuffed omelet with cheery tomatoes and fresh herbs or mango yogurt. I chose the omelet and found the flavor decent, though too well-done for my. I prefer my eggs on the runny side. The hot croissant was nice as well as the fruit bowl (blueberries, raspberries, blackberries, pineapple), though I was disappointed that espresso was not provisioned. The Starbucks black coffee was warm…that's about all I can say for it. Hopefully the espresso machines are back in use this month.
Prior to landing, each Delta One passenger was offered a small piece of chocolate from Ghiradelli.
Overall, I quite enjoyed the meal service on Delta and most importantly, found the quality and flavor to be much better than the premium cabin meals served on American or United.
Inflight Entertainment + Wi-Fi
I enjoyed free wi-fi (one hour) and free messaging throughout the flight thanks to T-Mobile. It was nice to stay connected and not pay for it. Otherwise, wi-fi would have cost $12.95/hour for streaming speeds.
Delta-branded noise-cancelling headphones worked reasonably well, though were a bit tight on the ear.
The Delta Studio collection included movies, TV programming, games, music, and a moving flight map…I chose to sleep instead.
Lavatory
The lavatory included soap and hand lotion from Malin+Goetz. Although not much larger than an economy class lavatory, there was extra counter space.
CONCLUSION
We landed in Amsterdam before the sun had risen, a reminder of the northern winter – my flight was over too soon! I very much enjoyed flight Delta for the first time in many years and highly recommend the Delta One Suite on the A350-900, though the doors seem worthless to me. Most of all, I appreciated the kind service and delicious meals onboard. I hope to fly Delta again.