I've stayed in some fairly deplorable Hilton Garden Inns over the years, but the Hilton Garden Inn Faroe Islands was a spectacular property that represented an excellent value and greatly exceeded my expectations, particularly in terms of the breakfast.
Hilton Garden Inn Faroe Islands Review
The hotel infrastructure is still fairly limited on the Faroe Islands. While the Hilton Garden Inn is not the only option in Tórshavn, it represents the only US hotel chain and "points" hotel on the islands. I did not book using points, instead paying the $160/night for the room. It took about 45 minutes to drive from the airport to the hotel.
Location + Parking
This is probably the only the Hilton Garden Inn in the world with a grass roof. The hotel is in the capital city of Tórshavn, which is located on the island of Streymoy roughly in the center of archipelago, though most of the land mass is north.
Parking is ample and complimentary (self-parking only).
Check-In + Lobby
I was warmly greeting at the check-in desk, which set the tone for the stay. The staff here was lovely, always with a smile on their face and happy to assist. The lobby itself  was quite cozy, with a sitting area, fireplace, restaurant, bar, and 24/7 grab-and-go convenience store.
The store included not only packaged snacks, but heartier food that could be warmed up and a coffee machine from which you could make the coffee drink of your choice. As a a Hilton Gold member, I was invited to help myself to two bottles of water each day, which I did: sparkling and still water bottled locally on the Faroe Islands was available.
Since I was alone in my room there was no problem keeping US hours in terms of answering phone calls late at night or early in the morning, but had I been with my family the lobby would have been a great place to work (and had electrical outlets).
Guest Room
The hotel has four floors of guest rooms. I was assigned room 332, which was a standard room with a king size bed (it appeared to be two twin beds pushed together). There are not true suites in this hotel, though there are junior suites. I I was traveling with Heidi and the kids, we would have booked two adjoining rooms.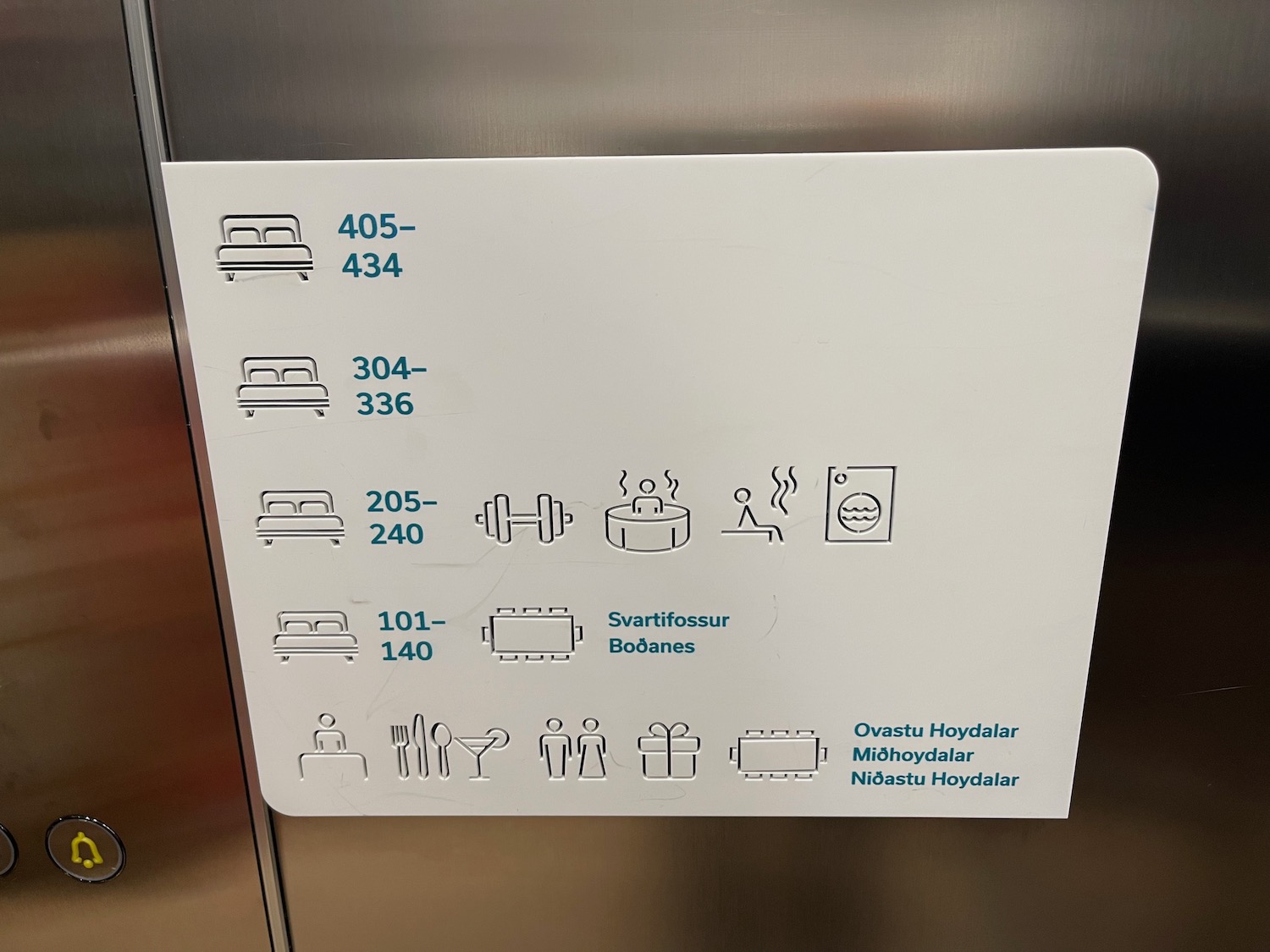 The hotel opened in 2020 and still "smells" new (somewhat like an Ikea). The floor plan of the guest room is very open, with a closet, bathroom, sitting area, and bed all in one large space. That worked fine for me, though I do not care for the trend in newer hotels to substitute traditional closets for these open wardrobes.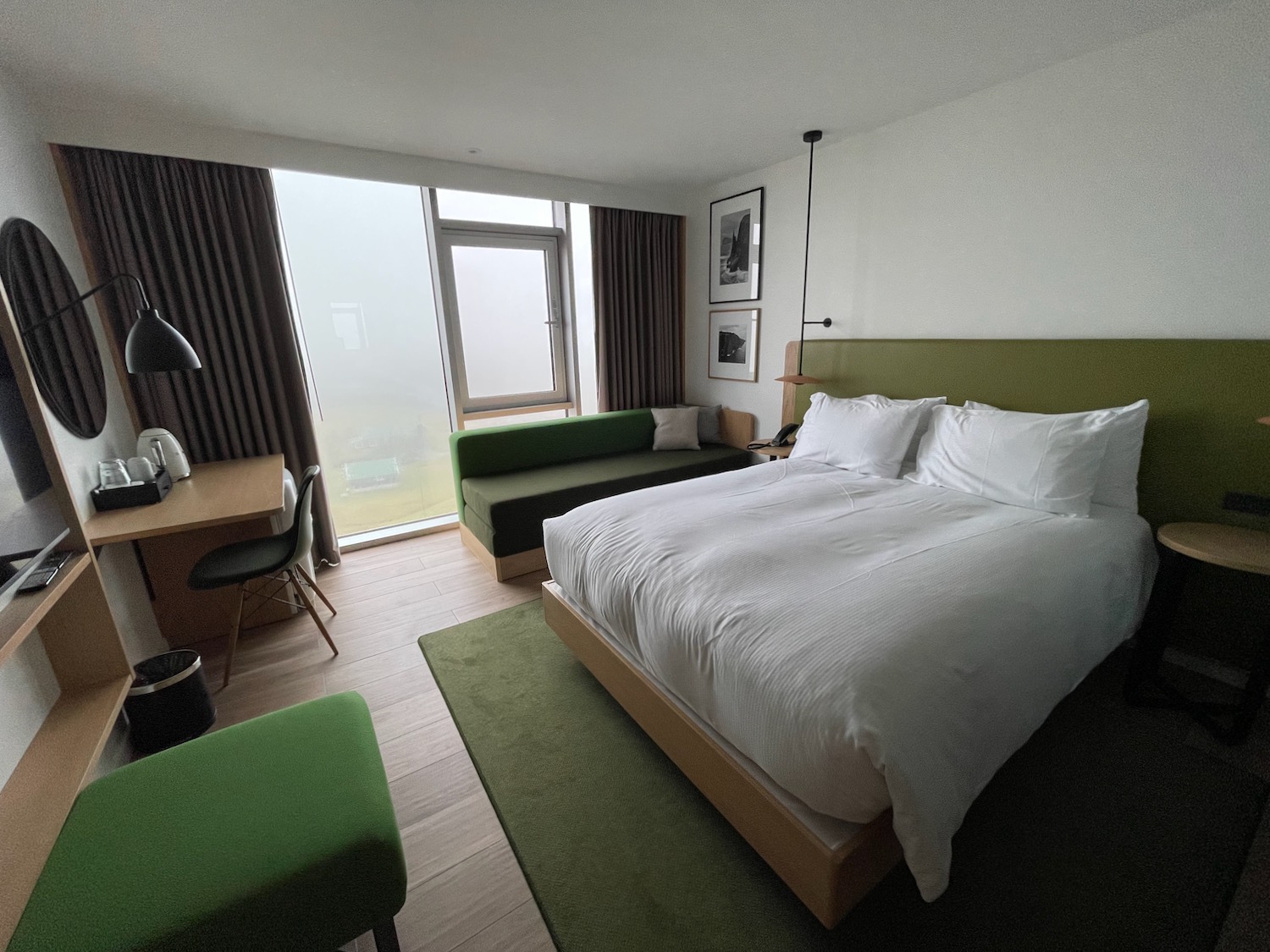 I greatly appreciated the comfortable couch and a real desk, both of which I spent time working at.
There was a refrigerator below the desk (empty) and a hot water kettle with tea and powdered coffee.
I loved that the room had both USB-A and USB-C outlets.
The bathroom featured a separate toilet and shower area (with the wash basin practically part of the guest room). There was not bathtub. Bath products, like at other Hilton hotels worldwide, were from Crabtree & Evelyn.
View from the room at 8:51 am:
Breakfast
Breakfast was complimentary by virtue of my Hilton Honors Gold status and it was EXCELLENT and represent the most pleasant surprise of my stay.
Why? Every morning I enjoyed delicious omelets and waffles made to order, fresh berries, and even avocado. So often I struggle even at five star hotels to find fresh berries and avocado, but here the buffet included delicious fresh strawberries, blueberries, and blackberries as well flavorful ripe avocados. And this was in October…not exactly when either is in-season. And the strawberries were the "real" ones (for lack of better word) from Europe, not the massive hormone-pumped strawberries we find in the USA. The berries were were sweet and breakfast was such a pleasure each day.
The buffet had far more than berries and avocados, with cereal, yogurt, bread, pastries, cold cuts, cheese, and other freshly-sliced fruit. It was superb.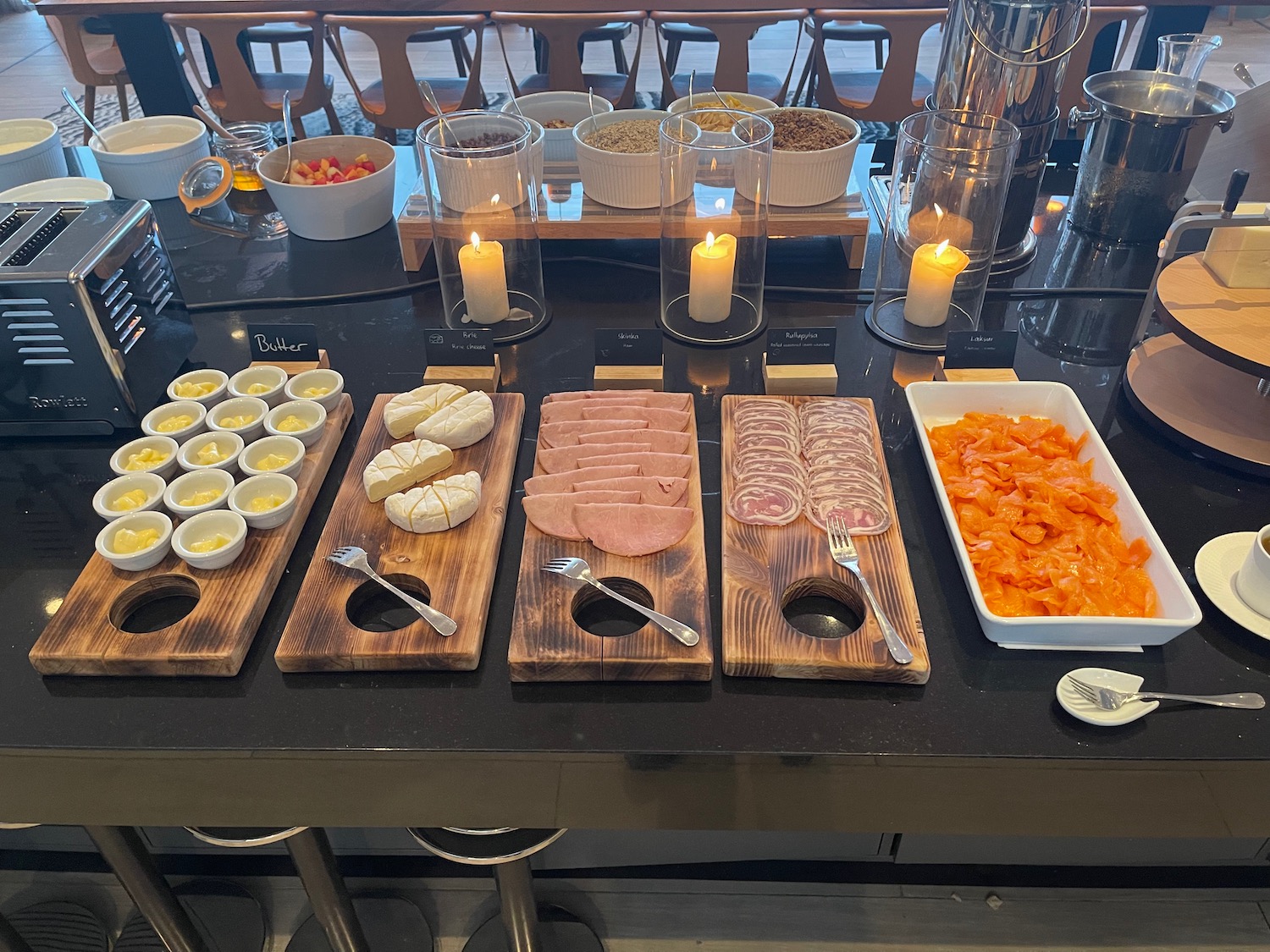 Lunch and dinner were also served here, though I went out each night.
Coffee was not bad either. Though it was machine dispensed, the coffee was strong and cappuccino quite respectable. I find the Swiss-made Thermoplan machines the best in terms of autonomic coffee machines.
Bar
Located between the restaurant and lobby, the bar included a generous selection of alcoholic beverages (including a number of beers on tap) and was open in the afternoon and evenings.
Fitness Center
Located on the second floor, the fitness center was open 24/7 and included a pair of treadmills and bikes as well as kettlebells, medicine balls, free weights, and a multi-purpose resistance machine. I did workout here in the mornings and certainly worked up a sweat.
Sauna + Whirlpool
Also on the second floor and available upon request (since it must be heated), a whirlpool and sauna are available. To use the facilities, I requested a special key card at the front desk. At 8:00 am it was still dark (October) and cold, but I managed to roll off the cover of the whirlpool and went back and forth between the sauna and whirlpool, enjoying the rush of cold air in-between. These facilities are open from 8:00 am to 10:00 pm daily but remember to request them in advance, as I don't believe they are turned on absent a guest request.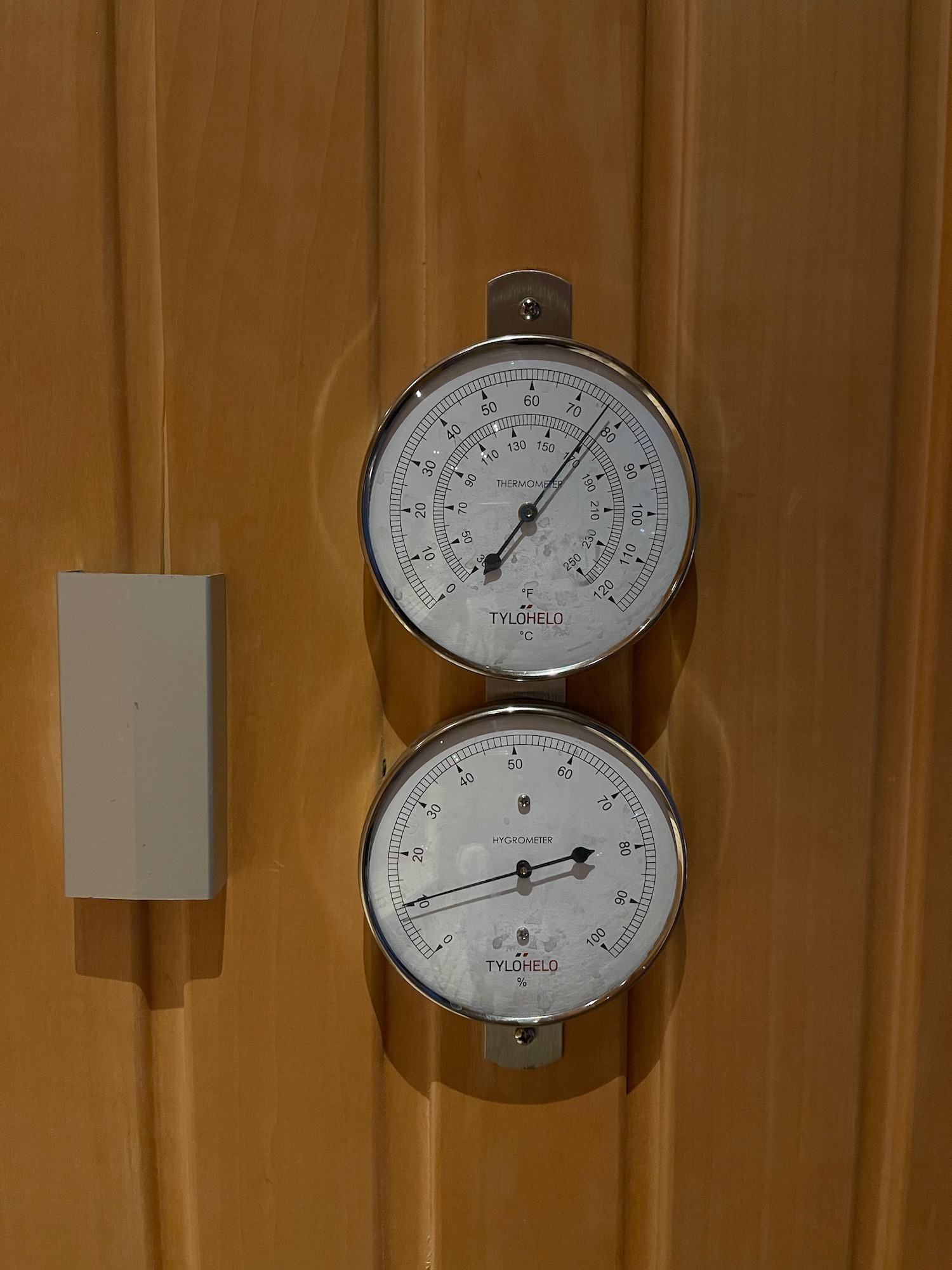 Laundry
If you're staying awhile, the hotel offers laundry facilities on the second floor. There is no charge and even soap is complimentary.
Smoking
If you're a smoker, you're out of luck here. All guest rooms and common areas are non-smoking. If you wish to smoke, you'll have to step outside.
CONCLUSION
I was very happy with my stay at the Hilton Garden Inn Faroe Islands and look forward to returning. The room is comfortable, breakfast outstanding, and extra perks like a sauna and laundry room make it a very unique Garden Inn. The hotel is generally double in price over the summer months, but I'd still recommend it due to the amenities and central location in Tórshavn.