I spent a night at night at the historic Hotel Figueroa in the heart of downtown Los Angeles and very much enjoyed it….once I was inside the property.
Review: Hotel Figueroa – Los Angeles, CA, Part Of Hyatt Unbound Collection
Built by the YWCA, this historic hotel opened in 1926 as a hotel for solo women travelers. At the time, most were not allowed to check into a hotel without a male chaperone. At this hotel, only women were allowed.
The result was a "paradise of female energy" (as the hotel now describes it) and a hub of intellectual and artistic progress that attracted women from all over the world.
We spent a night here during our tree trial because it was cheap ($150/night) and because it was very close to the hospital where my wife works.
This is Category 5 hotel, so better to pay most nights than to use points.
Common Areas
The hotel was totally overhauled in 2014 from a Moroccan theme to a Spanish Colonial Revival style. The spacious lobby and bar highlights that theme and also features a cozy fireplace (it has been a colder year here in LA) and lots of artwork.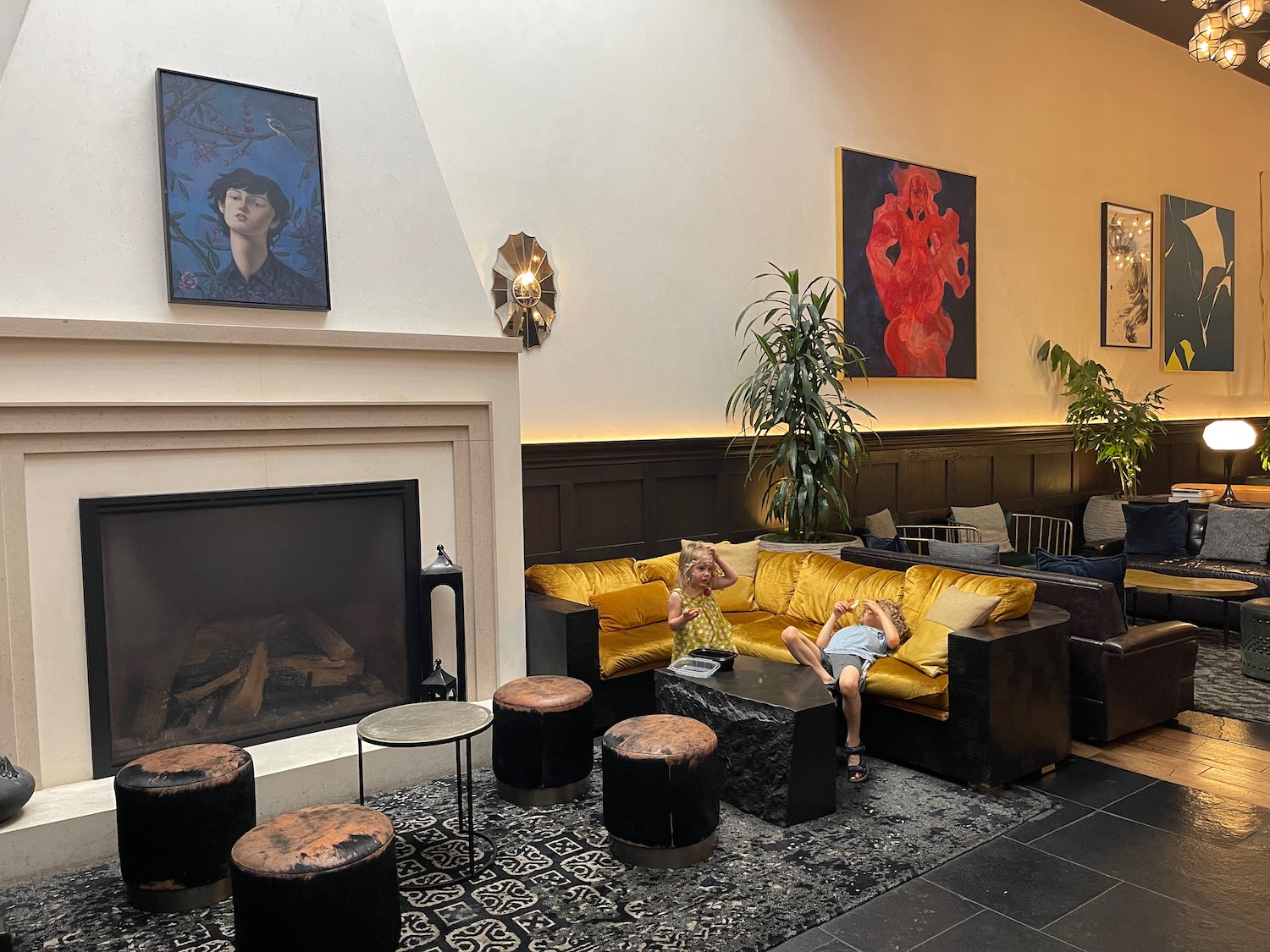 Guest Room
We were upgraded to a junior suite, room 210. We used stairs rather than an elevator to reach the room, which I love about old hotels.
The room was cozy, but nicely appointed with a living room area with couch, chair, ottoman, coffee, table, and desk and a bedroom with a king sized bed. At only about 330 square feet I've had much bigger standard rooms, but it did the trick for us.
The bathroom was long and narrow with two sinks, a shower on the left, and water closet on the right. No bathtub. Toiletries were from Claus Porto.
The room had no view (picture the hotel has laid out like an E on its side, so my room faced the window of another room).
I appreciated the coffee machine in the room with pods from Vittoria, one of my favorite Australian companies.
Plugs were located around the room and there was two plugs and a USB-A charger on the desk.
$30 Destination Fee
The hotel tacks on a $30 destination fee per night, waived for World of Hyatt Globalist members. It includes:
Daily freshly brewed coffee with custom milk and syrup station at Café Fig (for two)
Day pass to LA's Artha wellness experience – yoga, sound bath, cryotherapy
Complimentry pass to 2000sqft Wellness and Fitness Club
Two boxed waters per room daily
10% Discount at DTLA museums (full list at front desk)
10% Discount at DTLA architectural tour
10% Discount to private fitness classes by Yada Yoga
Access to pool deck and loungers
Access to hotel art gallery and invitation to all artist events
Access to all public events at La Casita
Access to hotel guest exclusive events and beverage tastings
I believe these fees should be optional, full stop, but I appreciated the free barista-made coffee each day at Café Fig. I typically consume one coffee each afternoon and it was nice to have a cortado in the lobby bar.
Since the kids were with me, I did not get a chance to try the Artha wellness experience, something I would like to do again (the cryotherapy and infrared sauna at least).
Pool + Fitness Center
The fitness center was extremely basic, just a small guest room with a trio of machines.
Although my stay was only a month ago, my understanding is that the hotel very recently opened up a new and much larger (and needed) fitness center.
Outside the fitness center was a nice patio overlooking the pool below and the nearby JW Marriott – Ritz Carlton hotel.
The pool, being nearly 100 years old and formerly a YWCA facility, is quite deep. My daughter cannot swim yet so playing with her in the pool while having to tread water became quite a workout for me!
The kids loved the pool so much we had to return…three times…
Dining
The hotel has a number of on-site food and beverage options.
Bar Magnolia
The beautiful lobby bar includes dark wood and plants with not just alcohol, but coffee.
In the morning, filter coffee is free included in the destination fee until 11:00 am next to the bar:
Cafe Fig
The kids and I had breakfast at Cafe Fig–I love that breakfast went to 11:30 am, allowing us to have a productive morning before brunch.
Great coffee and cold-pressed juice and Claire Marie and I shared avocado toast and chilaquiles.
Augustine ordered chicken and waffles (my suggestion when he was about to order just plain waffles) and that was a big mistake…the chicken was quite spicy and he did not like it or eat.
I got him a pain au chocolat which he liked much better.
Great breakfast and the bill was fully covered as a Globalist.
Cafe Fig has a nice outdoor terrace as well.
La Casita
The focus on La Casita is cocktails and Mediterranean food, but it is closed Monday thru Thursday and so I did not get a chance to try it.
Sparrow
Sparrow is described as "a modern coastal Italian restaurant with an expansive menu by Chef AJ McCloud and Chef Joana Cruz." Heidi got off from work late and after so we put the kids to bed (and yes, we told them exactly were we'd be downstairs) and came down here to eat.
The food was very good, with the grilled branzino superb and the pasta bolognese rich and flavorful.
We had Zeppole for dessert with sweet whipped ricotta and nutella ganache caramel sauce.
It was not cheap considering we had no appetizer and only ordered one bottle of water, but it was a nice quiet time after a busy day.
When we got back, the kids were not sleeping…
Room Service
A limited room service menu is available, which we did not take advantage of.
Bar Alta
On the upper level a second bar called Bar Alta appears to be permanently closed or only open for special events. It's a very attractive bar, but was locked for the duration of my visit and there is no mention of it on the hotel website.
Hazardous Location
Let me be clear: the hotel location is pretty horrible. I'll detail this in a separate post, but there were all sorts of drug deals going on outside the hotel. It's not a horrible area in theory–The Pantry, the restaurant of former Mayor Richard Rioridan–is a block away and there is also a Capital Grille and Ralph's Grocery Store (where I got dinner for the kids) very close.
But it is a seedy part of LA and not a place I felt comfortable in at night outside the hotel grounds.
I know this is a deadly indictment of the hotel, but for what's it worth it was not a dealbreaker for me…it was just very nasty when I went out to meet Heidi when she got off work.
Parking
A parking lot adjacent to the hotel makes parking very easy. But the nightly parking fee is $48 plus tax and tip for valet parking and self-parking is not available (thought they let me park myself because I forgot my Tesla key and had to use my phone as the engine starter).

CONCLUSION
Yes, the hotel cannot escape its location and I wish the police would shoot up the drug dealers instead of letting them shoot up freely in front of the hotel…but that's another issue for another time. The hotel itself was quite nice, with great food and service and a very comfortable room. The pool was nice and the hotel has just opened a large new fitness center. I actually would return and look forward to do doing so. But it's not the sort of place you want to walk around outside at night.