Hotel SOFIA in Barcelona greatly impressed me and remains one of my favorite Hyatt hotels in Europe and a great value in the off-season.
Hotel SOFIA, Barcelona Review – Part of Hyatt Unbound Collection
I referenced this hotel in my review of the Hyatt Regency Barcelona, but when I went to link to it, found that I had never published a review. I published a review of the "Philosofia" coffee shop, but not the rest of the hotel. That was quite an oversight on my part, so I hope this will be better late than never. In taking a look at the Hotel SOFIA website, it appears virtually nothing has changed, so I hope this review will be helpful.
Booking
Nightly rates vary based upon the season (and strength of the Euro), but I paid $250/night and rates range from $150 to about $400. Considering the posh room, great amenities, and delicious breakfast, that is a respectable deal. This is a Category 5 hotel, so if using World of Hyatt points you are looking at 17,000 (off-peak), 20,000 (standard), or 23,000 (peak) points per night.
Check-In
After being welcomed to the hotel, an associate informed me I had been upgraded to a junior suite based on my Globalist status with World of Hyatt. The lobby air is posh, with palm trees giving it a bit of a tropical look.
Guest Room (Junior Suite)
I was assigned room 1435, which was a very spacious room with a large entry area, plush king bed, a living room area with a couch and coffee table, and an oversized bathroom with a bathtub. I loved the marble in the room and found the room very stylish.
My room included great views of the city.
Desks are becoming rarer in hotels and I appreciated plenty of space from which I could work.
The closet contained a safe and robe.
A mini-bar was well stocked.
I loved everything about the spacious bathroom except for the turquoise tiles in the shower and water closet…they seemed somehow out of place. Maybe it was just me?
Toiletries were from Natura Bissé, which was founded in Barcelona.
A couple of other thoughts:
First, I loved that there was actual chocolate provided with turndown service. It has been a long time since I found chocolate on my pillow.
Second, I appreciated that the plugs were within easy reach and that the room had blackout curtains.
The dual USB-A ports and the power plug (adapter required for American or British travelers) were very convenient for working in bed, something I am (unfortunately) guilty of.
Food + Drink
Breakfast At Impar
The highlight among highlights of this hotel was the superb breakfast buffet inside Impar restaurant. The quality was excellent and it had all my favorites, including great barista-made coffee, fresh berries, eggs cooked to order, lovely pastries, and a large selection of cured meats. You really will enjoy breakfast here, served daily from 7:00 am to 11:00 am.
The seating areas were also beautiful, with both indoor and outdoor options.
(Lunch and dinner are also served here)
Sofia Be So
Sofia Be so is the hotel's fancy restaurant, open Tuesday – Sunday for lunch (1:00 pm – 3:30 pm) and dinner (8:00 pm – 11:00 pm). I don't like dining in a fancy place restaurant alone, so I ate in my room.
Philosofia Coffee Shop
The hotel's coffee shop has a cool atmosphere and great coffee.
Full review here.
---
> Read More: Great Coffee In Barcelona
---
Zuu
The hotel nightclub. No thanks…
SOFIA Bar
The hotel bar focuses on cocktails, but offers an array of alcoholic beverages and light snacks.
Room Service
24/7 room service is available.
Delivery
If none of that works, you can always use Uber Eats or another delivery service for food. I was craving Mexican food and found a place to satisfy that craving.
Fitness Center
A gym on the lower level offered a superb selection of cardiovascular and strength training equipment. It is open 24/7.
Spa + Pool (Sofia Oasis)
The hotel offers great spa and wellness facilities with a large sauna and steam room.
Massages are available and quite pricey.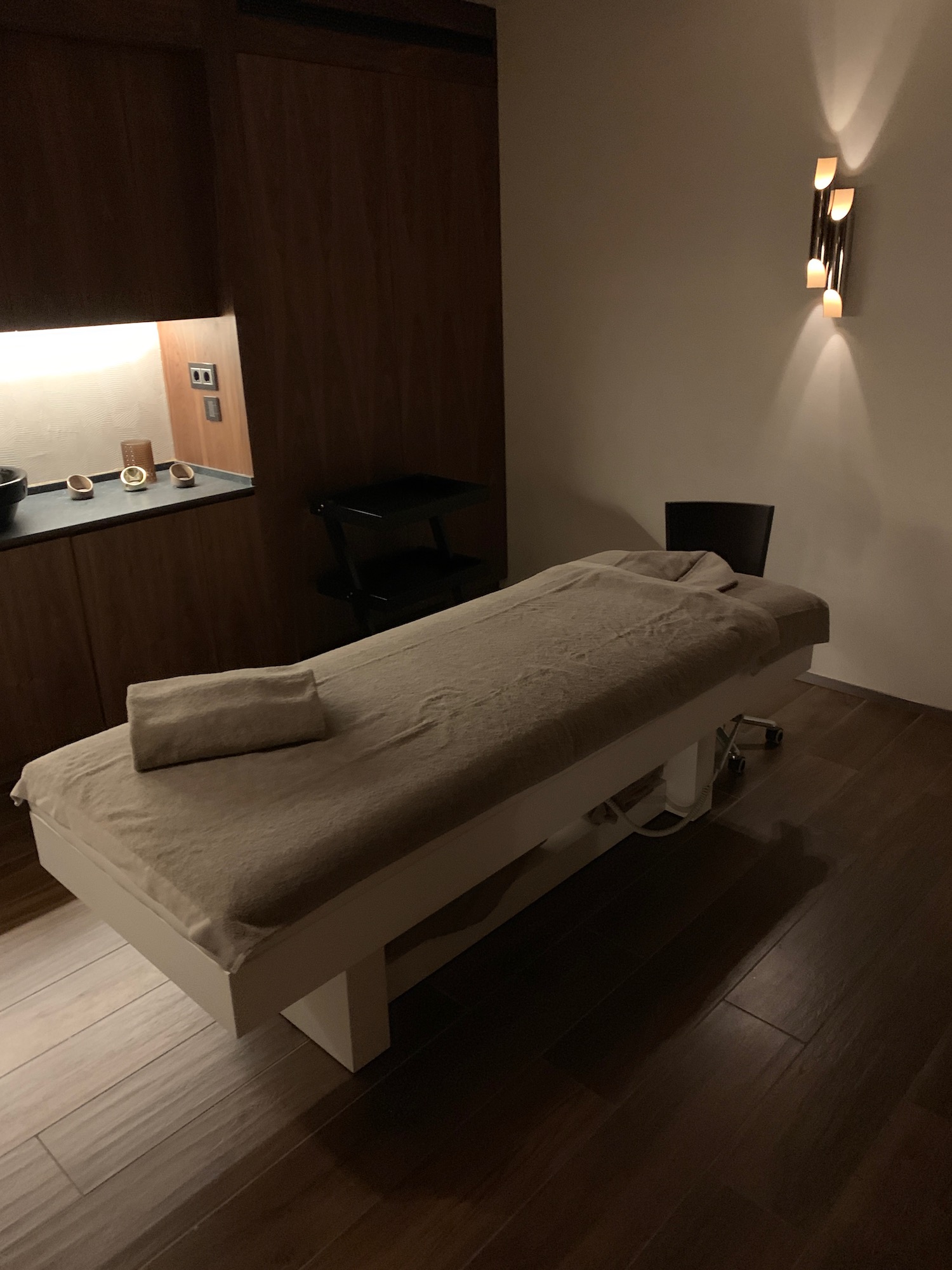 During my visit, the pool area was under construction:
But it is now complete, with both an indoor and outdoor pool area:
Meeting Space
The hotel offers meeting rooms and can host conferences, though it never felt very crowded, something I greatly appreciated.
Location
The hotel is located in the middle of Avinguda Diagonal, right in heart of Barcelona near Camp Nou (football stadium for FC Barcelona), yet only 12 kilometers (15 minutes) from El Prat Airport (BCN). I even walked to La Rambla, though it taxis are cheap are plentiful.
If using public transport, busses 6, 7, 33, 36, 49, 63, and 67 stop in front of the hotel.
If using Metro, the hotel is six minutes by foot from the "María Cristina" Metro station on the L3 (green line).
CONCLUSION
I conclude this review without a complaint. I liked everything about this hotel, highly recommend it, and look forward to returning. Whether you are a Hyatt loyalist or not, this is a great hotel if you're visiting Barcelona.