The United Club London is my favorite United Club in the system, with great staff, great food, and a beautiful design.
United Club London Heathrow (LHR) Review
I do love the new United Club in Newark, a sprawling lounge with barista-made coffee, a wide food selection, and views of the Manhattan skyline, but my recent visit to the Heathrow United Club reminded me why this one was my favorite.
Location + Hours + Access
The London Heathrow (LHR) United Club  is located in Terminal 2, near Gate B46. It is open daily from 5:00am to 6:o0pm. After clearing security, prepare yourself for a long (15-20 minute) walk to the B Gate area via underground tunnel. From the B concourse, you can take either an elevator or stairs up to the lounge, which is located one level above departures.
Access is reserved for United Club members, Chase United Club Visa holders, Star Alliance Gold travelers, and international business or first class passengers traveling on any Star Alliance flight. While access for Star Alliance Gold status holders from United Airlines (Premier Gold or higher) is limited to traveling on a same-day international itinerary, that applies to all passengers departing LHR.
Furthermore, one-time passes are accepted. These are distributed to Chase MileagePlus Explorer credit card holders or can be purchased at the door for $59. If you find yourself with along layover at London Heathrow and without lounge access, this is not a bad deal at all considering the food and beverage options and shower suites available in this lounge.
Service
I have a friend in this lounge. Her name is Marina and it's a joy to see her every time I fly through. She' super-friendly and a bit cheeky, in a very good way. Frankly, the entire staff in this lounge is excellent, ranging from the United Airlines employees who check you in to the contact staff cleaning up, bartending, or managing the shower suites.
I also appreciate that this lounge honored the Queen's Platinum Jubilee and (ironically) even the Fourth of July holiday in the USA.
Platinum Jubilee:
July 4th:
Seating
The lounge is over 10,000 square feet and seats 280 guests plus 25 more at bar. As you enter, the lounge is divided by a partition running through the center with seating on either side.
While the lounge is somewhat in the style of most recent United Club remodels (with airplane artwork and the same leather chairs and high tables), there's beautiful natural light and a cool centerpiece with trees and blue glass.
This lounge does get crowded, particularly in the mid afternoon. You probably won't have trouble finding a seat, but it will be crowded. If very crowded, consider visiting the nearby Singapore Airlines lounge, which is generally not as crowded, especially in the afternoon. If you can access this club, you can also access the Singapore Airlines lounge.
Showers
Shower suites are available. See an attendant who will add your name to the waiting list if there is a queue.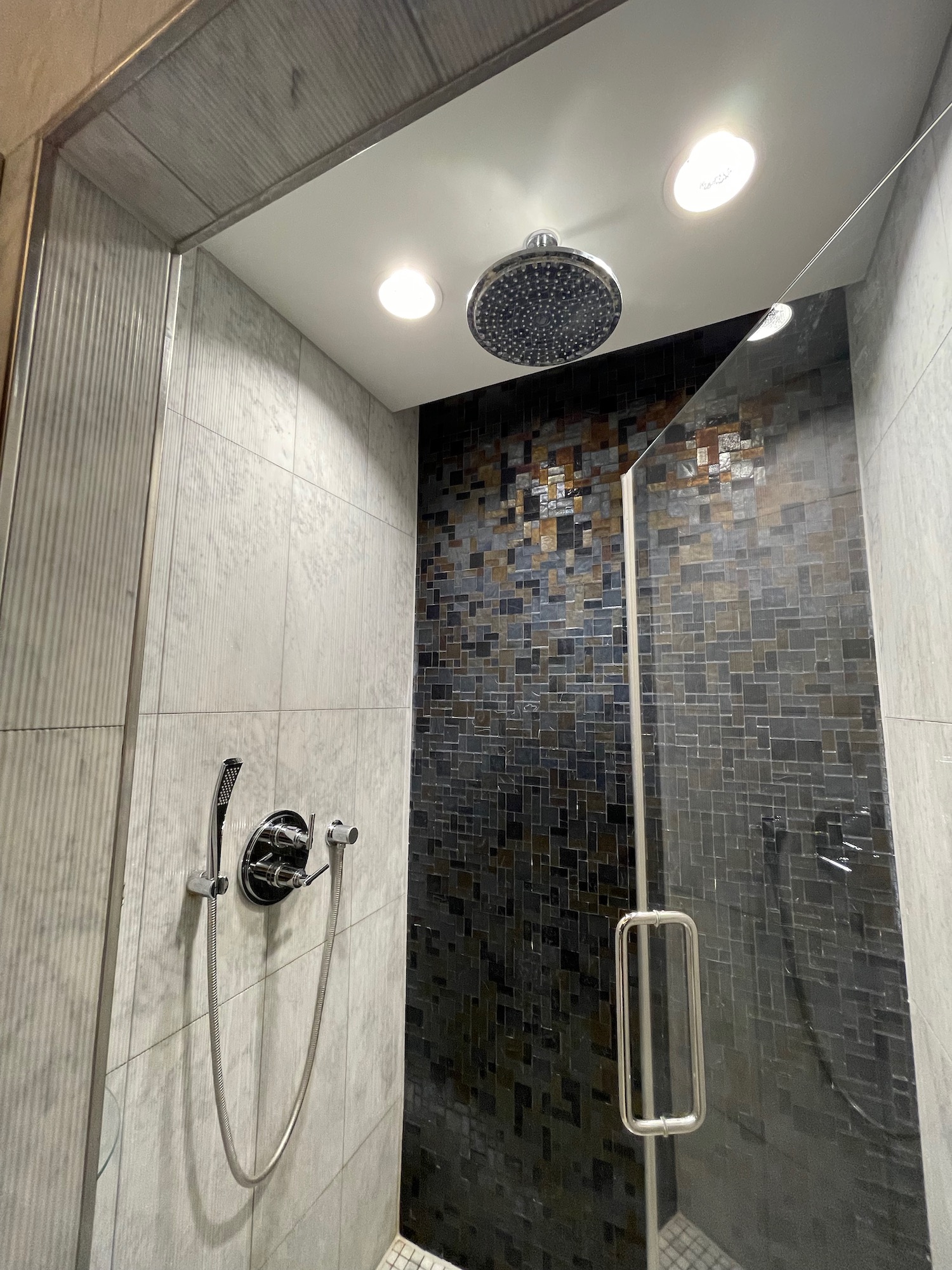 Restrooms
Restrooms are unisex individual suites.
Food + Drink
Beyond the cool decor and showers, this lounge has the best food of all the United Clubs.
A buffet spread includes soups, salads, sandwiches, bread, desserts, a number of hot dishes like chili, curry, vegetables, and chicken. I enjoyed a nice lunch of chicken (with honey, thyme, and mustard) with cottage pie.
If you're in the lounge in the morning, you can enjoy a full English breakfast:
There's a pair of self-serve coffee bars with tea (were were in England, of course), soft drinks, cordials, and water.
There's also a full-service bar, with all drinks complimentary, including cocktails. Below is the pre-pandemic menu, which gives you a bit of an idea of what to expect:
CONCLUSION
I actually prefer this lounge to all the other Star Alliance lounges in Terminal 2 (Singapore, Air Canada, Lufthansa) and appreciate the thoughtful decor, lovely staff, and genuinely delicious food. London may be a mess to transit through, but this lounge does provide a nice dose of tranquility.