It's been nearly a decade since I was last at the Hyatt Grand Central Terminal, New York City and I was happy to return to see how the hotel has changed over the years. 
---
If you are considering booking travel or signing up for a new credit card please click here. Both support LiveAndLetsFly.com.
---
If you haven't followed us on Facebook or Instagram, add us today.
Location
Connected to Grand Central Terminal in New York City, it's hard to find a better case for a key Manhattan location than this property. Well connected to city transit (by subway, train, and bus) and located on 42nd Street between Lexington and Park Avenues, the hotel is a great midtown option. I walked to most destinations I visited in the city during my visit.
Address: At Grand Central Terminal, 109 E 42nd St, New York, NY 10017
Phone: +1 212-883-1234
Property
Polished and still harkening back to its renovation in 1980 when it was remodeled by former President Donald Trump as a Grand Hyatt, his first construction project. The history of the project is incredible and fraught with accounting inconsistencies that culminated in Hyatt's Jay Pritzker, purchasing Trump's shares. Following its second renovation in 2011, the hotel returned to its original layout with 138 distinct room designs.
The hotel contains a fitness room but no pool, a concierge (perfect for securing event tickets) a lounge, and a convenience store off the lobby. The hotel also features memorable artwork that has been a calling card of the hotel for decades. Despite Global status, during this stay I was unable to visit the lounge and did not have time for breakfast.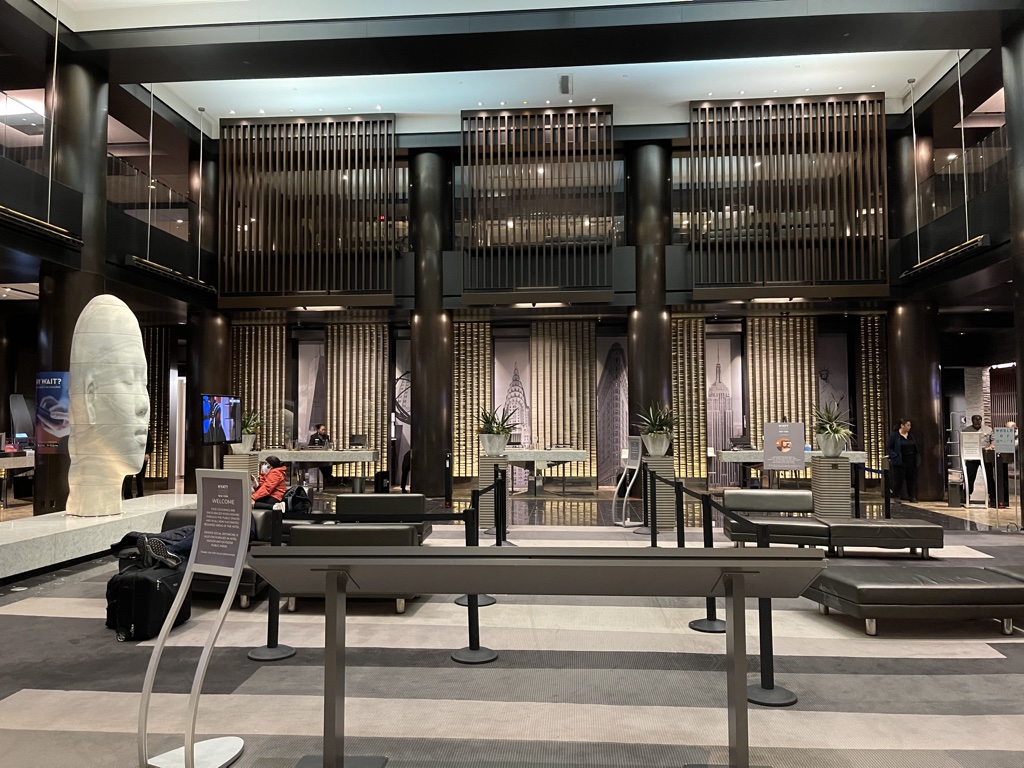 Room
I was "upgraded" to my corner room which had more space than other rooms in the hotel and more than the last room we stayed in. Upon entering, there was a small couch to the left with limited seating and a table with a single chair.
A dresser opposite the bed had a window and phone.
A wardrobe at the end of the room offered plenty of space to store a week's worth of clothing if needed. Inside I found wooden hangers and an iron, which made for easy touch-ups to my business attire ahead of my meeting.
The TV was mounted opposite the bed and next to a stunning view of Midtown Manhattan buildings.
As with many Manhattan hotels, the room space was smaller than most will find elsewhere in the US. For New York City, the room was above average size but would still be a struggle for more than just a couple. I'd recommend considering a suite for those staying with family members.
Bathroom
The bathroom was modern but compact. The essentials were all there and the toiletries were premium but it was a limited space. The shower was not over a tub which was an added plus.
Value
Cash rates for the property range from $180/night to $300/night depending on occupancy levels and whether a convention has been scheduled at the hotel. Suites were a surprisingly good deal (though I didn't upgrade my stay) at $238 per night. Point redemptions for the hotel are occupancy-based so they run 20,000 per night which is not a good value for World of Hyatt members. For the location, modern amenities, and a reasonable amount of space, I do recommend the hotel but only for those that pay cash for their stay.
What do you think? Have you stayed at the Hyatt Grand Central Terminal New York? How was your experience?