We drove out to Palm Springs for the Independence Day holiday and tried out the Hyatt Regency Indian Wells Resort & Spa, located about 20 minutes beyond Palm Springs in the Coachella Valley.
Hyatt Regency Indian Wells Resort & Spa Review
Admittedly, these are usually the type of hotels I avoid. First, it was hot. Second, it was crowded. But there are four people in my family, not just me, and I was outvoted: they wanted to go to a place with a lot of swimming. This hotel certainly has that covered. Due to the holiday, the paid rate was about $350/night so we used 18,000 points per ticket, which got me about two cents per point.
At the outset, I will say that I liked the hotel staff, breakfast, and spa…but I would not come back. Heidi is more agnostic. My kids, however, ask often when we can go back. So that probably means we will return…
Parking
Parking is controlled via a gated lot and runs $27/night, though it was waived for me due to my Globalist status and because I was using points (both are required for free parking).
If you have an electric car, an on-site Tesla charging facility is available.
Check-In
It felt a bit like Las Vegas at check-in, with a massive line in the general queue to check-in. That made me quite happy I had World of Hyatt elite status and was able to use the near-empty line on the left side, saving me at least 20 minutes.
In addition to room keys, I was given an armband to show I was a hotel guest (and access the pool). Children do not have to wear one.
Room
There are some suites here, but as it was a holiday they were all occupied. I had requested a ground-level room facing the golf course (instead of the pool) prior to check-in when responding to the "welcome" email that is automatically sent to each guest prior to their arrival.
A representative responded back that my request was confirmed, however when I checked in we were assigned a third level room. The agent explained that there had been some flooding…
… which I shortly found on my way to the room. The smell was not pleasant and it did not look like the hotel was pulling up the carpet. No way I would stay in that wing again (the 21XX rooms)…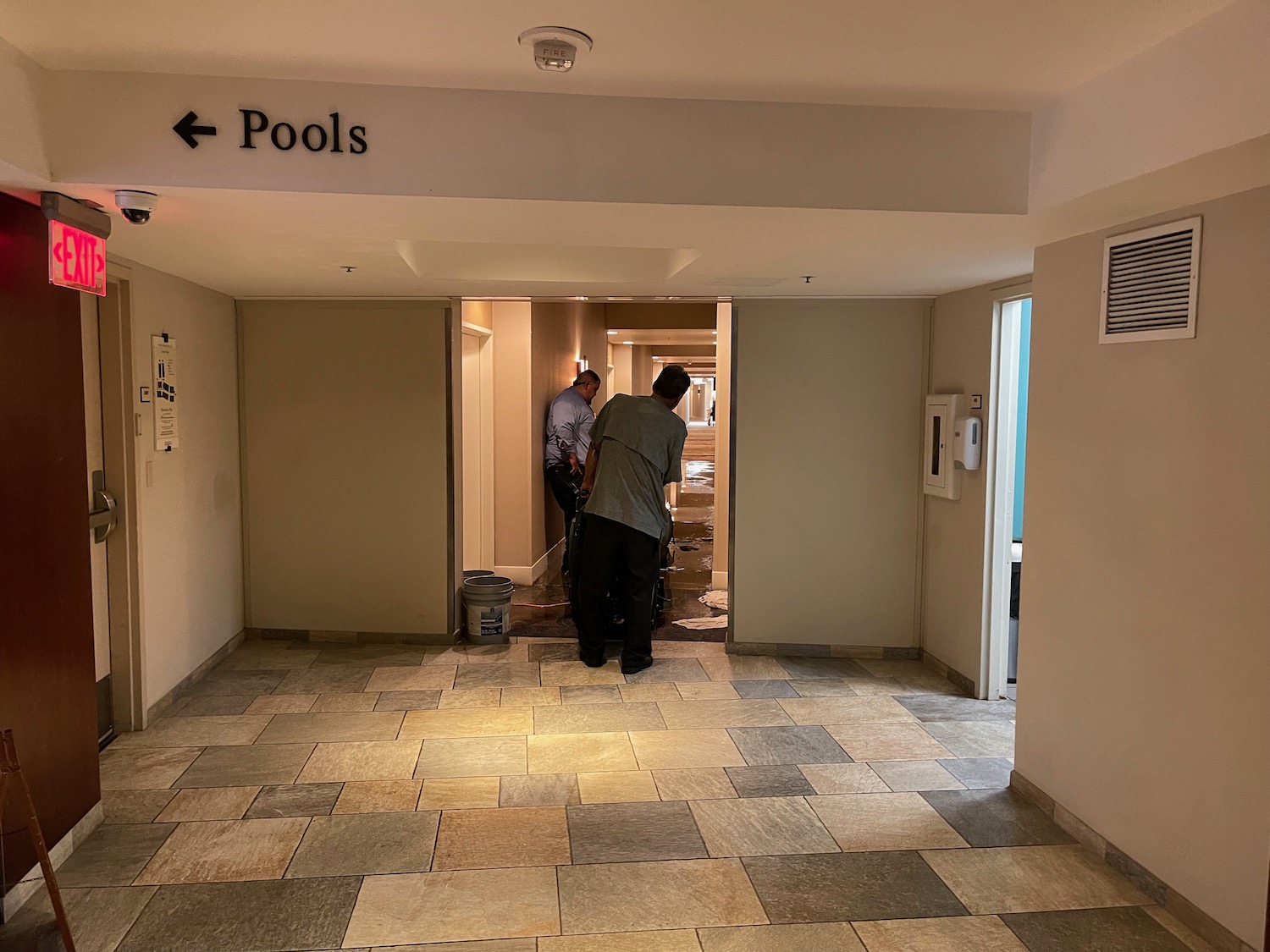 Our room, 2332, was fine. Not at all special…with a big bed and a sleeper sofa that transformed into a second bed. I appreciated that we had plenty of space, a substantial end table, and a large desk.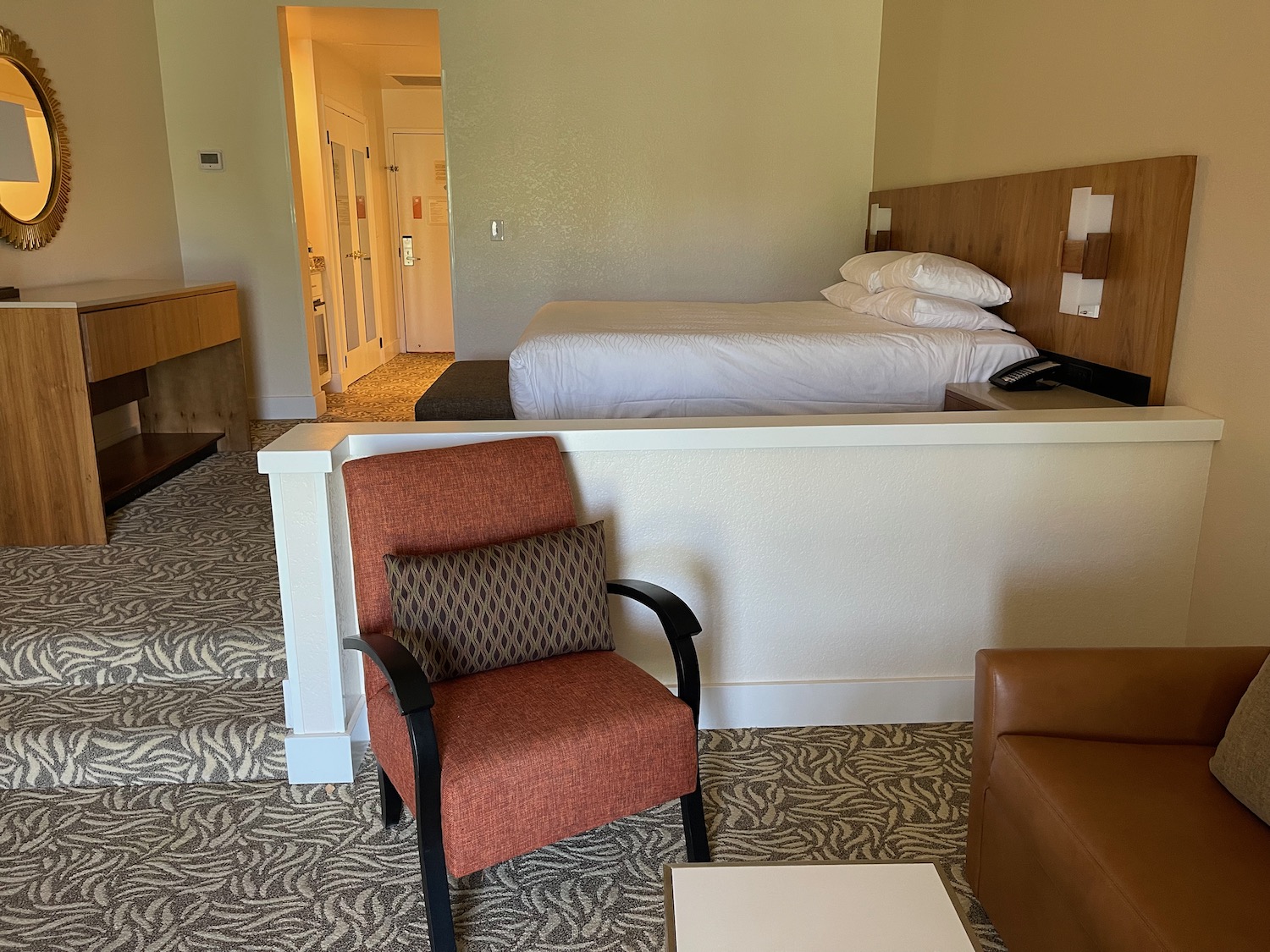 Outside, the balcony overlooked the golf course.
The bathroom included a shower, toilet, and tub with Balman bath products.
There was literature on the desk explaining the hotel's amenities, spa menu, and special Fourth of July festivities (we skipped the fireworks).
Pools (HyTides Waterpark)
You really do come here if you have kids who like to swim. Otherwise, the spa and gym are nice (see below), but not worth the hassle. On a hot July day with 112ºF heat, the pools were packed.
But on this day and every day, my children had such a fun time in the pool that it just brought a smile to my face (as I sat in the shade watching from afar during the heat of the afternoon). I was thankful there were 1-foot-deep kiddie pools, so I did not have to worry about my three-year-old drowning (she does not know how to swim yet).
Augustine loved the water slides!
Here's how the hotel describes the waterpark:
Dive into Greater Palm Springs' newest attraction. The largest resort pool area, HyTides Plunge, is breaking records as the tallest waterslide in the desert.

Featuring a set of 30-foot dueling waterslides, the three story attraction also includes a 450-foot lazy river and splash pad filled with dumping buckets, water cannons and more.
Guest access is included after 2:00 pm on your day of arrival through 1:00 pm on your date of departure (no showing up early or staying very late).
Again, the kids loved it while I found it too crowded and sunny…
 Spa + Wellness
The hotel offers a full-service spa called Auga Serena. Treatments are available or you can just use the sauna, steam room, and plunge pool at no extra cost as a guest (yes, I sit in the sauna, even when it is 112ºF outside…).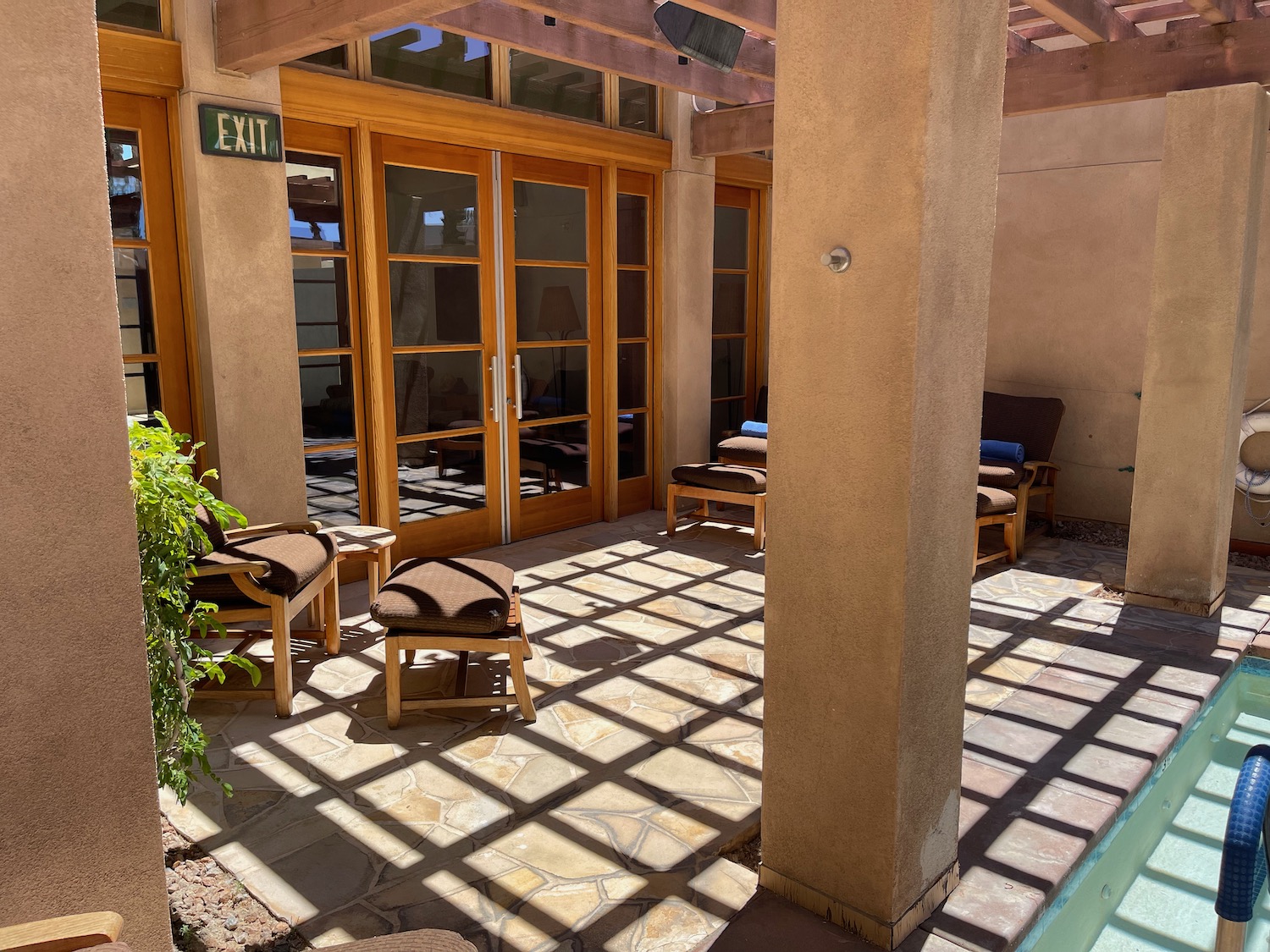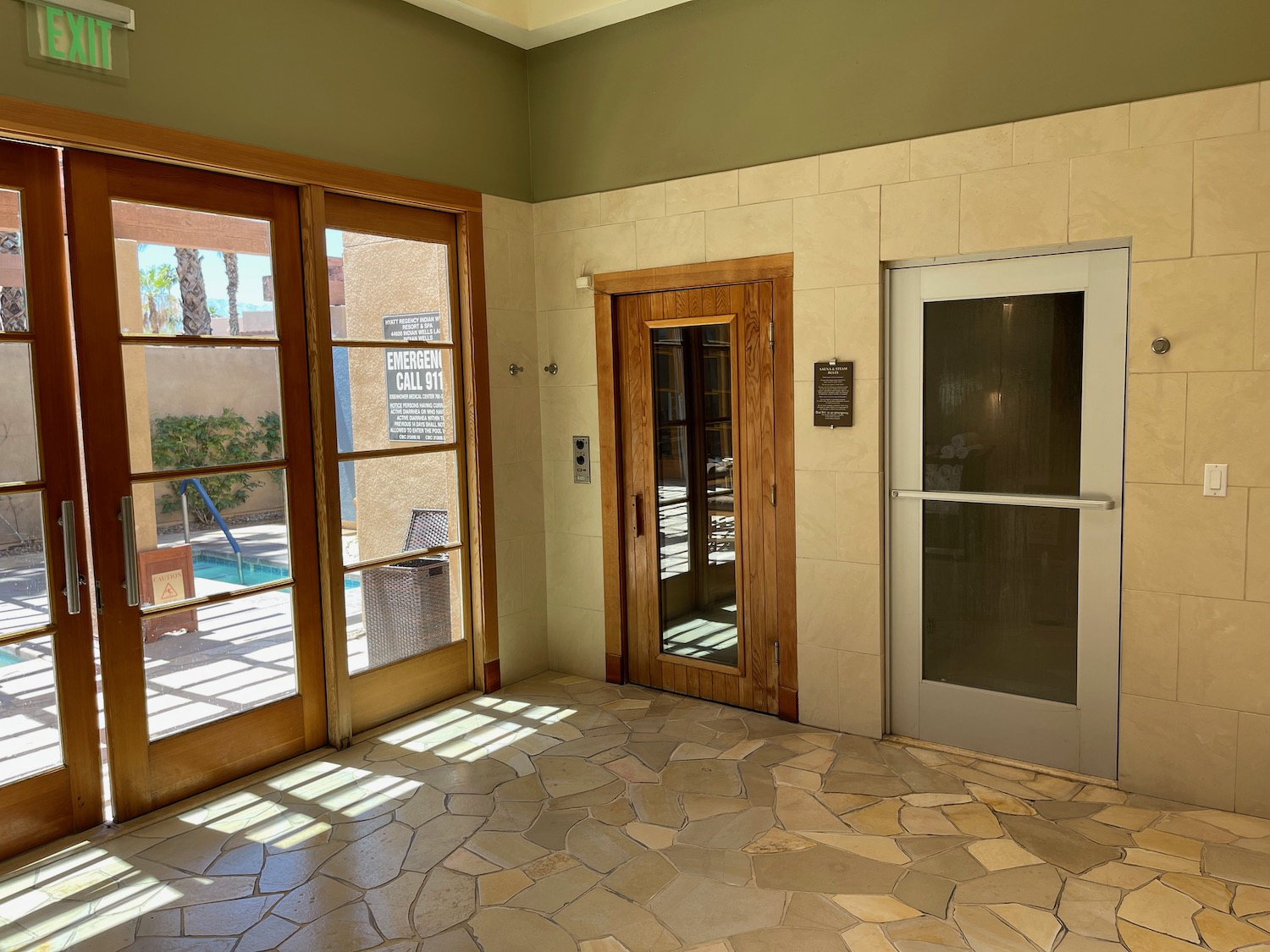 Fitness
Connected to the spa is a large fitness center with a wide selection of equipment and a separate room for pilates and yoga.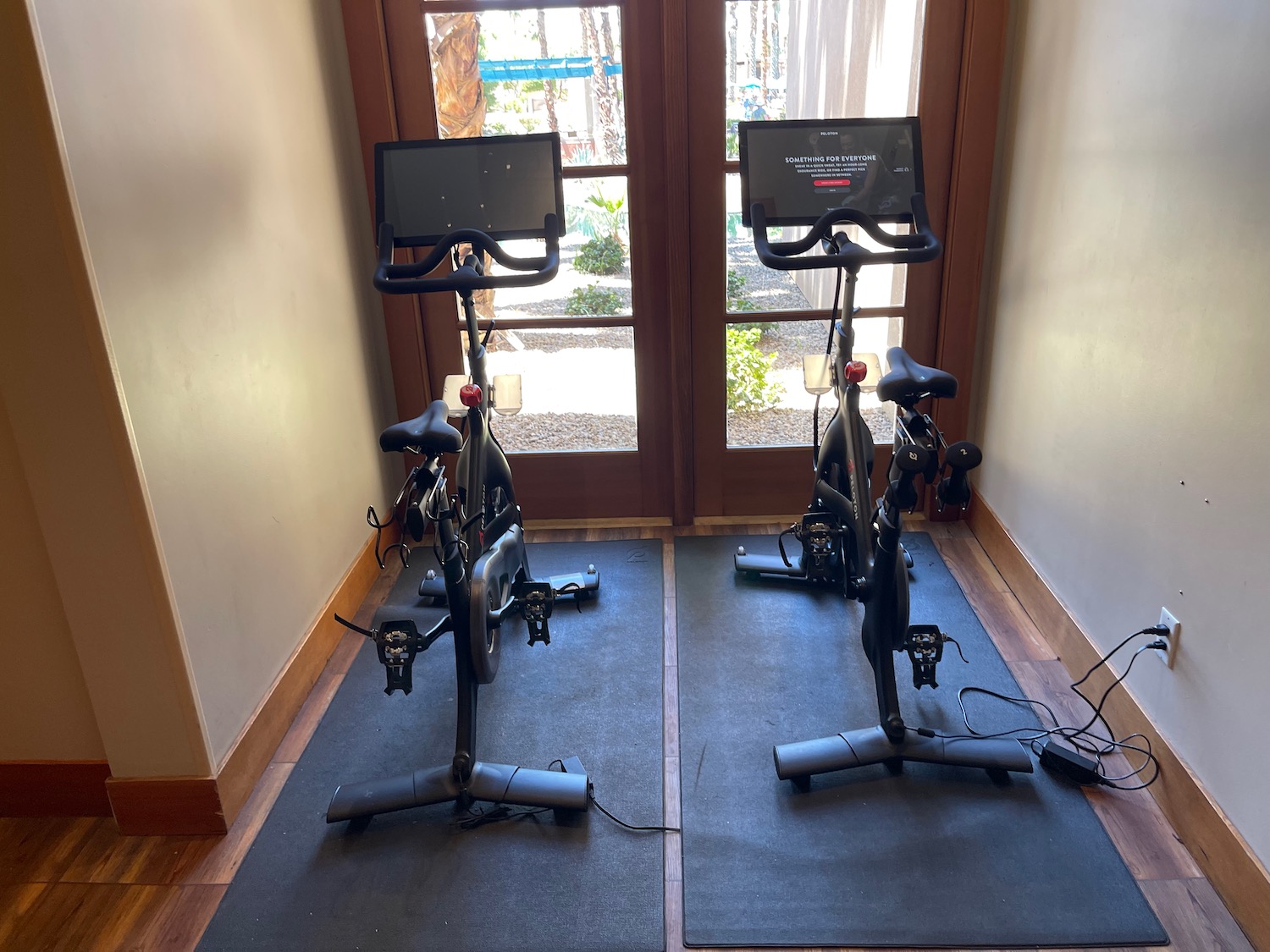 When I went to grab some pictures of the spa, I left the kids alone for about two minutes and when I returned I found they had decided to "exercise."
Dining
Breakfast was included for my family as a Globalist member and I was told I could either take it in Lantana, the hotel's main restaurant located near the lobby, or to-go food (plus Starbucks coffee…) at Citrus Marketplace and Café.
Breakfast included a buffet and an a la carte menu, of which I was invited to order whatever I wanted. Service and food were excellent, despite the crowds.
Lantana is also open for dinner:
Agave Sunset is the hotel lounge and bar, located directly across from Lantana.
Near the pools, food and drink are available at Roadrunner Cafe and Oasis Pool Bar.
Regency Club
The Hyatt Regency Indian Wells has no Regency Club lounge.
Business Center
A single desktop with a printer was located near the lobby. Nice to have, just in case…
Nearby is also a self-dispensing CVS Drug Store, which was kind of cool for all your sunburn and hangover needs…
CONCLUSION
Mission accomplished in terms of letting my children swim. This is not my kind of resort, but this is certainly a very family-friendly resort with a lot of fun for the littles ones. I have a feeling we will be returning sooner rather than later…