Augustine and I had a great father-son evening at the Hyatt Regency Los Angeles International Airport, which is conveniently located just a few paces from LAX.
Hyatt Regency Los Angeles International Airport Review
I live close enough to LAX that I never really need a room the night before my flight, but if you are looking for a convenient hotel at LAX, this is your best option.
Booking
I booked this for $160/night. It is a Category 3 hotel, so had I used points, the cost would be between 9,000 and 15,000 points per night, depending upon the date (non-peak is 9K, standard is 12K, peak is 15K). I was looking at 15,000/night so it certainly made sense to pay cash since I value Hyatt points at two cents each.
Location
The greatest selling point of this hotel its location to LAX. Located just across the street from the hotel entrance, it is as close to an in-airport hotel as LAX has. While 24/7 shuttle service is available, you can walk here (Even with luggage) from any of the terminals.
Parking
Parking is available on-site at a cost of $55 (with discounts for long-term parking available if you leave your car there when you travel). I parked at my friend Mark's house in Westchester, a short walk away.
Check-In
A friend shared some cool photos of what this hotel looked like back in the day:
View this post on Instagram
This hotel is used by many airlines to house thier crews and we ran into some Delta and Spirit flight attendants as we entered the hotel to check-in.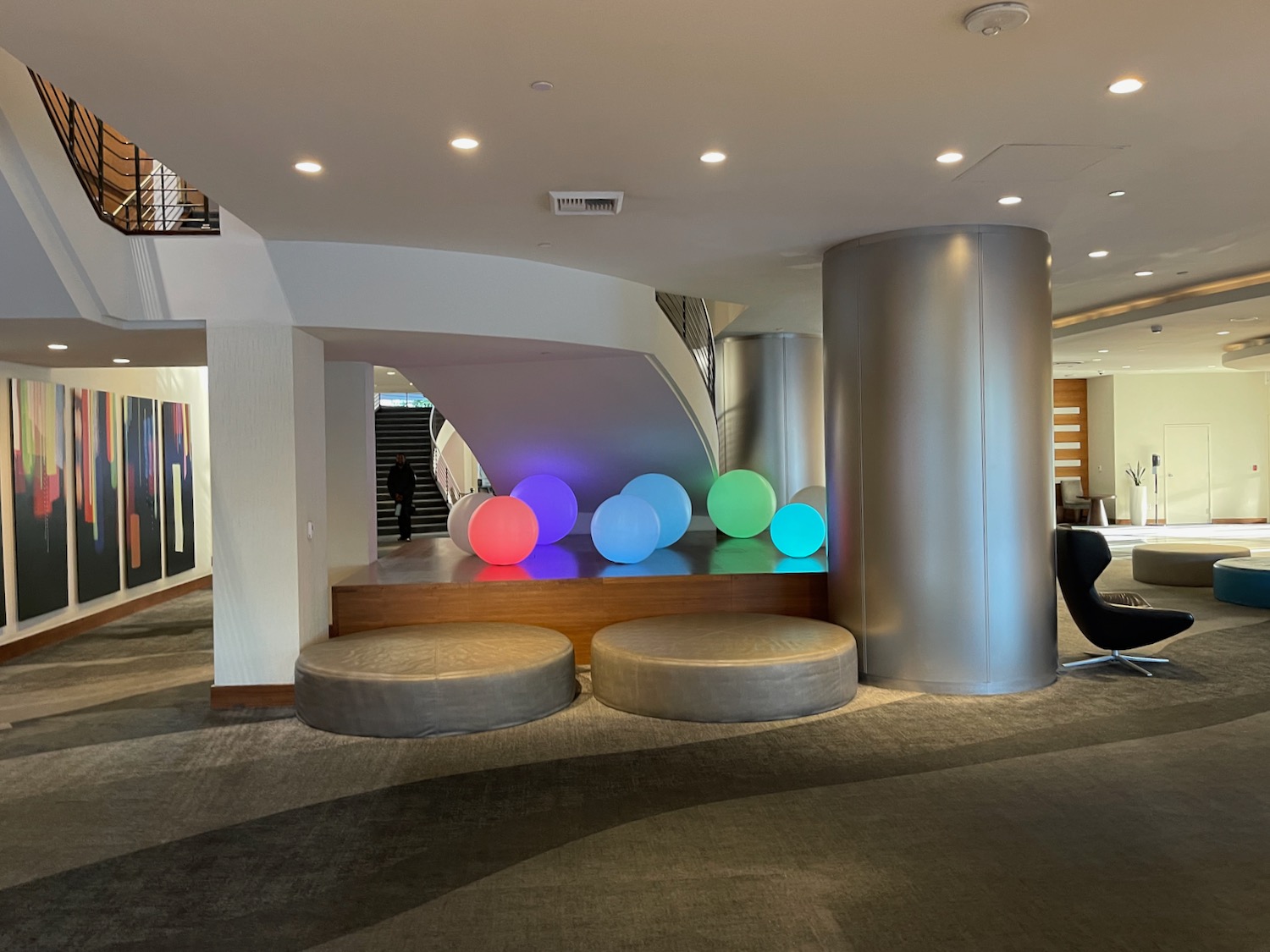 In a sign that we are leaving the pandemic era, self-serve water was available in the lobby.
A key card is necessary to operate the elevators.
While this hotel does have a handful of suites, we were assigned a standard room on the 11th floor, 1132.
Guest Room
Our room was quite basic, but perfectly adequate to sleep in…we were not in the room otherwise. The room was recently refreshed and had new carpet and furniture, including a king-size bed and round table, though a big empty spot where a couch or additional easy chair could have been placed.
Coffee percolator, but no espresso machine.
The bathroom had a walk-in shower, but no bathtub. Pharmacopia soap, shampoo, and conditioner were in a large dispenser.
Best of all, we had great views of the runways 24L/R and Augustine loved watching several planes land and take-off.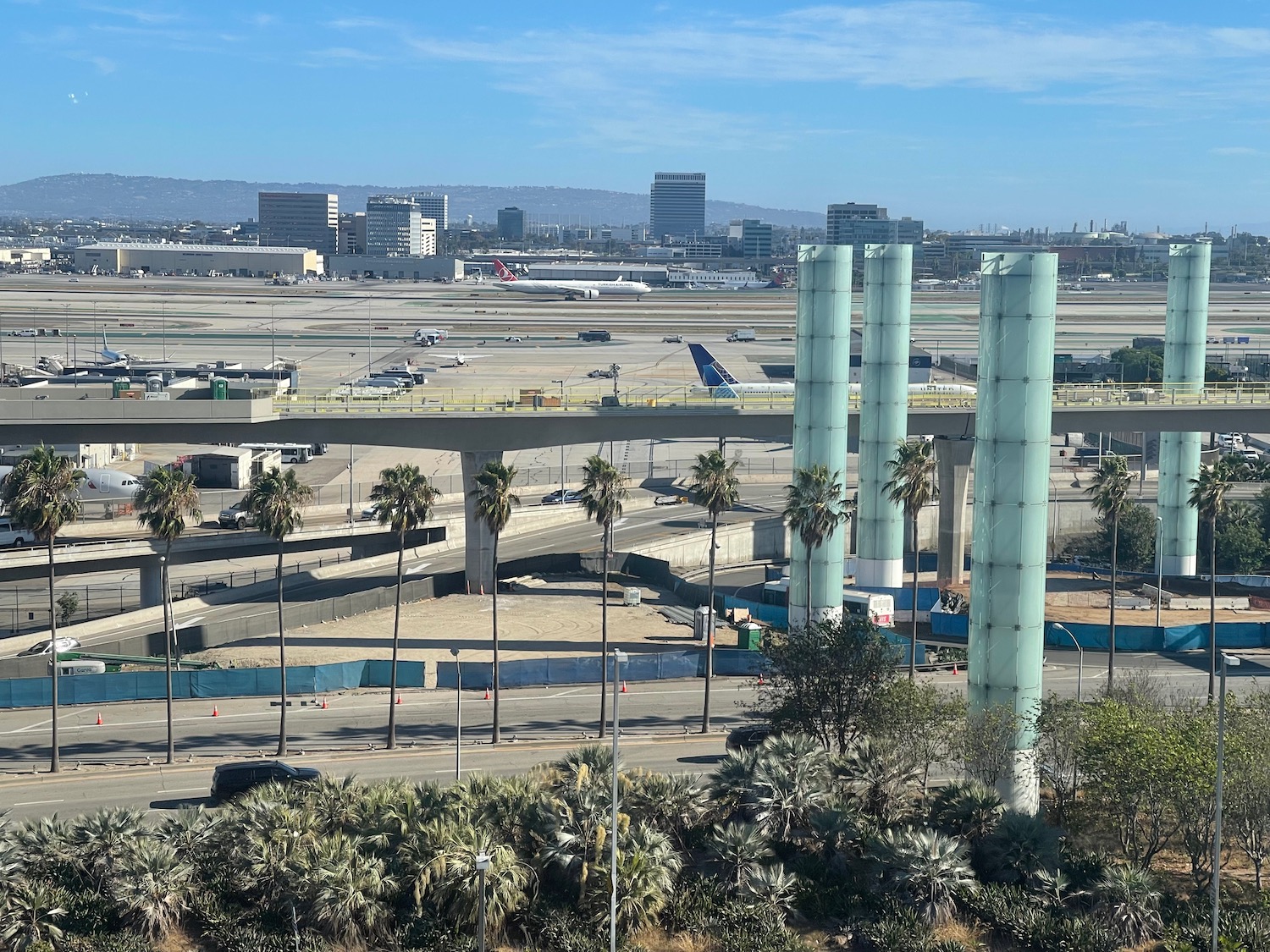 Dining
Breakfast is a real treat at this hotel. There is also a Globalist happy hour benefit.
Unity LA Restaurant
Breakfast at Unity LA was quite impressive. A well-stocked buffet included a wide selection of breakfast staples, but what impressed me was the freshly-made salsa (both a lovely verde sauce and pico de gallo), as well as a wide selection of nuts…I love pistachios and greatly appreciated that they were available (they go great in yogurt).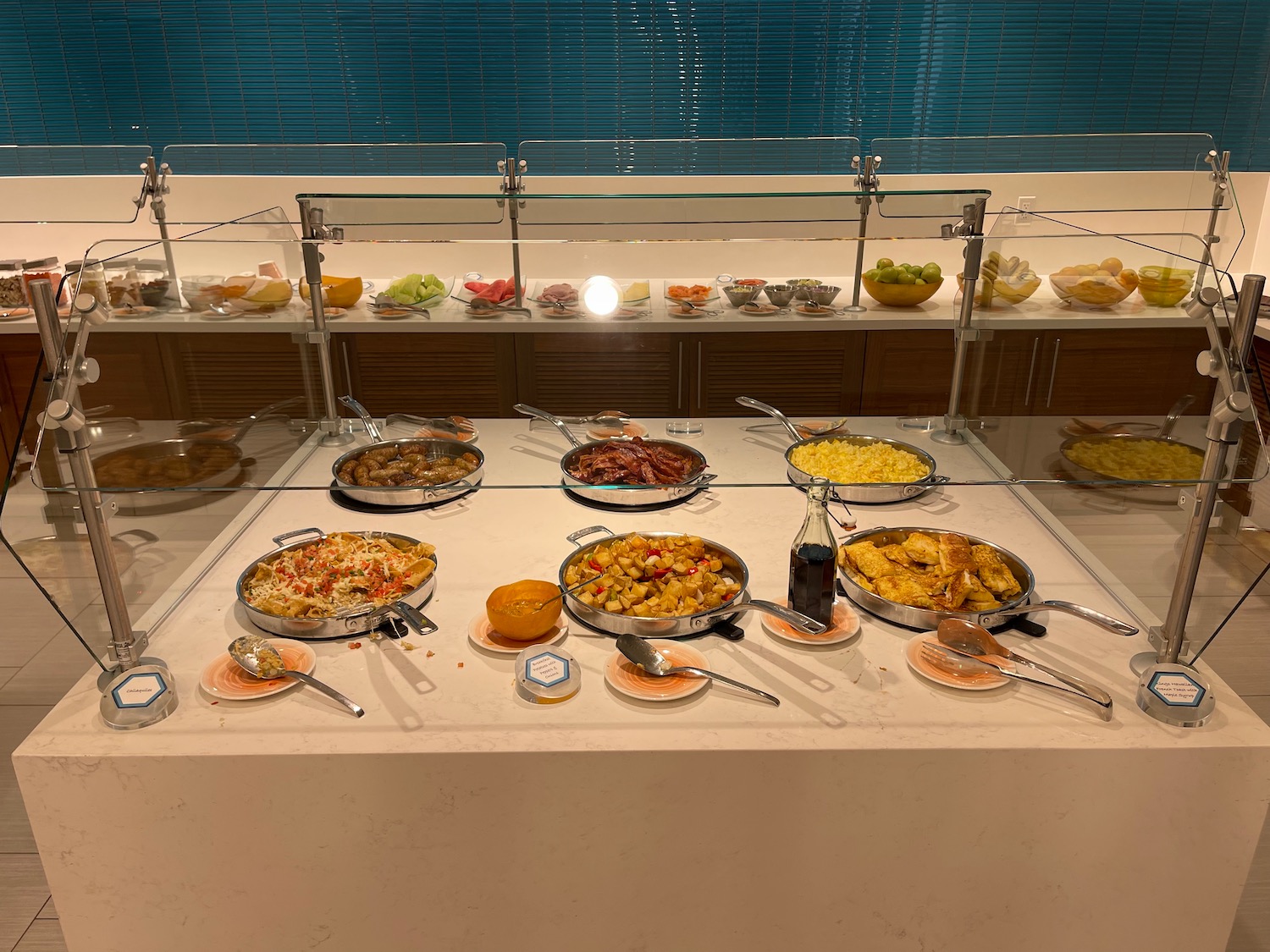 The eggs were great, the coffee not so much, but I enjoyed some juice from the open market next door (and was not charged as a Globalist… which I thought was a nice benefit).
Unity LA Bar & Lounge
A bar seemed to be quite popular and also offered an alternative to the permanently closed Regency Club for World of Hyatt Globalist members. I was told that one drink and one snack were complimentary (per guest) during the hours of 5:00 pm to 7:00 pm.
Bar menu: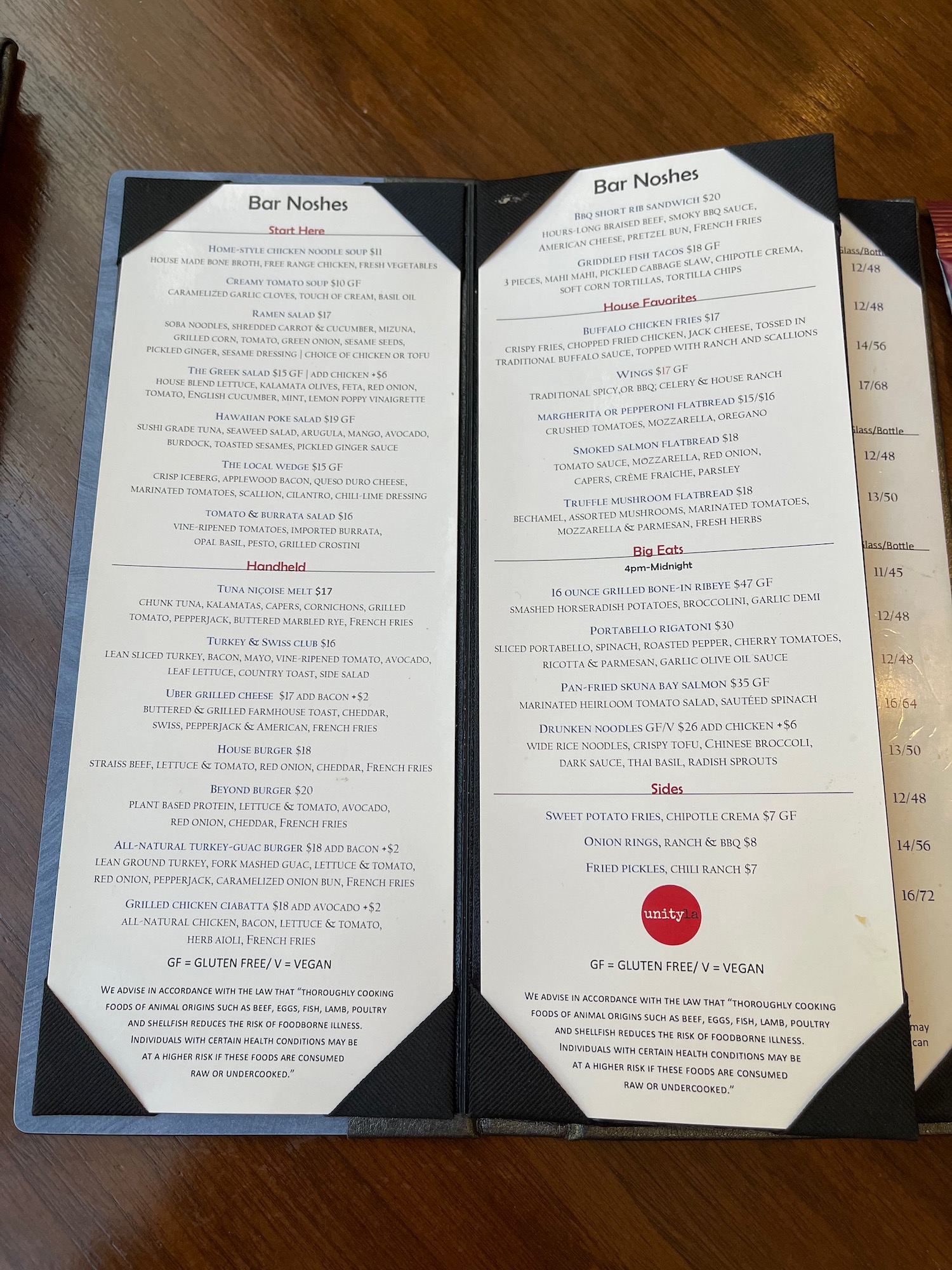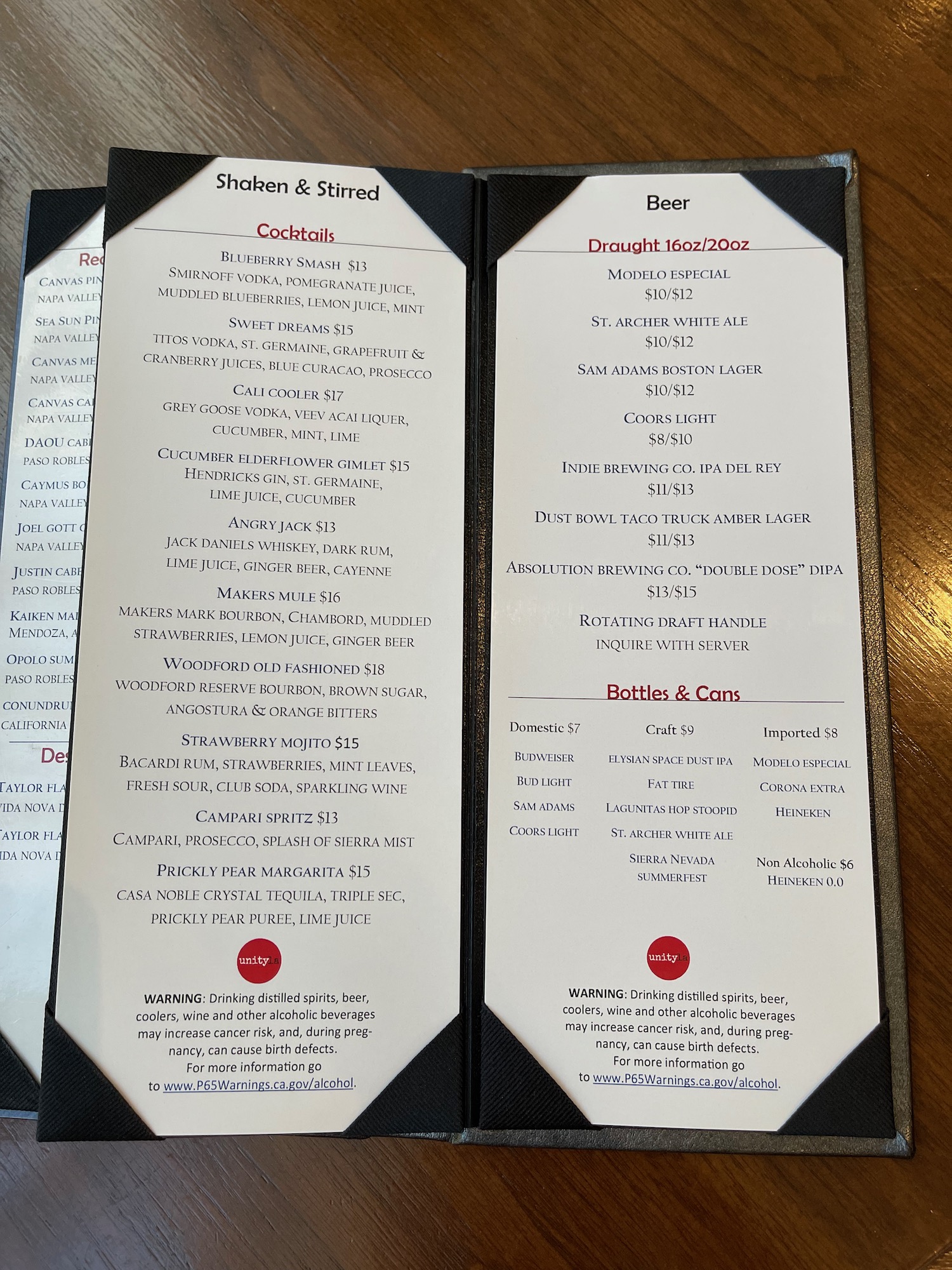 I had sparkling water and mixed nuts and I let Augustine splurge on some orange juice and candy.
We were presented a bill, which I signed this way:
Upon checking out, the charge was there and I was told it would be removed. It never was…
I should email Hyatt about this, but I am probably just going to let it go…
United LA Open Market
Finally, there is a 24/7 open market between the bar and restaurant with drinks, snacks, a coffee bar, and even freshly-prepared meal items. I love this concept and appreciate that if you are running late or early or just jet-lagged, there is always something available.
Shuttle
Although we did not make use of it, a complimentary shuttle operates every 15 minutes between the hotel and the terminals. Pick up the shuttle not in front of the hotel, but in the garage behind it.
Fitness Center
On the top floor, a fitness center not only offers a comprehensive collection of cardio and strength training equipment but some great views of the other runway.
We came up here to watch LH452 land from Munich before going home.
Meeting Space
Down the hall from the fitness center is a ballroom, also with some great views of LAX. This would be a great place for an FTU one day…
Pool
While I primarily chose this hotel for its location, the outdoor pool was an added benefit. Augustine has been taking swimming lessons for two years now and loves to go swimming. We had some fun in the pool.
It was cool out but still sunny and there were dozens of seats plus a couple of cabanas available.
CONCLUSION
I love the convenience of this hotel and was very pleasantly surprised by the great breakfast. For a father-son night, we had a great time here!