We flew home from Zurich via Amsterdam, spending a night in the Venice of the North before flying home to Los Angeles onboard a brand-new KLM 787-10 in economy class.
First Impressions: KLM 787-10 Economy Class
This was my first longhaul flight on KLM in economy class, but at 22K one-way, including a stopover in Amsterdam, it was too good of deal to pass up. Plus, flying in economy class takes all the pressure off of flying with young children.
There was a little incident at the gate concerning my wife's green card. A very rude American official demanded to see her green card, even though it had just been checked during check-in. That's fine, but this U.S. official was incredibly rude…I may say more about that in a future post.
Anyway, with the paperwork delay, I was not first onboard, but we still managed to board early and get situated onboard before it filled up. KLM seating is nine-across on the 787-10, but legroom felt reasonable at 32 inches of pitch. As it was a daytime flight, we did not recline the seat during the flight, but when I tested it, it felt generous.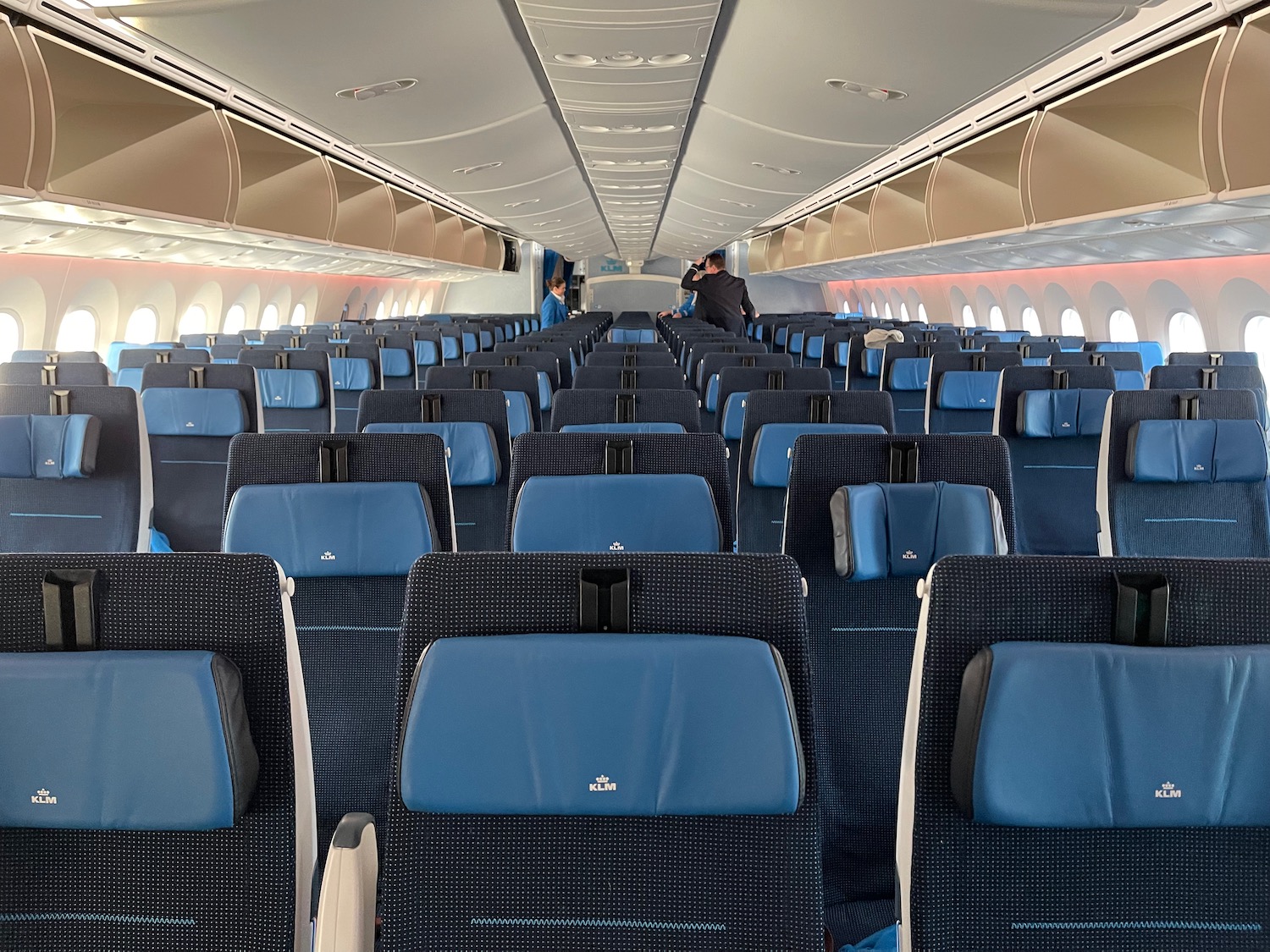 Unlike my mostly-empty Air France flight on the outbound, every single seat was taken on this flight. It was a full flight.
Also unlike Air France, where I felt there was simply not enough food served onboard, KLM keeps its economy class passengers well-fed. Lunch was served after takeoff (note the generous salad):
Mid-flight sandwiches were offered (which constitute a pre-arrival meal on some airlines):
Finally, a second lunch (pizza) was served before landing. A horrible carb overload indeed, but I do want to give KLM credit for offering plenty of food onboard (water runs were also frequent).
The crew was quite pleasant, as I've come to expect on KLM.
Internet cost €18 for a flight pass (messaging was free), which comes in quite handy on a long daytime flight during my normal work hours. That said, my daughter loves to plant herself on my lap or on Heidi's, so I was not exactly very productive.
The kids did just fine. A little bit of teasing and the occasional squeal, as one would expect with a two-year-old sitting next to a six-year-old for 11 hours, but overall the kids were well-behaved.
There was a very special exchange onboard which I will share about tomorrow.
CONCLUSION
It's hard to beat a one-way journey from Switzerland to the West Coast of the USA with a stopover in Amsterdam for 22K miles and about $120 in taxes. For that reason, I would not hesitate to use KLM again when traveling with the kids and using miles. Still, I missed business class…that's a treat on KLM as well.
---
> Read More: KLM 787-9 Business Class (SFO-AMS)
---
I'll have far more details and pictures from the flight in my full review. Stay tuned.