During my stay at the Chelsea Lounge at New York JFK, I walked next door to the Soho Lounge for a quick review. This lounge, run jointly by American Airlines and British Airways and intended for oneworld Emerald members is very posh and arguably more visually appealing than the more upscale Chelsea Lounge.
Soho Lounge New York JFK Review
American Airlines and British Airways now both fly out JFK T8 and have opened new lounges to coincide with the joint operations.
Access + Hours + Location
Just past security in Terminal 8, you will see Bobby Van's Steakhouse on the right side.
Around the corner is the entrance to the Soho Lounge. Take the elevator up one level then walk straight into the lounge. It is open from 04:30 AM until 11:00 PM daily.
This lounge is intended for oneworld Emerald members who are not flying in first class (Emerald is the top-tier in oneworld and would include American Airlines Platinum Pro and Executive Platinum members, Alaska Mileage Plan MVP Gold 75K and MVP Gold 100K members, and British Airways Executive Club Gold members). Alaska and American Emeralds need to be flying a longhaul oneworld international flight to gain access while Emerald members of other oneworld programs, including British Airways, can access when traveling on any oneworld flight, even if in domestic economy class.
Finally, American's invite-only Concierge Key members can access this lounge on any same-day oneworld itinerary and first class passengers traveling on other oneworld carriers besides British Airways and American can access this lounge (BA and AA first class passengers can use the Chelsea Lounge). Practically, that would mean a Qantas passenger traveling to Sydney or JAL passenger traveling to Tokyo or Cathay Pacific passengers traveling to Hong Kong could use this lounge, if seated in first class.
Seating
This 12,000 square foot lounge has seating for 282 passengers in a beautiful space with one wall lined by floor-to-ceiling windows overlooking aircraft below. Unlike the Chelsea lounges, it feels spacious and open, with high ceilings and a fairly open floor plan.
As you step foot in the lounge the first thing you'll see is a bar area, which I'll get to below, but includes a number of round tables, each with three chairs.
Beyond is the main dining area in the center of the lounge and then seating along the windows.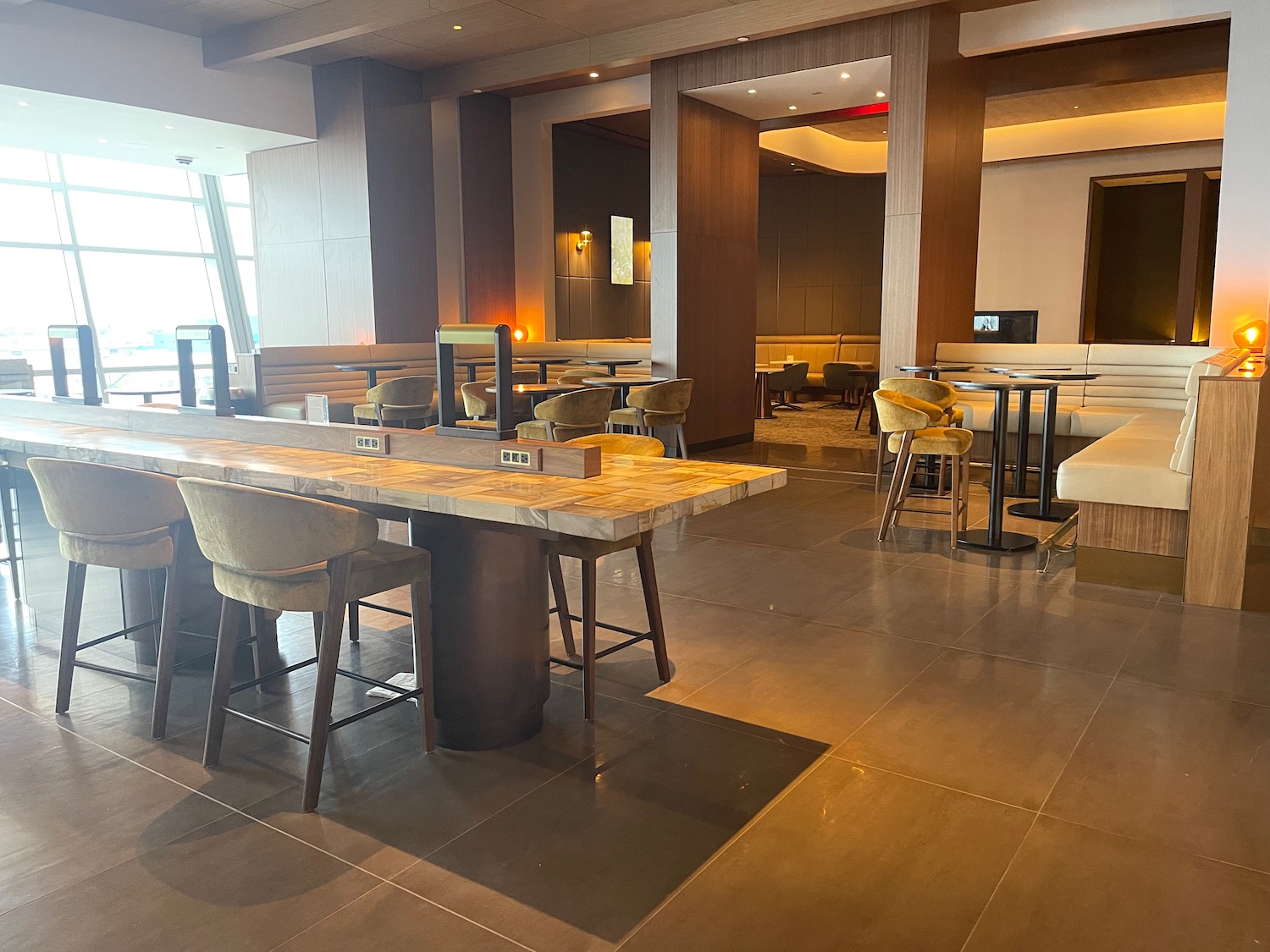 Great tarmac views:
There were even some booths intended for one passenger (two at the most) to work or eat with some degree of privacy.
In the rear of the lounge is another large room with a fireplace (turned off) and mix of tables and booths.
Power outlets (including USB-A and USB-C ports) are located just about everywhere you look. Internet worked flawlessly.
I visited the lounge at 9:45 am and it remained mostly empty until I left 30 minutes later.
Food + Drink
This lounge features a hybrid style of dining, with both a comprehensive buffet and an a la carte menu.
Each table has a QR code with a unique number. By ordering from the bar code nearest you, your food or drink will be brought to your table. You can review the current a la carte menu here:
Beyond the a la carte menu, a buffet offered a number of delectable breakfast favorites including a lovely assortment of fresh berries, whole fruit, yogurt, bagels, pastries, croissants, and all the fixings for a proper English breakfast including scrambled eggs, bacon, sausage, baked beans, and potatoes (I guess the cooked tomatoes and mushrooms were missing). Also available: porridge, cold cuts including salmon, a kale salad, and cheese.
No alcohol in the lounge is self-serve except for beer. Instead, it is only available at the bar. Although not on the menu, Nicolas Feuilatte Grand Reserve Grand Cru Champagne was available. Cocktails, beer, and wine could be ordered in-person at the bar or via QR code.
Coffee, tea, beer, juice, and soft drinks were self-service. My main criticism for this lounge is that the coffee is not great. WMF makes some of the worst coffee machines (in my opinion) and it is a shame that AA and BA did not invest in nice coffee machine for this lounge. Offering barista-made espresso drinks really would have further separated this lounge from others.
Service
My interactions with staff were limited, but I was warmly greeted upon entry and the bartender was very kind (almost adamant) that I have a drink (I did not, due to my headache).
Flight Help
Should you need flight help, you can ask one of the reception agents or visit a customer service desk just past the entrance.
Restroms + Showers
Restroom and shower facilities are available in the rear of the lounge on the left side. Toiletries are available on request and the bathroom products are from DS &Durga.
Relaxation Room
As you enter the lounge, just before the buffet (but past the customer service desks) you will find a relaxation area with three chaise lounges and two smaller chairs. Pillows and blankets are available upon request.
CONCLUSION
In terms of beauty, I would say the new Soho lounge beats out the Chelsea and Greenwich lounges. As a oneworld Emerald lounge that represents a sort of hybrid between a first class and business class lounge, it offers a la carte plus buffet dining, a wide variety of drinks, and plenty of room to spread out. I look forward to returning to this lounge.
How would you review the Soho Lounge JFK?