United's former Global First Lounge at San Francisco (SFO) in the G Gates area is now a standard United Club, but still brings back fond memories of yesteryear.
United Club San Francisco (SFO) G Gates Review
Every lounge has a story and this was the exclusive first class lounge back in the days when three-cabin service on United meant first, business, and economy rather than business, premium economy, and economy.
It was a rare occasion indeed when I had the privilege of visiting this lounge, but there were a few visits over the years.
Here's what the spread look looked like back then: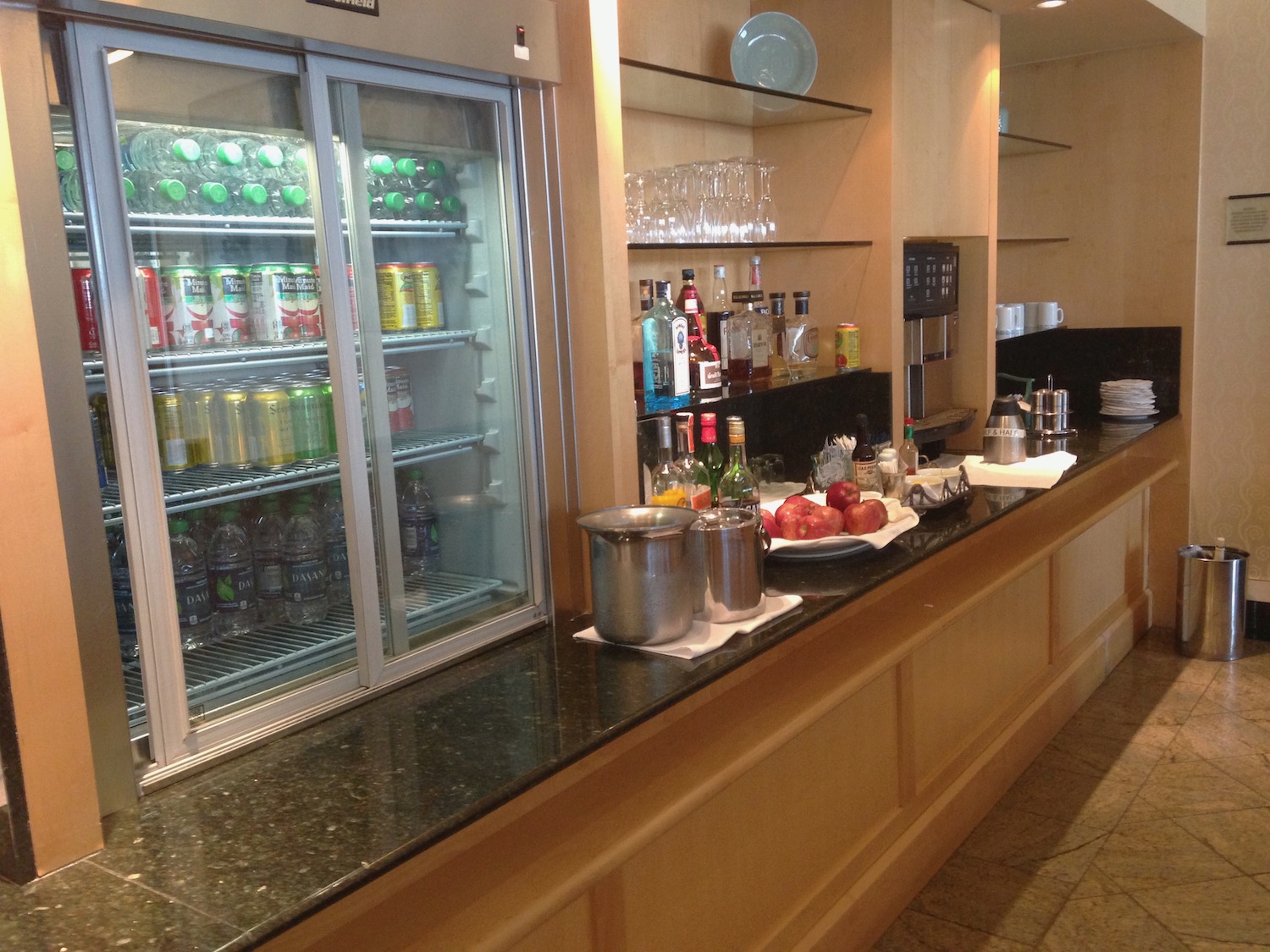 The lounge was also more ornate back in the day, with palm trees and lion statues, a nod toward United's extensive Asia service.
Seating
These days the lounge has the same chairs you can find in most any United Club and most of the artwork and plants that made it special are gone.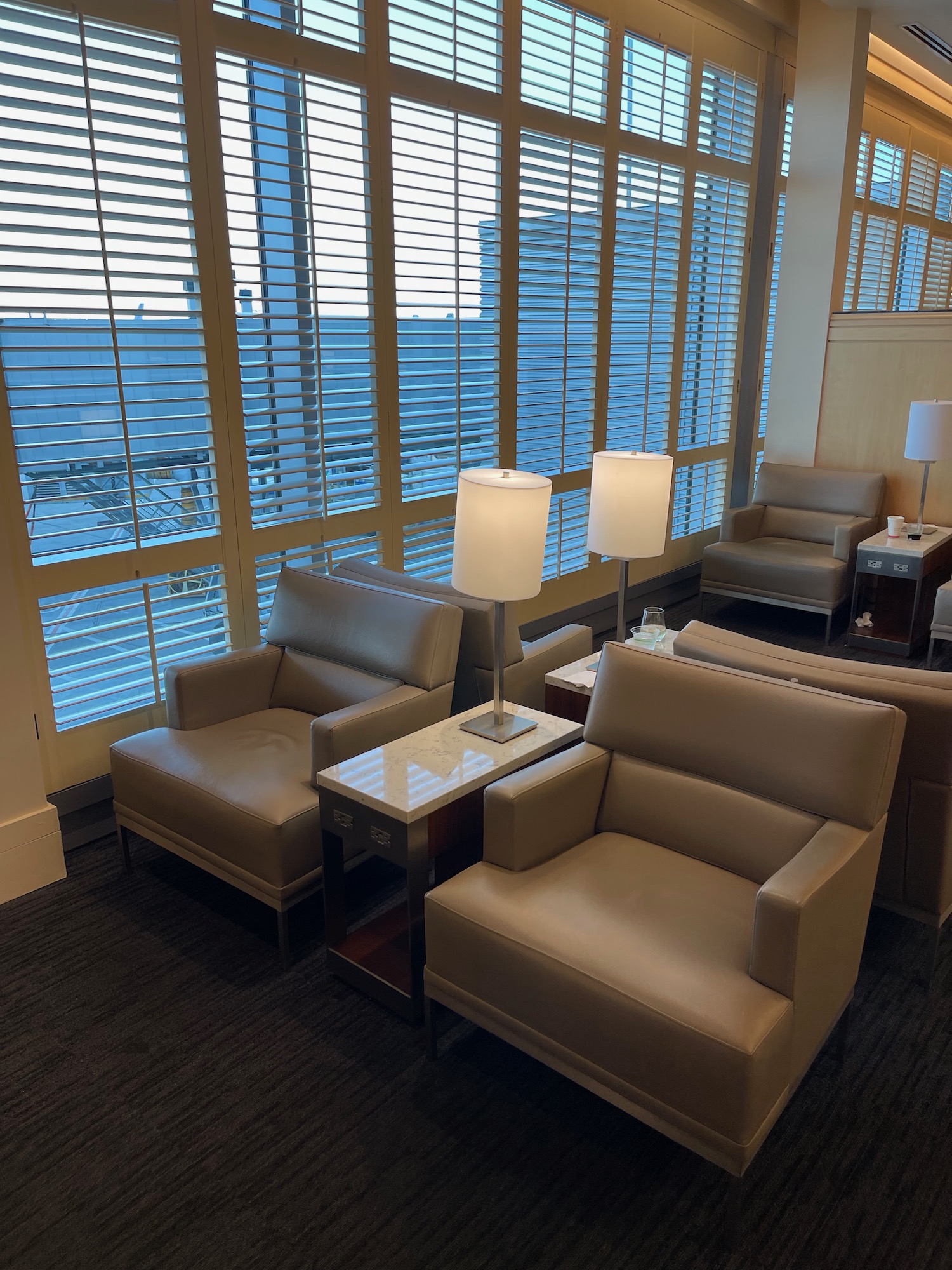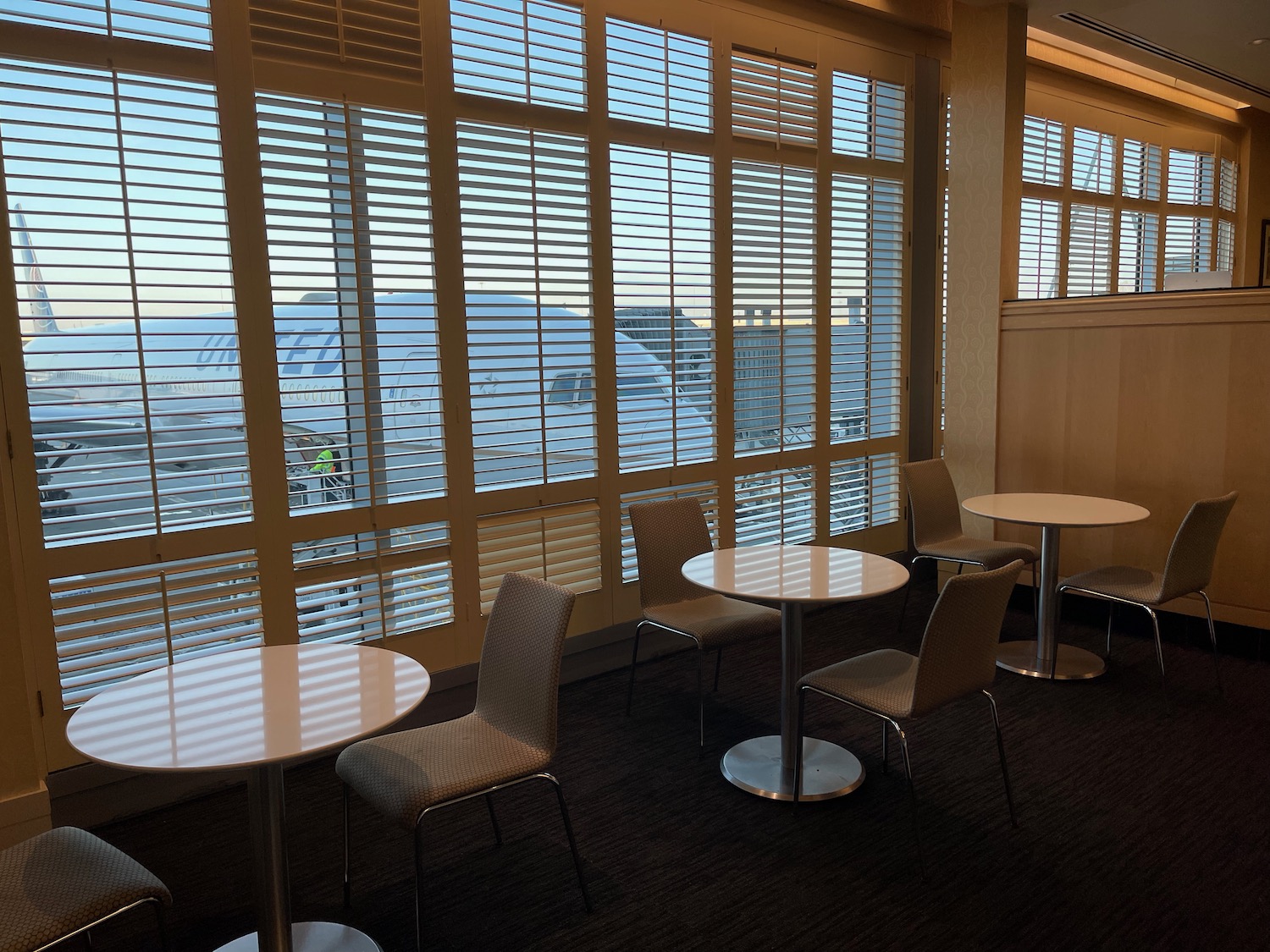 Still, it's a large lounge. After validating your entry credentials, head downstairs via stairs or an elevator and you'll find plenty of seating, including a number of small alcoves on the left side and a dining area in the back. You can also get flight help at a trio of desks near the elevators.
There's also a small luggage storage area in the center of the lounge.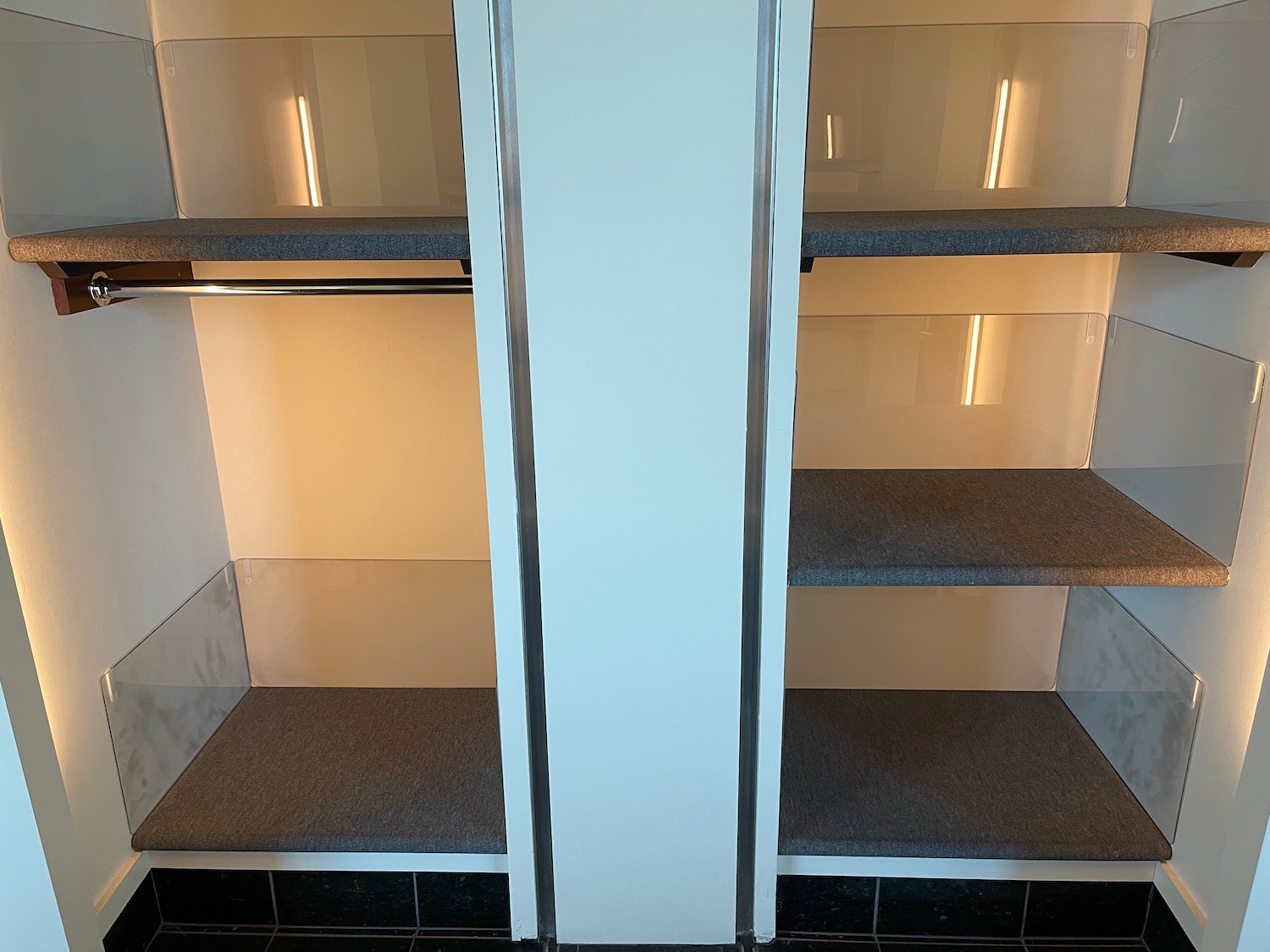 Food + Drink
United is in the process of moving back from individually-packaged products to a more traditional buffet, but during my visit there was a selection of packaged salads (pasta, vegetable/bean, Caesar), wraps, chips, and whole fruits.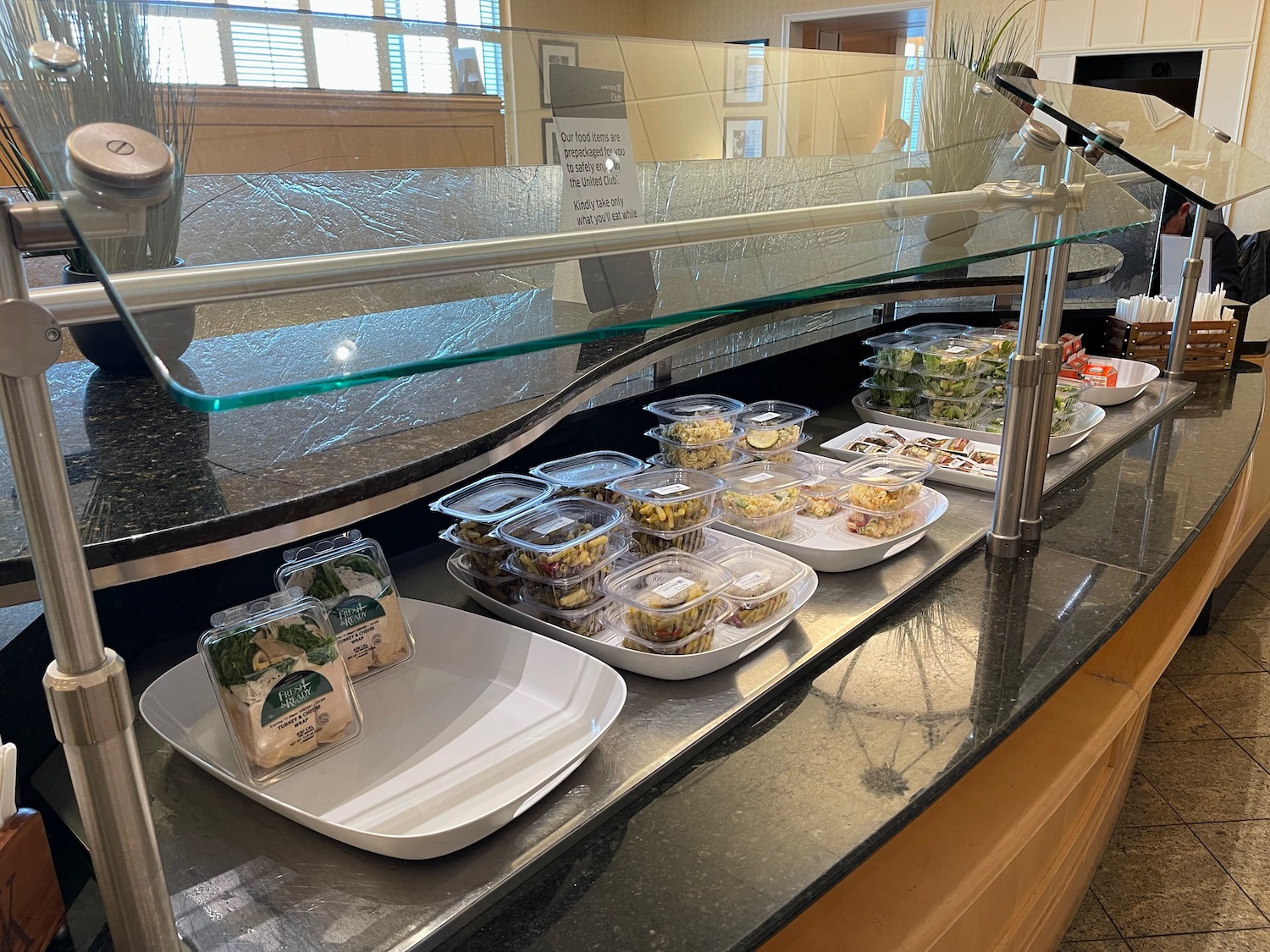 The bar was self-serve before, so United has added a rather unsightly makeshift bar next to the food. Beer, wine, and select spirits are free while premium wine, spirits, and cocktails carry a surcharge.
Restrooms
Restrooms are available in the rear of the lounge past the food area. No showers are available (this lounge used to have showers – not sure if those shower suites are sealed off or sitting vacant).
Access + Hours + Location
This SFO United Club  is located in Terminal 3, Boarding Area G, between gates G6 and G9. If you are coming from security in the international terminal, head straight down the G concourse and you'll hit it on the right side. During the pandemic, it is open daily from 7:00AM to 9:00PM. If you are coming from other parts of Terminal 2 or Terminal 3, there is a landslide connector. Just follow the signs for G gates.
Access is reserved for United Club members, Chase United Club Visa holders, Star Alliance Gold travelers, business class travelers flying to Boston (BOS), New York (JFK), or Newark (EWR) on United's premium transcontinental service, and international business or first class passengers traveling on any Star Alliance flight. Global Services members also enjoy access.
Furthermore, one-time passes from Chase are accepted or can be purchased for $59 (currently on sale for $39). Note that if you hold a Star Alliance Gold card from United Airlines (Premier Gold or higher), you can only access the lounge when traveling in conjunction with an international itinerary. Those who have a Star Gold card from other programs can use the lounge when traveling on any Star Alliance flight in any class of service. Also note that United does not give premium cabin passengers access on domestic flights, with the exception of the premium transcontinental route noted above.
Crowding
While this likely is not a problem any more since the nearby Polaris Lounge has now re-opened for longhaul business class passengers (making this a club essentially for Star Gold travelers and United Club members traveling internationally in economy class), there was a waiting list to get in during our visit. We were told this was per San Francisco ordinance, not because the lounge was packed the gills. However, during my last visit the lounge was so packed I did not take any additional pictures.
CONCLUSION
I'm not quite sure why this lounge would remove those beautiful reminders of United's longtime links to Asia, but if those lions are sitting in a closet somewhere, I'd love to put them in my office…
This lounge was often crowded, but the opening of the Polaris Lounge has made a much less crowded lounge. While there are no special features that would make me choose this lounge over the E Gates or F Gates clubs, I do like the memories associated with this lounge.