Qsuite Business Class on the Qatar Airways 777-300ER is always a comfortable ride, but the excellent service and delicious catering on my flight from Tokyo to Doha made this particular journey one of my best-ever flights on Qatar Airways.
Qatar Airways 777-300ER Qsuite Business Class Review (NRT-DOH)
I booked this ticket, with a connection to Amman also on Qatar Airways, for only 40,000 AA miles…the very best deal in the AAdvantage program when it come to business class redemptions. Where else can you get nearly 20 hours of premium cabin service for that price?
After several hours in the JAL First Class Lounge, I proceeded down to the gate, where I had to check-in for my flight, since I was connecting on separate tickets through Tokyo Narita.
It took some time to verify since Jordan (my final destination) was still requiring testing at the time, but soon I was holding boarding passes for both flights and boarding commenced shortly thereafter about 45 minutes before scheduled departure.
Qatar Airways 807
Tokyo (NRT) – Doha (DOH)
Monday, March 22
Depart: 9:55 PM
Arrive: 5:00 AM+1
Duration: 13hr, 5 min
Distance: 5,165 miles
Aircraft: Boeing 777-300ER
Seat: 2B (Qsuite Business Class)
Let's begin with the onboard service, because it really represented something so special and so above and beyond even what I normally am used to even on Qatar Airways.
Service
The service was over-the-top excellent. I feel like I hold Qatar Airways to a much higher standard than US and European carriers, but even so, the service from Joey and Wattana (pictured below) was so excellent (attentive, gracious, prompt, kind) that I cannot help but to shake my head in amazement…and thanksgiving.
I appreciate a flight attendant who constantly patrols the cabin, notices when you wake up, asks if he can bring you a hot beverage or fresh-squeezed orange juice, and returns moments later with a hot towel. It's classy. It's Qatar Airways.
Service is on-demand on Qatar Airways so it is not like there were set meal times on this journey. But Joey and Wattana had this uncanny sixth sense to anticipate your needs.
Sure, using the flight attendant call button was encouraged, but it was not even needed because they were attentive enough to proactively see when you needed something without being obtrusive or overbearing.
Furthermore, passengers were graciously addressed and no attention to detail was spared. You will not below how beautifully meals were presented, which takes just a few extra moments to arrange but shows such an admirable commitment to excellence.
Suites
The 777-300ER business class cabin featured 42 Qsuites, which are proprietary seats but based on a platform from Collins Aerospace. Seats are arranged with forward-facing and rear-facing seats at alternate rows. Even-numbered business class seats face forward while odd-numbered seats are rear-facing. Seats are 21 inches wide and convert to a flat bed that is 79 inches long.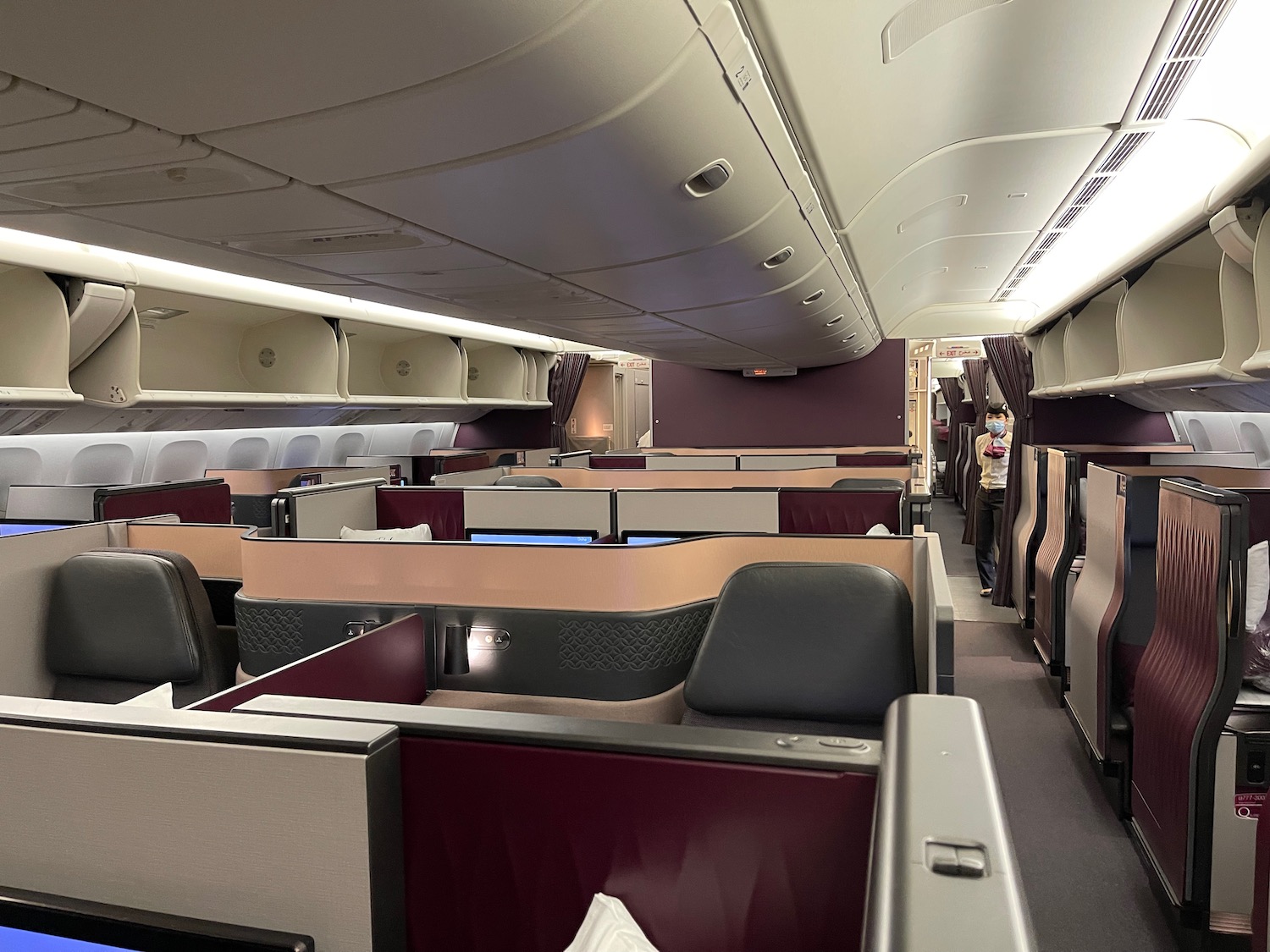 I chose seat 2B, a forward-facing window seat (not that it matted too much – the entire flight operated under darkness). Every Qsuite seat has a sliding door which provides a good deal of privacy when closed.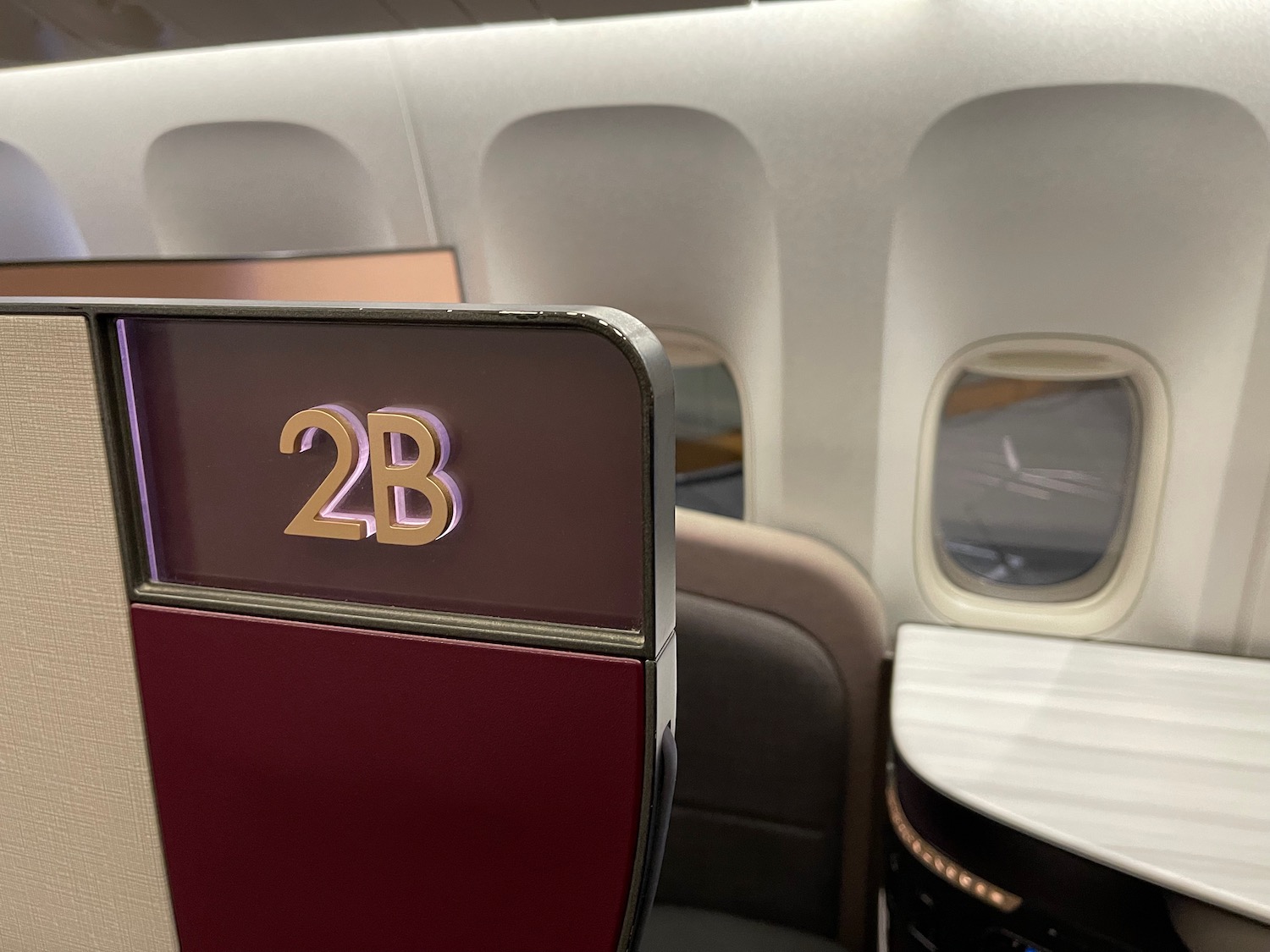 While I'm not a huge fan of closing doors in business class, you do feel private when all are closed.
Seat storage includes a large compartment on my wide and space in the footwell.
A power plug and USB port were easily within reach and overhead and side lighting provided plenty of illumination, even when the cabin was darkened (which it was for the entire flight).
After being unable to sleep on my JAL First Class flight to Japan, I had no trouble falling asleep on this flight. Not only was the cabin much cooler, but there were individual air nozzles above my seat. Qatar Airways business class bedding includes a large velvety-soft blanket and a pair of pillows. Your bed is made upon request and a mattress pad is added.
Food + Drink
Menus were distributed prior to takeoff. Like all longhaul Qatar Airways flights, meal service was a la carte, the menu was extensive, and the drink menu contained a rich variety of alcoholic beverages from around the world.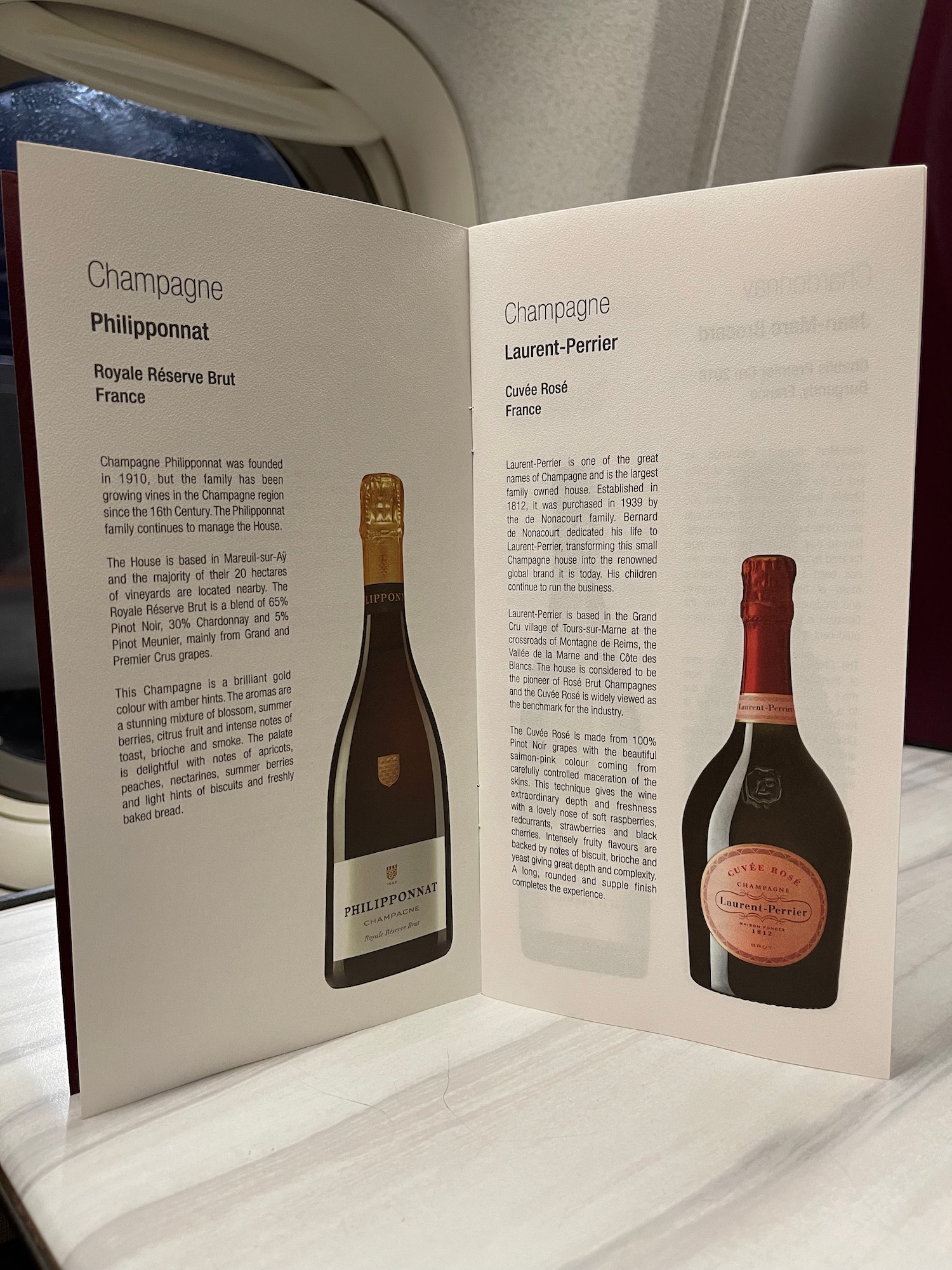 After boarding, I was offered a warm towel and a choice of beverage. I chose Qatar's signature mint lemon juice.
I sandwiched two delicious meals in between my sleep. For supper after takeoff, I began with a bowl of warmed mixed nuts (almonds and cashews) and a glass of water (as much as I enjoy the rosé Champagne, I did not drink alcohol on this flight so as to maximize my chances of a good rest).
For my appetizer, I began with a bowl of split pea soup, which was rich and creamy.
It was served with a savory three-in-one bread roll.
Next, I ordered poached lobster medallion with grilled scallop and smoked salmon with keta caviar, edamame, and a petit Mediterranean salad. I love scallops and found this entire dish quite delicious.
I must also comment here how much I enjoy Qatar's meal service presentation. The "candle" and salt and pepper mills add a touch of elegance that gives the entire meal a more premium feel.
For my main course, I chose a baked herb-crusted salmon with olive and tomato sauce, served with mashed potatoes and snap peas. It was delicious.
Next came a delicious cheese course, served with grapes and a basket of neatly-arranged crackers.
Finally, I included the meal with a hazelnut tart and a cappuccino.
After a refreshing rest, I had breakfast before our arrival in Qatar, which began with a proactive offer of a cappuccino from Joey.
I had slept for nearly nine hours and was hungry again, ordering a full breakfast before landing. Breakfast included fresh-squeezed orange juice and a mixed berry smoothie to start.
I also ordered Greek yogurt with a rhubarb compote and toasted granola with nuts. I grew up eating rhubarb and find it to be one of the most undervalued vegetables. I also enjoyed a butter croissant and scrambled egg dish with creamed spinach, mushrooms, baked beans, baby potatoes, and cooked tomatoes.
I finished off breakfast with a fruit platter, which included honeydew melon, grapes, apples, pineapple, mango, and strawberries.
The food on Qatar Airways is always superb, but I found the catering out of Tokyo Narita particularly delicious.
Each passenger was presented with a box of chocolate truffles from Läderach prior to landing.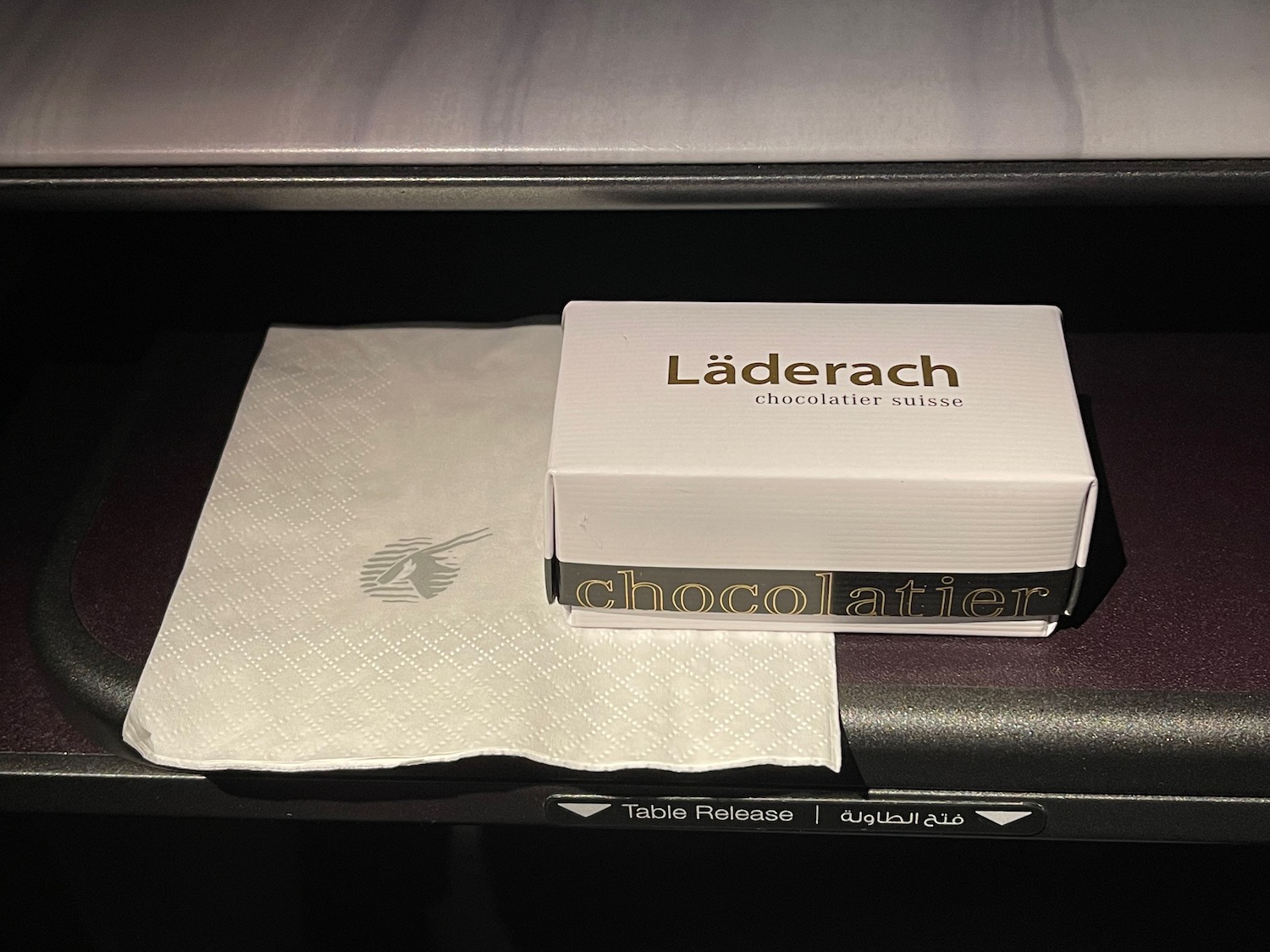 One thing is certain: you will never go hungry on Qatar Airways.
Amenity Kit
Each passenger was offered a small green Brigs-branded amenity kit that included an eyeshade, earplugs, socks, and a trio of skin products from Castello Monte Vibiano (skin cream, lip balm, and moisturizing spray).
Additional amenities were available in the lavatory.
Passengers were also offered a hygiene kit with mask, latex gloves, and hand gels. Masks remain compulsory on flights to or from Japan.
Lavatories
Business Class includes two lavatories in the front of the plane and two more (oversized) lavatories between rows six and seven, which divide the two business class cabins. Not only was the lavatory clean both times I used it, but the supply of dental kits and shaving kits was full. Hand lotion and facial spray from Diptyque was also available.
Pajamas
Pajamas from The White Company were proactively offered prior to takeoff. Feeling lazy, I did not change into my pajamas prior to takeoff, as I usually do. Instead, I waited until after I had eaten before changing.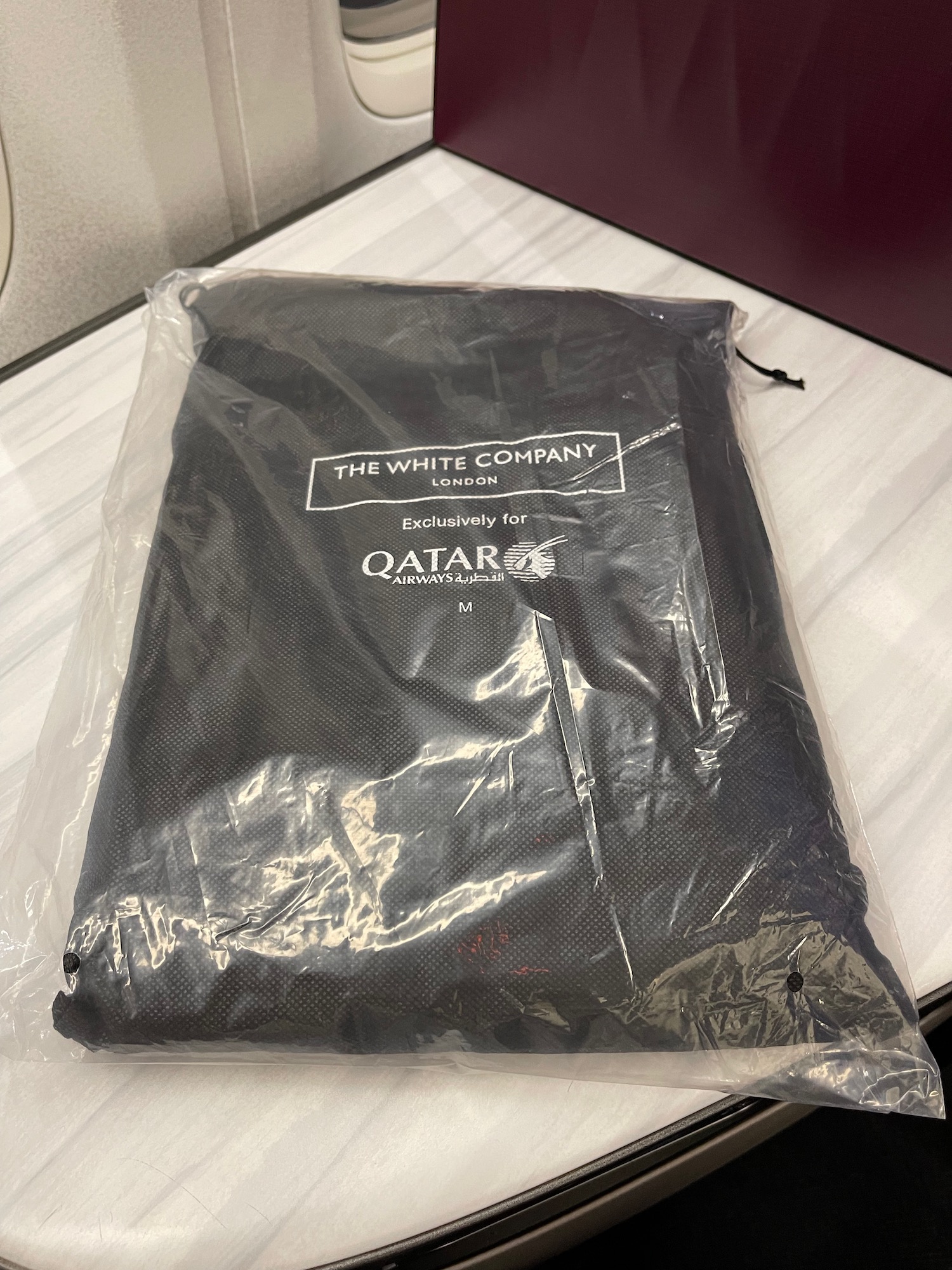 IFE + Wi-Fi
Qatar's extensive "Oryx One" collection of in-flight-entertainment provided hundreds of games, music, TV shows, or movies to choose from. Despite a flight time of nearly 13 hours, I maximized rest and did not watch a movie on this flight. There's also an entire library of Islamic literature as well as information about Qatar Airways.
Noise-canceling headphones are offered and are perhaps one of the few items upon which there is room for improvement. I find these types of headphones rather uncomfortable when worn for extended periods per the ear.
"Super" Wi-Fi was available for purchase at a cost of $10. I connected and was very pleasantly surprised at how fast it was. I got a bit of work done before dinner, then switched devices to my phone and ended up not really using it beyond reading some news article before landing.
You can easily switch devices once connected.
Landing in Doha
We landed at Hamad International Airport in Doha as the sun was rising. As is often (annoyingly) the case, we parked a remote stand and had to deboard via airstiars and onto a bus.
Qatar Airways does offer a special bus with fancier seating for business class passengers.
I was soon on my way to the Al Safwa Lounge ahead of my connection to Amman.
CONCLUSION
The service, seat, and food onboard this flight made it my best business class flight of 2022. I love long flights and this journey from NRT to DOH gave me plenty of time to eat, sleep, and relax. I fly a lot of business class products and this one is my favorite. While the seat itself is not all that much better than a reverse herringbone product, the entire package of service, food, and other amenities onboard make Qatar Airways my favorite. Throw in the wi-fi as well, which has gone from being unusable to lightning fast and only $10 for an unlimited flight pass without data caps, and I really think Qatar Airways represents the best overall business class product in the world at this point.
Have you flown Qatar Airways Qsuites on the Boeing 777-300ER? Is flying Qatar Airways as pleasurable for you as it always seems to be for me?