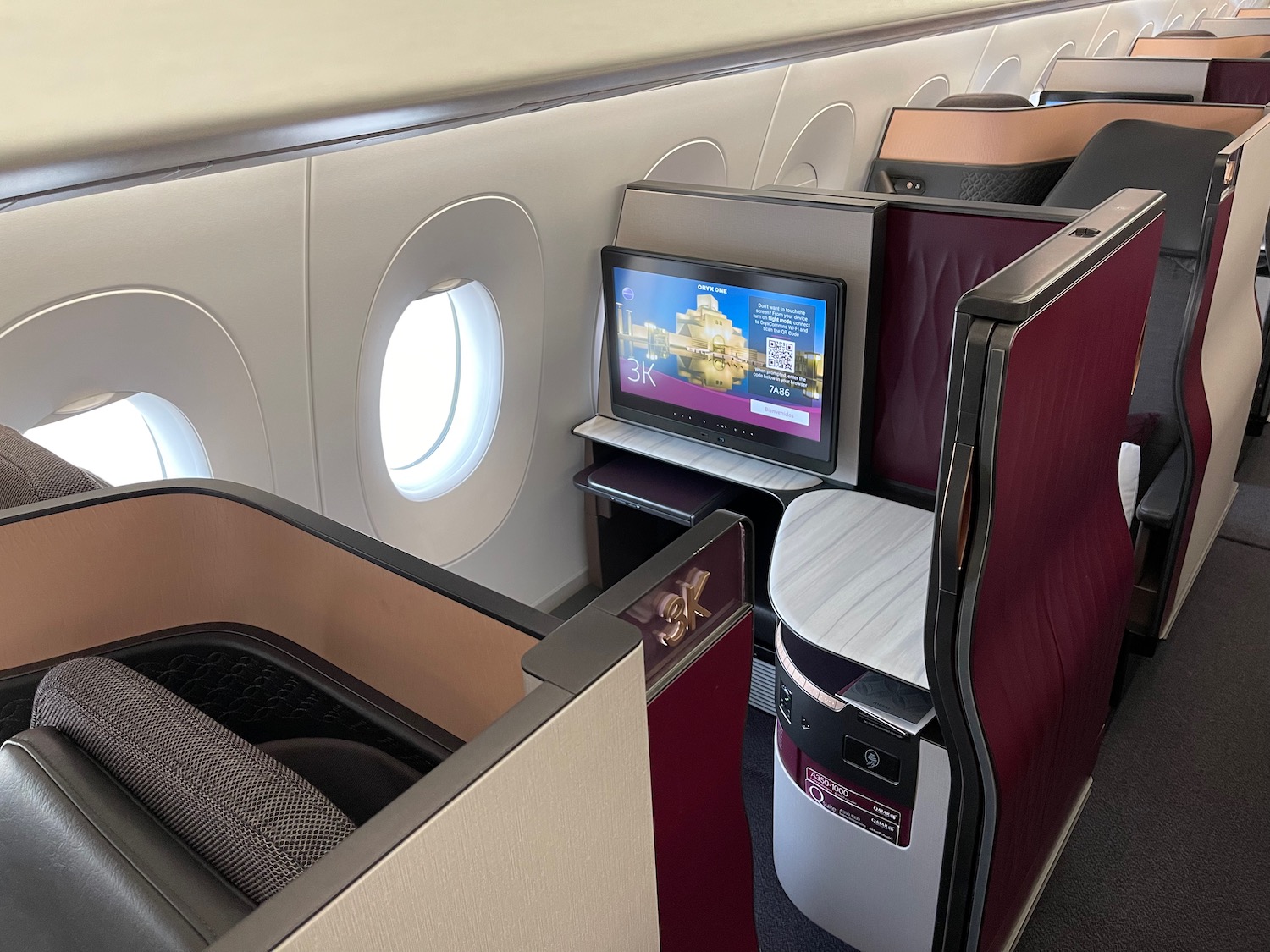 There is business class and then there is Qsuite business class. My longhaul flight from Dallas to Doha onboard the Qatar Airways A350-1000 in Qsuite business class represented the pinnacle of in-flight comfort and onboard service. In every way, Qatar Airways offers a world-class premium product.
Qatar Airways A350-1000 Business Class Review
I last flew Qatar Airways longhaul business class from New York to Doha several years ago. I had the chance to do so again this year, this time on an even longer flight.
Booking
I would argue the single best use of American Airlines AAdvantage miles is booking longhaul business class flights on Qatar Airways. Space usually comes in gluts (there are massive dumps, then famine for several months). I found my space during a "famine" and planned the whole trip around it…it was the only date on which space was available: 70,000 miles one-way plus $5.60 in taxes for business class (versus paying over $5,000). If you are saving your American Airlines miles, this is the sort of flight you should be saving for. I could have even added a connecting flight within the Middle East or Indian Subcontinent for no extra miles, though in this case, my destination was Doha.
I assigned seats months in advance by calling Qatar Airways, which was quite an arduous process. For whatever reason, when you book awards with American Airlines, you cannot assign seats online. While you can by phone, the agent asked me highly specific questions like the date the ticket was issued, the email address on file, my date of birth, my telephone number, the ticket number, and the flight number. On my first call, the date of issue did not match what Qatar Airways had on file (perhaps because Qatar is nine hours ahead of CST) and the agent promptly hung up on me. I was only off by one day…
Check-In
I was traveling with a dear friend and we arrived at DFW about 2.5 hours prior to our flight. The check-in line was fairly crowded at that time, with many passengers checking massive amounts of luggage.
COVID-19 protocols were still in place at the time of our trip and our pre-arranged travel clearance, vaccination cards, and negative PCR tests were carefully checked before our boarding passes were issued.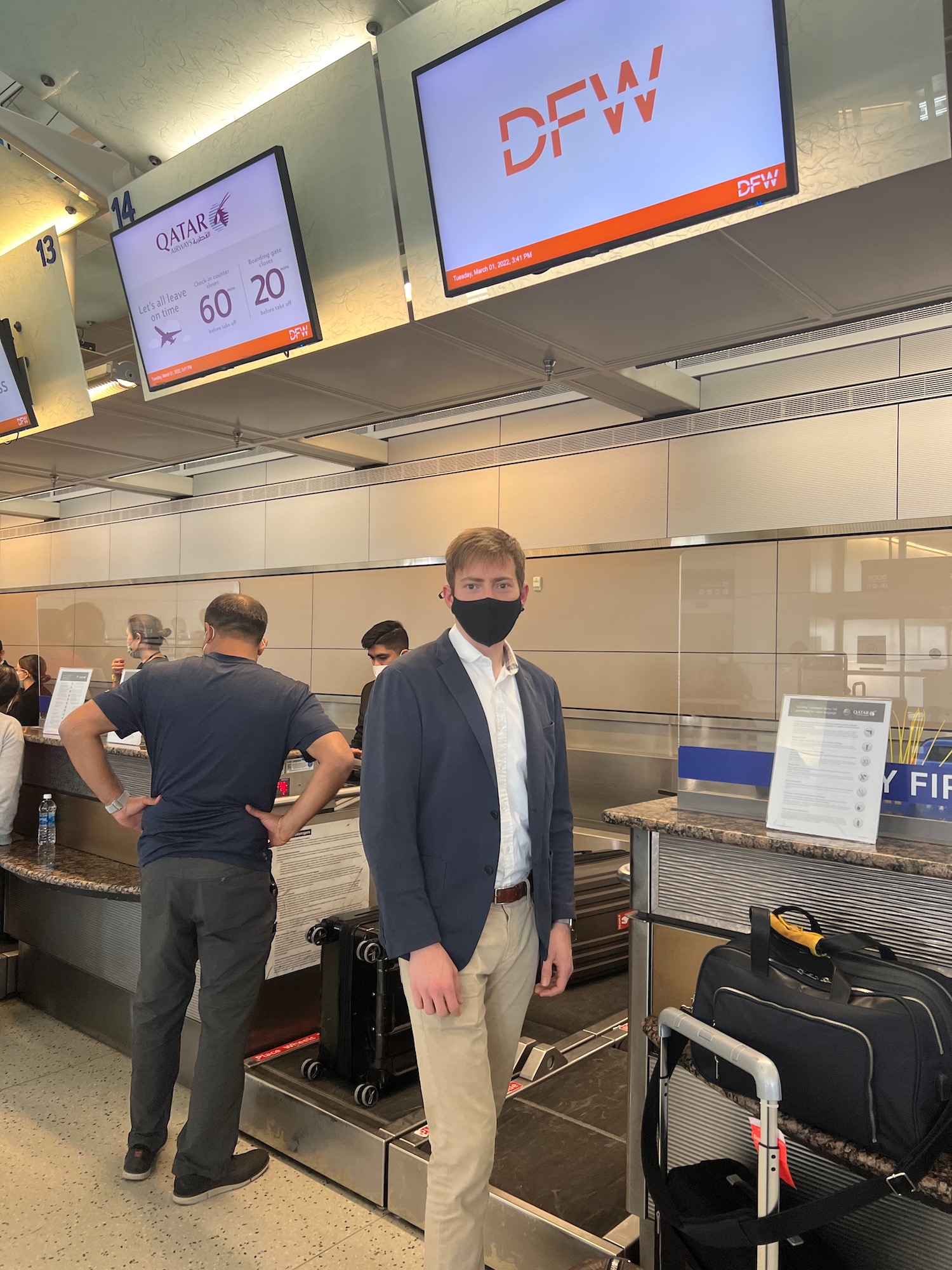 After visiting the American Express Centurion Lounge, Capital One Lounge, and AA Admirals Club, we presented ourselves at the gate at 65 minutes prior to scheduled departure. Boarding began promptly one hour prior, as indicated on the boarding pass.
Qatar Airways 730
Dallas/Fort Worth (DFW) – Doha (DOH)
Tuesday, March 1
Depart: 6:35 PM
Arrive: 6:00 PM
Duration: 14 hr, 25 min
Distance: 7,932 miles
Aircraft: Airbus A350-1000
Seat: 3K (Qsuite Business Class)
Onboard, I was welcomed by two flight attendants and escorted to my suite, 3K, on the starboard side of the business class cabin.
Qsuite Business Class Seat
Even with the mood lighting turned off during boarding, the Qsuite business class cabin is stunning, stretching between doors 1 and 2 in one massive cabin of 1o rows (and two additional rows behind door 1 and the galley).
The cabin includes 46 Qsuites (propteriary seats developed from a Collins Aerospace platform) and are arranged with forward-facing and rear-facing seats at alternate rows. Seats are 21.5 inches (55 centimeters) wide and convert into flat beds that are 79 inches (200 centimeters) long. In the center section, odd numbered rows are "honeymoon" seats with the seats close to one another while center sections in even numbered rows have a console between them.
The beauty of this cabin is that families traveling together can lower or slide dividers in the center section, creating a mini-cabin of four seats together, which face each other and afford the opportunity to dine together and sleep side-by-side in a double bed.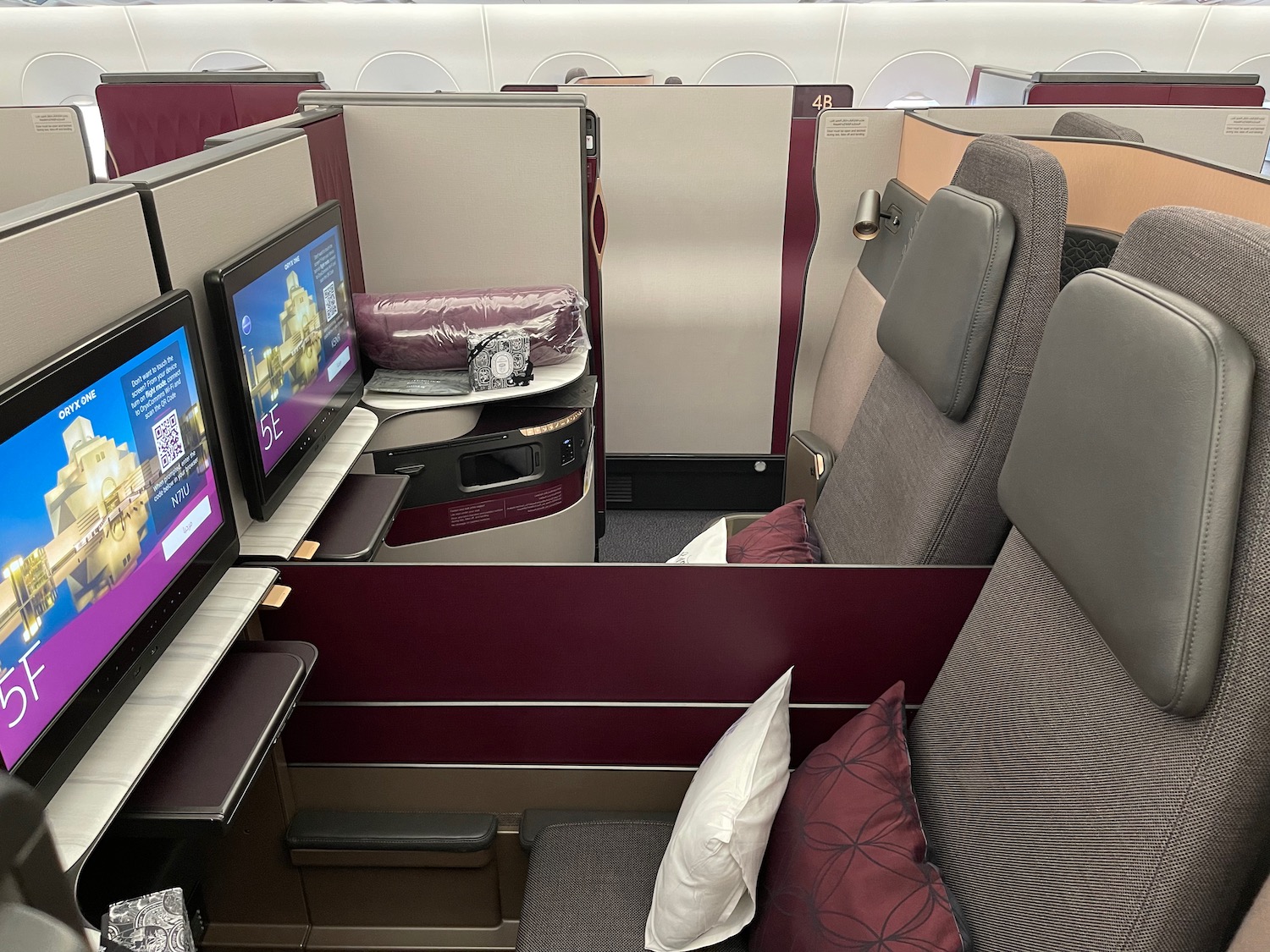 I chose seat 3K, a rear-facing window seat.
Each suite has a 21.5 inch high-definition touchscreen display, convenient power outlets, plenty of room for your foot, and personal storage under the seat and in a side armrest compartment.
Doors slide shut and when seated, actually create quite a bit of privacy.
I think the suite is so thoughtfully laid out and is comfortable in all positions.
Bedding included a mattress pad, velvet-like blanket, and two pillows. A flight attendant prepared my bed on request.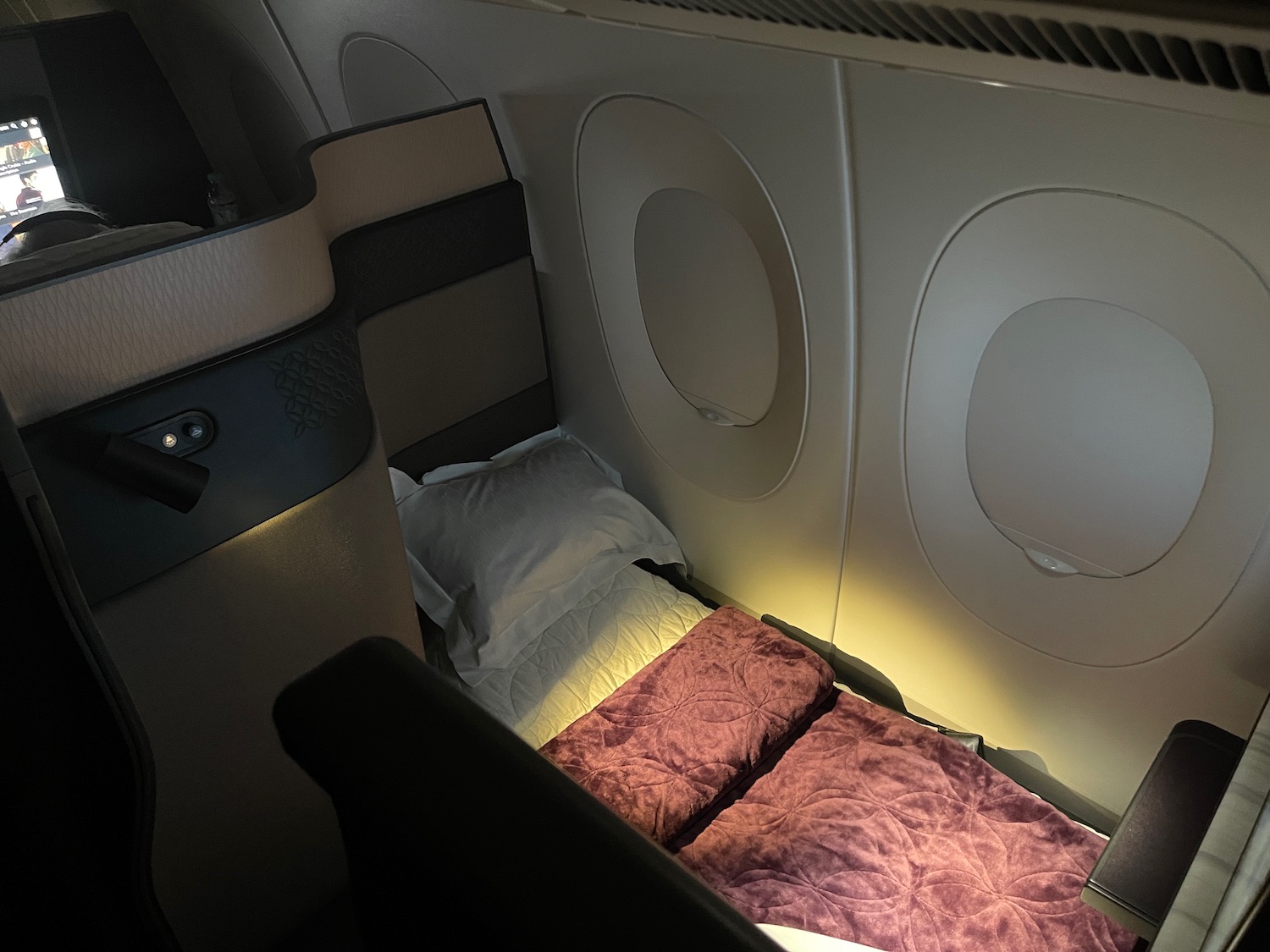 There are individual air nozzles on the A350-1000, which kept the area around me cool and helped me to quickly fall asleep.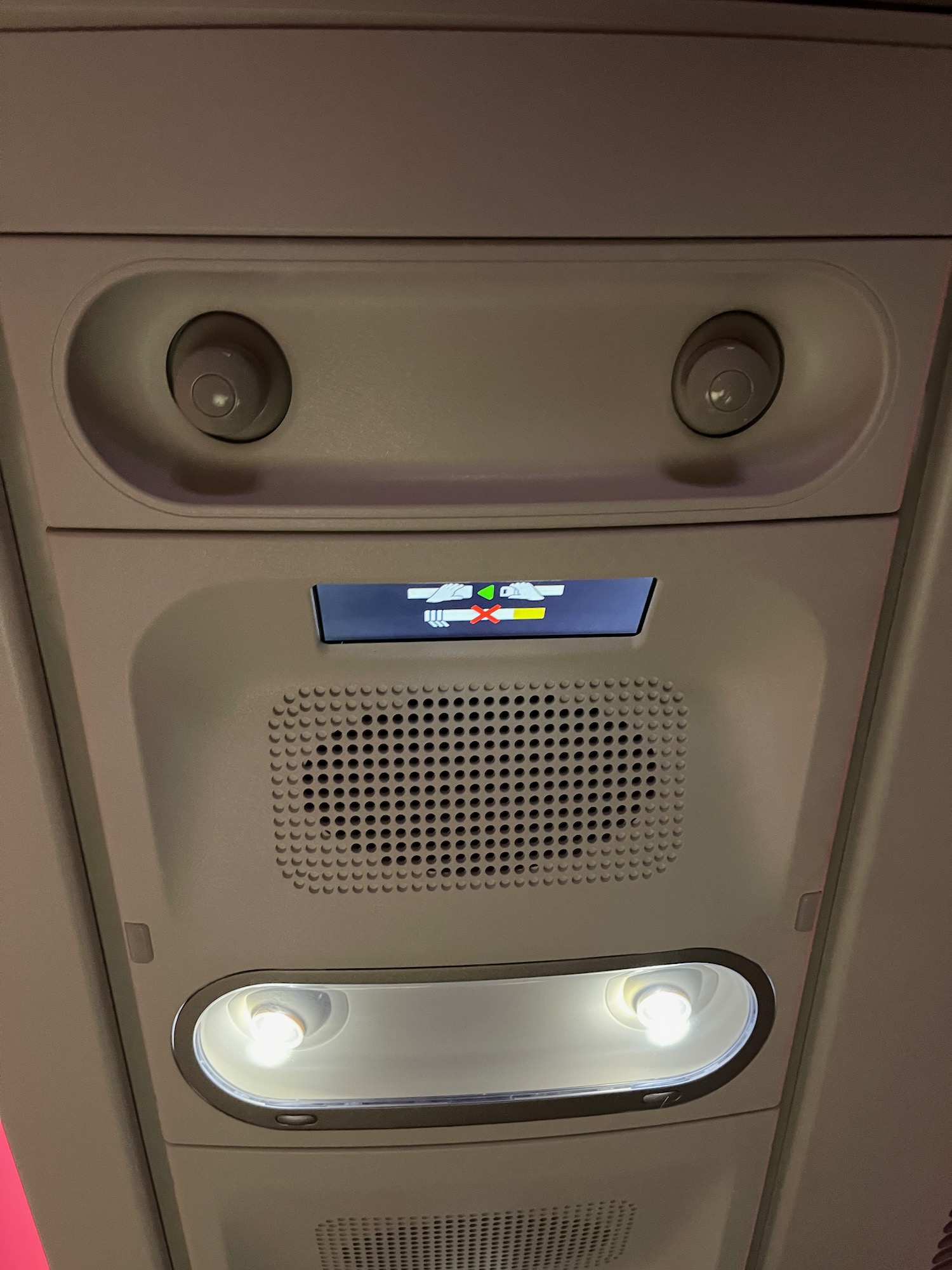 The beauty is not just the suites, but the cabin itself, which has tasteful accents and great mood lighting:
Food + Drink
The main reason that I rank Qatar Airways higher than ANA for business class (I believe these two carriers are in a league of their own) is that Qatar Airways offers a fully customizable, on-demand, a la carte meal service on longhaul flights.
Menus were presented with a welcome drink and towel (hot or cold) after boarding. One of my favorite drinks on Qatar Airways is mint lemon juice, which is the perfect balance of sweet and tart.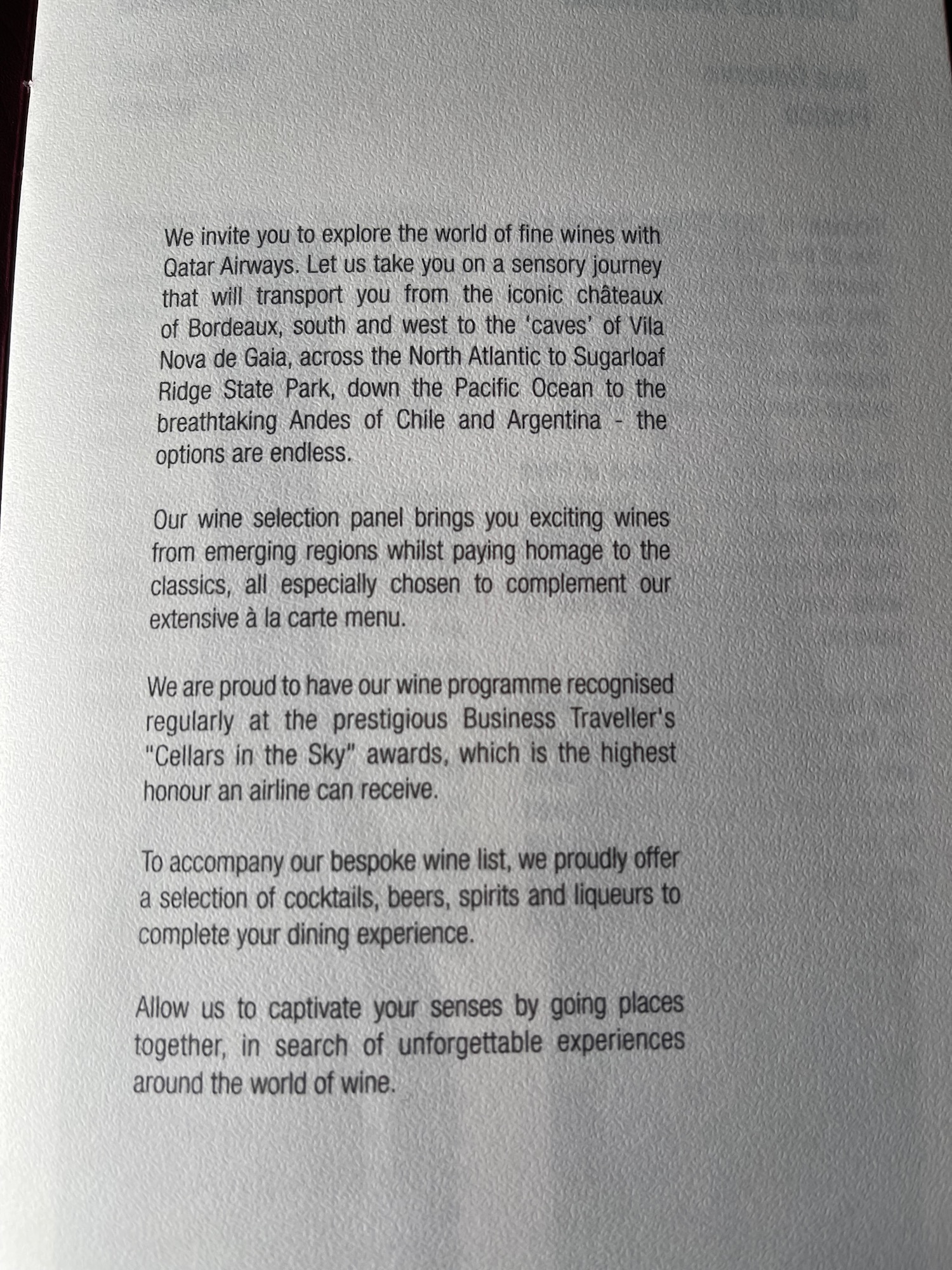 After takeoff, flight attendants began service by stopping by each seat and explaining on the dine-on-demand model. Most passengers, myself included, began the flight with a large meal.
I always start off my Qatar Airways journeys with a glass of rosé Champagne, today a 2006 Bollinger. I'm not a Champagne snob, but I can certainly recognize superb Champagne and this was so great. It was served with a ramekin of warmed mixed nuts, which included almonds, cashews, hazelnuts, and pistachios.
Dinner
I began my feast with a bowl of soup, today a cream of cauliflower topped in chives. It was perfect.
Next, a green salad with cherry tomatoes, radishes, carrots, and mesclun.
I just loved the attention to detail like the salt and pepper shakers (with the logos carefully arranged to face forward).
While I was sorry to see there was no Arabic mezze on the menu, I next enjoyed a selection of tapas, including olives, artichoke dip, and bruschetta, served with crostini.
By this point I was already beginning to fill up and the main course had not even arrived yet!
For my main, I ordered herb crusted rack of Australian lamb with rosemary jus. All I can say is wow. Wow, wow, wow. What a delicious main course, served with baked sunchokes (Jerusalem artichoke) and roasted peppers.
Next came a cheese course and just look at the attention to detail. The cheese and grapes are carefully arranged and instead of just plopping down a small package of crackers, they were offered in a bread basket lined in a cloth napkin.
The attention to detail in every aspect of the Qatar Airways dining experience is a testament to the quality of the product.
I finished the meal out with a decaf cappuccino, bowl of berries, and a dish of strawberry ice cream.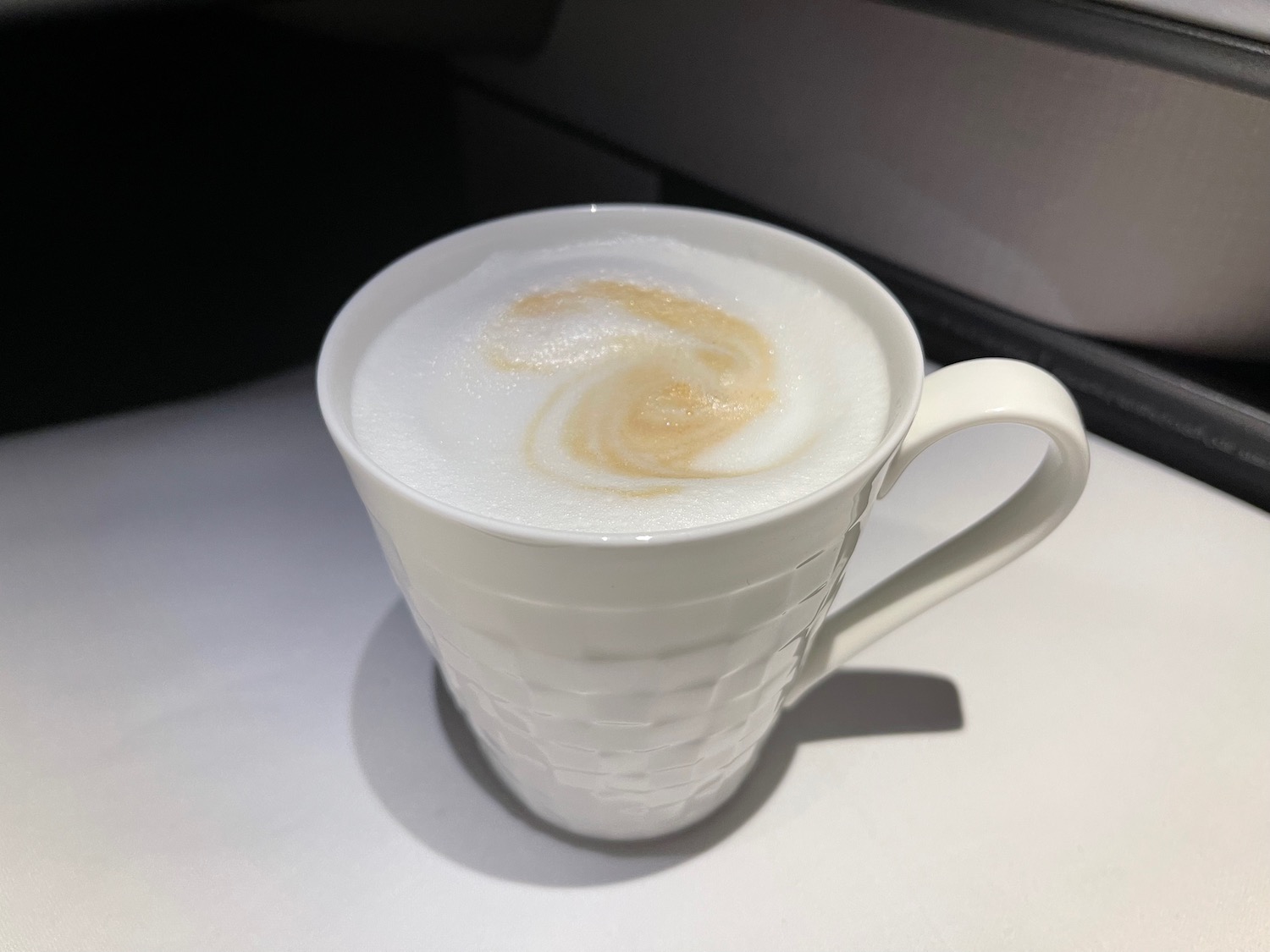 This meal was one of the best meals I have ever had in all my years of flying, including several first class flights on some of the finest carriers in the world. The business class cuisine on Qatar Airways is second-to-none.
After sleeping for several hours, I woke up and ordered breakfast.
Breakfast
Breakfast began with beverages, including a fruit smoothie, fresh orange juice (not quite fresh-squeezed, but a higher grade than a Tropicana), and a strong cappuccino.
For my first course, I enjoyed a fruit platter, again beautifully presented, with a hot croissant and some yogurt with granola.
Next, a tomato and basil omelete with cherry tomatoes, Halal sausage, roasted potatoes, and Portobello mushrooms.
I concluded breakfast with an espresso macchiato.
Everything was delicious.
Tea Time
Before landing, I enjoyed a third meal of afternoon tea, with sandwiches, cake, and scones, followed by more berries. While the coffee is great, Qatar offers a lovely tea menu as well.
I have nothing but good things to say about the food onboard. Even hydration was a plus, as flight attendants frequently offered fresh water bottles.
Before landing, one more cold towel plus a box of chocolate truffles was presented.
Pajamas + Amenity Kit
Qatar Airways offer pajamas from the White Company. Unlike on American Airlines, where flight attendants never mentioned there were PJs available, flight attendants proactively went through the cabin and offered pajamas early in the flight. Size L worked well for me and I wore my pajamas for most of the flight and found them comfortable enough to take with me. Slippers were also offered.
The amenity kit was a bit strange. Instead of being in a reusable bag, it was a Diptyque-branded black and white box. Diptyque is a Paris parfumerie and the contents included Diptyque lip balm, face cream, and a spray. Ear plugs and an eye shade were also included, with other amenities (like shaving kits and dental kits) available in the lavatory.
Lavatory
The lavatory was spacious and included a window and plenty of counter space. The sink basin was wide and amenities were available in drawers like shaving and dental kits.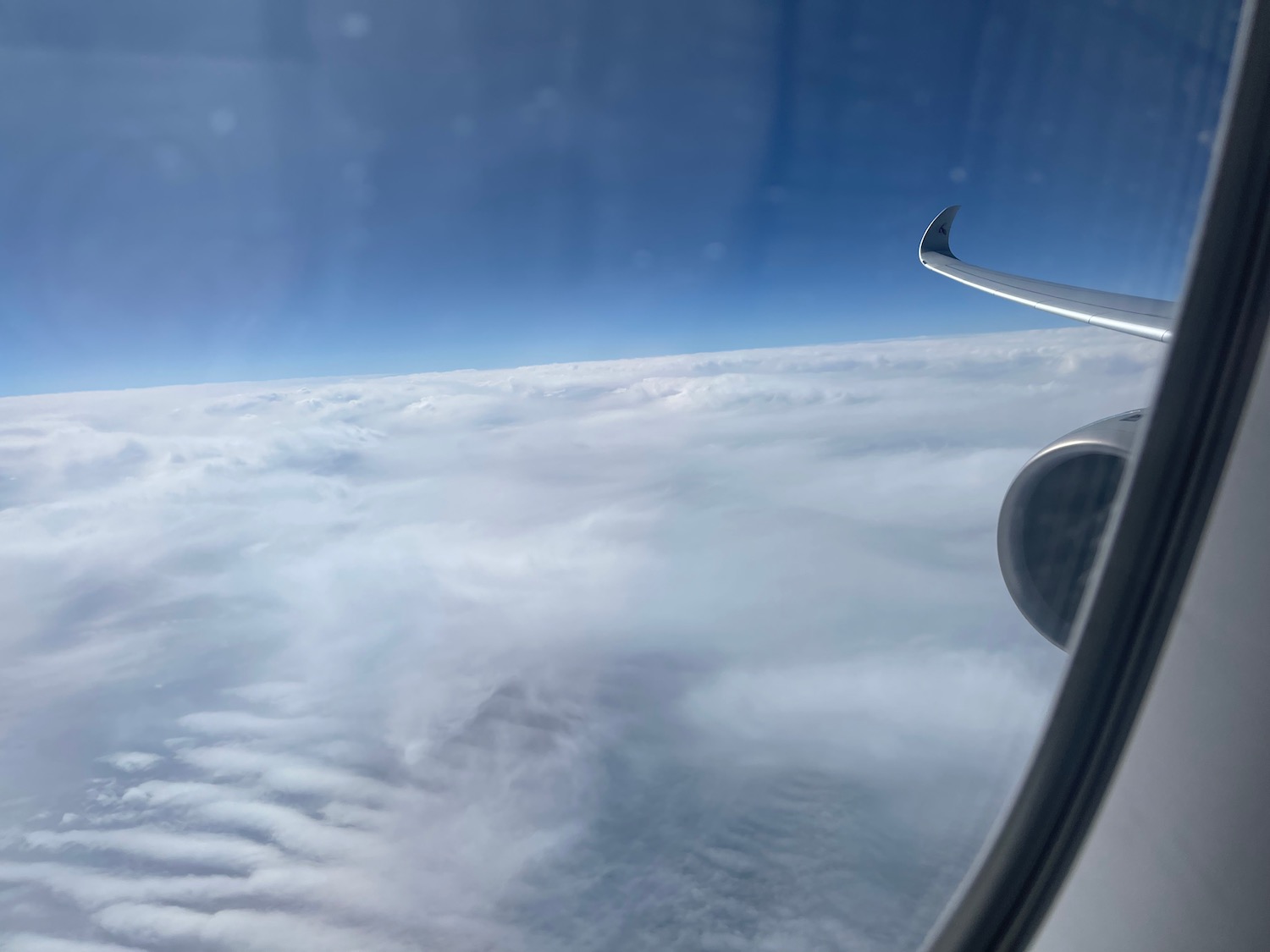 IFE + Wi-Fi
Another distinguishing point for Qatar Airways is the excellent in-flight entertainment system and wi-fi.
The first hour of wi-fi was complimentary, with a flight pass costing a reasonable $10.
Wi-Fi was stable and speeds were not lightning fast, but at 8 Mbps, I had no trouble browsing.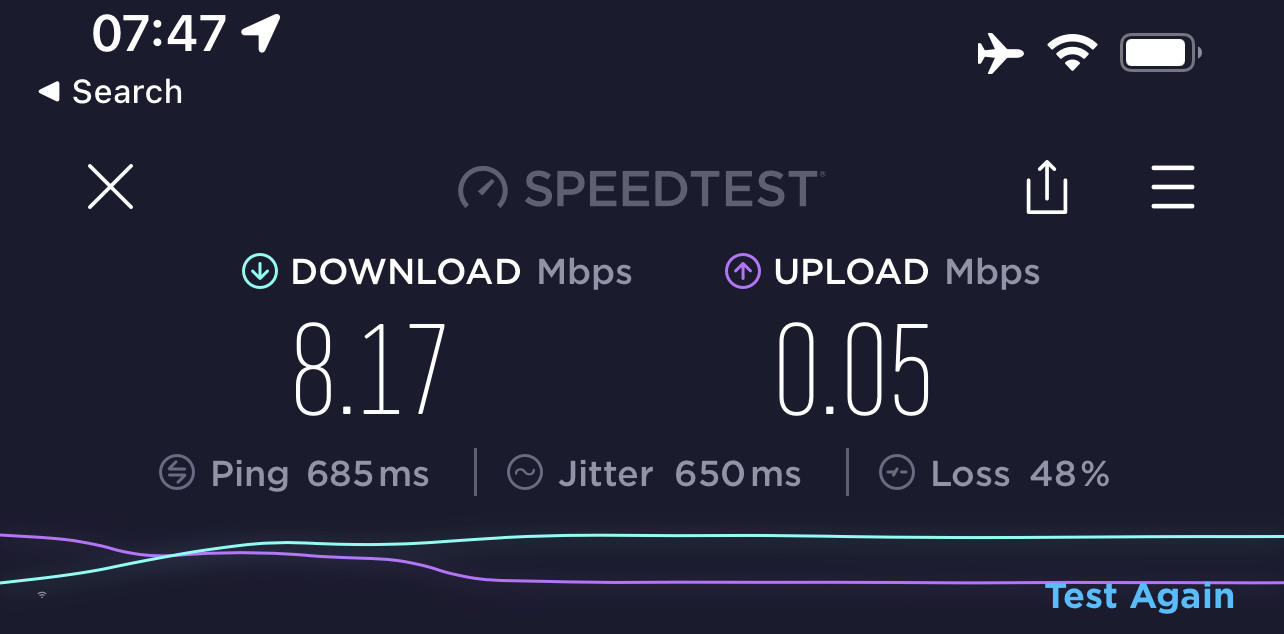 The Oryx One IFE system included hundreds of movies and TV programming from around the world, music (including Christmas music, which I love year-round), games, Islamic material, and a moving flight map.
Sadly, the tail camera did not work in my system (I saw it working on others).
Each screen has a USB charging port and an HDMI port.
Noise-canceling headphones were offered and perhaps this is one area where Qatar Airways would improve–they were not great at blocking out noise.
Service
I have to hand it to the flight attendants onboard. I've never seen flight attendants work this hard. With service on-demand and people eating at various points throughout the flight, there really wasn't ever a full lull in service. Passengers were encouraged to use the call button whenever they needed anything.
While I asked to photograph the flight attendant who served my side of the cabin, she was not comfortable with that or even me mentioning her name (I explained that I was a travel blogger at the end of the flight), so I will respect that.
Arrival Into Doha
After enjoying a beautiful sunset, we landed at a remote stand at Doha and deplaned by front and rear airstairs. Sadly, one passenger tripped and fell, appearing to severely injure himself.
---
> Read More: I Watched In Horror As A Passenger Fell Down The Stairs While Disembarking My Qatar Airways Flight
---
Business class passengers were ushered into a private bus with leather seats that swiftly took us to the termianl for immigration processing.
It was a dusty evening in Qatar:
CONCLUSION
This flight on Qatar Airways was one of the best flights of my life and represents my favorite business class product (I hope you can understand why after reading this review). Qatar Airways not only offers an industry-leading seat and great bedding, but also industry-leading food and beverage onboard plus a massive selection of movies and stable and affordable internet to keep you occupied during the flight.
The 15 hours flew by quickly…too quickly. I have never had a bad flight on Qatar Airways, but this flight was particularly special.