I flew back to the USA on SAS onboard its brand new Airbus A321LR in business class. This is a cozy aircraft that is quite comfortable in the front cabin. The service and meals onboard were also excellent.
SAS A321LR Business Class Review
SAS does not release a lot of award space, but keep an eye out closer to departure (within 72 hours) and often you will find at least one business class seat. A transatlantic ticket from Copenhagen to Newark will set you back 60K Air Canada Aeroplan miles, 63K Avianca LifeMiles, or 73K United MileagePlus miles. I find redemptions through other Star Alliance currencies more cumbersome or less lucrative.
After arriving from the Faroe Islands, I spent some time in the SAS Gold Lounge before proceeding through passport control and heading to the gate for boarding. We departed from gate E124, which is a very beautiful gate area with floor-to-ceiling windows and live trees.
SAS 901
Copenhagen (CPH) – Newark (EWR)
Wednesday, October 26
Depart: 06:15 PM
Arrive: 09:05 PM
Duration: 8hr, 50min
Distance: 3,867 miles
Aircraft: Airbus A321neo (A321LR)
Seat: 6F (Business Class)
Onboard, I was greeted by a flight attendant, who looked at my boarding pass and directed me down the aisle and to my left.
Seat
The A321LR business class cabin features 22 Thompson Aero Vantage seats arranged in an alternating 2-2, 1-1 pattern (think JetBlue Mint). I was able to secure a throne seat, which offers immense privacy and personal storage, though that extra storage comes at the cost of some footwell space.
Storage includes a cabinet that was large enough even for my laptop and a pair of side compartments.
I think the cabin is beautiful and while these seats are typically not my favorite (especially on a widebody aircraft like on SWISS or Austrian), I found the seat very comfortable and must underscore that padding matters and this seat was well-padded.
The seat is 20.5 inches wide and converts into a 73-inch lie-flat bed.
Two touchpads control seating position.
Each seat has a universal power outlet and a pair of USB-A chargers (one above the headphone jack and one below).
Personal air vents are located above each seat.
Beside each seat is a reading light as well as a magnetic loop intended to secure the noise-cancelling headphones.
Bedding is Hästens branded and includes a pillow, duvet, and mattress pad. I did spend half the flight sleeping and credit the plush bedding and air vent for helping me to fall asleep.
IFE + Wi-Fi
Each business class seat features a 16-inch HD entertainment screen that is highly reflective:
A vast library of movies, games, music, and TV shows is available as well as a moving flight map.
I also liked that the entire beverage menu was available on the screen and look forward to a day when drinks and snacks can be ordered from your seat (and this would also reduce the waste of a printed menu).
Noise-cancelling headphones were SAS-branded and worked well.
The IFE system could be controlled via touchscreen or remote.
Wi-Fi is complimentary for business class passengers and worked well during the transatlantic crossing.
It was dark when we took off from Copenhagen, but as we rose high above the clouds I caught a glimpse of late-evening sunlight.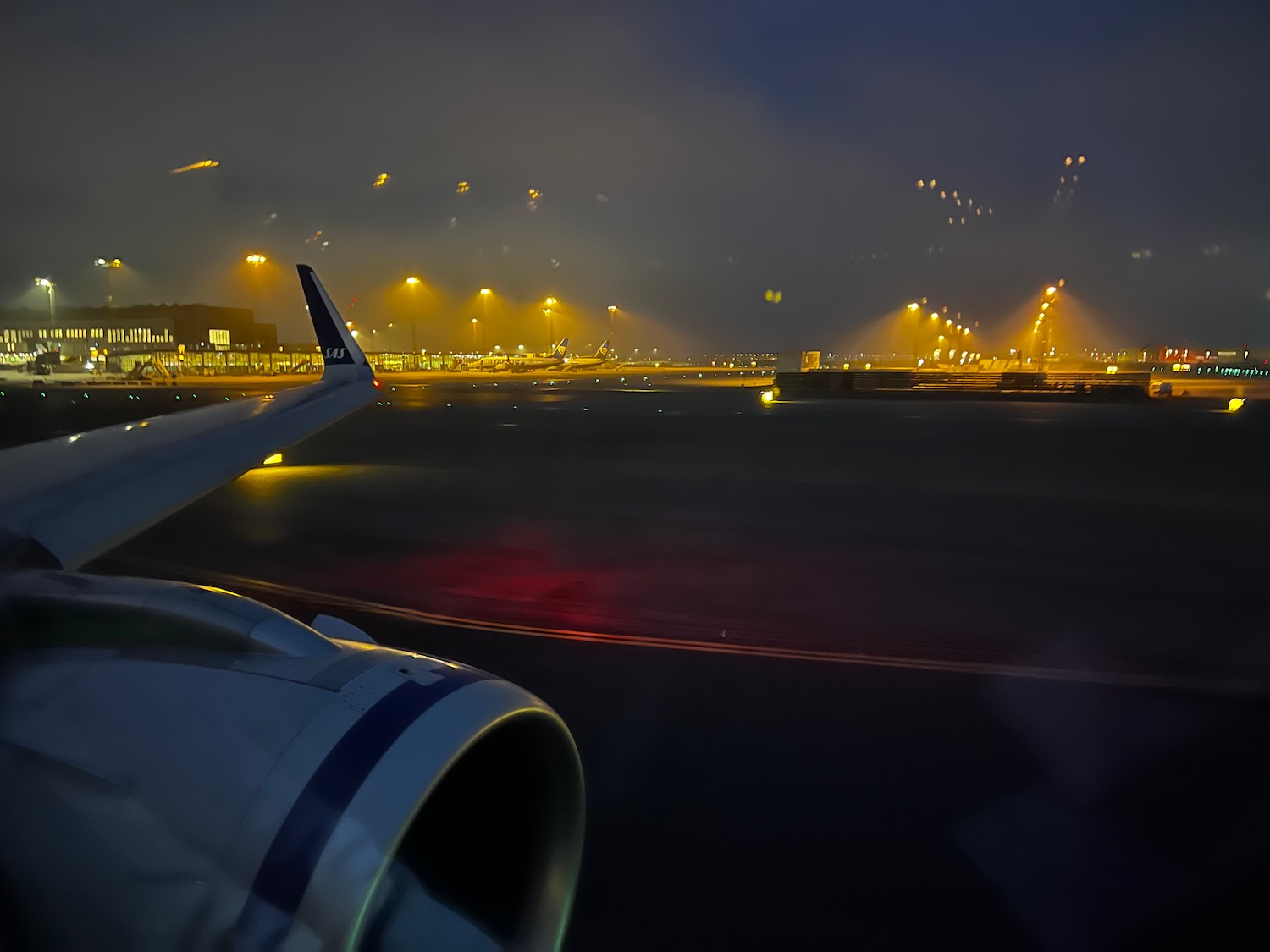 For much of the flight there a hint of sunlight before it finally became fully dark.
Amenity Kit
A very practical Flippa K branded amenity kit included:
face moisturizer and lip balm from Vero
a wooden toothbrush from The Humble Co.
Swedish Stockings (high quality socks for an amenity kit)
Eyeshade + earplugs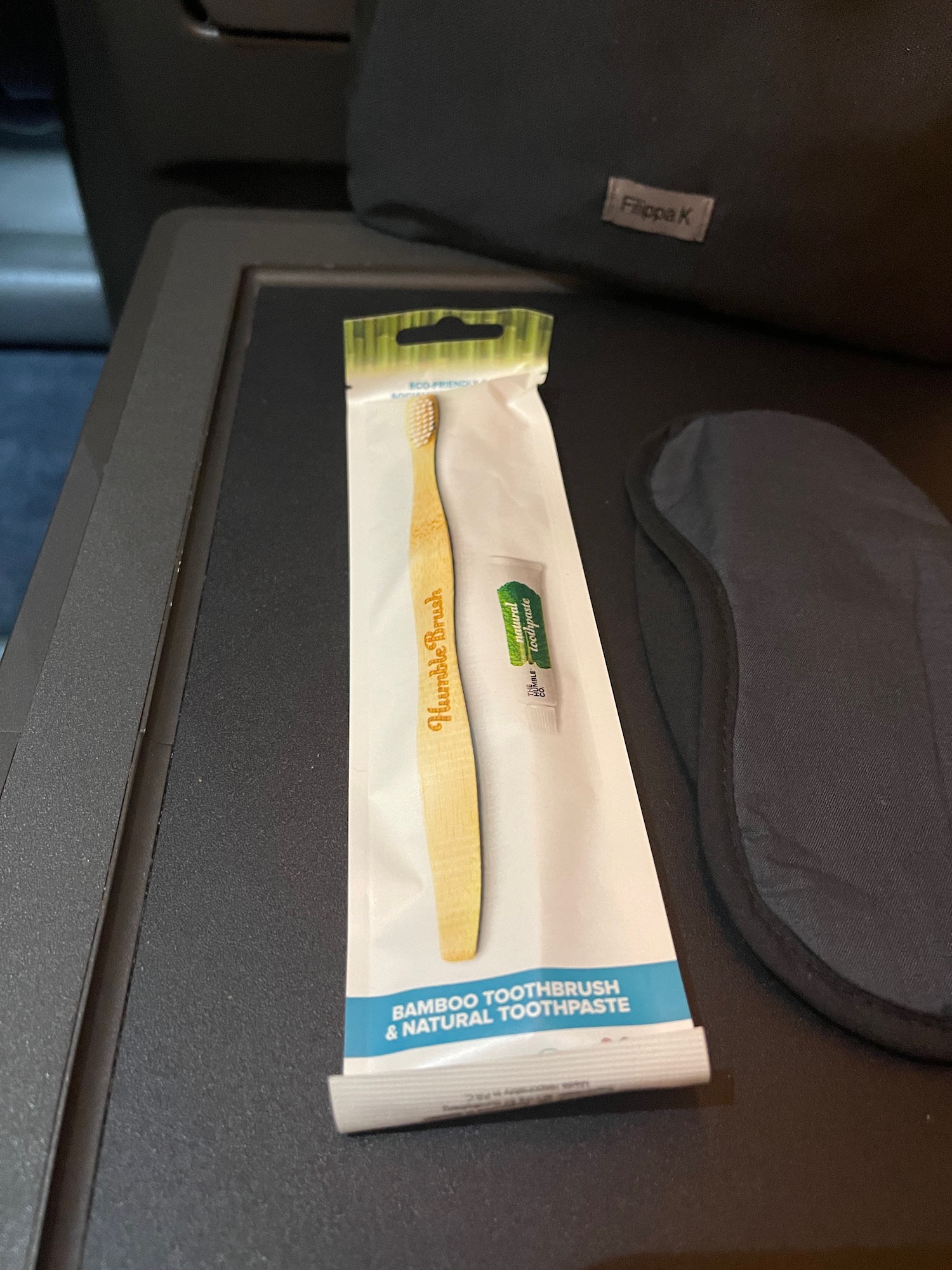 Food + Drink
Prior to takeoff, a choice of beverage was offered (I had a glass of water) and menus were distributed.
Dinner
Service began 35 minutes after takeoff with a hot towel followed by a choice of beverage and cashews.
The table was set for dinner.
Appetizer choices included:
Grilled Fare Islands salmon with pumpkin and sea buckthorn vinaigrette and roasted pumpkin-romesco sauce
Danish air-dried ham from Ravhede with caramelized cauliflower purée, pickled radish, and potato cream
Both were served with a mixed salad with olive oil and balsamic vinaigrette.
I chose the salmon and found it flaky and in need of no toping, though the pumpkin sauce provided a unique juxtaposition of flavors.
Main course choices included:
Najad salmon creamy mussel and crayfish fricassee, crushed Jerusalem artichokes with elderberry caper and tomato vinaigrette
Fried Danish veal top round with horseradish demi-glace and rhubarb compote, browned butter and lemon-potatoes, green beans and sweet peas
Risotto of organic beans and peas from Gotland mixed with local matured cheese served with semi-dried tomatoes and asparagus
Grilled welfare chicken breast with spicy tomato salsa and chimichurri, served with cream cheese-cabbage and grilled zucchini
All four choices sounded delectable, but I chose the veal because the horseradish with rhubarb compote nad browned butter sounded like a sumptuous combo. It was a decent choice. The flavors were interesting, though the veal was cooked a bit too long for my preference.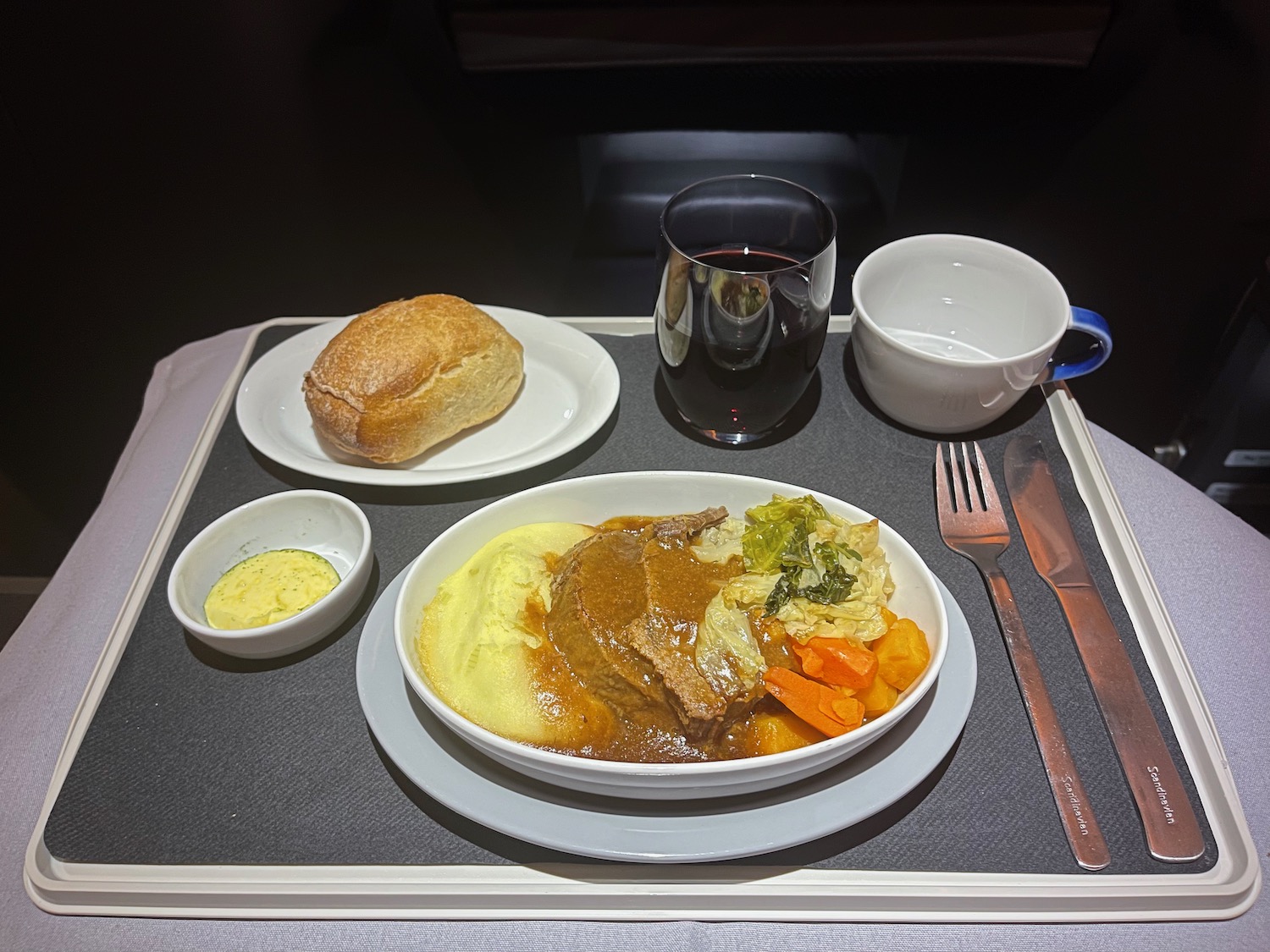 I branched out on this flight and tried two local drinks, including Apple Must (100% pressed apple juice) and a glass of Hernö Swedish gin. Both were quite pleasant.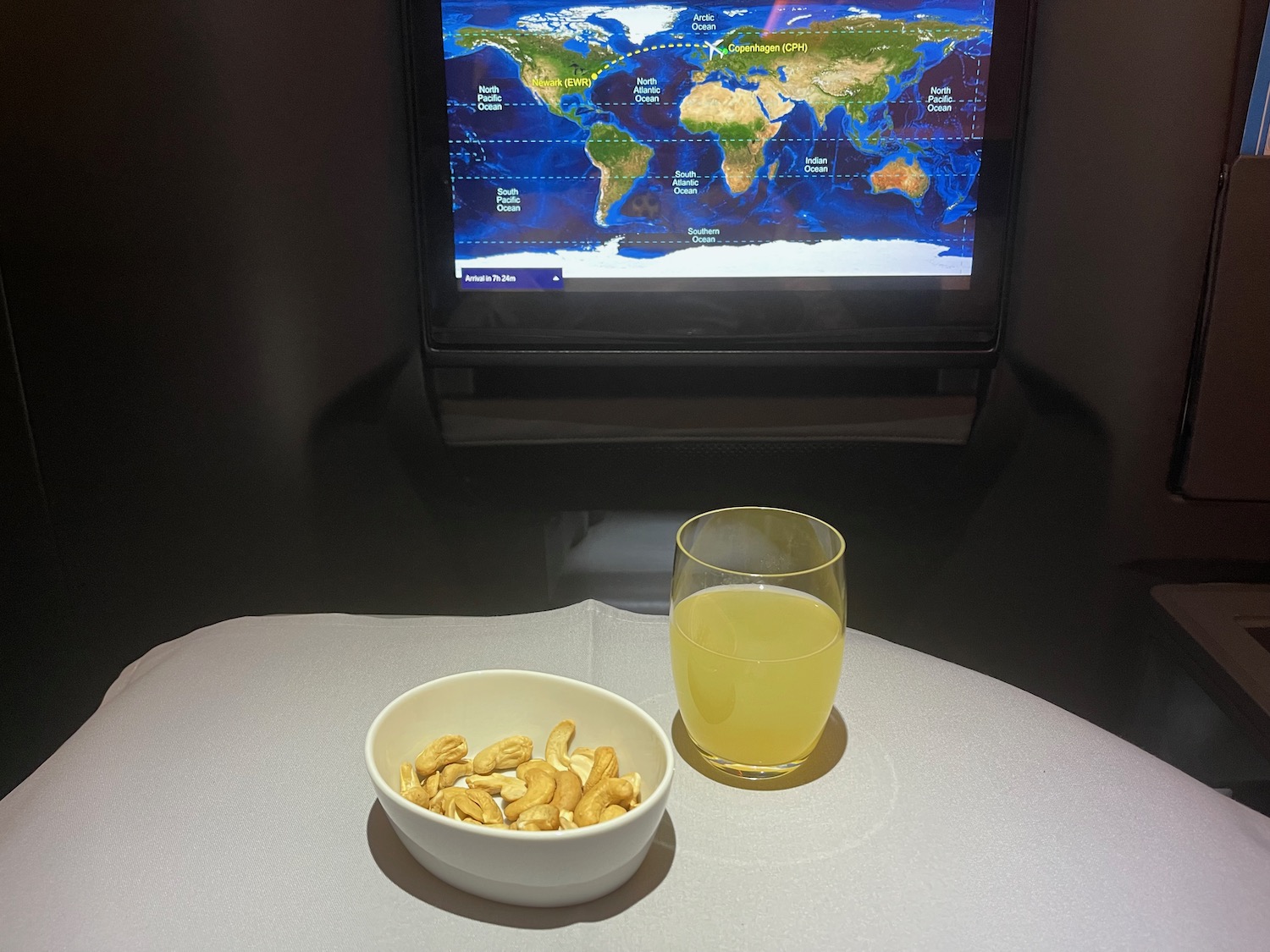 With dinner I had a glass of Italian red wine (Massolino Langhe Nebbiolo DOC).
Meals were served with "a selection of hand-baked local bread and Danish organic butter." Bread and butter are something I avoid at home, so it was quite pleasant to enjoy freshly-baked bread and delicious butter.
While my dish was good, my friend ordered the salmon and his meal looked even better. The fish is generally superb on SAS and I will go back to ordering fish next time.
To conclude dinner I enjoyed a cup of coffee (the espresso machine was broken, so no cappuccino) with a trio of desserts, including:
Seasonal assorted organic cheeses from local Danish dairies with dark plum and port wine marmalade from Hedh-Escalante in Malmo, Sweden
Strawberry tart with elderflower crumble
Organic rhubarb ice cream lolly from Hansens dipped in organic white chocolate from Mikkel Friis-Holm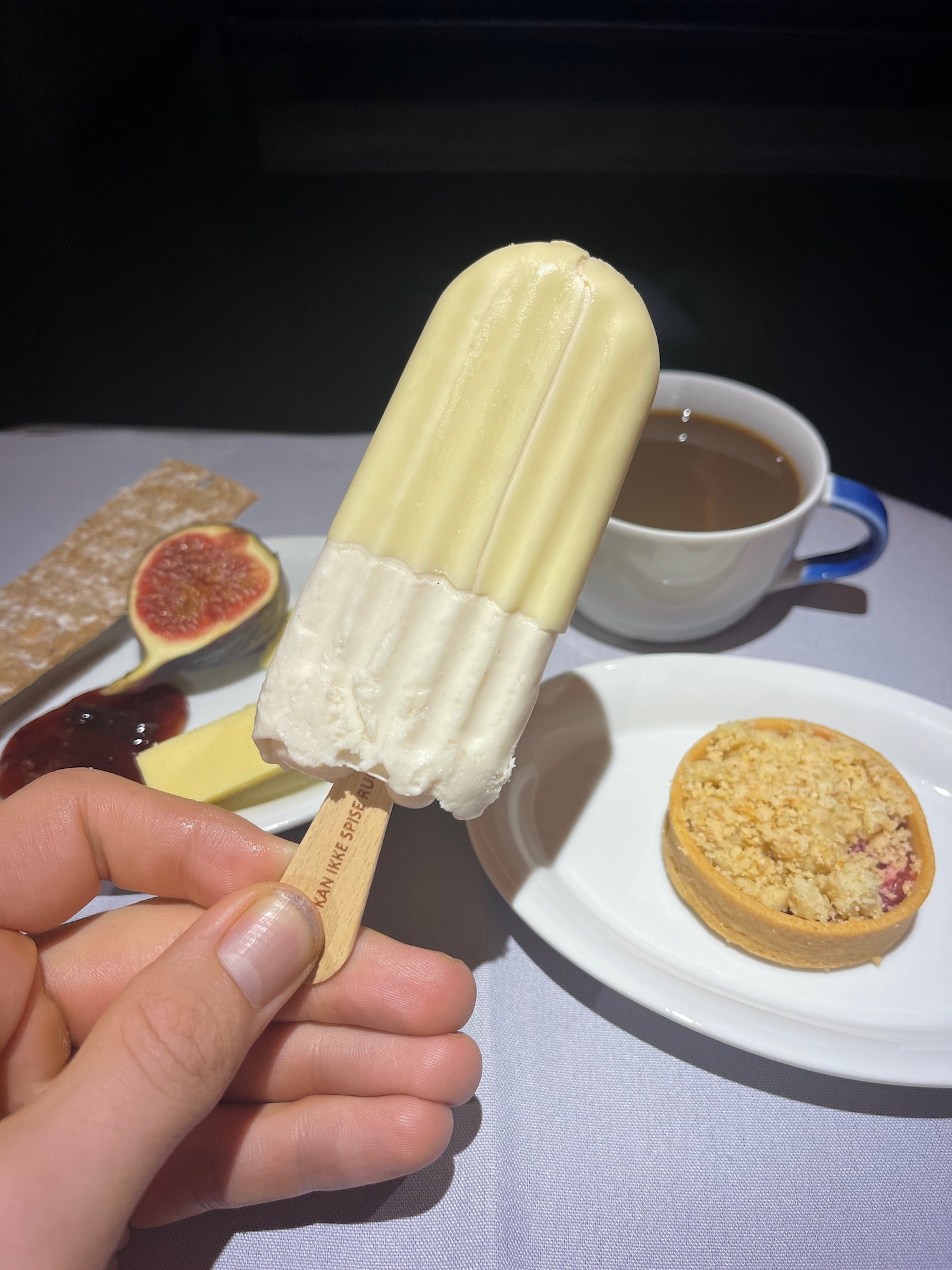 The strawberry tart and cheese were excellent, but the rhubarb ice cream bar was even better.
Mid-Flight
A snack basket in the front galley included chips, nuts, chocolate, and fruit-flavored gummies.
Reminding me of why I do not keep snacks at home (because I cannot stop eating them), I enjoyed a couple bags of chips and a couple packets of cashews along with some apple, elderberry, and ginger juice from Froosh.
Pre-Arrival Snack
About an hour outside of Newark, a light pre-arrival snack was served, billed as a traditional Scandinavian open-faced sandwich.
The sandwich included Swedish shrimp with chive mayonnaise, organic eggs, and pickled red onion on Danish rye bread. It was fresh and flavorful: I think I liked it so much because I never make anything like that at home.
It was served with fruit and chocolate on the side.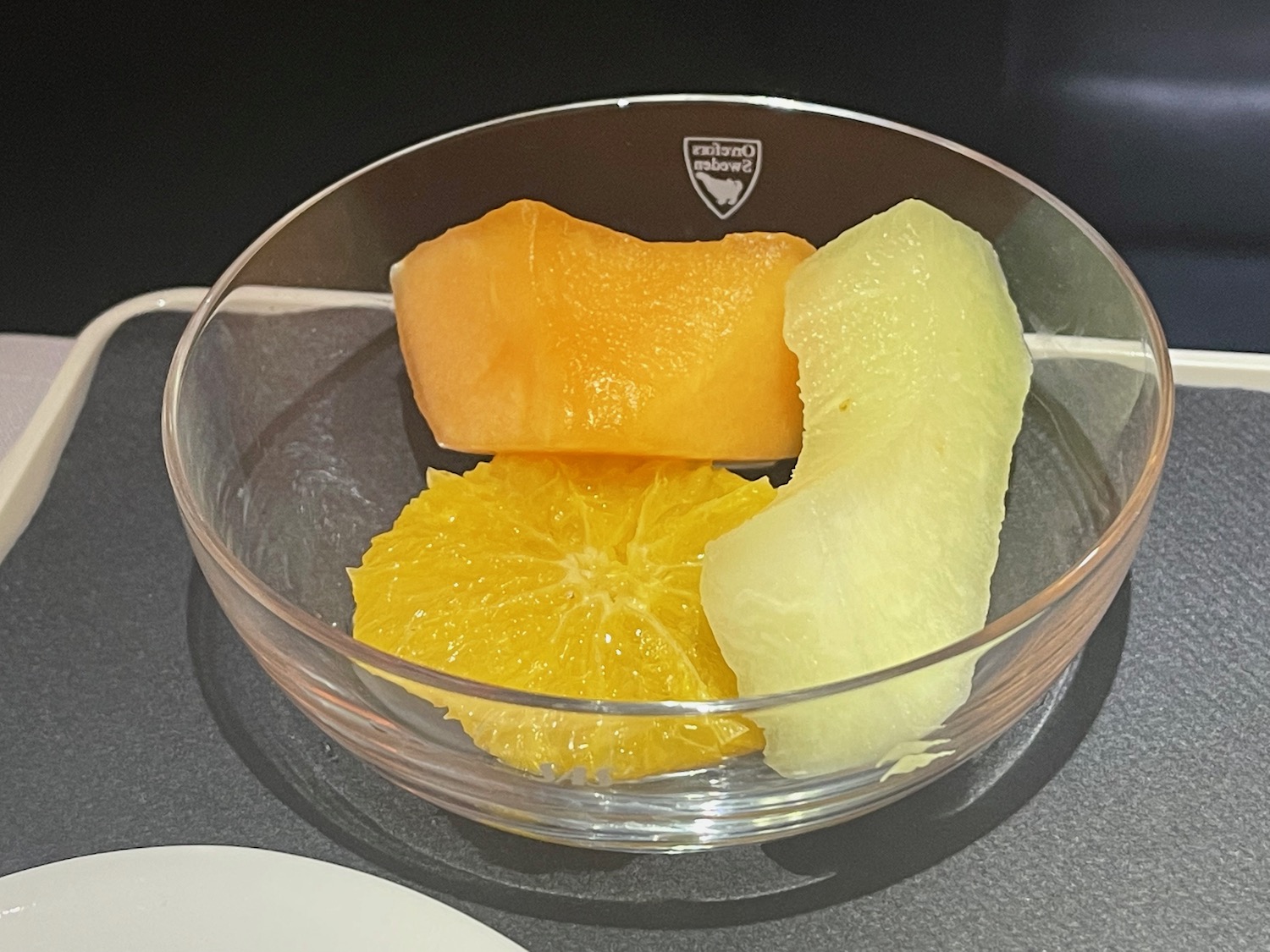 Lavatory
Business class passengers can make use of a lavatory in the front of the aircraft, which was clean but otherwise lacking any extra amenities.
CONCLUSION
While I generally try to avoid narrow body aircraft on long haul flights, I really enjoyed the SAS A321LR and would not hesitate to fly this single aisle jet again. I do prefer the SAS A350 seating, but the throne seat was cozy and private on this flight and felt spacious when fully flat. As always, SAS business class service and food onboard was excellent and I look forward to flying SAS again.