For my trip home from Washington, DC, I again flew via Newark in order to enjoy a lie-flat seat from coast-to-coast This review covers my business class flight on United Airlines from Newark to Los Angeles onboard a Boeing 757-200.
United Airlines 757-200 Business Class Review
After arriving in Newark, I proceeded back to the United Club where I spent several hours a few days prior, then walked to the gate just as boarding was set to commence.
United Airlines 751
Newark (EWR) – Los Angeles (LAX)
Thursday, January 21
Depart: 02:40 PM
Arrive: 05:57 PM
Duration: 06hr, 17min
Distance: 2,454 miles
Aircraft: Boeing 757-200
Seat: 3A (Business Class)
There was already a line to board, so I decided to wait for it dissipate before boarding.
Seat
The business class seat onboard the 757-200 is the classic Continental-era B/E (Collins) Diamond seat. Business class includes 16 seats; four rows in a 2-2 configuration.
Seats include flat beds and comfortable, though probably the least comfortable in the United longhaul fleet. Your feet will feel a bit tight unless you choose a seat in row one. Nevertheless, this was a very comfortable daytime journey across the country and I spent most of it sleeping.
A Saks Fifth Avenue blanket and pillow were placed on each seat.
Power ports and USB ports are located at shoulder height on a shelf adjacent to the seat. Additional personal storage is limited to the small space under the footrest.
United uses this aircraft on both international flights and domestic flights, with most long haul flights flying into smaller cities in Europe.
Amenity Kit
Waiting on each seat was a small amenity kit that seemed geared for the destination (it included a postcard of Venice Beach in Los Angeles).
Contents included:
Sunday Riley lip balm
Ear plugs
Toothbrush
Toothpaste
Eye shade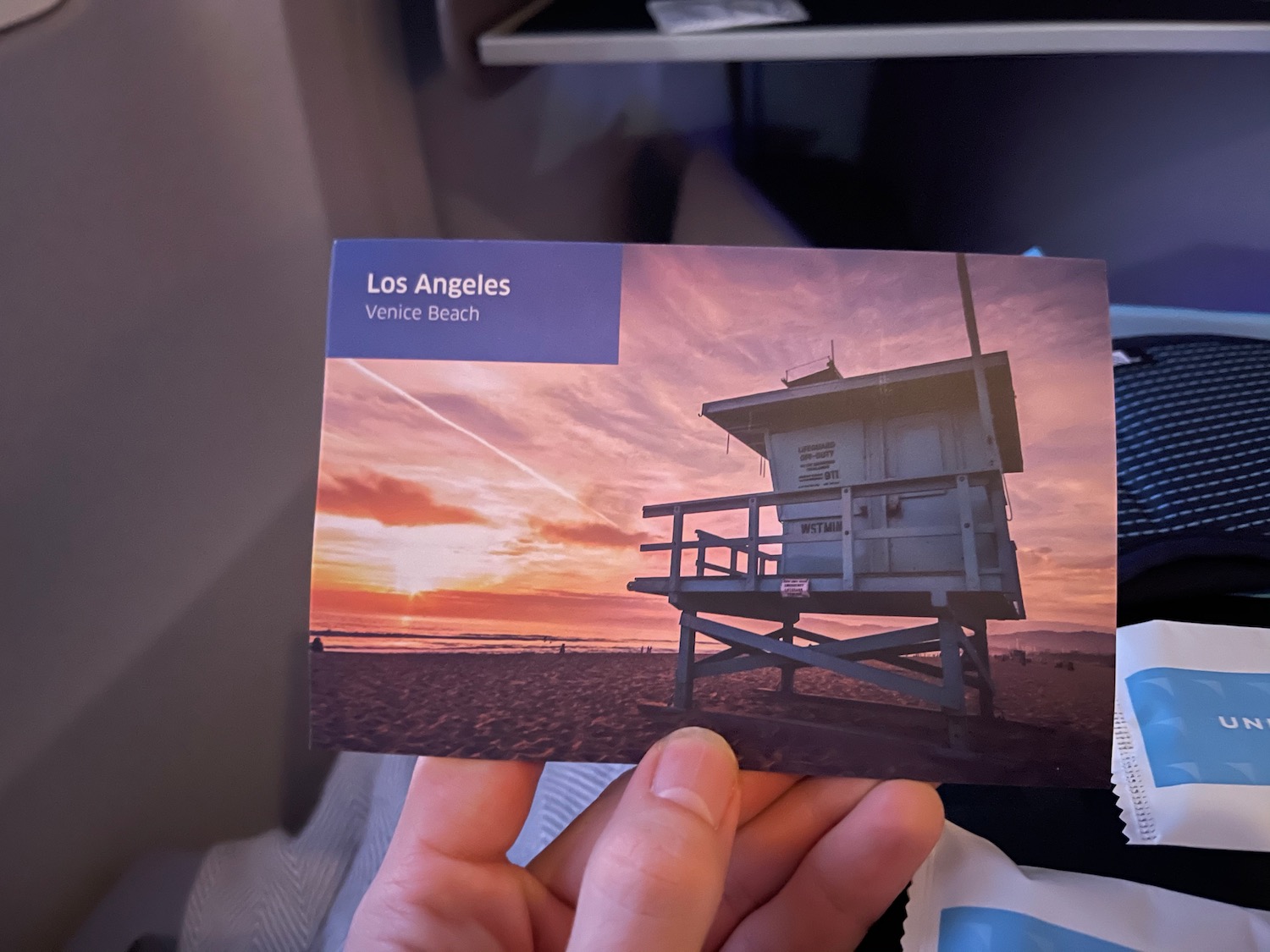 Lavatory
The 757 lavatory is showing its age, but was clean and included Sunday Riley face mist and hand creme as well as a garment groom (like an instant cleaner) from Murchison-Hume.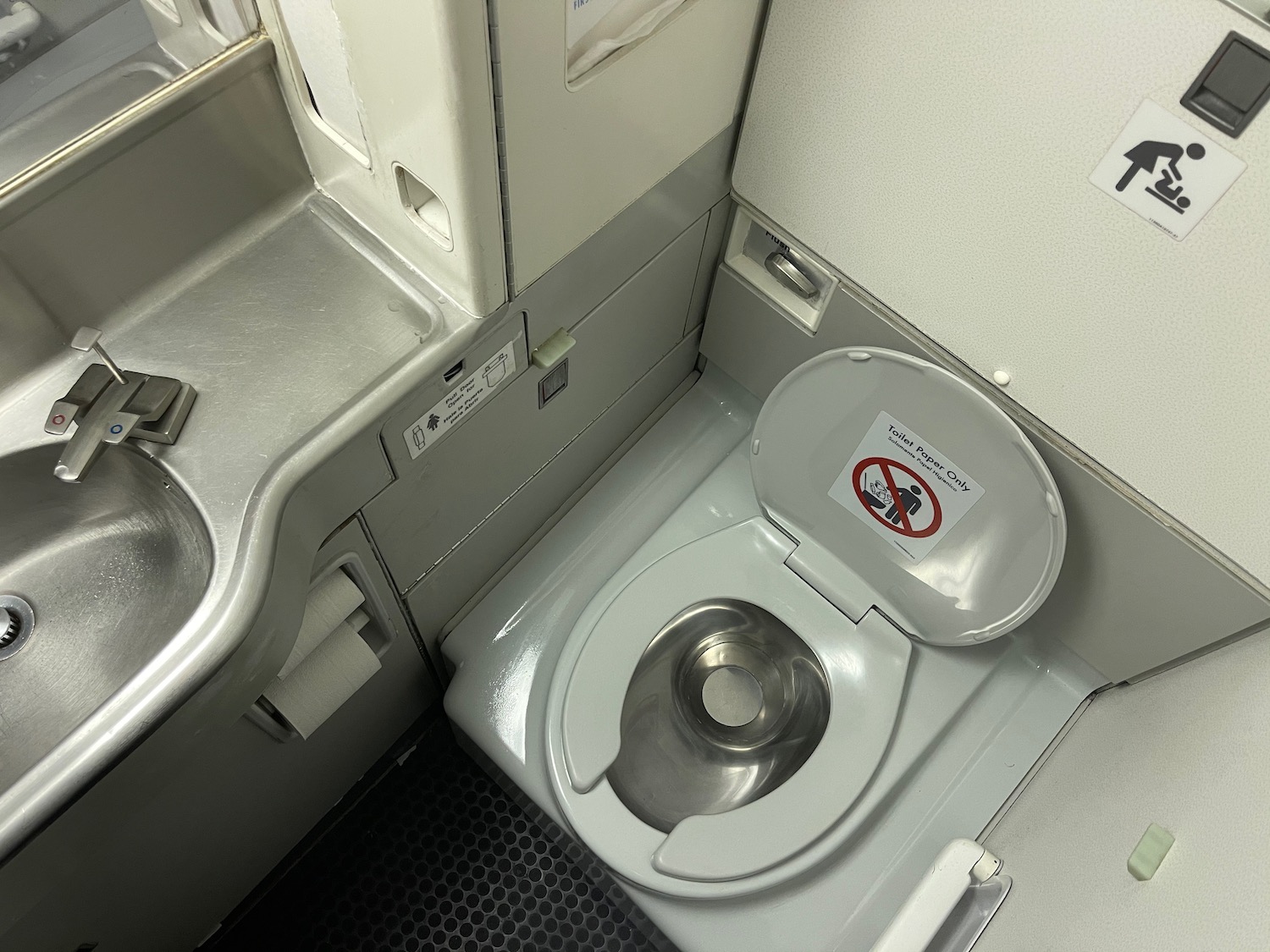 IFE
After takeoff, I browsed the in-flight-entertainment library, which included movies, audio, and TV shows. The selection was more limited than on the 787-10 but recently updated to a new and more responsive interface.
Wi-Fi internet was available for purchase, but my work for the day was complete so I decided to unwind, watch a movie, then sleep.
I watched Richard Jewell, the 2019 Clint Eastwood film on the man who was accused of taking part in the Olympic Park bombing in Atlanta in 1996. A very touching movie.
Food + Drink
Lunch was served after takeoff. Flight attendants began with beverage service, then offered a choice of Thai chicken with noodles or butternut squash ravioli.
During the pandemic, meal service on flights between Newark and Los Angeles/San Francisco is condensed to a single tray service, including:
Mixed nuts
Packaged bread roll
Salad
Main course
Ice cream or sorbet
I ordered the Thai chicken, which was a very tasty dish with a delicious coconut ginger sauce and a nice spice.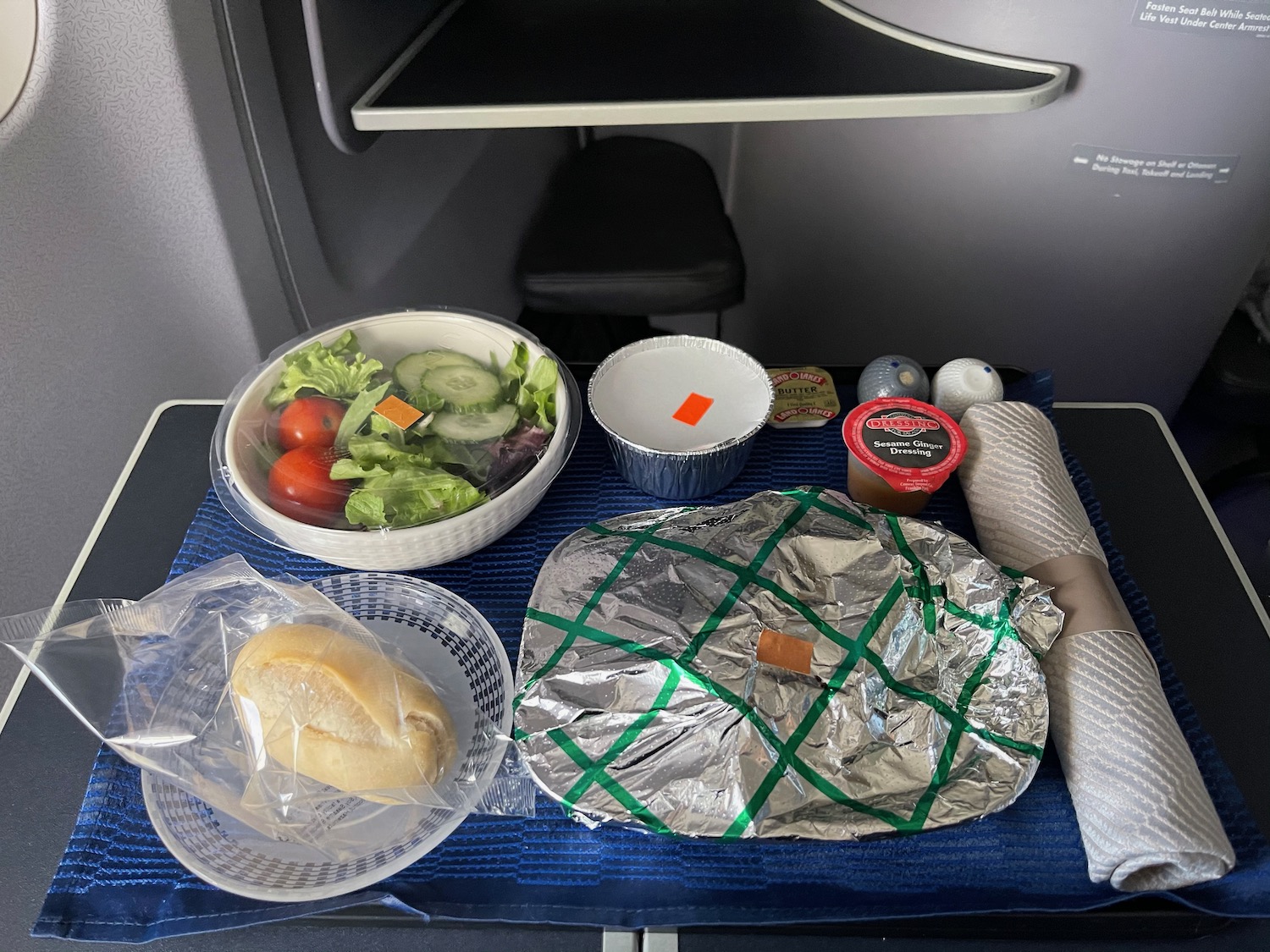 I looked around the cabin and noticed something: I was one of the only people eating. Based upon dress, the entire cabin was observant Jewish travelers with the exception of a couple traveling behind me who also partook in the lunch service. I felt bad for observant travelers because United is not currently offering special meals on these flights…six hours is a long time to go without food.
The lady next to me did bring some food along and ate it. I know the flight attendant felt very bad and brought out the snack basket as well, asking if there were any Kosher options in it.
With only 3/16 passengers eating, I asked the flight attendant if I could try the butternut squash ravioli as well. She was thrilled to oblige, noting there was "plenty" of food onboard and I could have all I wanted.
The butternut squash ravioli with mascarpone sauce was a tad on the sweet side, but still tasty and helped to satisfy my hunger (I had another salad and round of nuts as well).
I skipped the mango sorbet, but did enjoy an Old Fashion with some potato chips.
A snack basket was offered later in the flight.
In case you are wondering, economy cabin passengers received only a bag with a water bottle, pretzels, and cookies, though buy-on-board service will resume on premium transcontinental flights on April 1st.
Service
Flight attendants were very friendly onboard and attentive also – the cabin was monitored frequently and drink refills were offered.
As I mentioned above, one flight attendant was incredibly personable and so apologetic even though she has no control over the catering or ability for passengers to order special meals.
And you know something? It made a difference. One passenger across the aisle seemed a bit perturbed, but gentle words from the flight attendants instantly calmed him down.
Scott Kirby wants United to be world's greatest airline. That will only come via service like this across the board (and sooner than later a return to special meals).
CONCLUSION
This was a great flight: a decent lunch, good movie, and extended nap. While I greatly prefer the 787-10 to the 757-200 for transcontinental flights, this was still a very comfortable ride.
Here are some pictures out my window during the flight: